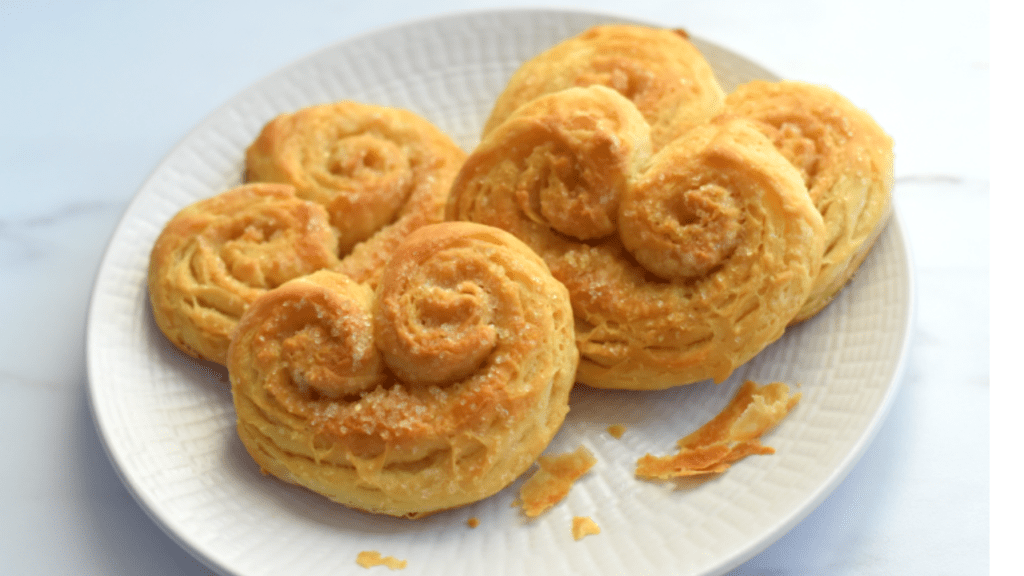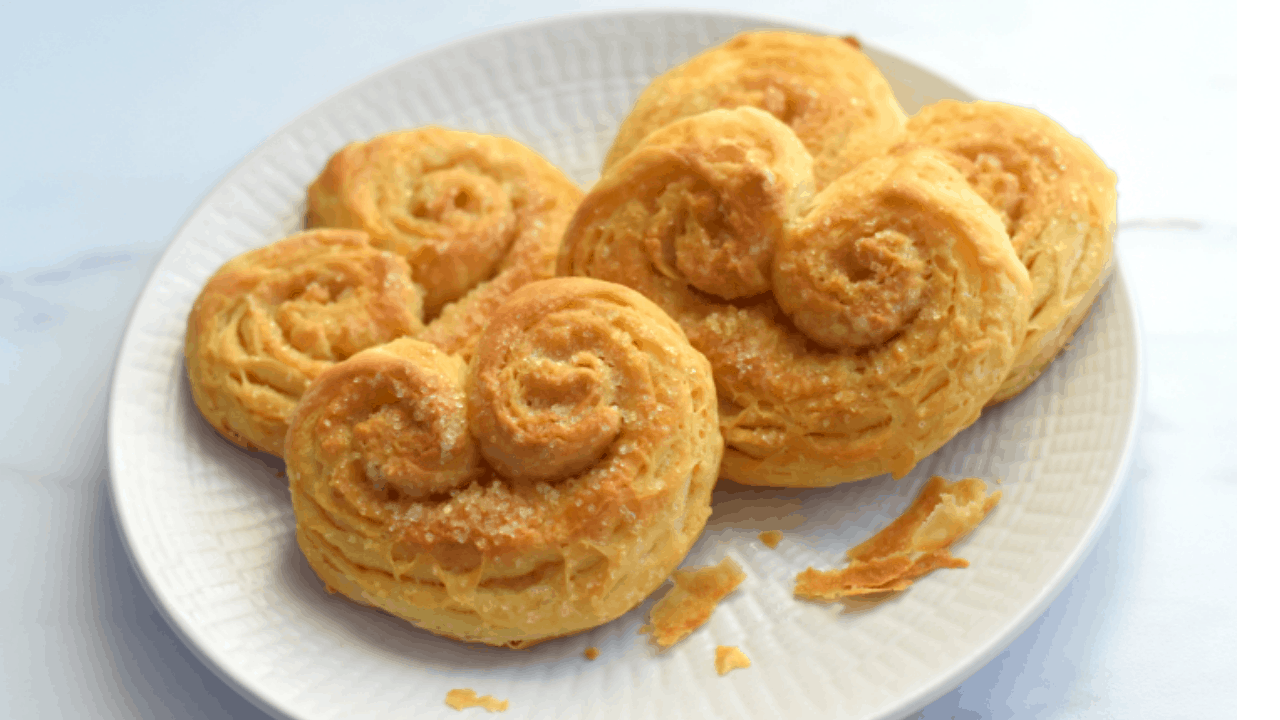 Elephant ear pastry/palmier cookies made from croissant pastry sheet is one of my all-time favorite treats. I adore the smell of those freshly baked palmiers…:) Just love the bite of caramelized sugar with the crunch of pastry, and the way they are flaky on the outside and soft and chewy in the middle.
Making elephant ear pastry from scratch is not a big deal.I haven't seen such an easy recipe for making these beautiful palmiers.
These elephant ears are made from croissant dough and we need no special equipments or hard to find ingredient for making this palmier cookies.
INGREDIENTS FOR MAKING ELEPHANT EAR PASTRY
Flour :430 gms
Milk:260 ml
Softened Butter:180-200 gms
Sugar 4 Tbsp/60 gms
Salt :1/4 Tsp
Active Dry Yeast:1 Tsp
Sugar for Sprinkling as required.90-100 gms
HOW TO MAKE ELEPHANT EAR PASTRY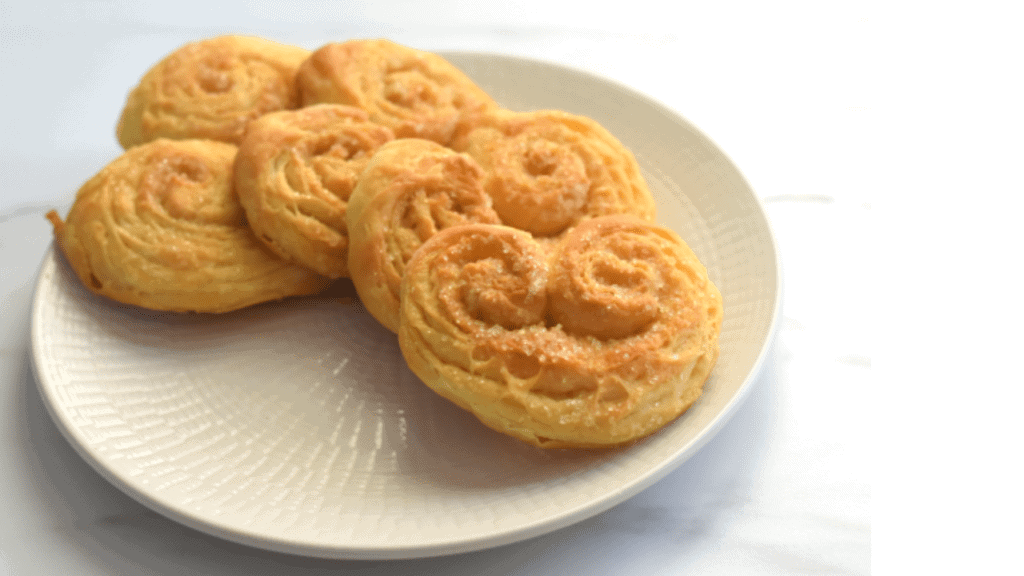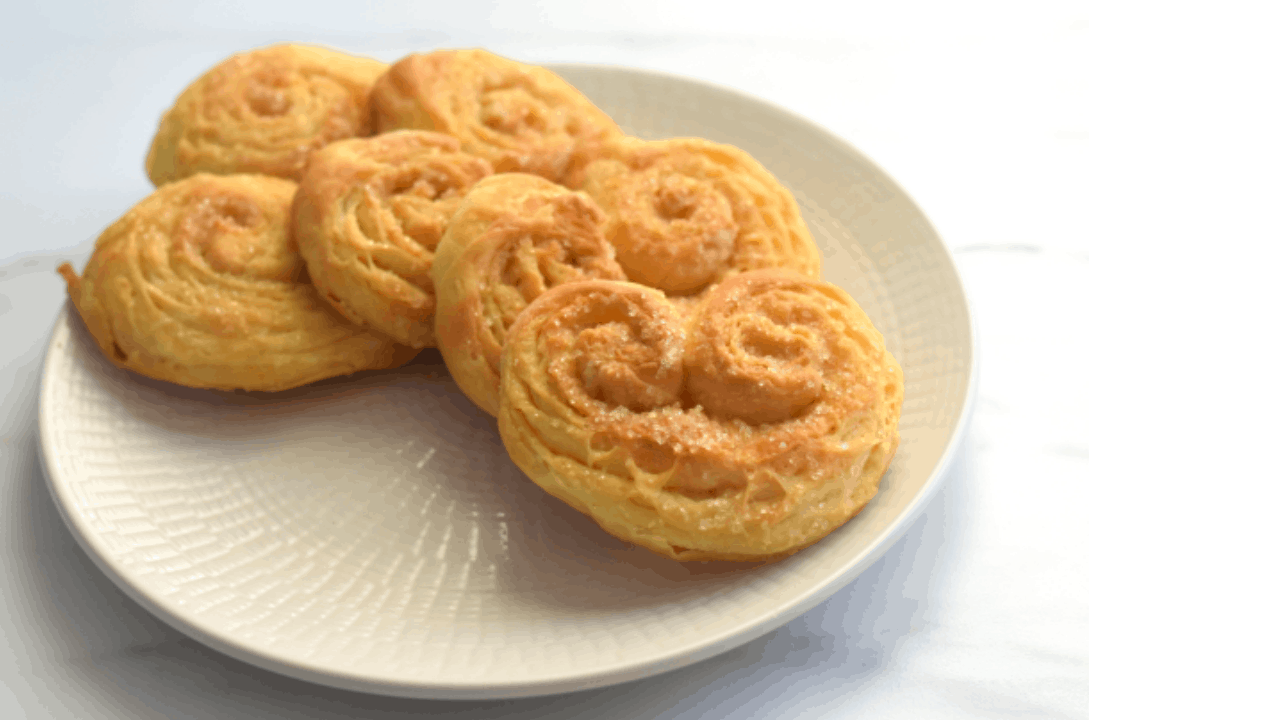 We can make this easy palmiers in three simple steps.
STEP 1
Prepare the pastry sheet.
STEP 2
Shape and Proof them.
STEP 3
Bake them.
Let's start by preparing the Elephant ear pastry sheet;For that,we need to
STEP 1
Prepare the elephant ear pastry dough
Activate the dry yeast by dissolving 260 ml warm milk ,4 Tbsp sugar and 1 tsp active dry yeast.
Add 1/4 Tsp Salt into 430 gms of flour.
Blend together the wet and the dry ingredients until we get a homogenous evenly hydrated dough.
We don't need to knead the dough or proof the dough.
Let the dough sit for 5-6 minutes
Make it into the shape of a log and divide the dough into 12 equal pieces.
Roll each piece of dough into the shape of a disc which is approximately 16-18 cm in diameter and not more than 2 mm in thickness.
Layer butter on each disc.
Place the disc on a plastic film and repeat the same process for the next piece and stack them over the previous disc and continue the same with rest of the divided dough pieces.
As butter is very soft now, we need to freeze them for 30- 35 minutes;so that the butter will not be very soft and will be pliable and it will be easy for us to work with the dough.
Roll them into long rectangular sheet.
Sprinkle sugar on the top.
Shape them into heart shape
STEP 2
Proof the shaped elephant ear pastry for 2 hours until they puff up a little.
Step 3
Bake elephant ear pastry at 400 F for 10 minutes and then reduce the temperature to 375 F and bake for another 8-12 minutes.
After baking we will get a beautifully caramelized golden brown,flakey,buttery,delicious elephant ear cookies/palmier cookies.
Now we can make those palmier cookies in a more easy way,without compromising our health.. we can get rid of those preservatives and those trans -fat that are used in store bought puff pastry sheets.
I hope you found the recipe easy and helpful.
Enjoy baking beautiful palmiers in your own kitchen 🙂