This Oatmeal Raisin Cookie Recipe is my favorite recipe for making soft and chewy oatmeal raisin cookies.
These Soft and Chewy Oatmeal Raisin Cookies are super soft, thick, and loaded with oats and raisins. These cookies are easy to make and so delicious!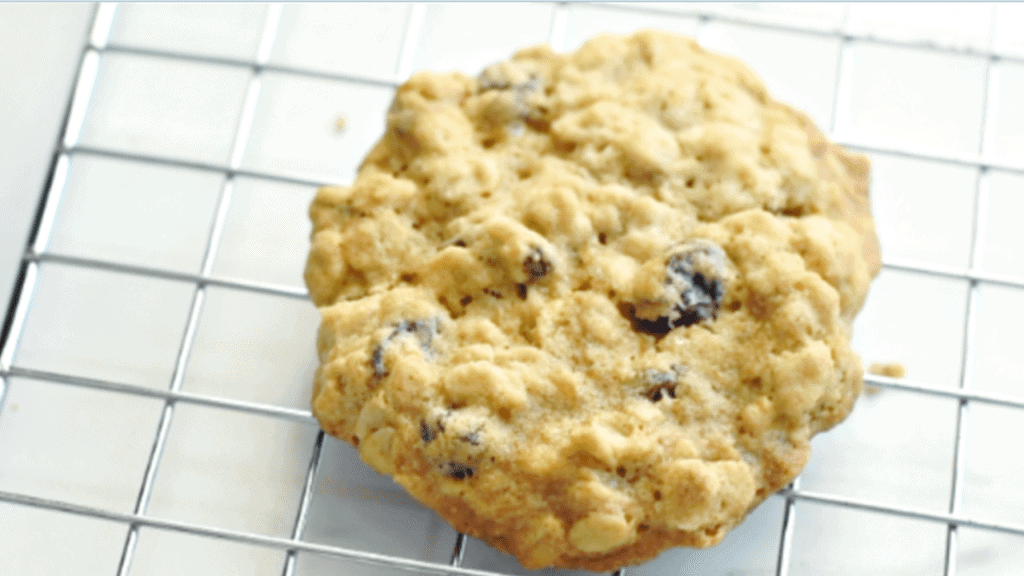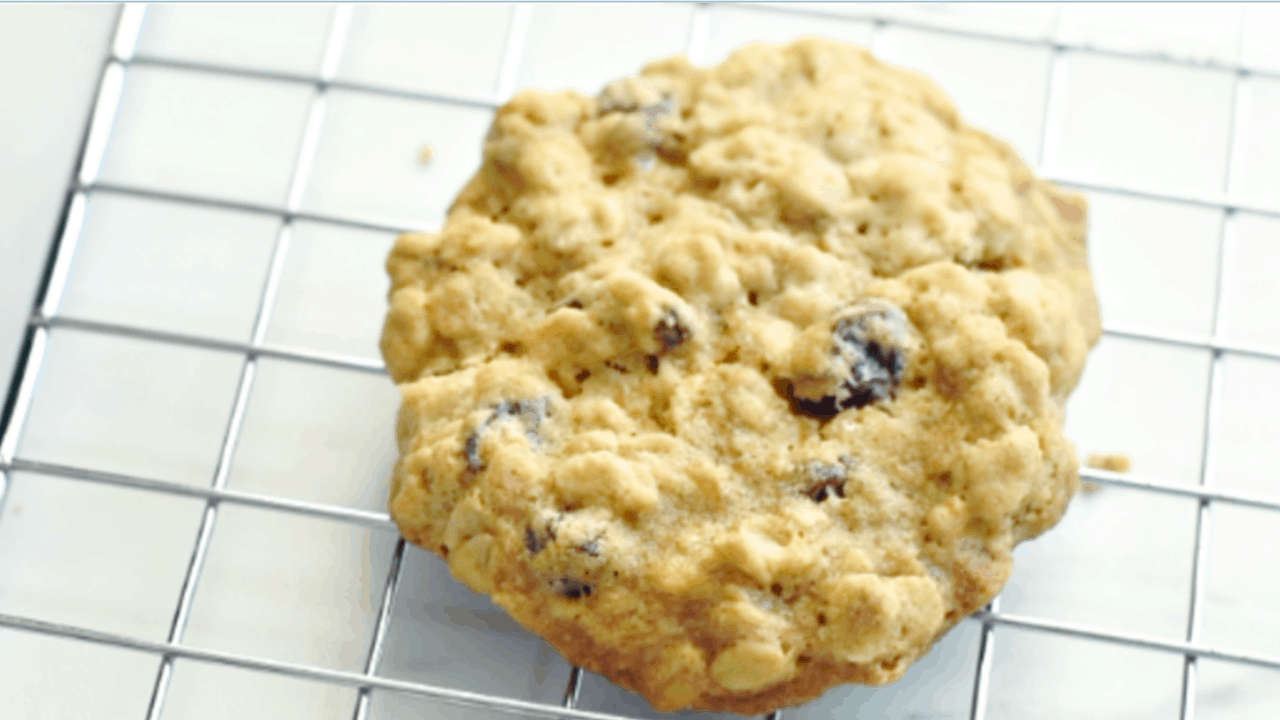 I am a big fan of oatmeal cookies ; there are so many different things you can mix into them and create so many different kinds of cookies and they are always delicious.
Another good thing about oatmeal cookies is that it provides a lot of fibers and nutrients and at the same time delectable to our taste buds.
Today i will be sharing a simple and Easy oatmeal raisin cookie recipe with you. This is by far my favorite recipe for soft and chewy oatmeal raisin cookies, they're so easy to make, and they always bake up so beautifully.
INGREDIENTS
Although the ingredients are humble pantry staples, the cookies are ridiculously divine. I've been tweaking this recipe for a long time, so I'm very excited to share it with you!
1 cup (130 g) All Purpose Flour Loosely packed
1 1/2 Cup (150 g) Old Fashioned Rolled Oats
1 Cup (150 g) Raisins
1 Large Egg
1Tsp Vanilla Extract
1/2 Cup (100 g) Brown Sugar
1/4 Cup (50 g) Granulated Sugar
1/2 Cup (115 g) Unsalted Butter (Softened to room temperature)
1/2 Tsp Cinnamon Powder
1/2 Tsp Baking Soda
1/4 Tsp Salt
HOW TO MAKE OATMEAL RAISIN COOKIES
1.In a bowl,Mix all the dry ingredients.
Mix together ,the dry ingredients i.e. Flour,Baking soda,Salt,Cinnamon powder;( a little hint of baking spices accentuates the comforting oat flavor), and then add oats and raisins into the bowl and set aside.
I find that 1 cup of raisins is perfect to get a good amount of raisins in each cookie.
And if you're not a huge fan of raisins, you can easily replace them with some chocolate chips for an easy chocolate chip oatmeal cookie recipe.
2.In another bowl,combine all the other ingredients.
Cream the butter and sugar.
Add egg and vanilla extract and mix until fully combined.
3.Mix together the wet and dry ingredients.
Add the dry ingredient mix into the second bowl.Combine them together.
Now our oatmeal raisin cookie dough is ready.
DO YOU NEED TO CHILL THE OATMEAL RAISIN COOKIE DOUGH?
This is a thick cookie dough that doesn't need to be refrigerated before baking.
If you prefer your cookies to be a little thicker, you may chill the dough.Allowing the cookie dough to chill for 30 minutes will help the cookies to bake up thicker.
Chilling the dough and baking the dough cold will give you a thicker cookie. The dough will spread a little less if it's chilled, leaving you with a thicker, softer center.
When you chill the dough the oats soften up a little. Since I prefer a rolled oat in these, when you chill the dough it gives them more of a chance to soften, producing a softer cookie! If you choose not to chill the dough, the oats will still be fine, you will just have a little more texture and chew…which could be a good thing!
4.Shape the Oatmeal Raisin Cookies
Once the dough is ready,take small portions (1 1/2 tablespoon scoop dough) using a spoon or an ice-cream scoop and place it onto the baking tray lined with a parchment paper or onto a non stick baking tray.
Press the cookie dough, gently with your hand to flatten each ball of cookie dough slightly (make sure not to flatten them completely, just slightly).
Leave a little room between each ball of cookie dough as they will spread a little while they bake.
5.Bake the Oatmeal Raisin Cookie
Bake at 350F preheated oven for 10-12 minutes.
WATCH THE VIDEO TO SEE HOW EASY IT IS TO MAKE OATMEAL RAISIN COOKIES
HOW LONG TO BAKE OATMEAL RAISIN COOKIES
Bake in separate batches at 350°F for 10-12 minutes or until the edges of the cookies are lightly golden brown and the top is set.
Note that the cookies will seem underdone. That's okay, they will firm up as they cool.
Remove from the oven and cool on the baking sheet for 3-4 minutes, then transfer the cookies to a wire rack to finish cooling.
They will be quite soft until completely cooled.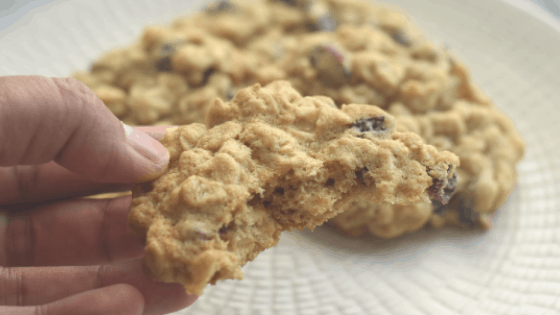 HOW TO STORE OATMEAL RAISIN COOKIES
If you are lucky to have cookies leftover,you can store the Oatmeal Raisin Cookies on the counter in an airtight container for up to four days.
WHAT MAKES OATMEAL COOKIE CHEWY?
Besides the rolled oats and raisins, it is the combination of white and brown sugar that makes this oatmeal raisin cookies extra chewy.
When creamed with the butter the white sugar adds crunch to the outside of the cookie as it caramelizes super fast. The brown sugar has more moisture, and that molasses flavor, which when combined with white sugar creates the chewiest bite at the cookie's center.
CAN YOU FREEZE OATMEAL RAISIN COOKIES?
Baked Oatmeal Raisin Cookies will last in an airtight container in the deep freezer for 3-4 months.
You can freeze these oatmeal raisin cookies before baking too..ie to freeze the shaped cookie dough! I actually love doing this because you can have freshly baked cookies in minutes. I suggest dropping by spoonfuls on a parchment lined pan and freeze. Once frozen, transfer to a freezer bag or container.
To bake from frozen, simply take out as many as you need and allow cookies to sit at room temperature for about a few minutes prior to baking.
These really are the ultimate oatmeal raisin cookies because they're so soft and chewy and super easy to make.
When combined with just the right amount of sugar and butter, oats keep cookies from drying out. That means The Best Oatmeal Raisin Cookies are crisp when they first come out of the oven, but soften after several hours.
WHAT IS THE DIFFERENCE BETWEEN OLD FASHIONED OATMEAL COOKIES AND QUICK OATS COOKIES.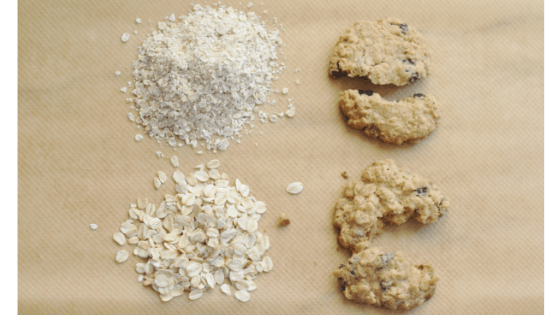 Oatmeal cookies made with old fashioned oatmeal is more rustic in look and more chewy in texture.Here i have used Carman's traditional rolled oats.
Quick oats cookies/Instant oats cookies are more prettier as they don't have those big oatmeal flakes floating around in them and they have a uniform cookie surface.Both cookies tastes very similar.Here i have used Quaker Rolled oats.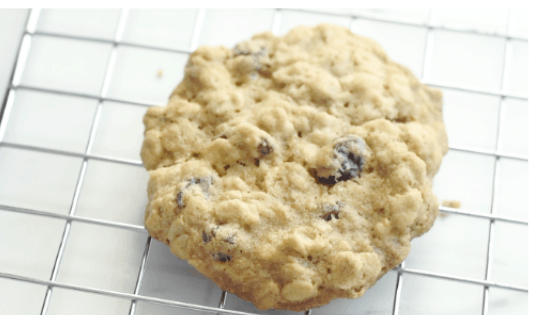 OATMEAL RAISIN COOKIES
This Oatmeal Raisin Cookie Recipe will help you bake soft and chewy oatmeal cookies with loads of oats and raisins with a pleasant hint of cinnamon.
Ingredients
130

g

All purpose flour

1 cup

150

g

Old fashioned rolled oats

1 1/2 cup

150

g

Raisins

1 cup

1

Egg

1

tsp

Vanilla Extract

100

g

Brown Sugar

1/2 cup

50

g

Granulated sugar

1/4 cup

115

g

Softened unsalted butter

1/2 cup

1/2

tsp

cinnamon powder

1/2

tsp

baking soda

1/4

tsp

salt
Instructions
Mix together all the dry ingredients except sugar.

Combine the flour,cinnamon powder,baking soda,salt and whisk them together to make sure baking soda,salt and cinnamon powder is evenly distributed in the flour.

Combine the rest of ingredients in another bowl.

Cream in butter and sugar.

Once they are light and fluffy ,add the vanilla extract and egg and combine them together.

Mix together, the wet and dry ingredients.

Make sure there are no dry patches left behind.

Shape the cookies.

Drop about 1 1/2 tbsp (40g) of cookie dough on to a non stick baking tray or a parchment paper lined baking tray.

Take care that all the cookie dough are of similar size so that they can bake at the same rate in the oven.

Leave about 2 inch space in between the cookie dough.

Bake at 350 F for 10-12 minutes or until the edges are golden brown.

Allow the cookies to cool down in the baking tray itself for about 3-4 minutes and then transfer this on to a cooling rack and let them cool down completely.

These cookies are soft and chewy with a crispy edge.Oats is full of fibers and keep you full for longer and the added raisins give that signature taste to the cookies and makes them a healthier cookie.

Hope you will love these cookies.

Enjoy!