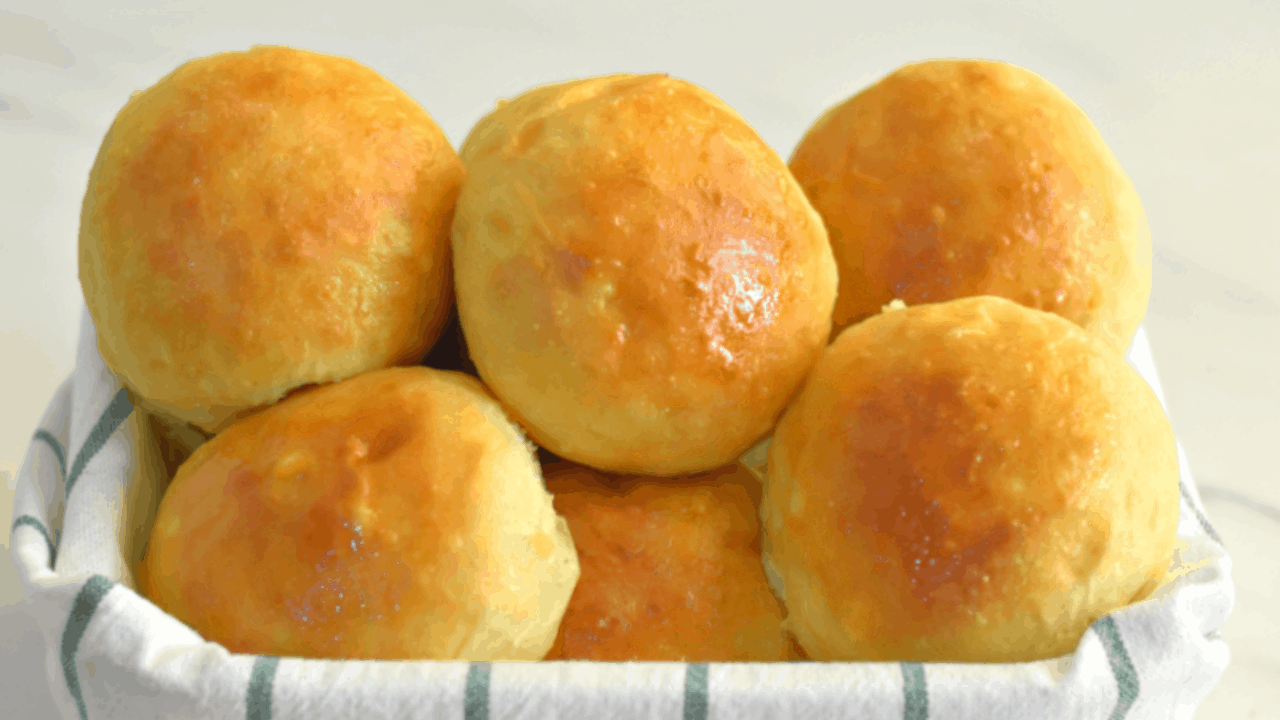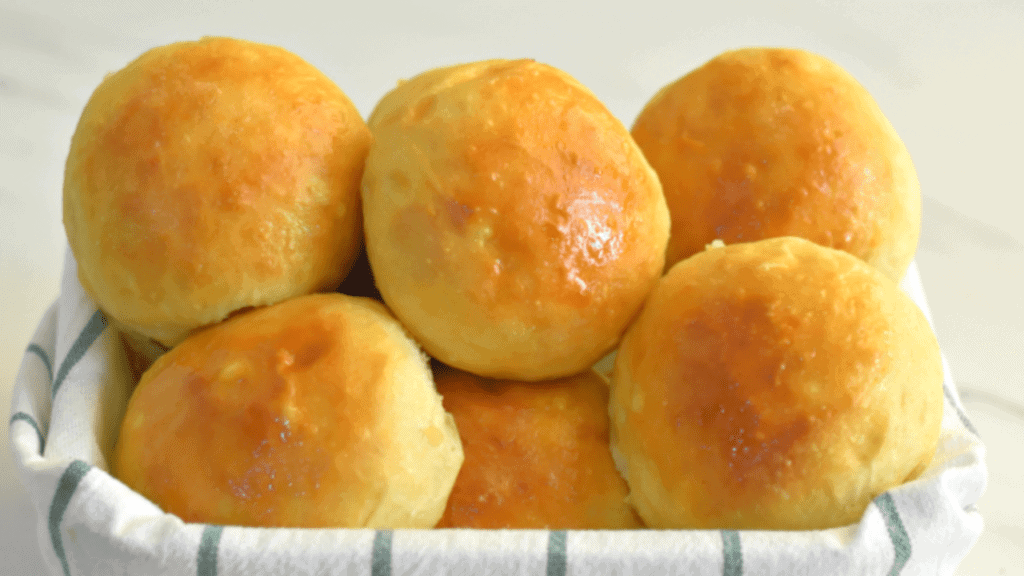 This Potato Bun Recipe will help you to bake the best potato rolls in FIVE SIMPLE STEPS.
Potato Buns! They are Super light,moist and fluffy;These Homemade Potato Buns are made with fresh potatoes and tastes SO much better than store-bought. These are one of the best burger buns that we have ever had.
Mashed potatoes make the rolls extra-soft and fluffy. I top them with some butter and honey and they disappear like magic.
If you are new to bread baking , this is a good recipe to have in your back pocket. Because,
This recipe is so EASY that you don't need to knead the dough.
These potato buns are super moist,and i would say,they are pillowy soft and they TASTES super delicious with a pleasant buttery aroma.
These potato burger buns stays incredibly FRESH and soft for the next two days unlike other dinner rolls made with only flour.
In this potato bun recipe, we have used a part of flour as whole wheat flour,which is a small step towards making our potato buns a more healthier potato bread .
The mashed potatoes make the dough very forgiving.I have made them in different combinations..and each tim, the result was amazing.
WHY DO POTATO BUN STAYS SOFT FOR LONG ?
In case of a regular bun(made without potato),as the bread cools, its starches begin to crystallize, trapping water inside the hardened crystal structures. This process of "retrogradation" (more commonly known as staling) explains why bread becomes firm and appears to dry out as it sits on the counter.
When bread contains potato, however, this reaction is tempered. The starch molecules in potatoes contain negatively charged phosphates that deter them from recombining, and diluting flour with potato makes it harder for the wheat starches to crystallize as well. As a result, Potato breads stay soft much longer.
HOW LONG DO THE POTATO BUN LAST?
These Potato buns will stay soft for days thanks to the potato starch molecules' ability to keep wheat starches from getting stale.
Cool the Potato buns thoroughly before storing and place in plastic storage bag, or wrap in foil and store at room temperature.
Properly stored, potato rolls will last for about 3 to 4 days at normal room temperature. But, lets be honest here-these Potato buns are so darn good, you won't have any left-overs to store!
WHY ARE POTATO BUNS LIGHTER THAN OTHER BUNS?
Potatoes contain potassium which causes yeast to rise faster than it would with breads that contain only wheat.
Potato starches absorb more water than wheat starches, leading to a moist texture.
IS POTATO BREAD HEALTHY?
Potatoes boost the overall nutritional value, making it comparable to whole-wheat bread for fiber and nutrients such as zinc and iron. Potato bread has about the same calories and protein, but it provides significantly more potassium than either white or whole-wheat bread.
ARE POTATOES GOOD FOR YOU?
Yes, potatoes are naturally fat free, cholesterol free, and low in sodium. In addition, potatoes are an excellent source of vitamin C, and those eaten with the skin are a good source of potassium. Foods that are good sources of potassium and low in sodium, such as potatoes, may reduce the risk of high blood pressure and stroke.
Potatoes are an excellent source of vitamin C, which is more vitamin C than one medium tomato or sweet potato .
Potatoes are a good source of vitamin B6 with one medium potato providing 10% of the recommended daily value.
Vitamin B6 is a water-soluble vitamin that plays important roles in carbohydrate and protein metabolism. It is required for the synthesis of hemoglobin – an essential component of red blood cells.
One medium potato provides 6% of the recommended daily value of iron.
Potatoes rank highest for foods with potassium.
Potassium is a powerful dietary factor that may help lower blood pressure. Unfortunately, few of us are getting the recommended 4700 milligrams per day of potassium they need. (Potatoes make it easier!)
Vitamin C is a water-soluble vitamin that acts as an antioxidant stabilizing free radicals, thus helping prevent cellular damage. It aids in collagen production; assists with iron absorption; and helps heal wounds and keep your gums healthy. Vitamin C may help support the body's immune system.
GOODNESS OF WHOLE WHEAT.
Wheat is not only a very good source of carbohydrates but also it provides,12 g proteins and 10g fiber for every 100 grams of whole wheat flour.
Whole wheat may be a decent source of several vitamins and minerals, including selenium, manganese, phosphorus, copper, and folate(Vitamin B9).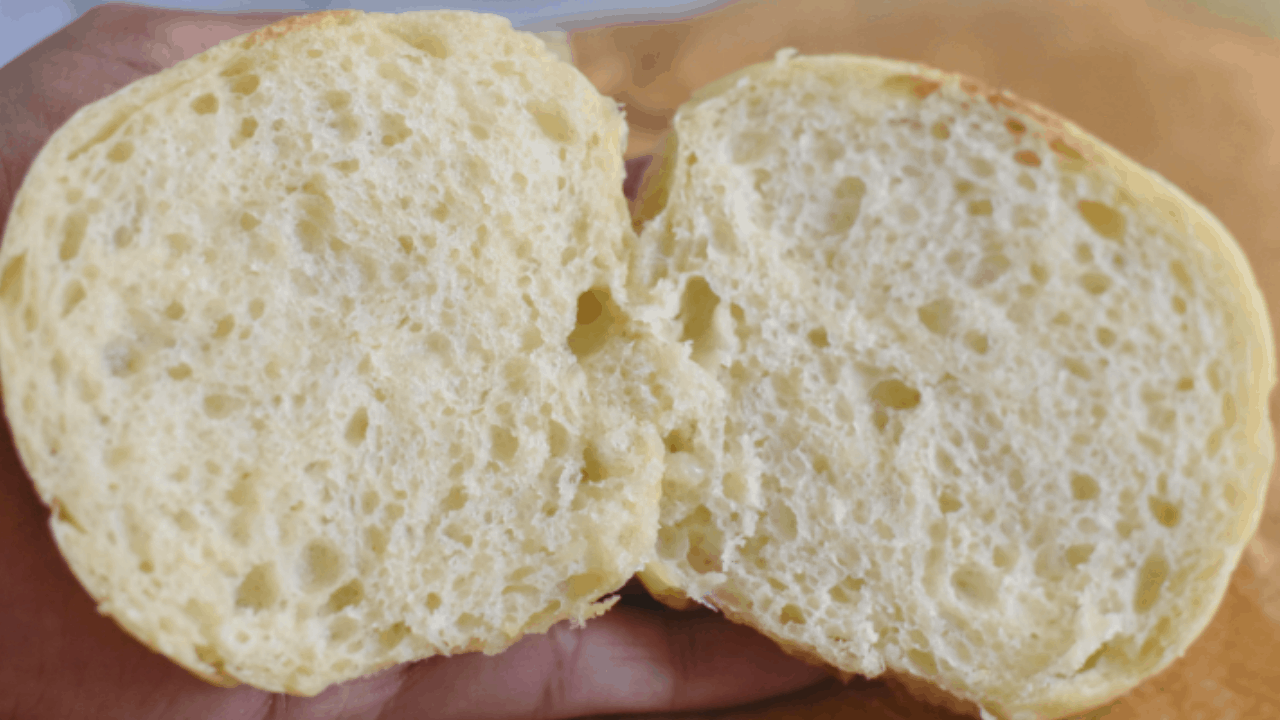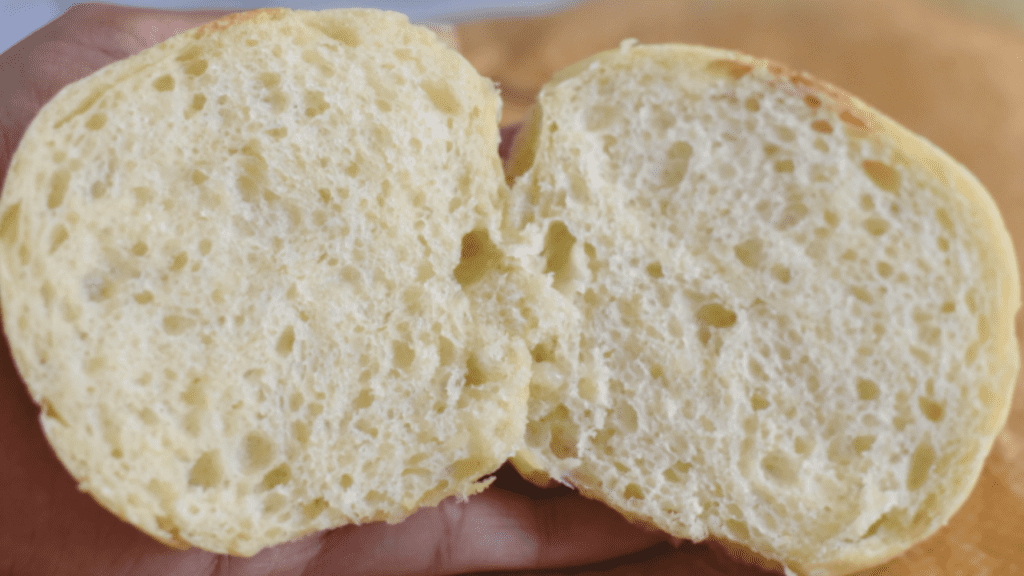 NUTRITIONAL INFORMATION FOR POTATO BUNS/POTATO ROLLS
This nutritional information for potato rolls is based on this specific Potato burger bun recipe.
Total Calories in one potato bun/potato roll:
145 calories
Macronutrients in one potato bun/potato roll:
Carbohydrates :24 g
Proteins :4 g
Fat :3.7 g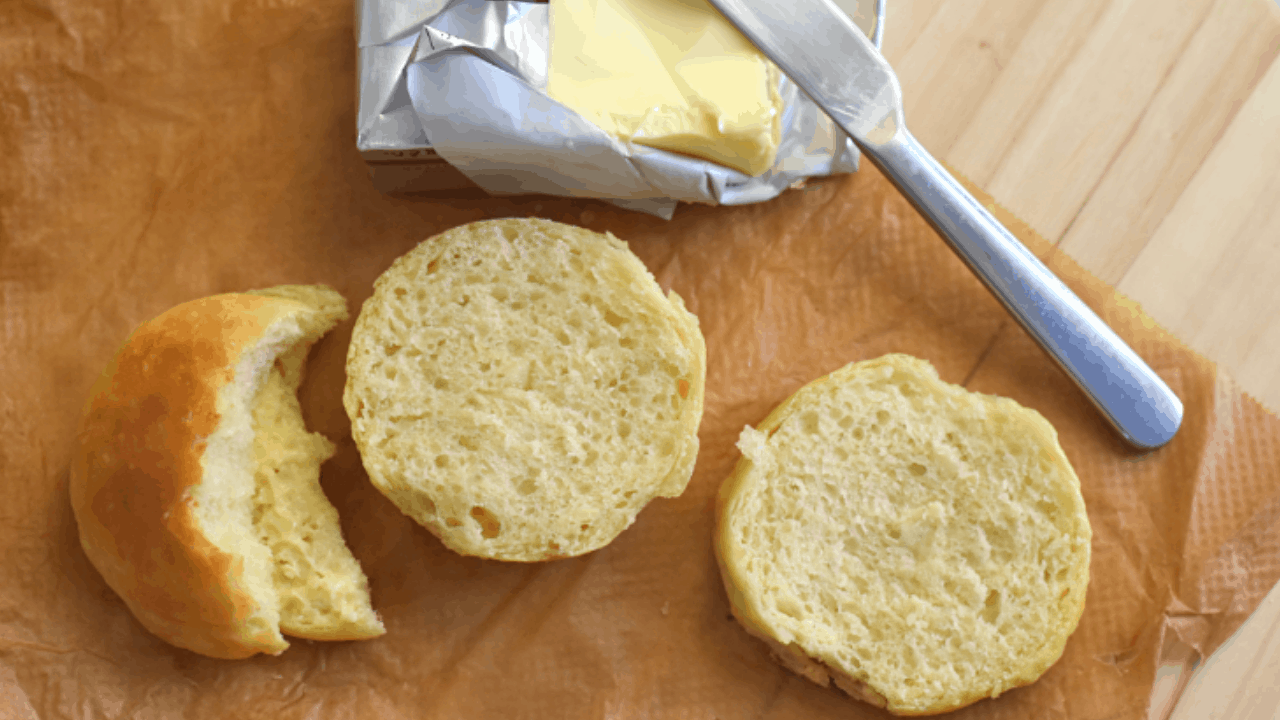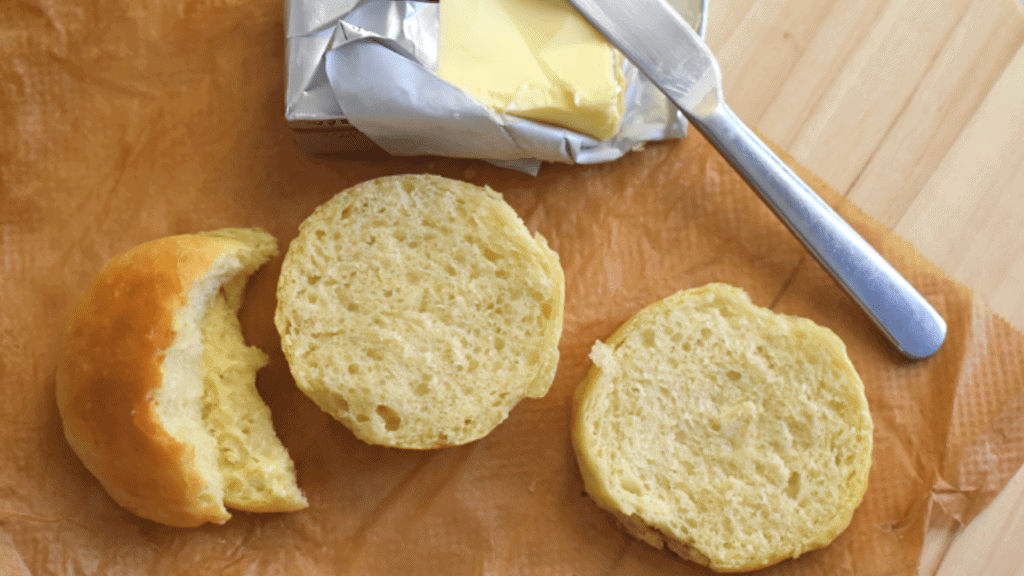 WHAT TO DO WITH LEFT OVER POTATO BUNS.HOW TO FREEZE POTATO BUNS?
Let them cool completely, then wrap them tightly in aluminum foil.
You can also freeze the leftover potato buns/ potato rolls for up to a month. Just wrap them tightly in a double layer of foil and slide them into a freezer zip-lock bag. Let them thaw on the counter and then warm in a low oven.
HOW CAN I SUBSTITUTE EGG IN THIS POTATO BUN RECIPE
Role of egg in bread making:
Eggs added to dough help with rising. A bread dough rich with egg will rise very high, because eggs are a leavening agent (think genoise or angel food cake). As well, the fats from the yolk help to tenderize the crumb and lighten the texture a bit. Eggs also contain the emulsifier lecithin. Lecithin can add to the overall consistency of the loaf.
So it is difficult to substitute something else for egg to get the same result.
At the same time, i can say that ,as we have used only one egg in this potato bun recipe,we can easily replace the egg to make potato bun without much difference in texture and taste of the potato rolls.
As one egg is approximately 45 ml,just replace the same volume with milk or water.So you can add 3 tablespoon of water or milk in place of one egg.
Remember, this will not be equivalent to adding an egg,but i can promise you that it will be difficult to find any difference between the one made with and without egg in this particular potato bun recipe.
MORE IDEAS FOR THE BREAD BASKET
Easy SOFT AND FLUFFY, No knead Dinner Rolls Recipe
EASY NO KNEAD Artisan Loaf bread Recipe
HEALTHY OATMEAL HONEY Bread Recipe
BEAUTIFUL DIMPLE DINNER ROLLS Recipe
The BEST flat bread Recipe : SOFT AND FLUFFY PITA BREAD
HOW TO MAKE EASY NO KNEAD POTATO BUN IN FIVE SIMPLE STEPS
INGREDIENTS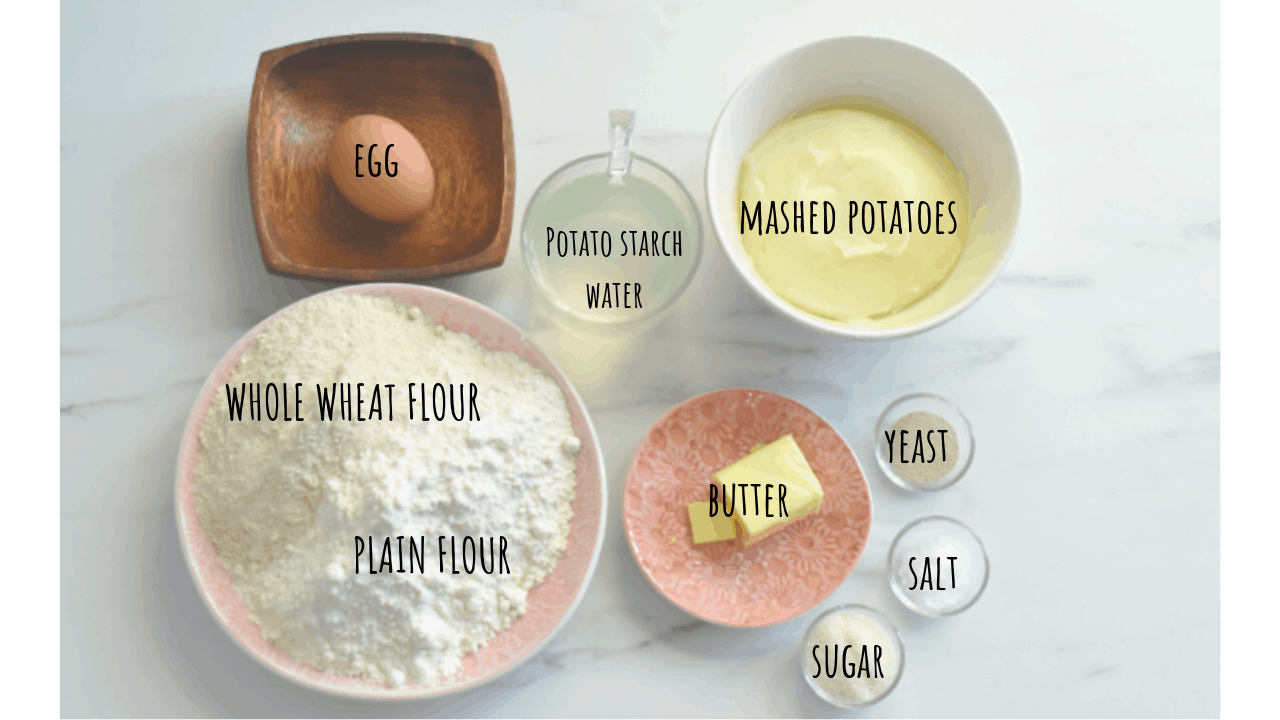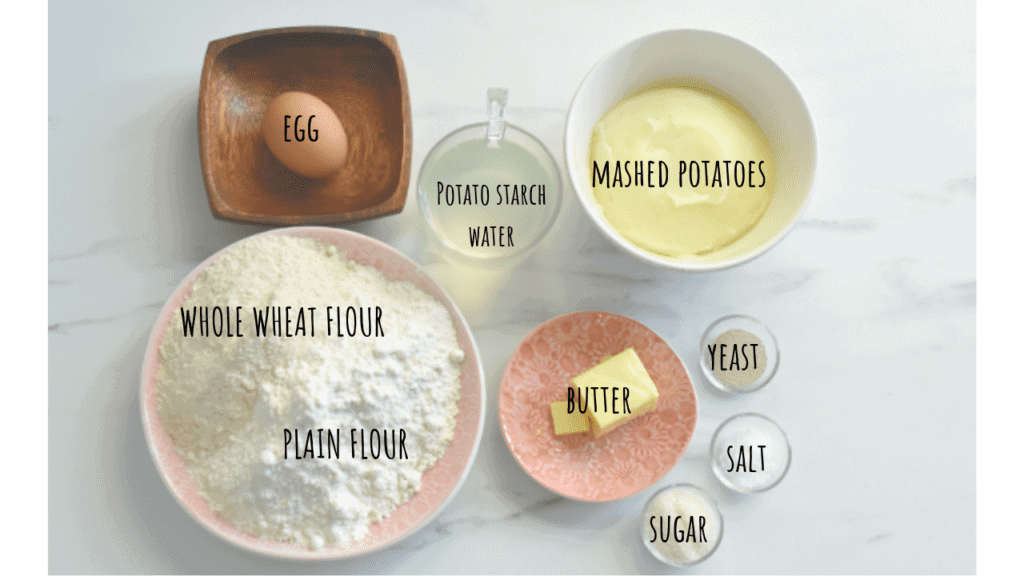 All Purpose Flour :325 g or 2 and half cups Loosely packed
Whole wheat flour : 90 g or 3/4 cup Loosely packed
Mashed potatoes : 310 g or 1 and 1/3 cup tightly packed
Yeast : 1 Tsp
Sugar : 2 tbsp or 25 g
Salt:1 and half tsp
Butter : 3 Tbsp or 42.6 g
Egg :1
Water or (Potato starch water or mix of both) :120 g/Half cup
STEP BY STEP METHOD TO MAKE POTATO BUNS
This potato bun Recipe is so easy to make.We are going to make potato buns in FIVE SIMPLE STEPS.
1.PREPARE THE POTATO BUN DOUGH
To prepare the potato bun dough,we are going to mix together all the dry ingredients in a bowl.
The Flour,Sugar,Yeast,Salt and whisk them together to make sure everything is evenly distributed in the flour.
Add into this,Water,Egg,and the mashed potatoes.
This Potato bun Recipe does not require any kneading.So just mix everything together until you get a homogenous bread dough.
Mix everything together;and if you find it difficult to mix everything together using a wooden spoon,feel free to use your hands to prepare a homogenous potato bun dough.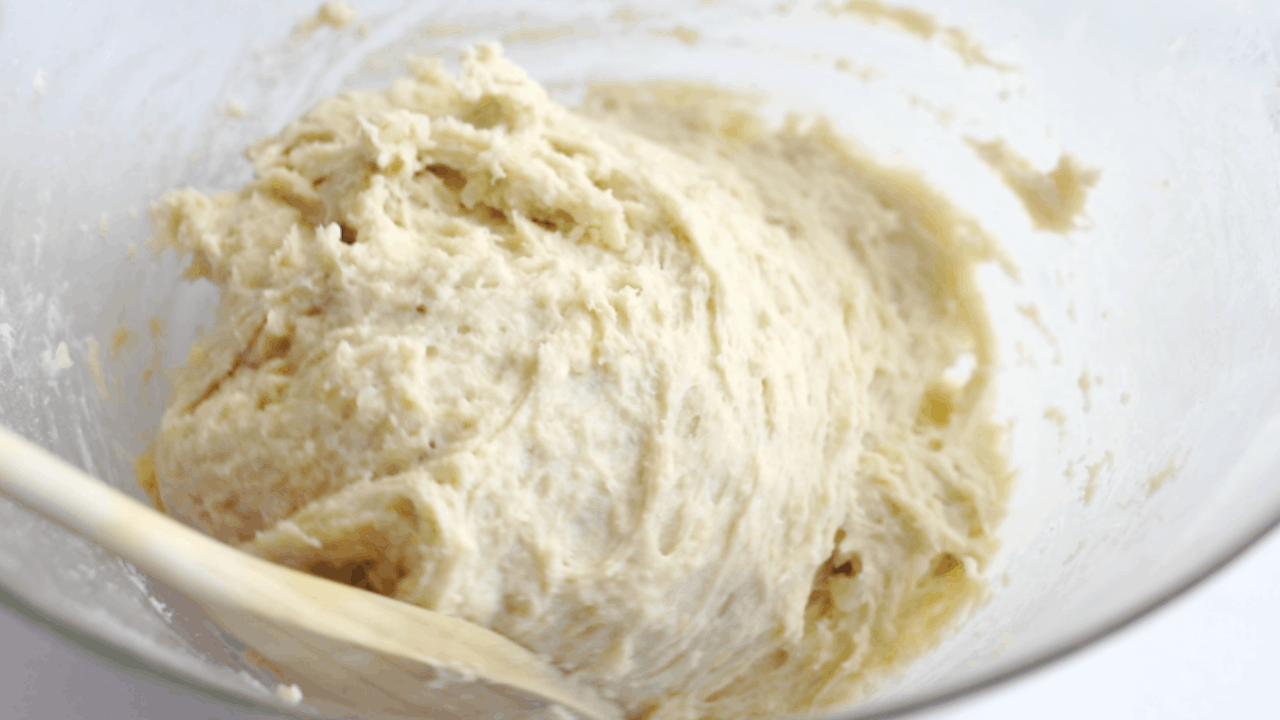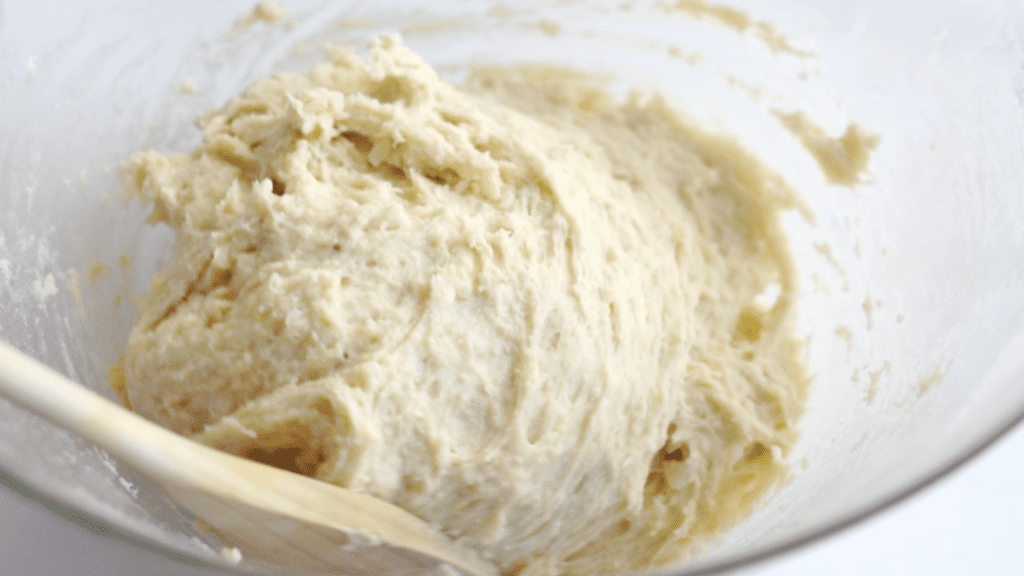 If you are using a stand mixer,
In the bowl of a mixer, combine flour,yeast,sugar and salt . And then add the wet ingredients ,the butter,water and egg.
Add the wet mix to the flour mix. Beat with the whisk for 30 seconds on low, then for 3 minutes on high.
Switch to the dough hook and add the remaining flour, until the dough pulls away from the sides of the bowl and forms a ball.
2.FIRST PROOFING
Cover the dough with a plastic film and Let that dough sit in a warm environment to rise.As mashed potatoes boost this process,the dough will get doubled in size in about 90 minutes.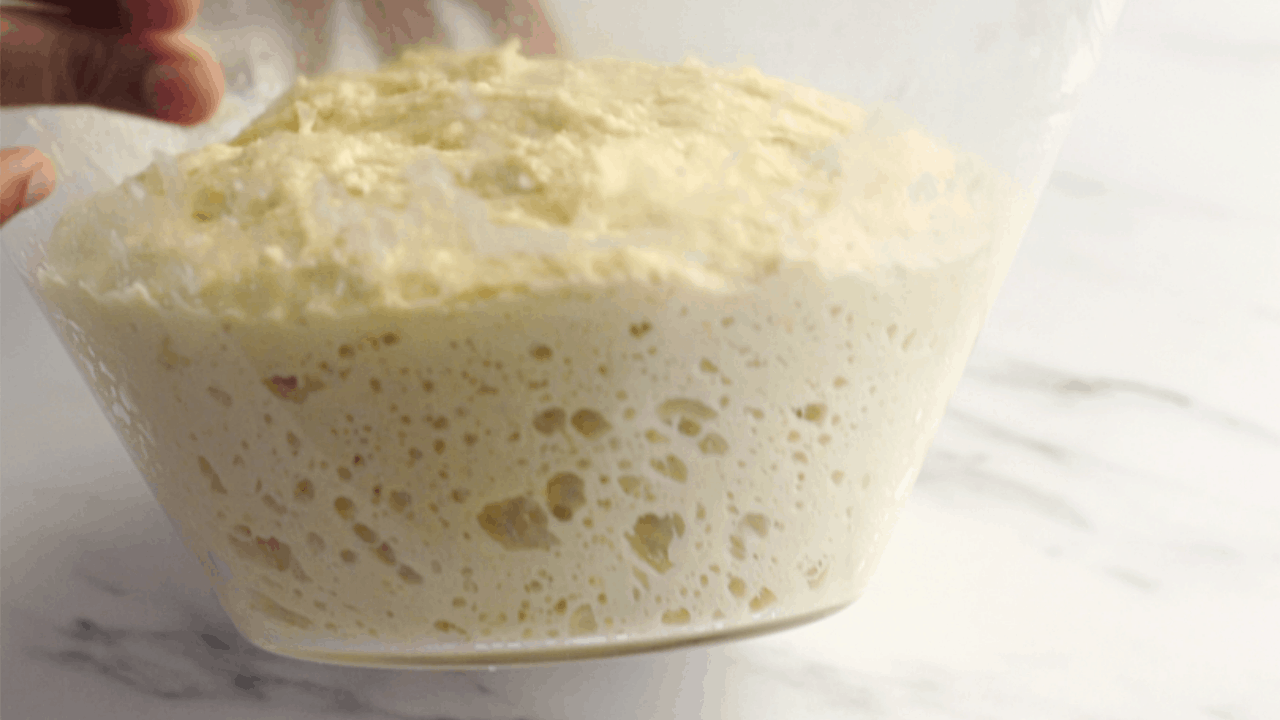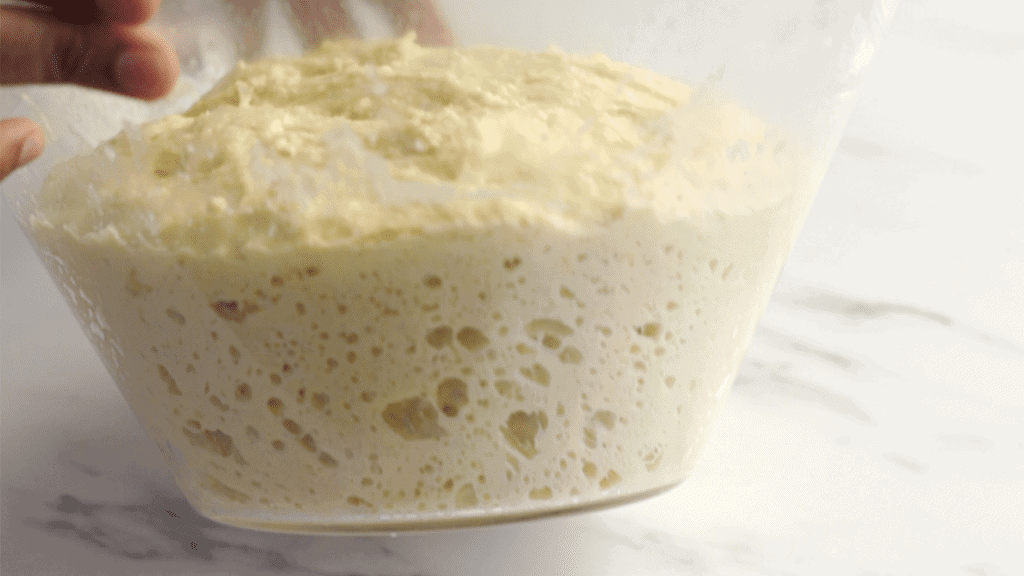 3.DIVIDE AND SHAPE THE DOUGH
Degas the dough and then transfer this onto a floured work surface.This dough is a very sticky dough and so you may need to add more flour at this point.But Keep in mind the fact that the more flour can make the potato bun dense and not soft.So use flour in a way just enough to make you handle the dough and shape them into round balls.
I made them into the shape of a square,so that it is easy for me to divide them into equal portions.Divide them into quarters and then again divide,to get almost equal sized pieces.
Shape each piece of dough into small round balls.Tuck in the edges towards the center and then roll them into a round ball.
Place them on a greased baking tray or baking tray lined with parchment paper.
4.SECOND PROOFING
Let the dough balls sit and rise for the second time until they get puffed up.It may take around 35 minutes.
Before taking them into the oven,give them a good egg wash(1 egg beaten+1 tablespoon milk).Which will give them a shiny and golden brown crust, the they are baked.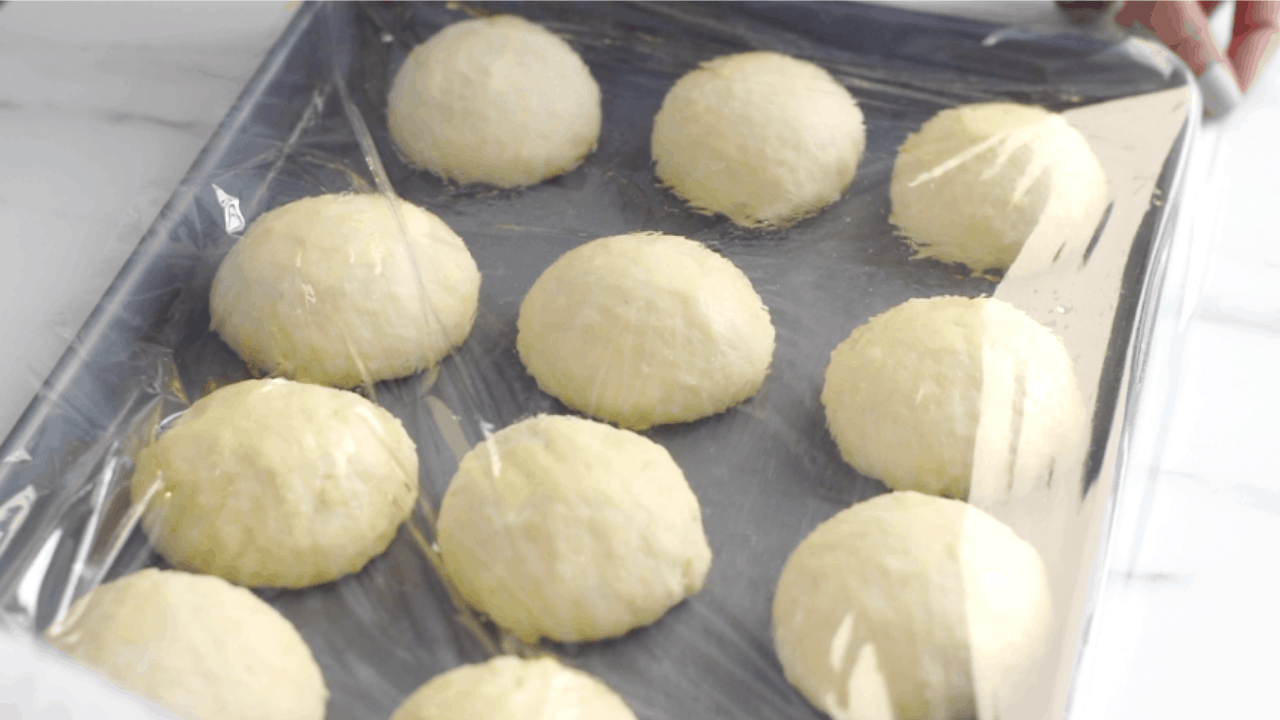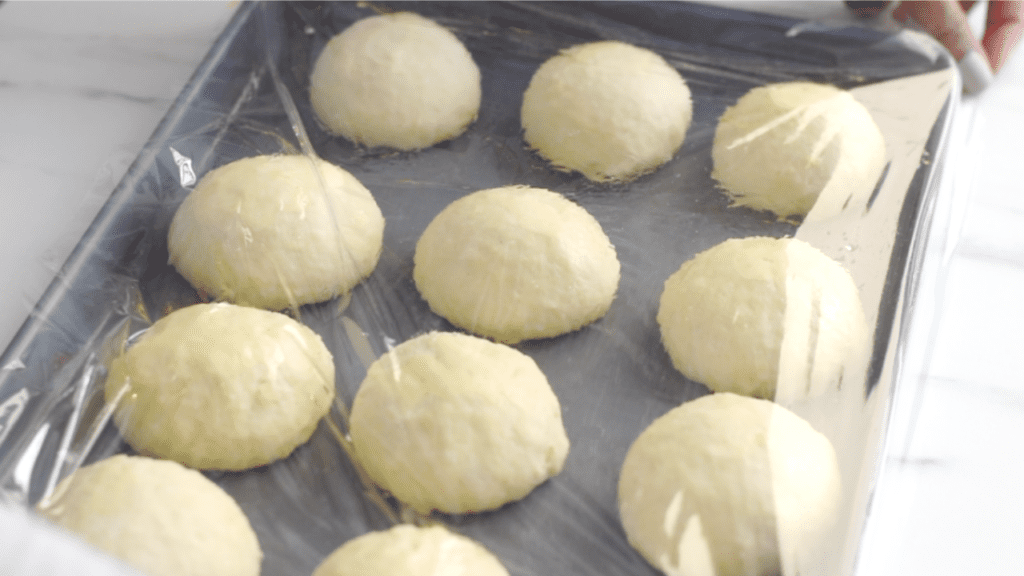 5.BAKE THE POTATO BUNS
Bake them at 350F preheated oven for 20-25 minutes.
Baking time may vary according to the size of the rolls.If You shape them in a different size or shape,keep in mind that Smaller rolls get baked fast.
I place the tray in the lowest rack of oven ,so that the crust get browned slowly and the inside will get baked properly.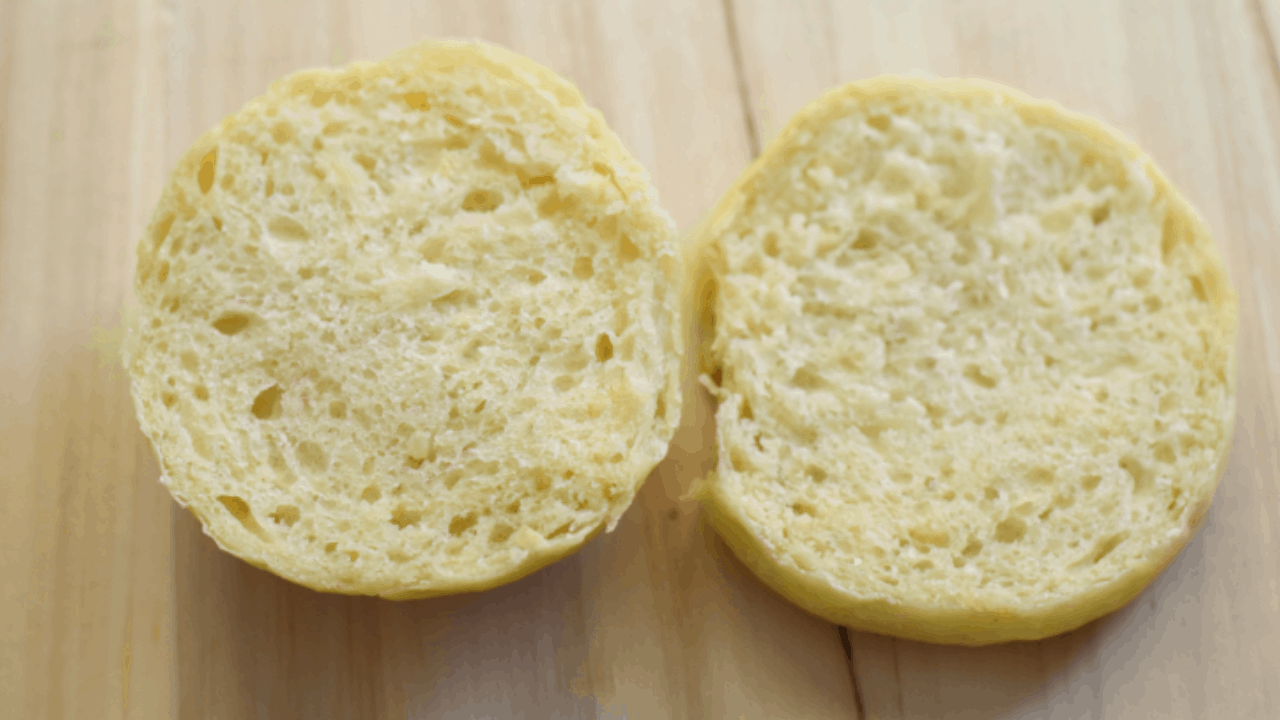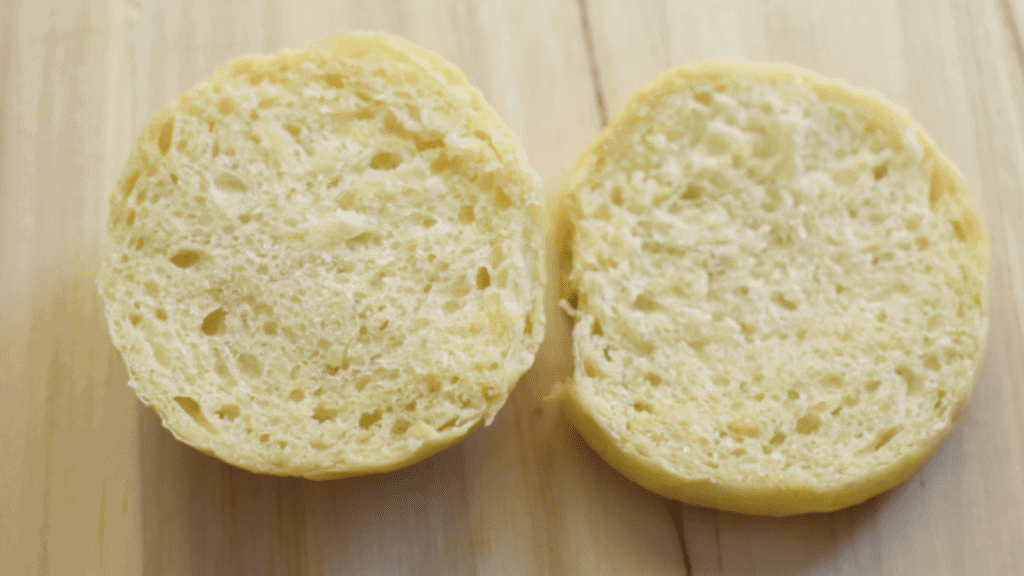 This Easy potato bun Recipe is a big hit in my family 🙂
Hope you will enjoy them as much as we loved.
You can shape them in any of your favorite shapes 🙂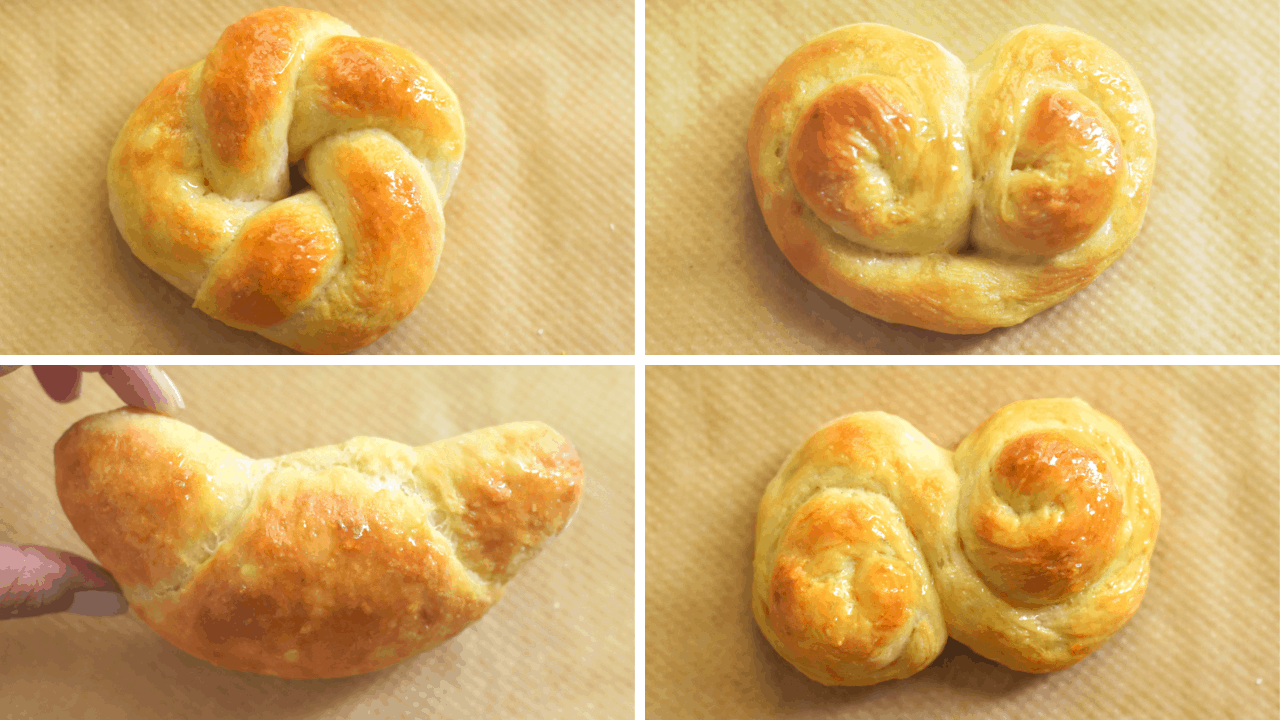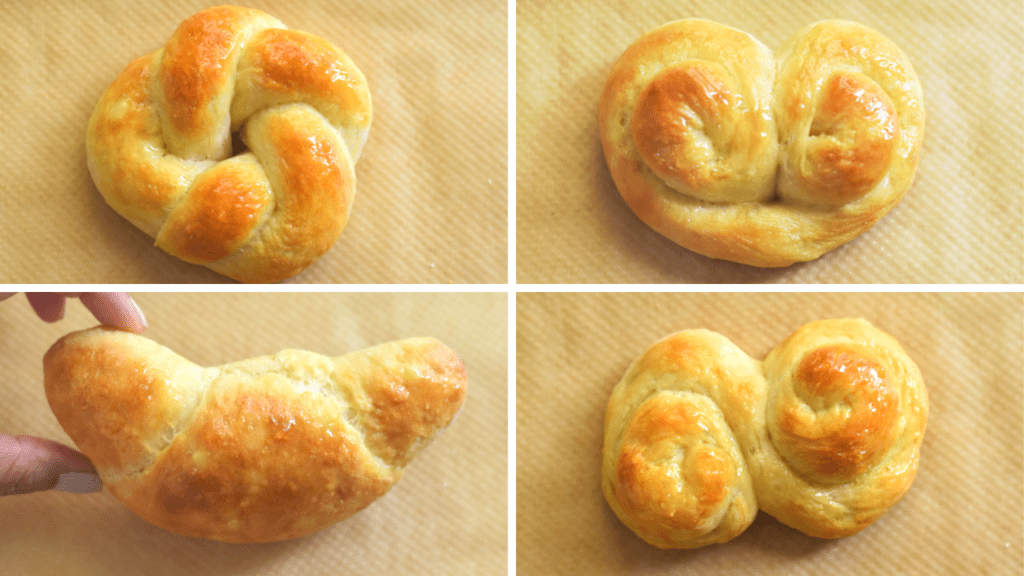 Happy Baking 🙂