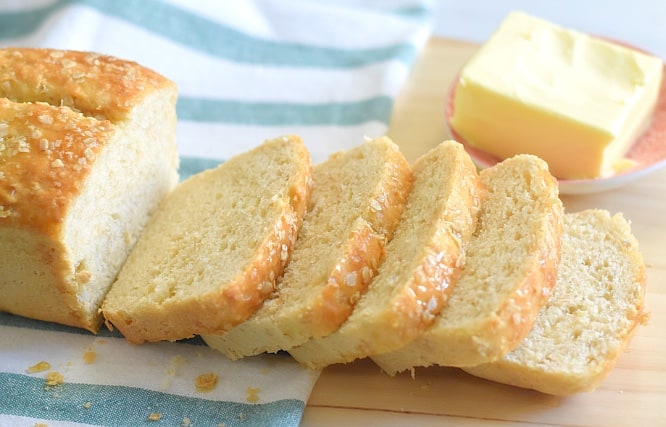 This oatmeal bread recipe is simple and easy to make with only a few ingredients.
Oats honey bread is definitely a healthier choice of bread.They are rich in proteins and fibers; and I have used natural honey as the only sweetener in this oats bread.
INGREDIENTS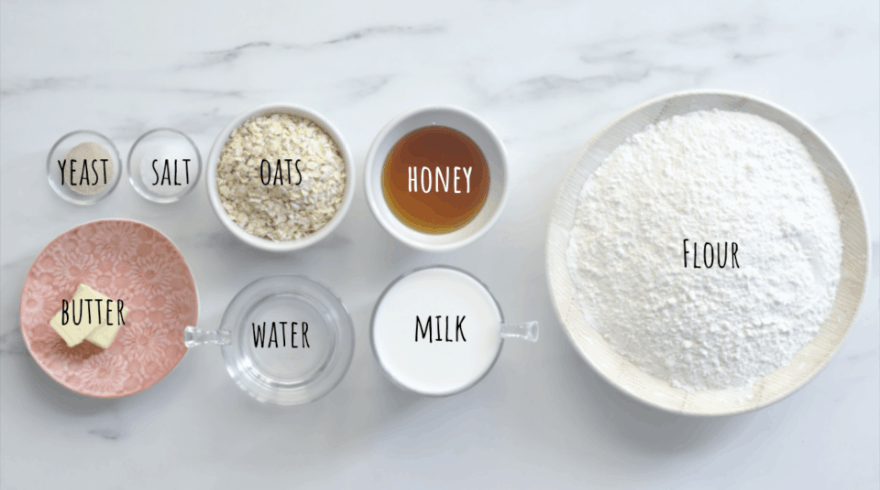 Plain Flour/All purpose Flour: 390g /3 cups loosely packed
Oats:3/4 cup/75 g
Salt:1 1/4 tsp
Yeast (active dried yeast/instant yeast):1 1/4 tsp
Butter:2 tbsp/28 g
Warm milk:1 cup/240 ml
Warm water:1/4 cup/62 ml
Honey:1/4 cup
Oatmeal bread in FIVE SIMPLE STEPS
Method
We can make this oatmeal bread in FIVE SIMPLE STEPS just like how we made,
Another good thing about this oatmeal bread recipe is that we don't need to knead the dough;so it is so easy to make this bread….and the bread tastes unbelievably delicious!!
Step 1
Prepare the bread dough.
To prepare the bread dough we need to mix together the wet and the dry ingredients.
In a bowl mix together the flour ,oats,salt and yeast.
Add milk,water,honey and butter into this.
Mix everything together until everything is well combined.Make sure there are no dry patches left behind.
Step 2
First proofing.
Cover the dough with a plastic wrap and keep it in a warm environment for 1 1/2 hours.
Step 3
Shaping the dough.
Transfer the dough onto a floured work surface. As this a wet and sticky dough,using a bench scraper can help us a lot,at this point of shaping.
Roll the dough into the shape of a log with the help of that bench scraper.
Once the dough is shaped into a tensive log,place the onto the loaf pan.
Cover them up with a plastic film.
Step 4
Second proofing/Final rising
Let that shaped bread dough sit and rise for 60-70 minutes.
Before taking them into the oven,brush the top with some water and sprinkle with some oats.
As this oatmeal bread,is not kneaded and has more fiber content,it can crack at undesirable spots..while baking.So in order to prevent this,we can
slash the top of bread with sharp knife,which helps the oatmeal bread to rise beautifully in the oven
Step 5
Bake the oatmeal bread
Bake at 350F for 40-50 minutes.
As this oatmeal bread recipe contain oats which is a gluten free cereal with more fiber content and as this oatmeal bread dough,is not kneaded ;the bread may struggle to hold its structure when baked and the gluten strands may break and cause unexpected cracks here and there in the bread.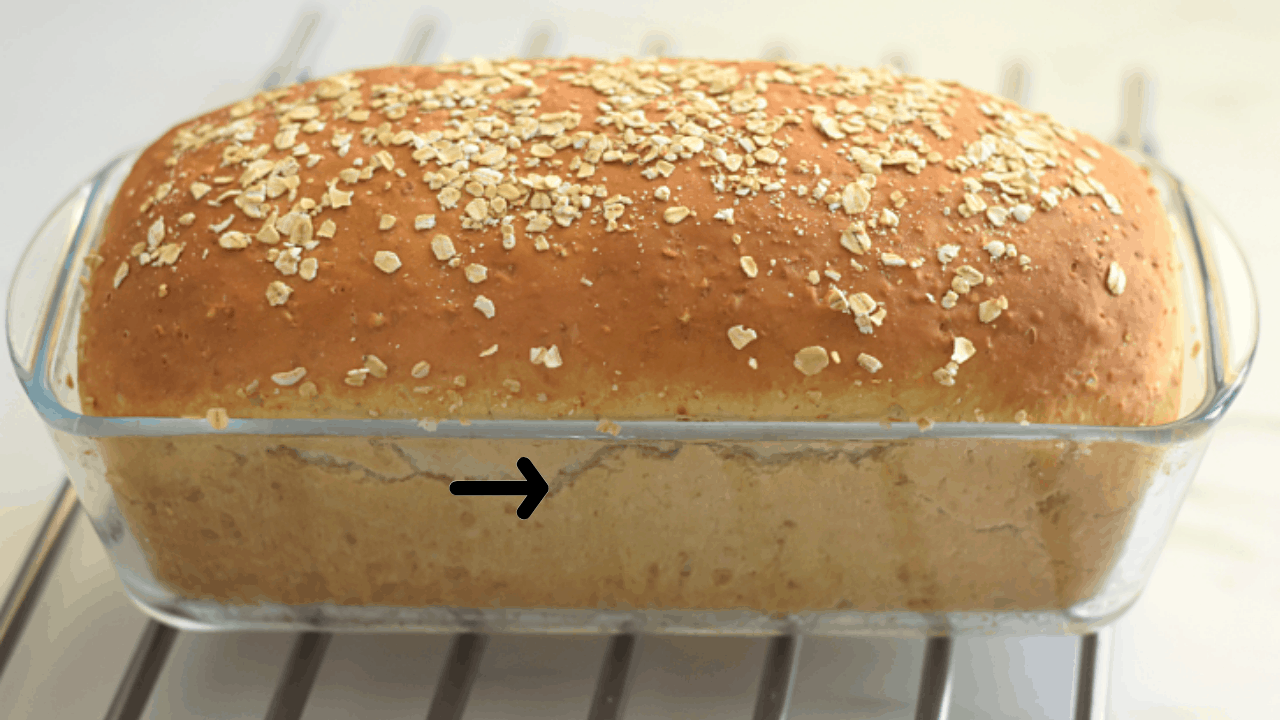 Two things to remember, while baking this oatmeal bread :
1.As this bread is a lightly sweet bread,While baking,you may need to tent the top of bread after 20 minutes of baking ..,with aluminum foil,to prevent over browning.
2.Place a pan with 1 cup of boiling water in the bottom rack of the oven,to create steam inside the oven,which can help in a smooth rise of he bread "oven spring" when baked.
After baking,you will get a beautifully caramelized loaf of bread with a golden brown crust on top .
The crust is sweet and very slightly chewy. The oats add just a little nuttiness, while the inside of the bread is soft and delicious.
I smeared the bread with some butter on top while it is still warm and after five minutes ,i transferred the oatmeal bread on to a cooling rack.
We need to wait for the bread to cool down completely before slicing.The steam which has entrapped within the bread will help the bread to cook completely.
Just before slicing the bread,i smeared the top with some honey.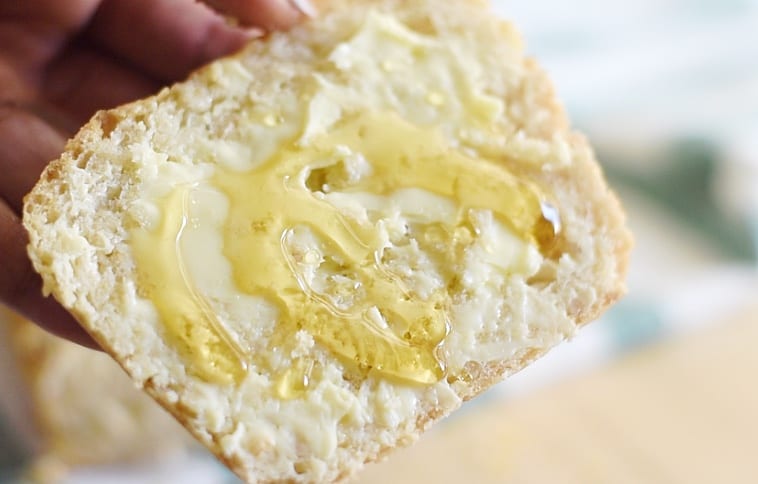 This oatmeal bread have a unique flavor.And just the addition of some butter and honey will give you a heavenly bite.
The bread is super delicious and fluffy when sliced and toasted the next day.
I hope you will make this for your loved ones.
Happy Healthy Baking !!
How is oatmeal bread good for you?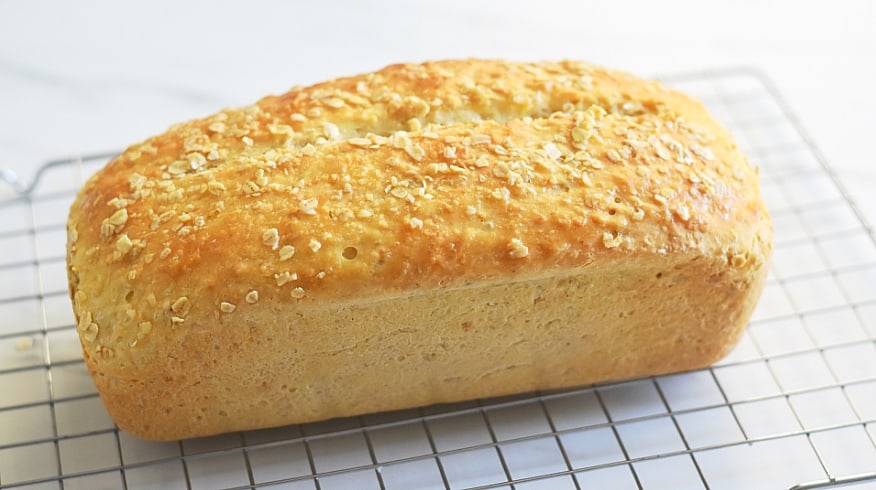 Oatmeal bread with honey can be considered one of the best breads.They are packed with nutrients and sweetened with natural honey and they tastes delicious.
Oats is one of the healthiest source of good carbs.
As they contain more fibers,they are digested slowly in our body and makes you feel fuller longer. Oats are considered as one of the best source of cholesterol-lowering fiber called beta-glucan, which has also been shown to reduce certain cancers, like colon cancer, diabetes, digestive problems, and heart disease.
They are also richer in protein than wheat (about twice the amount), which is obviously beneficial if you're trying to build and repair muscles;
Like many other whole grains,Oats is good source of vitamins, like vitamin E, and nutrients, like iron and calcium.