Wheat tortilla recipe, that will help you make soft and pliable homemade Healthy Whole Wheat Tortillas in less than 30 minutes!
You might think that it's crazy to make tortillas at home while you can use store-bought ones, but believe me you will love your version more!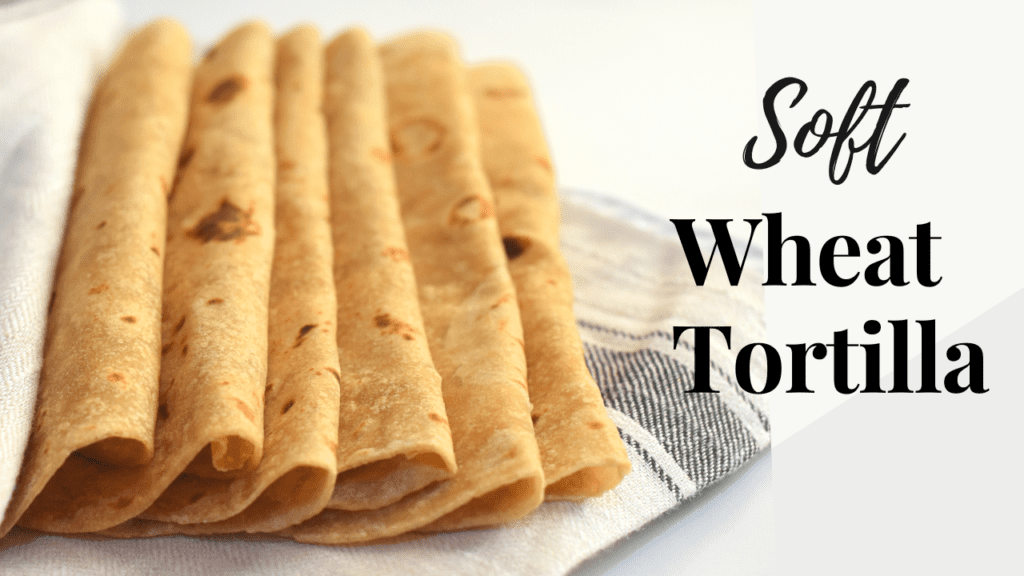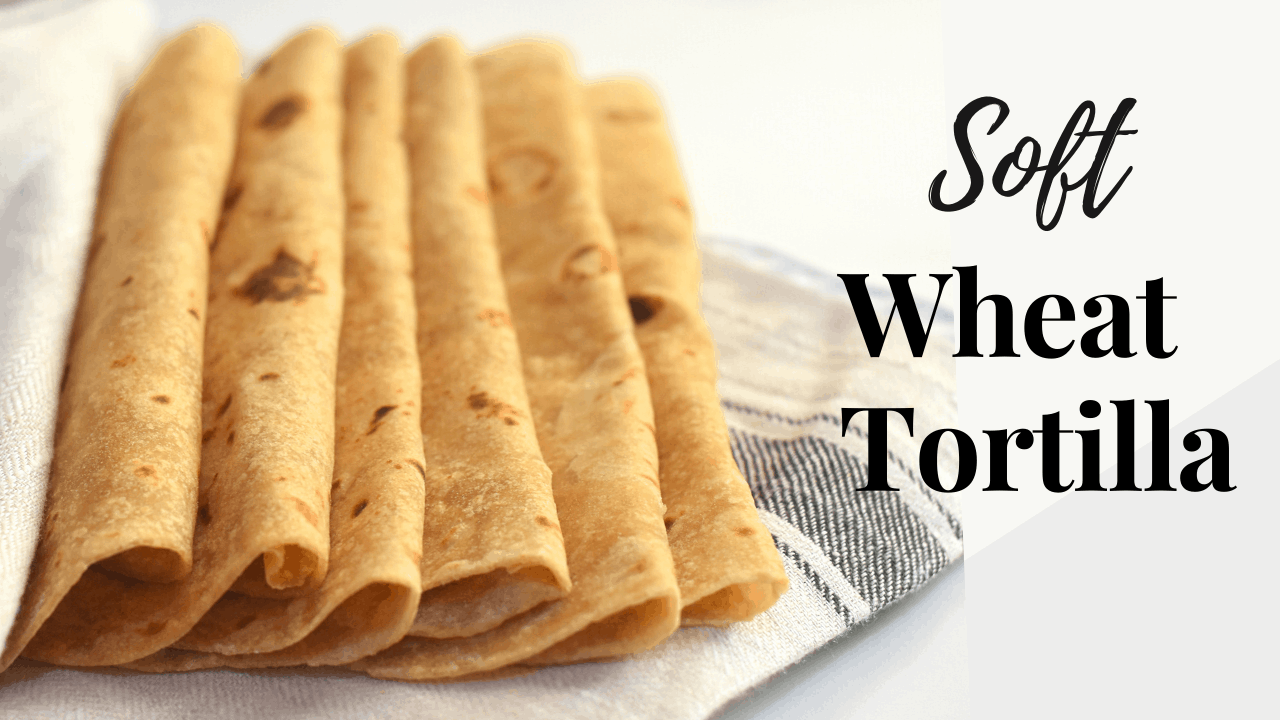 Why you will love this simple wheat tortilla recipe,
We use only five basic ingredients to make our wheat tortillas
We can make soft and pliable wheat flour tortillas in less than 30 minutes!
It is so easy to make this whole grain tortillas as it requires no hard kneading
We don't need to have any special equipments to make these wheat tortillas
We can get rid of those emulsifiers and preservatives that are present in any commercial store bought tortillas.
If you like yeasted flat bread, then you will love these SOFT PITA BREAD RECIPE.
INGREDIENTS for making whole wheat tortillas
Wheat Flour :3 cups
Salt:1 tsp
Baking powder:1 tsp
Butter/Lard/Shortening/Oil :1/4 cup
Very Warm Water : 1and half cups +2 tbsp
Whole wheat tortillas vs Plain flour tortillas
I have tried making tortillas at my home, using 100% all purpose flour,1/3 part of flour as whole wheat flour and 100% whole wheat flour.
Tortillas made with 100% All purpose flour were soft, pale in colour,and tastes delicious.
The tortillas made with 100% Whole wheat flour, pleasantly tasted more "nutty" kind of flavor,were more brown, and they were soft and pliable.They are more tearable too.
Flour tortillas made with combination of flour;1 cup whole wheat flour and 2 cups of all purpose flour came out delicious, with a peaceful balance of the flavor,texture and color.
Definitely,if we get into the health aspects of these three tortillas,the whole wheat tortillas will be more healthy, as they contain more fibers..both soluble fibers(high helps in reducing the blood cholesterol level) and insoluble fibers( which are necessary for keeping our gastro intestinal tract healthy) and more nutrients.
While we use whole wheat flour we will need to add more water as whole-wheat flour absorb more water.For 3 cups of plain flour it require 1 cup of water while whole wheat flour require 1 and half cups of water.
CAN YOU MAKE WHEAT TORTILLAS WITHOUT LARD
Although traditionally made with lard, tortillas are equally delicious when made using butter, shortening, or vegetable oil as fat.If you choose to use oil, add it with the water.
I have tried making tortillas using oil as well as with butter.There was no much difference in softness and texture but there was a bit difference in flavor.Its natural that,Tortillas made with butter had a slight buttery smell, which I prefer.
I am not big fan of "shortening" as it is hydrogenated fat which is not good for our body.
If you are trying to reduce saturated fat in diet, then go for vegetable oil;as butter and lard contain 50g and 32g saturated fat for every 100 g.respectively.
DO WHEAT TORTLLA RECIPE NEED BAKING POWDER
Baking powder is added as a chemical leavener which is supposed to make the tortillas soft and puffy.
I have tried making flour tortillas with and without baking powder.Honestly,I could not find much difference in texture when made with baking powder and without.So if you don't have baking powder and you want to make tortillas you can make them without baking powder.
METHOD
The method of making tortilla is pretty simple.
In this whole grain wheat tortillas recipe, we are making them in Four simple steps.
1.PREPARE THE DOUGH
Into a bowl add the wheat flour, salt and baking powder .Whisk together so that everything will get evenly distributed in the flour.
Add butter/lard/shortening or vegetable oil into this.Cut in the lard using your fingers or a pastry blender until fully incorporated, making a slightly crumbly mixture.
Now add very hot water(I prefer using boiling hot water)
Combine everything together.And knead the dough for 3-4 minutes until it is forms a soft dough.
If the dough is very tough, and dry, the tortillas will not come out soft.So the dough needs to be very soft ..the softer the dough, the softer the tortillas will be.
2.DIVIDE AND LET THE DOUGH REST
Divide the dough into 12 equal parts or according to how big you want them to be.
Roll each dough piece and Make it into the shape of a small ball.
And place it in a plate or container or on the countertop.Cover it with a damp cloth to make sure they won't get dry.
Let them sit and relax for about 15 minutes.
This resting time is to give sometime for the dough to relax and which will make it easy for us to shape the dough into thin tortillas.
3.ROLL OUT AND SHAPE THE TORTILLA DOUGH
Take each dough ball and roll out into thin circles of approximately 8-9 inches in diameter.
4.COOK THE TORTLLAS IN A PAN
Preheat a heavy, dry skillet (such as cast iron) over medium/medium high heat.
HOW TO GET WHEAT TORTILLA PUFF UP IN SKILLET
Once skillet is hot, add the tortilla and cook until small blisters starts to form(approximately 30-45 seconds).Flip and cook the other side and when small blisters start to appear ,flip again.And press the top of whole wheat tortillas and you will see the blisters will become large in size and some times it puff up beautifully that covers the entire tortilla. Beautiful!
You may have to adjust heat of skillet as you go. If it is too hot and the tortilla will brown too quickly.and if not hot enough and it won't brown properly.
Keep finished whole wheat tortillas stacked on top of one another as they come out of the skillet, wrapped in a large kitchen towel. This will keep them nice and warm.
You can also keep them in a tortilla warmer.
Once all tortillas are cooked, serve immediately.
HOW TO REHEAT THE TORTILLAS
Reheat tortillas wrapped in a slightly damp towel on 50% power in microwave until completely warmed through, or wrap in foil and warm in a 350°F oven.
You can also reheat them individually using that same dry, heavy skillet.
Homemade whole wheat tortillas are the best.
Watch the video to see how easy it is to make Whole wheat tortilla
Whole Wheat Tortilla : Printable Recipe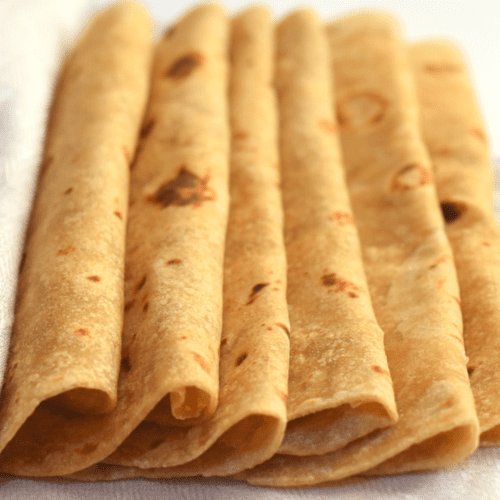 Wheat Tortilla Recipe
This wheat tortilla recipe will help you make soft and pliable wheta tortillas in less than 30 minutes.
Ingredients
3

cups

whole wheat flour

400g

1

tsp

baking powder

1

tsp

salt

1/4

cup

unsalted butter

we can use lard or vegetble shortening or vegetabe oil instead

1 and 1/2

cups

very hot water
Instructions
1.Prepare the dough
Into a bowl add the flour,salt and baking powder.

Whisk until everything is incorporated well.

Add in the butter and mix it with the flour.

Pour the boiling hot water into flour and mix everything to gether using a wooden spoon.

Then bring it all together to form a smooth dough using our hands.

Our tortilla dough is now ready.
2.Divide and let the dough rest
Divide the dough into equal parts.

Roll each portion into a thick disc.

Brush the top with some oil .

Cover the dough disks and let them rest for 15 minutes.
3.Shape the dough
Roll out each dough disc into a circle of approximately 8-9 inch diameter.
4.Cook the tortillas
Cook the tortillas on a hot skillet.

In about 30 seconds,small air pockets will start to appear.

Flip and cook for another 20 seconds and then again flip and cook until golden brown toasted spots appear on both sides.

The tortillas will be cooked in two minutes of cooking.If it takes longer,tortillas will become dry.So take care to keep the skillet at medium heat.

Enjoy soft Wheat Tortillas!