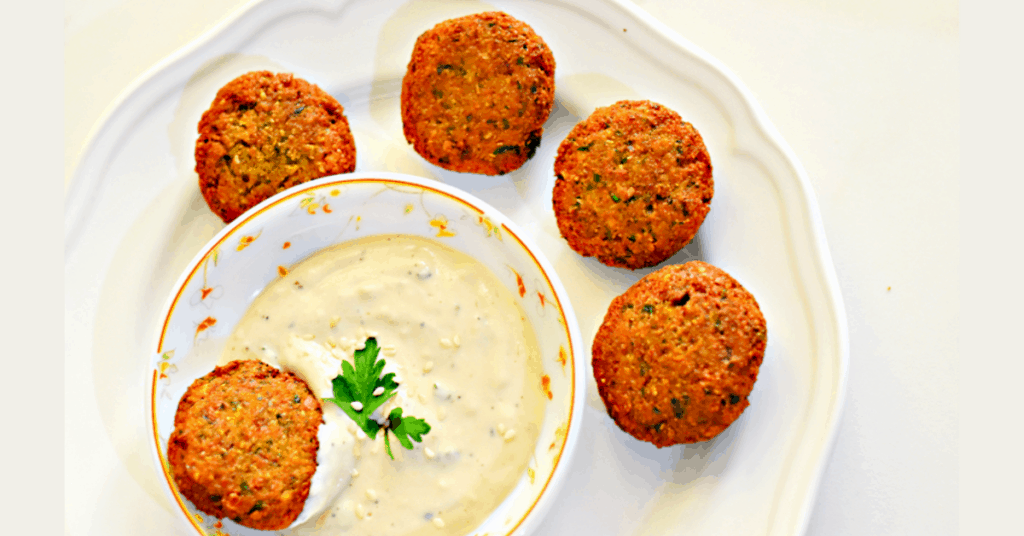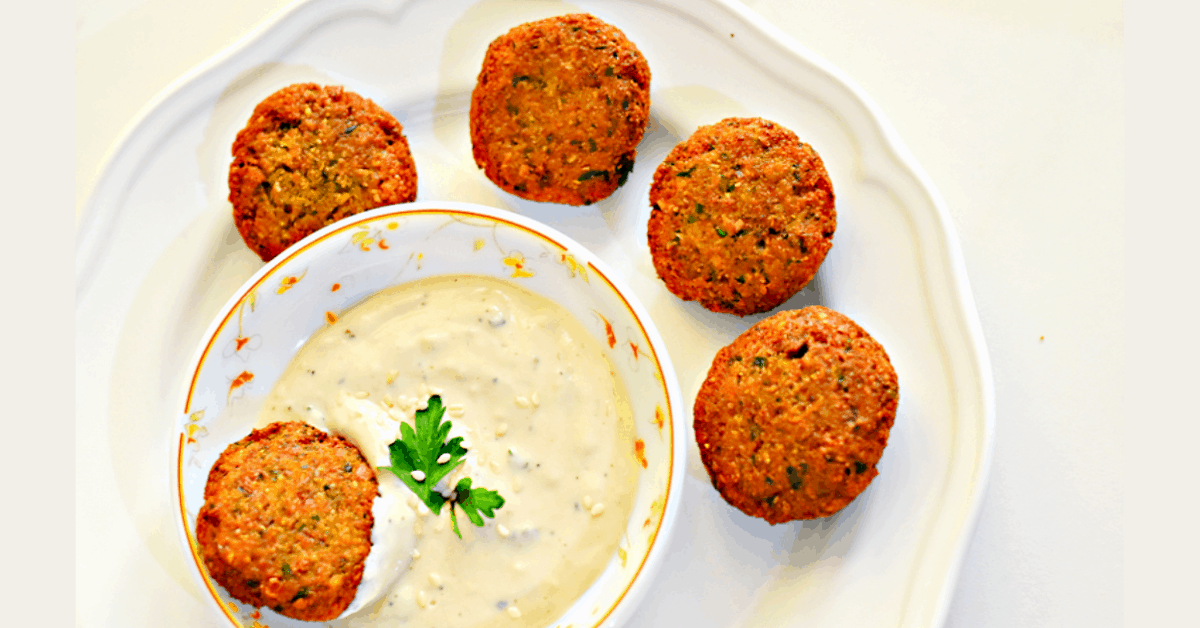 Falafel Recipe that helps you make perfect crispy falafel with soft and green interior..that you will love!
It is a popular middle eastern food made with legumes mostly with chickpeas mixed with herbs and spices and then deep fried until crisp golden brown on the outside and tender and green in the center.
Falafel is one of my favorite meals and I love it as it is 100% vegan, easy to make and above all they are absolutely delicious!
They are the best when served as "The falafel sandwich", made with fresh homemade pita bread and crispy falafel with tahini sauce and pickled turnips.The best combination of all!
Falafel:Ingredients
Dry chickpeas :1 Cup
Chopped Fresh Parsley :1 Cup
Small onion :1
Garlic :3-4 cloves
Cumin Powder :2and 1/2 tsp
Coriander powder :2 tsp
Chilli powder :1/2 tsp
Salt :1 tsp or according to taste
Baking Powder :1 tsp
Plain Flour or Chick pea flour :1-2 tbsp
We should use dry chickpeas, to make Falafel ;that have been soaked in water overnight.This will help us to make authentic falafel with the best texture.Canned chickpeas will not work in making falafel.
How to make Falafel
Into a bowl add in the 1 cup of dry chickpeas.
Pour water in such a way that the chickpeas are completely covered by about 2 inches.
Let the chickpeas soak over night.
After soaking over night, the chickpeas will get more than doubled in size.
Drain the soaked chickpeas.
1.PREPARE THE FALAFEL MIX
Place the chopped parsley in a food processor or in mini chopper .As I used my mini chopper,I processed them in two parts.
If you are using a food processor, you can do it all together.Here I added the chopped parsley and then added the garlic and diced onion and then transferred them into wide bowl.And then added the soaked chickpeas and grind them until they resemble coarse sand.
Pulse until combined, scraping down sides as necessary. Don't over blend. It still needs to be granular, not smooth like hummus…. To achieve this you must pulse, scrape sides, repeat.
Then combine everything together and then add the spices and baking powder.After adding salt, you may find some moisture may seep out from the herbs; at this point, you can add either plain flour or chick pea flour..as it will absorb the extra moisture and will make the mix, perfect for shaping.
2.SHAPE THE FALAFEL
Take spoonful of falafel mix on to your palm and Shape the falafel into round balls or small patties.
We can either use a Falafel Scoop to shape them or its so easy to shape them with our hands as well.
3.FRY or BAKE THE FALAFEL
In a heavy bottomed sauce pan or cast-iron skillet, with 2-3 inch of any vegetable oil, without over crowding, fry falafels over medium heat until they become golden brown.
Turn heat to medium high and heat oil to about 350F (a pinch of batter will sizzle immediately; a piece of falafel will sink halfway to the bottom, then rise).
Total cooking time per batch will be less than 5 minutes. If the oil is too hot it will get browned fast, and the inside will not get enough time to get cooked.

These can also be baked! But frying them is more authentic, giving them that delicious texture and crust that I prefer.
How to bake Falafel
TO BAKE FALAFELS: heat oven to 375 F. Place balls on a greased parchment lined baking sheet. Brush or spray the tops with Olive oil. Bake 12-15 minutes, flip and bake 10-15 more minutes or until golden.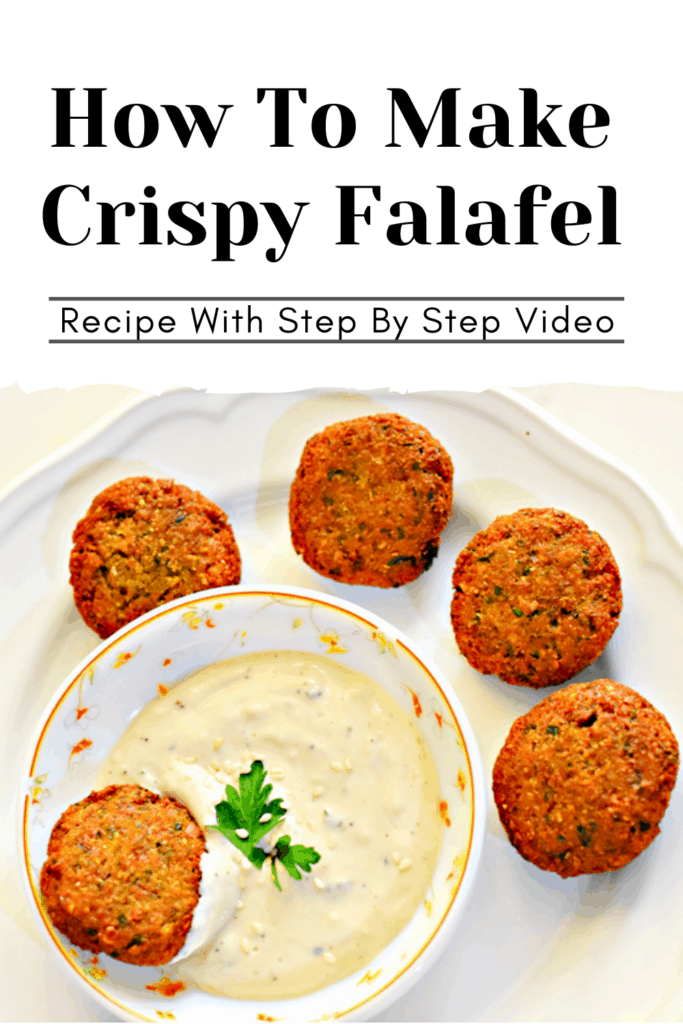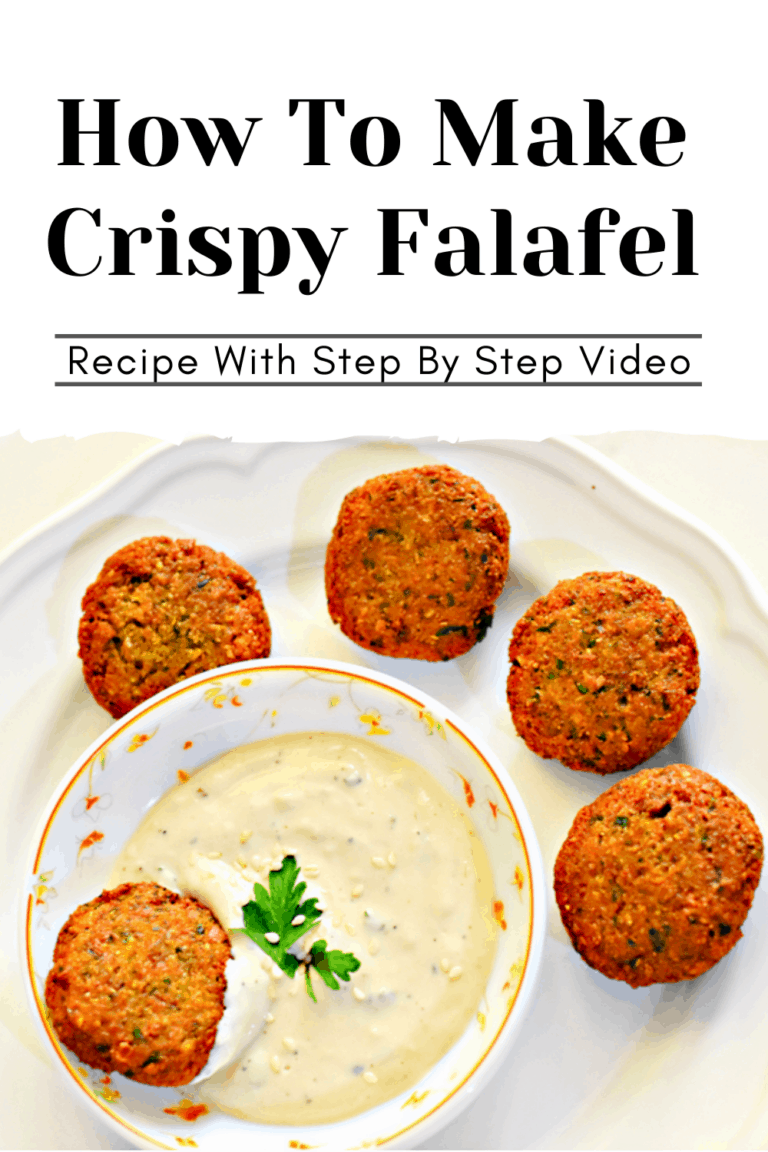 How to make the Tahini Sauce or Falafel Sauce
Tahini sauce is made from tahini, a dense paste made from crushed sesame seeds. Tahini sauce is a mixture of tahini paste, lemon juice, garlic, and water.
Ingredients
1/2 cup tahini (sesame seed paste) – I prefer the paste made from light colored seeds
6 tbsp cold water, or more for according to how thin or thick you want your sauce
2-3 cloves garlic(finely minced)
1/4 cup fresh lemon juice, or more to taste
1/2 tsp salt, or more to taste
a pinch of cumin powder
Whisk in tahini, salt, cumin and finely chopped or minced garlic. We can't make tahini sauce without tahini, and the salt,cumin and garlic enhance the other flavors.
Whisk in ice water and lemon juice until the mixture is smooth and creamy. Tahini will turn more thick in the first stage and then loosens with the addition of sufficient amounts of ice water. It's a really cool transformation!
Adjust to taste, if necessary. Add more water for a thinner consistency, more salt for more overall flavor, and/or more lemon juice for more tang. Your tahini sauce is good to go!
Once prepared, this Tahini Sauce can be stored in the refrigerator up to 2 weeks in an airtight container. This sauce is gluten free, vegan, healthy and tasty. Enjoy!
Watch the Video to see How Easy it is to make Homemade Falafel.
Homemade Falafel Printable Recipe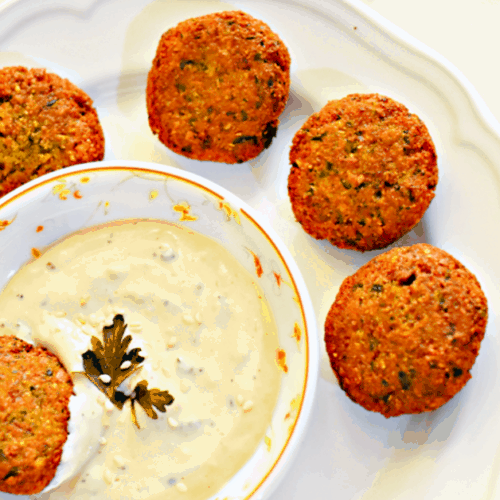 Homemade falafel Recipe
This Homemade Falafel Recipe will help you make crisp golden brown falafel in three simple steps.
Ingredients
1

Cup

Dry chickpeas

1

Cup

Chopped Fresh Parsley

1

Small onion

3-4

Cloves

Garlic

2 and 1/2

tsp

Cumin Powder

2

tsp

Coriander powder

1/2

tsp

Chilli powder

1

tsp

Salt

or according to taste

1

tsp

Baking powder

1-2

tbsp

Plain Flour or Chick pea flour
Instructions
Make the falafel mix
Mince the soaked and drained chickpeas, parsley, onion ,garlic in a food processor or in a mini chopper.

Add the spices and salt.After adding the salt,moisture may seep out from the mix.

Add flour or chick pea flour which willa bsorb the extra moisture.

Add the baking powder.Combine everything together.
Shape the falafels
Shape the falafels into patties or round balls.
Fry/Bake the falafels
Fry the falafels at medium heat for 4-5 minutes.

TO BAKE FALAFELS: heat oven to 375 F. Place balls on a greased parchment lined baking sheet. Brush or spray the tops with Olive oil. Bake 12-15 minutes, flip and bake 10-15 more minutes or until golden.

Enjoy Fresh Homemade falafels
How to make Soft Homemade Pita Bread
How to make Delicious Creamy Hummus