Coffee Buns are buns with coffee buttercream topping!
A few years back,I got a chance to taste this coffee buns from "Papa Roti" Doha and I fell in love with the buns.I could say, it was one of the best breads I had ever had in my life. The crispy coffee flavored topping and the feathery soft and light buns with a buttery twist inside.
Its so good that we can make the same coffee buns in our home with only a few basic ingredients which are mostly already present in our pantry.
I always look for how to make the recipe easy ,so that we can make delicious buns in a simple method.
Here in this recipe, we are going to make this coffee buns in faster method,which require only one rising or one proofing.It will save a lot of our time.
The resulting coffee buns are extra soft and fluffy and full of buttery goodness and covered in a coffee shell.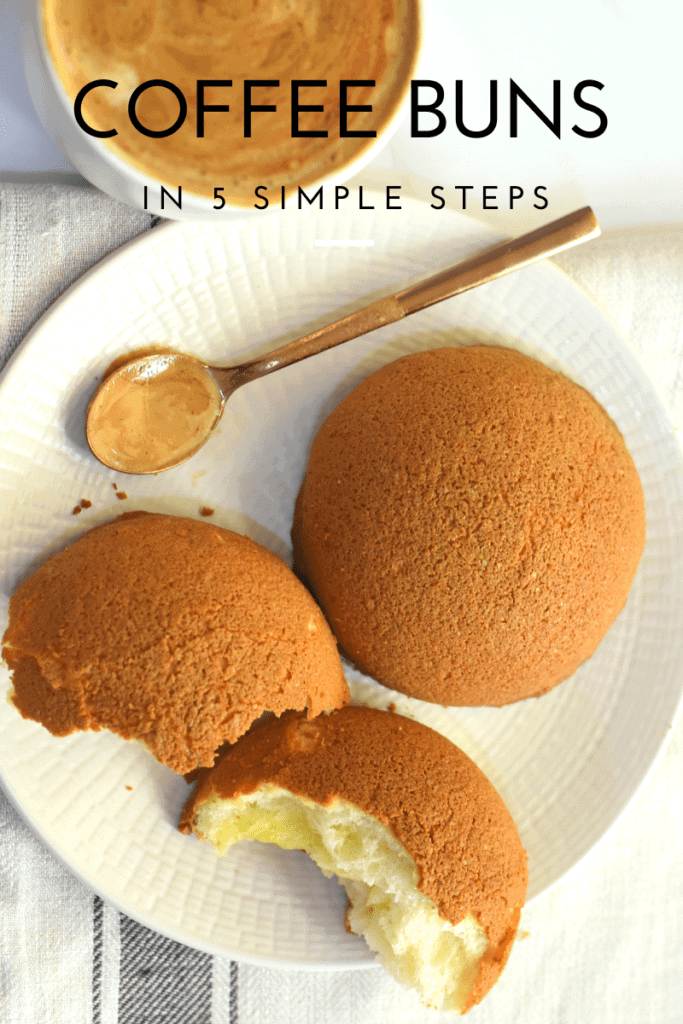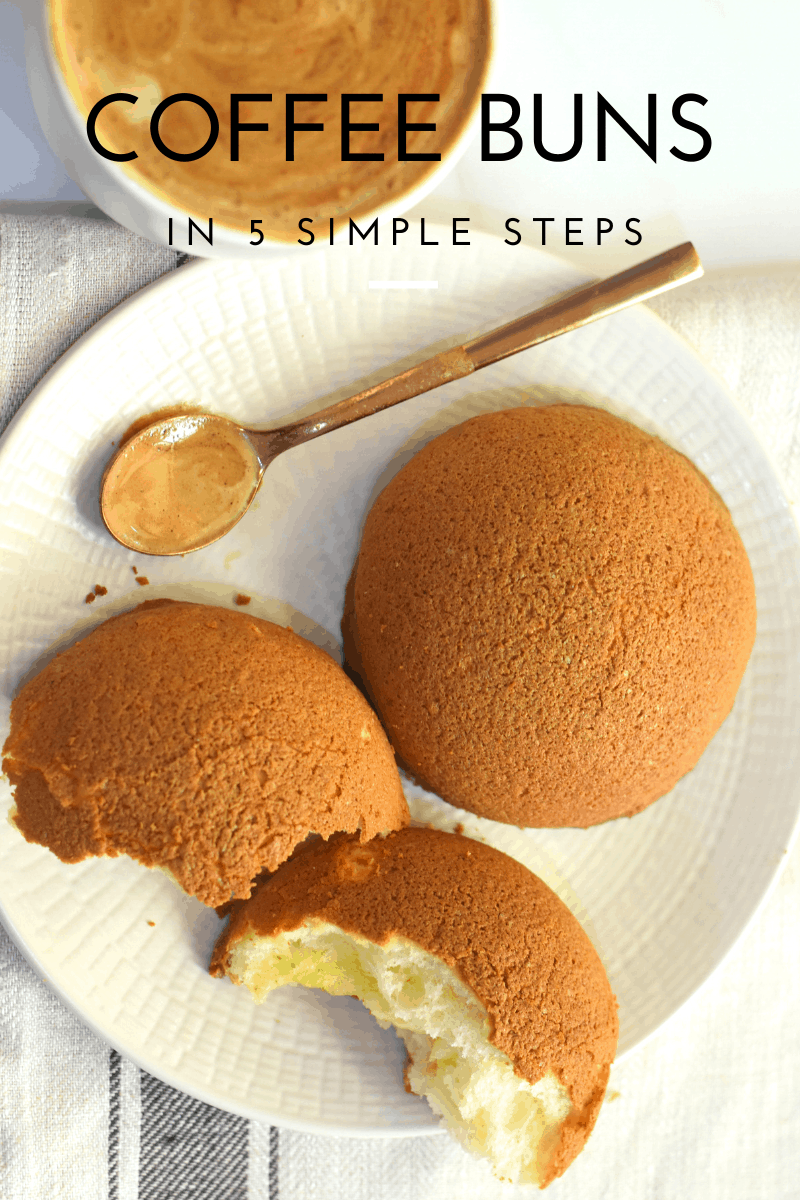 Ingredients needed:
For making bun
Flour : 325g (2 and Half Cups)
Milk :150ml (half cup+2 tbsp)
Egg :1
Butter :42g (3 tbsp)
Yeast :1 and 1/2 tsp
Sugar :37.5 g(3 tbsp)
Salt :3/4 tsp
For the filling
Take 50 g of butter and divide into 10 equal parts.You can use cubes about 4-6 g weight according to your preference.
For the coffee topping
Sugar:60g(4 tbsp+2 tsp)
Butter:60g(4 tbsp)
Flour:70g
A Pinch of salt
1 Egg
10 ml warm water
half tbsp instant coffee powder
HOW TO MAKE MEXICAN COFFEE BUNS
Before starting to make the bread dough,Lets divide the butter block into ten equal pieces and place them in freezer.It will be easy to handle the cubes when they are cold .
We can make the coffee buns in FOUR SIMPLE STEPS
Step 1:PREPARE THE BREAD DOUGH
Into a bowl, add in the milk, sugar,salt,yeast,egg and flour.Just mix everything together to form a shaggy mass of dough.
Transfer the dough on to a clean work surface and knead the dough until we get a soft, smooth elastic dough.
The dough is very sticky to handle in the beginning.At this stage we may get tempted to add more flour into this.But don't do that.Just keep on kneading the dough.
In this recipe,I have not added any extra flour or water.So If you follow the measurements by grams, you dont need to add any extra flour or water just knead the dough until you get a smooth soft dough.
But the consistency of this dough may change, if we follow volume measurements (cup measurements )instead of weighing the ingredients, or according to the size of the egg that we use or according to the type of flour that we use…And thats ok.
In that case ,if you find your dough to be sticky and wet, even after kneading for 5-6 minutes you can add few more tablespoons (one at a time)of flour or if you find the dough to be tough and dry even after kneading for 5-6 minutes you can add few more tablespoons of milk or water(one at a time).
While making a bread we dont need to be very strict on the measurements…but we should know the consistency of our final dough.
HOW CAN I UNDERSTAND MY DOUGH IS WELL KNEADED
A well kneaded dough, will be smooth,and it will spring back when indented.(which shows the elasticity of the dough).And probably the best way to tell our bread dough is properly kneaded is the "windowpane" test.Just stretch the dough between your fingers. If the dough tears, it indicates ,we haven't developed enough gluten and it needs more kneading. If it stretches without breaking, making a windowpane of sorts, you're done.
Step 2.DIVIDE AND SHAPE THE DOUGH
We need to divide the dough into 10 equal parts.We can either eyeball it or to get even baking and even sized buns, we can use a kitchen scale.Each of them will be around 60g.
Then roll each portion into round balls.
Then Roll out each ball and take care to keep the center of the disc to be thick and the edges to be thin.(Otherwise the butter will be on the top and when it melts while baking, the shape of buns will be distorted)
Place the cold cube of butter in the center of the disc and cover it and then pinch and seal the edges.
Cold butter makes this part easier to manage.
Place them on a baking tray and Once you've finished filling all your dough with butter,Cover them with a cling film and let the buns sit and rise.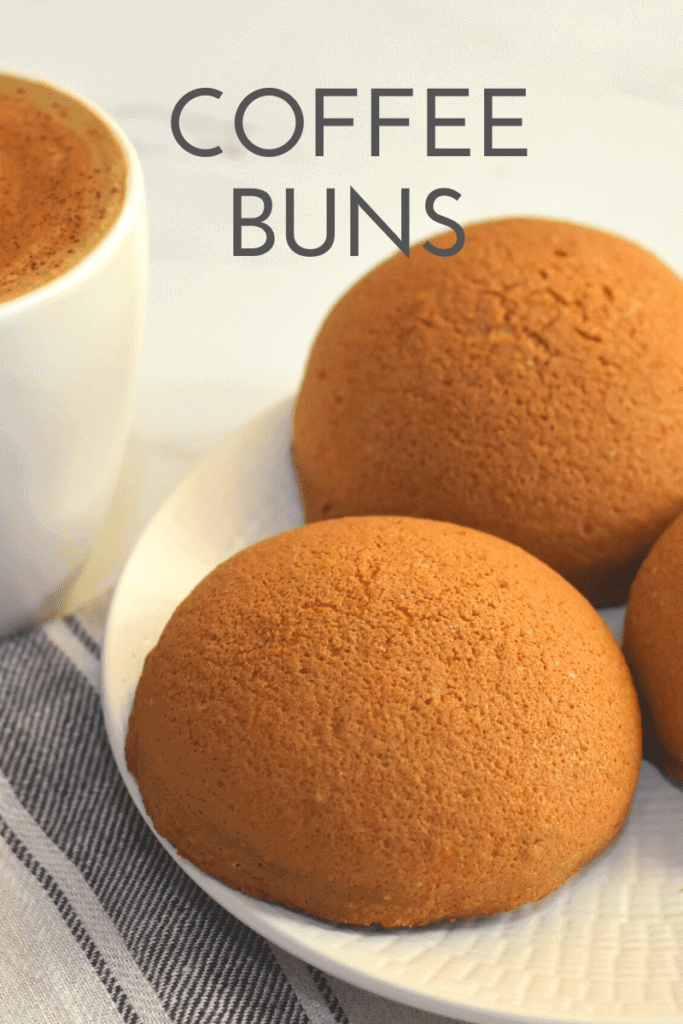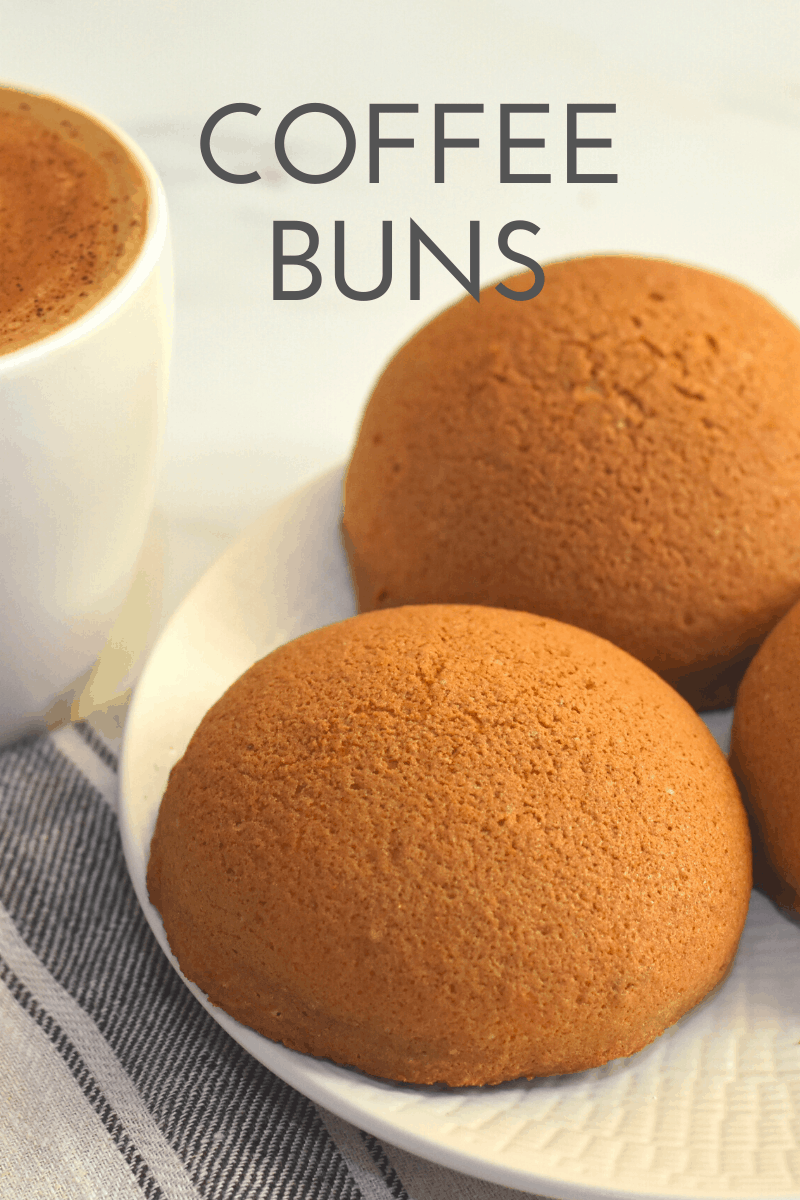 Step 3.PROOF THE DOUGH
We need to let the buns sit and rise for 75-90 minutes according to the warmth of your room.
WHY COFFEE BUNS NEED LONGER PROOFING TIME?
As this buns contain cold butter cube inside it, it will take long time for the buns to rise and puff up.That is why we need 1 and 1/2 hours of proofing time.Otherwise the buns will not rise properly.
While the buns are proofing, lets prepare our coffee butter cream topping for the buns.
HOW TO PREPARE COFFEE BUTTERCREAM TOPPING FOR COFFE BUNS?
Into a bowl, add the softened butter, sugar and beat until we get a pale and fluffy buttercream.
Add the coffee solution, and egg and combine them together.Take care not to overbeat after adding egg(as it will cause air bubbles to get into the cream which will make the topping spongy)
Then add the flour and mix until they are just incorporated.
Transfer this into a piping bag.
If you don't have a piping bag, use a plastic bag and cut a small opening in one corner.
Step 4:TOP THE RISEN BUNS WITH COFFEE BUTTERCREAM
Now we need to top the buns with coffee buttercream.
THINGS TO REMEMBER WHILE PIPING THE COFFEE BUTTERCREAM TOPPING
Cut off about a 1/2 inch opening on the tip of your piping bag, and what you want to do is pipe the coffee topping in a tight circular pattern starting from the top of the buns down to about one third part of the sides of your coffee buns.
We don't want to pipe down all the way because that will be too much topping. This butter-based coffee topping will melt downwards and form a coffee shell over the buns. If you pipe until the bottom, the topping will just melt down all over the place.
When piping the coffee frosting on the bread, make sure the lines are all touching one another. If there is spaces in between the lines, the frosting will not melt properly to give you a smooth coating; in that case, there will be gaps after baking.
Cutting a bigger hole in the piping bag will help in easy piping
While piping ,keep the tip of piping bag very close to the buns, will help to pipe without any vacant space.
Step 5 :BAKE THE COFFEE BUNS
Bake the buns at 350 F for 18-20 minutes.
Watch the video to see how easy it is to make Coffee Buns
WHY MY COFFEE TOPPING IS SPONGY?
While making the coffee topping, we dont need to beat the eggs for long time..just enough to mix them together.Otherwise air pockets will get trapped inside the egg whites and the topping will turn spongy.
So,Dont Overbeat the eggs ,our topping could end up with spongy texture.
WHY MY COFFEE TOPPING IS VERY THIN?
Our Coffee topping mostly contain butter, and it will melt too fast during the initial few minutes of baking ,leaving only a thin topping crust on top of the buns.
How to prevent this?
To prevent this from happening ,keep in mind that our topping mix should have be cold and not hot or already almost melt.So it's best to be kept in the fridge until use. Otherwise it could melt too quickly in the oven.
WHY MY COFFEE TOPPING IS NOT SMOOTH?
If the butter and sugar is not beaten well, there are chances that the coffee topping may get grainy and not smooth.
How to prevent this?
Beat the butter and sugar until they are light and fluffy.
HOW CAN I SUBSTITUTE EGG IN THIS MEXICAN COFFEE BUNS RECIPE?
Role of egg in bread making:
Eggs added to dough help with rising. A bread dough rich with egg will rise very high, because eggs are a leavening agent (think genoise or angel food cake). As well, the fats from the yolk help to tenderize the crumb and lighten the texture a bit. Eggs also contain the emulsifier lecithin. Lecithin can add to the overall consistency of the loaf.
So it is difficult to substitute something else for egg to get the same result.
At the same time, I can say that ,as we have used only one egg in this mexican coffee buns recipe, we can easily replace the egg to make coffee buns without much difference in texture and taste of the rolls.
As one egg is approximately 45 ml,just replace the same volume with milk or water.So you can add 3 tablespoon of water or milk in place of one egg.
Remember, this will not be equivalent to adding an egg,but I can promise you that it will be difficult to find any difference between the one made with and without egg in this particular coffee buns recipe.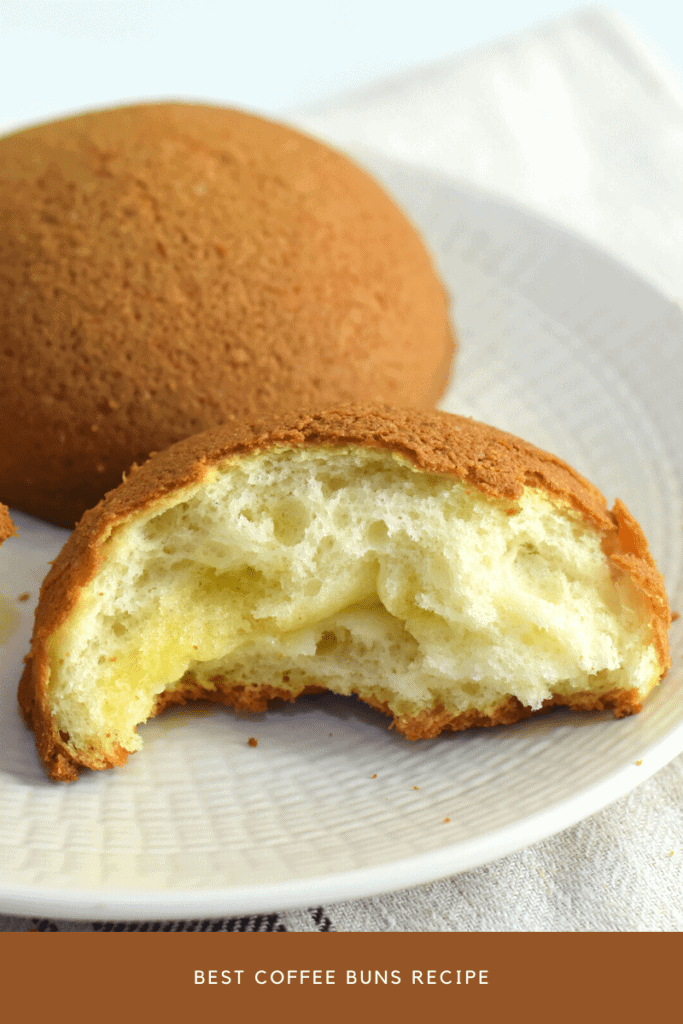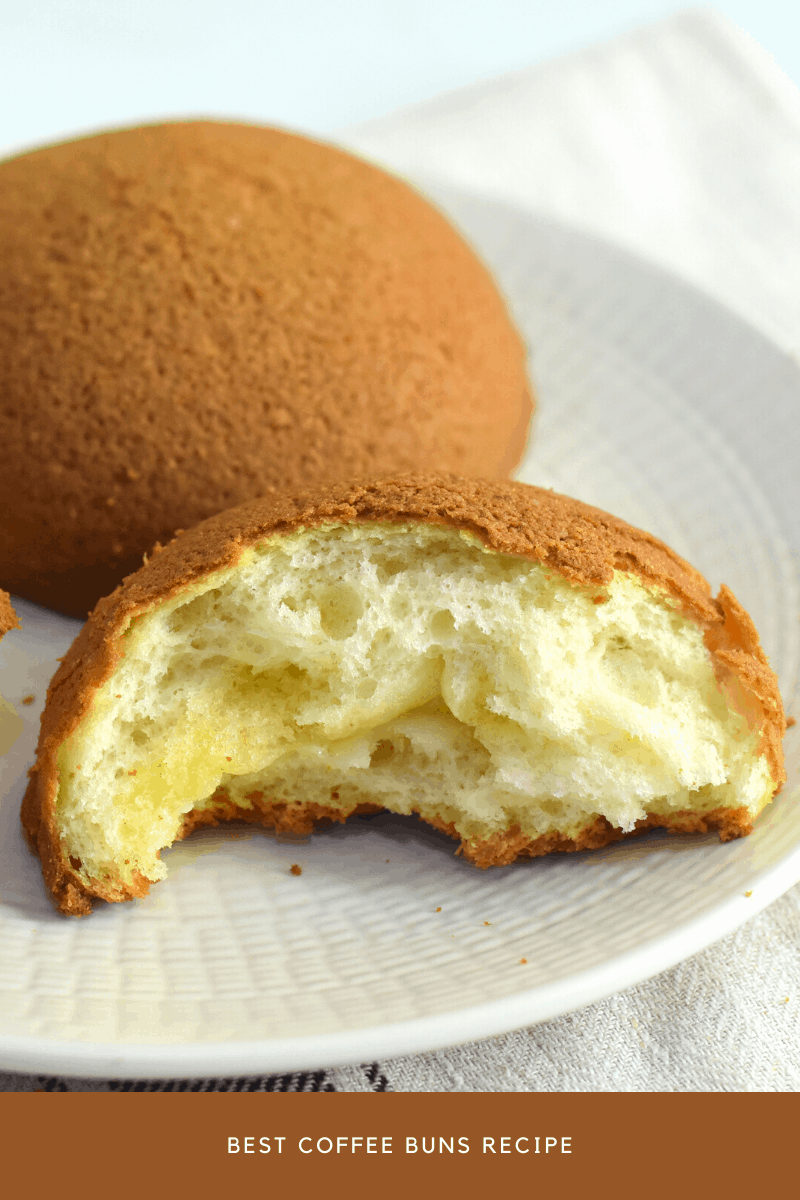 Coffee Buns Printable Recipe.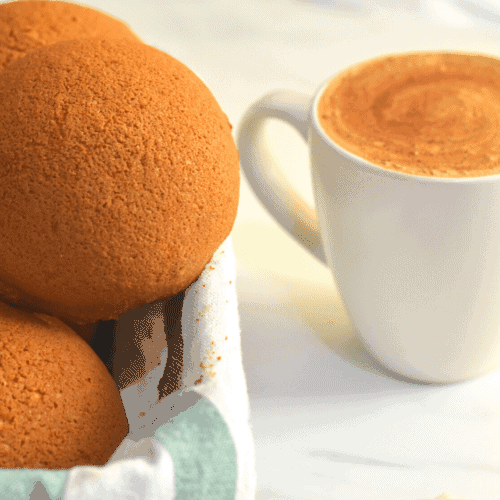 Coffee Buns Recipe
Coffe buns are soft buns with coffe cookie crust on top.This coffe buns recipe will help you make soft and fluffy coffe buns in five simple steps
Ingredients
To Make Bread
325

g

Flour

2 and Half Cups(loosely packed)

150

ml

Milk

half cup+2 tbsp)

1

Egg

42

g

Butter

3 tbsp

1 and 1/2

tsp

Yeast

37.5

g

Sugar

3 tbsp

3/4

tsp

Salt
For the coffee topping
60

g

Sugarhalf tbsp instant coffee powder

4 tbsp+2 tsp

60

g

Butter

4 tbsp

70

g

Flour

A Pinch of salt

1

Egg

10

ml

Warm water

Half

tbsp

Coffee Powder
Instructions
Prepare the dough
Add in the milk,sugar,salt,yaest,egg,butter and flour into a bowl.

Mix everything together to form a shaggy mass of dough.

Knead the dough until we get a soft ,smooth,elastic dough.
Divide and Shape the dough
Divide the dough into 10 equal pieces.(60g each)

Roll each portion into small round balls.

Flatten the balls and stuff with frozen butter cube and then wrap it with the dough.

Place these rolls onto a nonstick baking tray or on to a baking tray lined with parchment paper.

Cover it with plastic film.
Proofing the dough
Let the dough balls sit and rest for 80-90 minutes.
Pipe the buns with coffee topping
Pipe the prepared coffee topping onto the risen buns in a tight circular pattern upto 2/3rd of the top surface.
Bake the coffe buns
Bake the piped rolls @350F preheated oven for 20-22 minutes.

Thse coffe buns are lightly sweet and mildly flavored with coffee.

Have them with some hot creamy coffee.

Enjoy!