Ciabatta bread is an Italian rustic looking bread, made from a sticky wet dough which gives it its unique porous texture and unique flavor.
The soft, chewy texture and the big airy holes make ciabatta perfect for dunking into soups or swiping up sauce from a dinner plate. It also makes for a delicious sandwich bread filled with layers of cured meats, cheeses, and balsamic vinegar.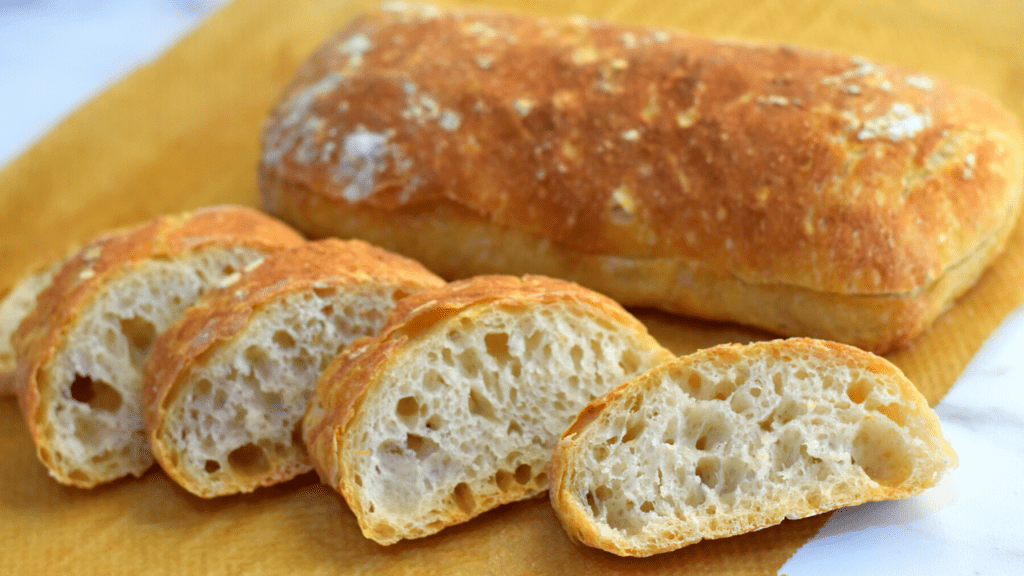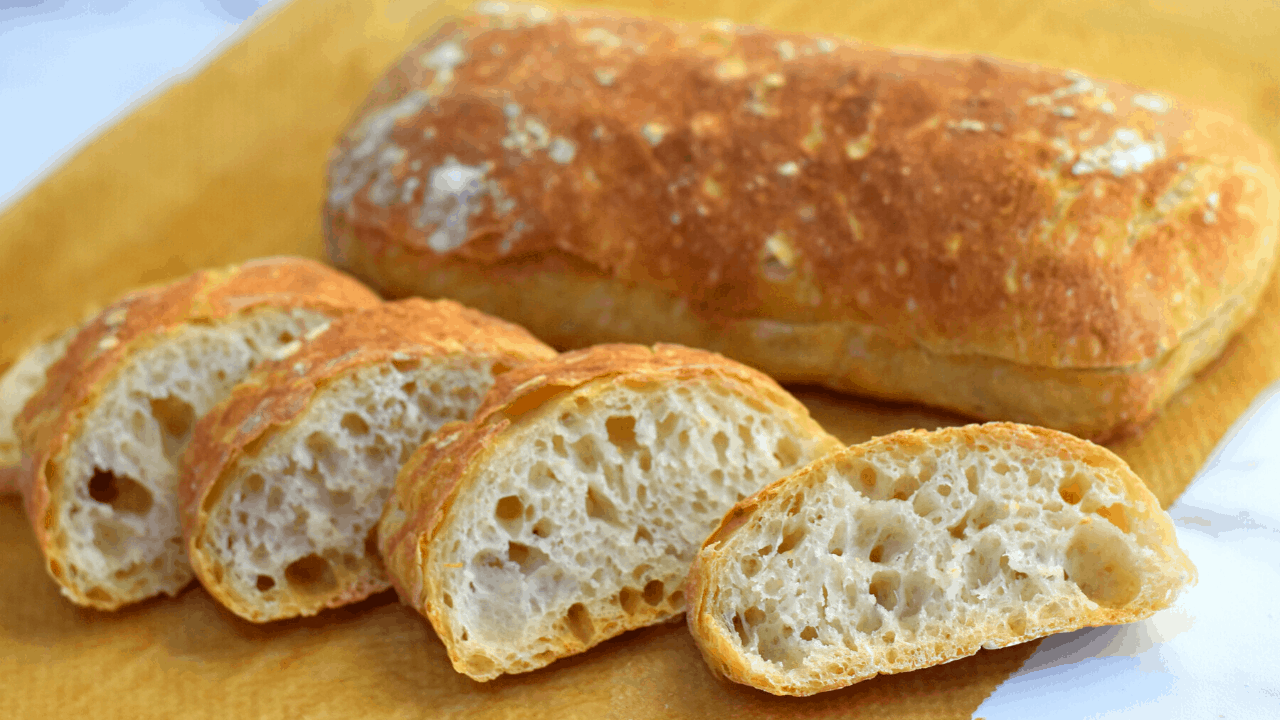 What makes ciabatta different from other bread recipes
Ciabatta is made from a lean yeast dough meaning that there is not fat present in the dough. This creates a very chewy bread with a slightly crispy crust.
Ciabatta is made from a very wet dough which gives it its unique moist texture and one-of-a-kind flavor.
What is special about this ciabatta bread recipe?
Usually we use "biga" or "poolish" in making ciabatta bread.But in this recipe we are skipping that step.I have tried making ciabatta using poolish and without using it.I haven't seen any serous difference in the taste and flavor in both.
I always like to simplify recipes and I hope you will love this ciabatta bread recipe as,

It is easy to make; there is no hard kneading
Requires only four basic ingredients
It doesn't require any previous preparation as we dont use biga or poolish
This is one of the fastest method of making ciabatta bread
We dont need any special equipments to make this ciabatta bread even any proofing canvas or couche.
The resulting ciabatta bread is so incredibly soft in the middle filled with large porous structure and with a crispy crunchy crust.
All these factors make this artisan ciabatta bread recipe one of the best recipes for making homemade ciabatta.
WHAT IS THE DIFFERENCE BETWEEN CIABATTA AND FOCACCIA?
Ciabatta and focaccia are both Italian style breads but they are different in their makeup.
Shape:
The main difference is that ciabatta is a bread that is formed into loaves while Focaccia is a flatbread.
Dough content
Ciabatta also typically does not contain any fat which creates a very chewy texture while focaccia typically has oil in its dough which creates a softer texture.
Ingredients for making ciabatta bread
350 g Flour pain flour or bread flour
280 g Water
1 tsp yeast
1 tsp salt
HOW TO MAKE ARTISAN CIABATTA BREAD
As with any bread recipe, there is not one way to approach it rather many different techniques that could be used. This technique produces authentic ciabatta bread that are soft, pillowy, and chewy.
STEP 1:PREPARE THE DOUGH
Pour the water into a bowl.Add the yeast, salt and dissolve it in water.Then add the flour into this.Combine everything together using the rear end of wooden spoon.Its easy to do this way and also it helps to have less mess while mixing.
If you have a stand mixer ,then you can use it form the dough.
Use the dough hook attachment and knead the dough for 6-7 minutes until they form a dough.
In this Ciabatta bread recipe I have not used stand mixer.
Its so easy and relaxing to make ciabatta, this way and the result is quite amazing.
After we make the dough,Cover the bowl with a plastic film and keep it in a warm environment.
STEP 2:PROOFING AND FOLDING
Like any other bread recipes,We need to proof the dough.
To give more structure to the bread dough we usually knead the dough.But as this is a high hydration dough, it is difficult to knead the dough by hand.
So we are doing a magic which will transform the dough to a well structured dough.
We will stretch and fold the dough in every half an hour.
HOW TO DEAL WITH STICKY CIABATTA DOUGH.
Ciabatta dough is an extremely wet (high hydration) dough. To give you an idea, most bread recipes sit around 60% hydration while this ciabatta recipe is at almost 80% hydration. Because of this, the dough is not kneaded the same way other yeast dough is. Rather, it is allowed to slowly ferment with a series of brief stretch and folds.
Apply some water on hands will make it so much easier to work with the dough.
What is the purpose of this stretching and folding
The stretch and fold method serves two main purposes:
it layers the gluten to build structure in the dough,
it redistributes the heat within the dough
How to do the stretch and fold kneading
The dough will bulk ferment for 2 hours, with 3 rounds of brief stretch and folds between each 30 minutes. To stretch and fold, lightly damp your fingers (this will help the dough not to stick) and pull up on the side of the dough and fold it back down on itself. Turn the bowl 90 degrees and repeat. Do this until you have stretched and folded all 4 sides of the dough. Turn the dough over, cover, and allow it to ferment for 30 more minutes until the next round.
STEP 3:DIVIDE AND SHAPE THE DOUGH
After 2 hours of proofing along with the stretching and folding, the dough will get doubled in size.Transfer the dough on to a floured work surface.
Now pull the dough from underneath to form a rectangular sheet.
Roll the dough, just as we roll a jelly roll to form a log.
Pinch the edge to seal.
Now divide the dough into three equal parts.
Place each piece on a well floured work surface.
We need to take care to leave enough space in between the dough as they will rise and expand .Dust the top with some more flour and then cover it with a plastic film.
STEP 4 :SECOND PROOFING
Cover them with a plastic film and let the shaped dough rest for 45 minutes on the counter top.
After 45 minutes of proofing, take the proofed dough and then gently stretch the dough to form long rectangle or to the shape ciabatta bread.
Using a bench scraper would be of great help during this time.
Transfer the dough on to parchment paper.
Now they are ready to go into the oven
STEP 5:BAKE THE BREAD
Slide the parchment paper onto the preheated baking stone or onto the preheated inverted baking tray.
And spray with some water immediately .
Close the oven door.
Bake at 450F for first 10 minutes and then reduce the temperature to 400 F and bake for another 12-15 minutes.
It may seem the bread is done at 20 minutes of baking but we need to wait for another 5 minutes..to get that right flavor and crispy crust.
Two important things to remember while baking Artisan ciabatta bread.
High Oven Temperature
Presence of Steam inside the oven
are most important to get crispy crackly crust for ciabatta bread.
The bread may seem baked at around 20 minutes of baking.But to get the real rustic look and taste, we need to bake for 5 more minutes.
Watch the video to see how easy it is to make Artisan ciabatta bread
HOW LONG DOES CIABATTA BREAD LAST AT ROOM TEMPERATURE
Properly stored, ciabatta bread will last for about 2 to 3 days at normal room temperature.
To maximize the shelf life of homemade ciabatta bread, cool thoroughly before storing and place in plastic storage bag or breadbox, or wrap in foil and store at room temperature.

Its better not to store them in fridge as the bread will dry out and become stale faster than at room temperature.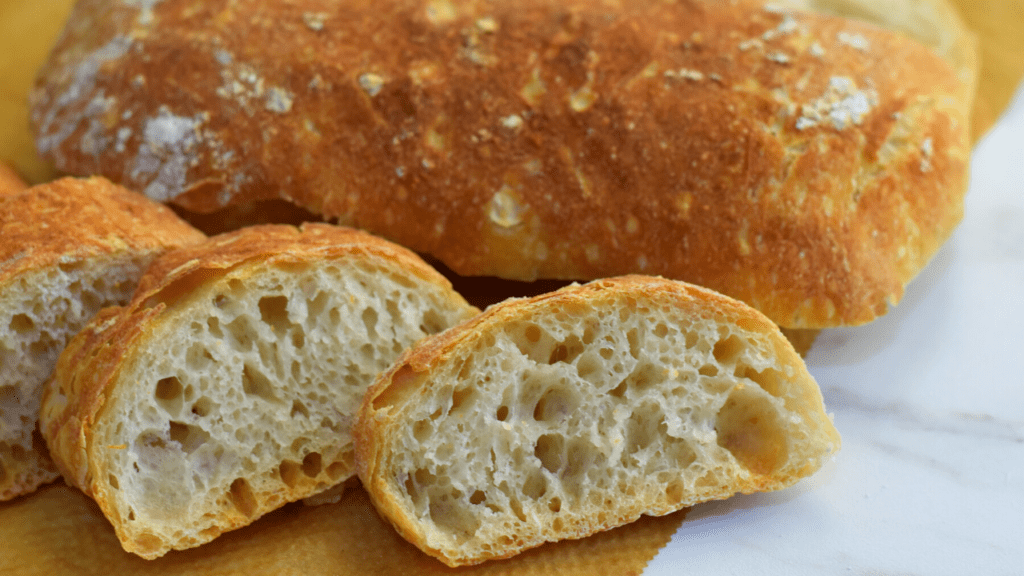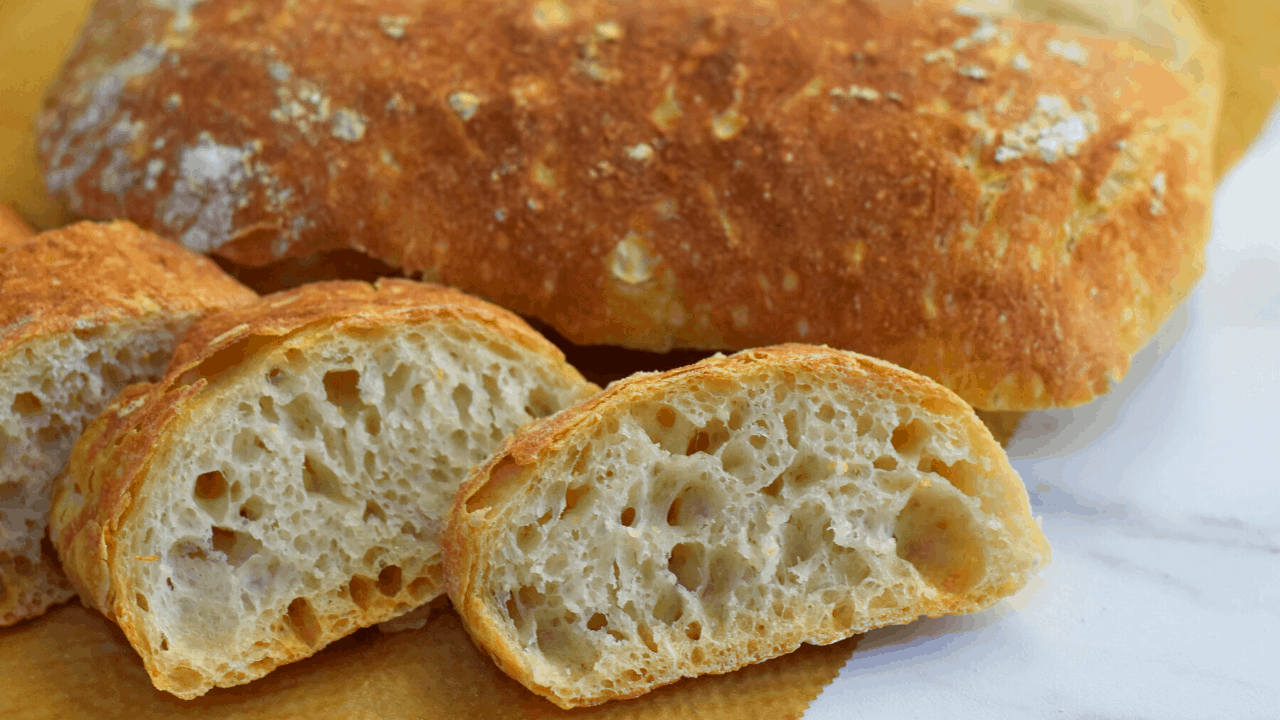 CAN CIABATTA BREAD BE FROZEN?
Yes, they can be frozen.
To freeze ciabatta bread,Wrap tightly with aluminum foil or plastic freezer wrap, or place in heavy-duty freezer bag and freeze.Properly stored, it will maintain best quality for about a month.
FIVE DELICIOUS WAYS ARTISAN CIABATTA BREAD IS SERVED WITH
Serve it with soup:
As ciabatta bread has a porous crumb, they can soak up liquid without falling apart; making it perfect for dipping into soup.We can use any soups …I like to dip them in potato broccoli soup.Delicious!
Serve it with extra-virgin olive oil and balsamic vinegar:
Thick slices of ciabatta bread with some extra virgin olive oil and balsamic vinegar.The most popular way to have some ciabatta bread.This is the way my husband love to have ciabatta bread.
Make sandwich:
Slice the ciabatta bread horizontally and fill it with any combination of ham, turkey,salami..some red peppers, olive .. and cheese
With Stews:
Ciabatta bread goes pretty well with any meat stews or vegetable stews.The bread slices make a perfect sponge for soaking up that extra creamy stew.
As Toast:
Brush slices with melted butter or olive oil and if you want to add some flavor ,you can add some finely minced garlic,and to add some heat you can sprinkle some chili flakes. Toast in the oven until the edges are golden.We can also toast them on a preheated pan.toast for 1-2 minutes on both sides or until golden brown.
Artisan ciabatta Bread :Printable Recipe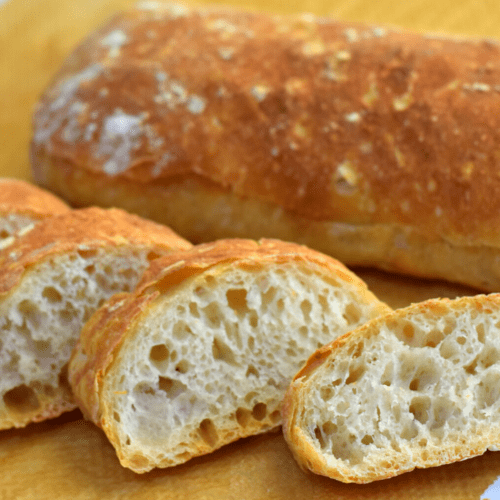 Artisan Ciabatta Bread
This Ciabatta Recipe will help you make ciabatta which has wonderfully soft and porous crumb and crispy crust.
Ingredients
350

g

Flour

pain flour or bread flour

280

g

Water

1

tsp

yeast

1

tsp

salt
Instructions
Prepare the dough
Pour water in to a bowl.

MIx in the yeast and salt into the water.

Add in the flour.

Mix everything together.

Cover the bowl and let the dough rest in a warm place.
Proofing + stretching and folding
In this step as our dough rises,we need to stretch and fold the dough.This will help in the devolopment of gluten strands as we are not kneading the dough.

After half an hour,lets stretch the dough and fold it back on it itself.turn the bowl at right angle and repeat on all four sides.Repeat this once again.

In another half an hour,repeat the same process.

And we need to do this a total of three times

So After 2 hours,Transfer the dough onto a floured work surface.

Shape it into a rectangle.

Roll it just as we roll a jelly roll and pinch the edges to seal it.
Divide and shape the dough
Divide the dough into three equal parts.

Transfer the dough on to well floured work surface.Dust will some more flour on top;to prevent the chance of dough sticking to the cling film.

Cover the shaped dough with a pastic film.
Second Proofing
Let the dough sit and rise for 45 minutes.
Final shaping
Take each dough, stretch and shape it into the a long rectangle.

Transfer the dough onto a baking sheet.
Bake the bread
Bake at 450 F preheated oven for 10 minutes and then reduce the temperature to 400 f and bake for another 12-15 minutes.

Spray with some water.

Do not open the oven during baking.

Enjoy Freshly baked crispy crusted soft and spongy Artisan ciabatta bread.