Best Dutch ovens for making Bread: Want to make the perfect, soft inside crusty outside loaf of bread? Let us find you the best Dutch oven for bread that is practical and well worth your money!
A Dutch oven can uplift an ordinary homemade bread to an artisan style rustic bread.As there are so many different options of dutch ovens to buy, you should know which is the one most suits your needs.
Baking bread in a Dutch oven will get you that perfect, crusty loaf. This well-trusted cooking pot is baker's favourite across the globe, and if you love rustic ,crusty bread with soft crumb, investing in a Dutch oven is smart.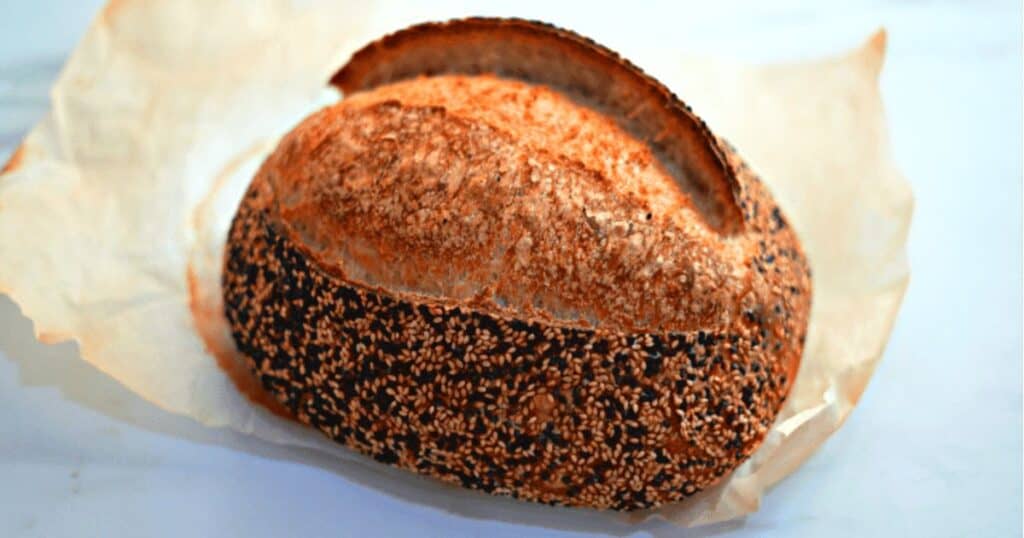 However, with different Dutch ovens on the market (all claiming to be the best), it can be tough to decide which Dutch oven is worth it. Because, let's be honest, they're pretty expensive and a wrong choice can ruin your cooking experience. That's why we have compiled this hands-on buying guide to help you choose the perfect Dutch oven for bread baking. In it, we'll also take a look at some of the best Dutch ovens for bread baking available today. So, whether you're new or experienced in bread baking, read on to find the perfect Dutch oven!
What is a Dutch Oven?
A Dutch oven is a cooking pot with thick walls, usually made of cast iron or enamelled cast iron and has a tight-fitting lid. These cooking vessels have a flat bottom and are deep enough to brown food on the bottom without burning it. You can use these universal cooking pots for frying, browning, baking, braising, and roasting meats.
Different Types Of Dutch Ovens
Although Dutch ovens are traditionally made from cast iron, modern versions are also available in other materials such as aluminium, ceramic, and even stainless steel. Some Dutch ovens have legs on the bottom so they can be placed directly on hot coals or in an oven. Here are the main types of Dutch ovens for bread baking:
Cast Iron Dutch Oven
As the name says, these Dutch ovens are made from pure cast iron and will last for years if properly cared for. However, cast iron ovens require seasoning before use (most of the modern cast iron dutch ovens that are sold are pre-seasoned )and you'll have to maintain their seasoning to experience non-stick cooking/baking.
Enamelled cast iron
Enamelled Dutch ovens have enamel coatings on the inside and outside of the pot, making them easier to care for, and they do not need to be seasoned. However, enamelled pots are not as durable as pure cast iron pots, and the enamel can chip or crack if the pot is dropped or banged against something hard.
An important point to keep in mind when selecting an enameled-coated dutch oven for bread is, the maximum temperature it can withstand and this includes the knobs and handles.As we need need to place this dutch oven into a very hot oven, the entire pot must be able to withstand 480 F or 250 C temperature.
Whether the dutch oven is enamelled or not, it has a few unique characteristics that makes it a versatile pot in the kitchen and especially for baking rustic breads.
The heavy cast iron built of dutch oven, along with heavy lids helps trap the steam inside it during baking or cooking.
Dutch ovens can last a lifetime if we care properly.
For better oven spring we need high baking temperature and Dutch ovens can withstand extreme temperatures.
Excellent heat retention and even distribution of heat is another advantage of dutch oven.
They can easily go from stove to oven.
Why Is Dutch Oven Best For Making Rustic Bread Or No-Knead Bread?
As we said, a Dutch oven is a bulky pot with a tight-fitting lid perfect for slow cooking, braising, and baking. These ovens' thick walls help retain heat and moisture, making them ideal for rustic or no-knead bread recipes. Likewise, a Dutch oven's lid traps steam inside, creating a moist environment perfect for baking bread. While using a Dutch oven for bread baking, you don't have to add additional fat or oil to the pot, as the bread will not stick to the sides or bottom.
What's more, the loaves baked in a Dutch oven will have a crisp outer crust and a soft, fluffy interior. The pot also helps to keep the bread from drying out while it bakes. One of the best things about baking bread in a Dutch oven is that you can use it on any stovetop, including gas, electric, induction, and even campfires. Just be sure to place the pot on a heat-resistant surface.
If you want to make rustic bread or no-knead bread the old-school way, a Dutch oven for bread baking will be your good friend. With its thick walls and tight-fitting lid, it's the perfect tool for baking delicious bread at home.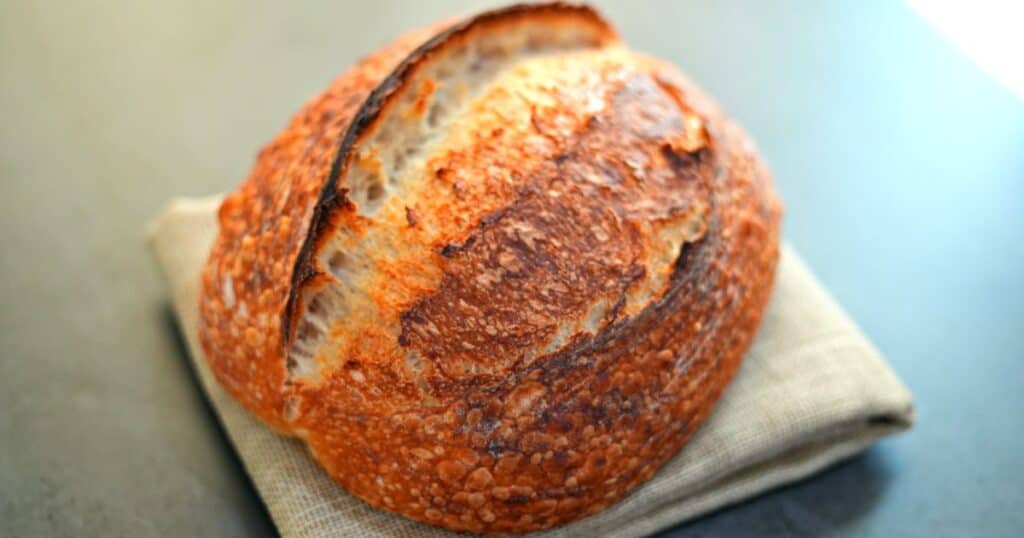 How To Pick The Right Dutch Oven For Baking Bread?
When baking bread, a Dutch oven is one of your kitchen's most versatile pieces of cookware. But for a new baker, finding the best Dutch oven for baking is tough. If you're in the same boat, here are some tips you should follow to pick the best Dutch oven for bread:
What Type Of Dutch Oven Is Best For Baking Bread?
The best Dutch oven for bread is a raw cast iron Dutch oven. Since these dutch ovens can withstand high temperature ,distribute heat evenly and retain heat well, they help produce a nice, fluffy loaf of bread. But enamelled and ceramic Dutch ovens also do a good job at baking bread once you get the hang of their heat distribution.
What Size Dutch Oven Do I Need For Bread?
The best size dutch oven for making bread is 4.5-5.5 quart size.A 5 quart dutch oven will give enough space for the dough to expand well.
If you want a larger Dutch oven, there are some great models that measure up to 7 quarts, which are ideal for casseroles and one-pot meals. But beware that these larger sizes can be a bit too big to handle. Especially while baking bread, as we need to hold and handle them while they are really hot.
Similarly, if you'll bake bread loaves for a small family, it's better sticking with the smaller 4.5 – 5.5 quart size. These medium-sized Dutch ovens are easy to handle and don't restrict your cooking preferences.
Baking bread in a dutch oven
We can use home ovens to make soft white sandwich bread or fluffy dinner rolls or burger buns.But when it comes to rustic bread with crispy crust, it is difficult to make them as good as those that we get from an artisan bakery.
But with a good Dutch oven, it is possible.
The first part of the below video is about how to make no knead rustic bread in a dutch oven and the second part is about, how to make crusty bread without a dutch oven or by mimicking a dutch oven.We can create steam by spraying enough water into the hot oven in the beginning of baking.
We can also create steam inside a home oven by placing a baking dish on the bottom rack of the oven with ice cubes or towels that are soaked in water.In this way, when we close the hot oven, it will create steam.
But when we have a dutch oven, we don't have to do any of this.
A good dutch oven can give your bread the same oven spring as a bakery style steam oven.
5 Best Dutch Oven For Bread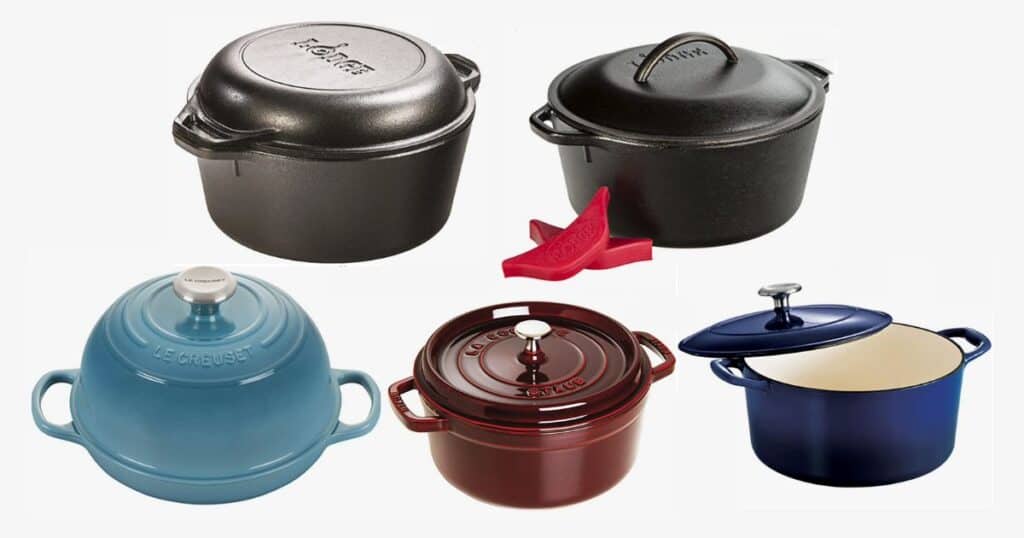 Now that we know what makes a Dutch oven ideal for bread baking and tips to pick one, how about we further ease things for you? If you want the best Dutch oven for bread, here are some pots you cannot go wrong with: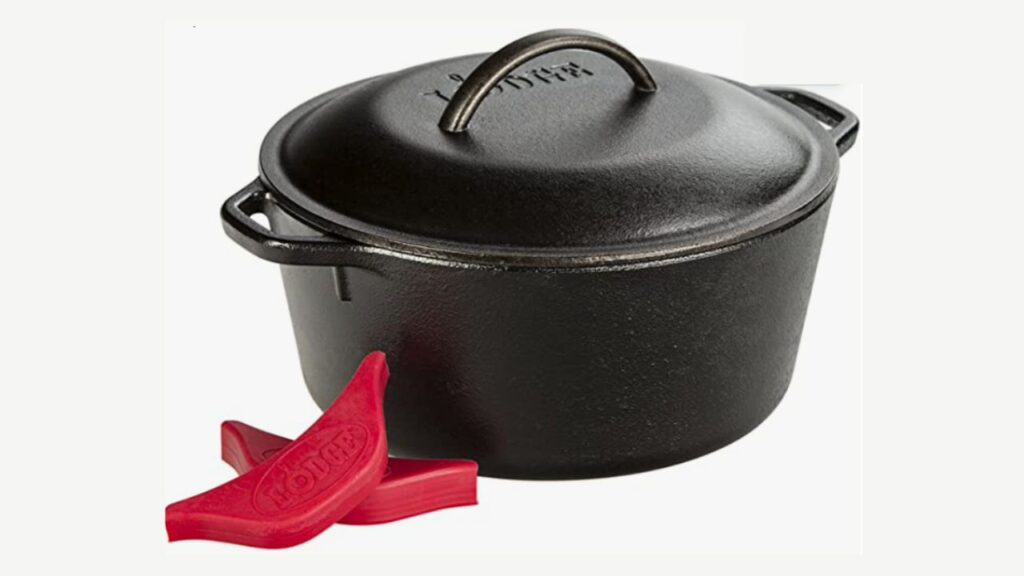 Key Features
Cooking capacity: 5-Quart
Dimensions: 12.563″L x 10.375″W x 4.563″H
Weight: 14lbs
When it comes to cooking, there are few things more versatile than a Dutch oven. Whether you're slow-cooking a stew, baking a loaf of bread, or roasting a chicken, an excellent Dutch oven will get the job done. And when it comes to Dutch ovens, few are as well-regarded as the Lodge cast iron Dutch Oven 5 qt.
5 Quart Cooking Capacity
The first thing to note about the Lodge cast iron Dutch Oven 5 qt is its cooking capacity. With a five-quart capacity, this Dutch oven is large enough to feed a small family or group of friends. Whether you're cooking for two or eight, this should be more than enough cooking space to get the job done.
Pre-Seasoned for Easy Food Release
One of the best features of the Lodge cast iron Dutch Oven 5 qt is that it's pre-seasoned for easy food release. This means you won't have to spend hours seasoning your Dutch oven before use – simply wash it with soap and water, and you're good to go. Additionally, the seasoning layer is applied via an electrostatic spray system, which ensures even coverage and long-lasting durability.
Removable Silicone Handle Holders
If you're a new baker, this Lodge Dutch oven will be your good friend because of its removable silicone handle holders. These holders make it easy to move your hot Dutch oven from the stovetop to the shelf without burning yourself. Simply slip them on before cooking and remove them when you're finished – it's that easy.
Domed Lid That Reverts The Moisture Back
The domed lid on the Lodge Dutch oven is designed to revert moisture onto your food as it cooks, ensuring evenly cooked and moist results every time. Not only does this help your food stay moist and delicious, but it also cuts down on cook time – meaning you can get your meal on the table faster.
Flat & Thick cast iron Bottom
Finally, the flat and thick cast iron bottom of the Lodge cast iron Dutch Oven 5 qt promotes heat distribution and prevents hot spots from forming – meaning your bread will be cooked evenly every time.
| | |
| --- | --- |
| Pros | Cons |
| Removable silicone handle holders | You'll have to scrub off the dust quite often |
| Pre-seasoned for easy food release | |
| Excellent heat distribution and retention | |
| Domed lid that reverts the moisture back | |
| Flat & thick cast iron bottom | |
If you want to experience hassle-free baking, get a Lodge Dutch oven without a doubt!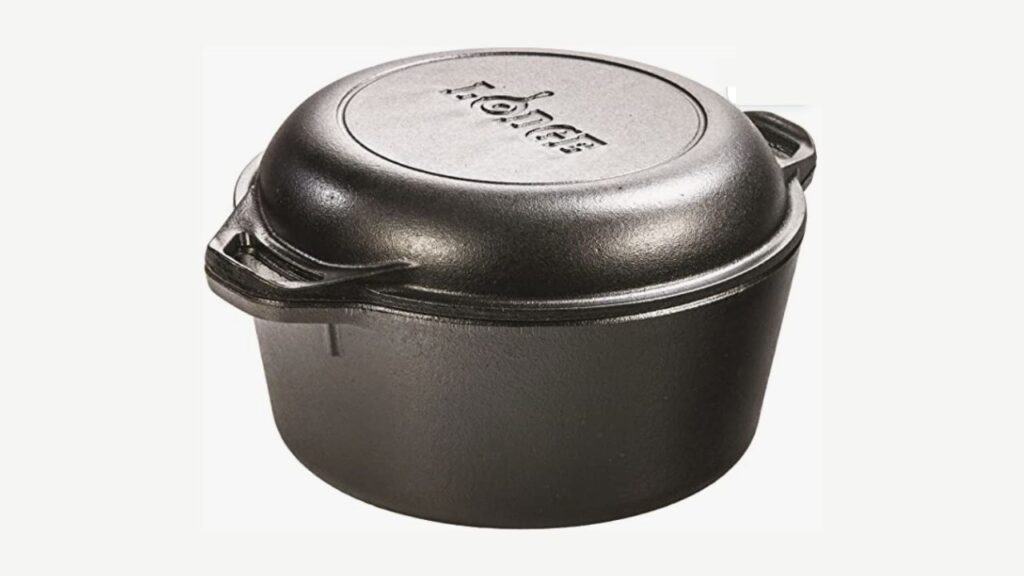 Key Features
Cooking capacity: 5 qt
Dimensions: 11.15 x 10.7 x 5.55 inches
Weight: 13.13 lbs
If you're in the market for a new Dutch oven, you'll want to check out the Lodge Pre-Seasoned cast iron Double Dutch Oven. This versatile cooking vessel comes with a number of features that make it a great addition to any kitchen.
Cooking Capacity: 5 Quarts
The Lodge pre-seasoned double Dutch oven can hold up to 5 quarts of whatever you're cooking, whether it's a large loaf of bread, hearty stew or a batch of your famous chilli. This makes it the perfect size for feeding a small crowd, and still having some leftovers for munching later on.
Seasoned with Vegetable Oil
This Dutch oven comes seasoned with 100% vegetable oil, so it's ready to use right out of the box. No need to fiddle with trying to season it yourself for the first few weeks of regular use. Once you see that the seasoning has started to wear off, you can recoat it with vegetable oil.
Looped Handles for Hassle-Free Grip
The looped handles on this Dutch oven make it easy to transport from the stovetop to the oven or even the table. These sturdy loops also support your grip when you're wearing oven mitts – so no worries about accidentally burning your skin while handling a big casserole dish.
Compatible with All Heat Sources
Whether you have an electric, gas, or induction stove, this Dutch oven will work just fine. You can even use it on top of a campfire if you're feeling adventurous and not worry about damaging it – it's that well-built.
Ideal for Bread baking
If you're into baking, be happy knowing that this Dutch oven is ideal for regular and sourdough loaves.
This best Dutch oven for bread has a heavy lid that traps heat and moisture, creating the perfect environment for giving your bread a crispy crust and fluffy interior. Since retaining the soft texture in bread loaves is quite tricky with Dutch ovens, this one's domed lid offers a smart solution for that.
You do not have to worry about the high heat damaging an enamel coating or ruining knobs that can't tolerate the 450 degree temperature.
You might also like the option of being able to use the lid as the bottom and then cover with the deeper pot part.
Simple Cleaning, Effective Heating
Cleaning this Dutch oven is a breeze thanks to its smooth interior surface. And because cast iron is such an effective conductor of heat, you can be sure that your food will be cooked evenly every time. If you're a busy cook, rest assured knowing that your Lodge Dutch oven won't add to your workload.
| | |
| --- | --- |
| Pros | Cons |
| Seasoned with 100% vegetable oil | The seasoned layer feels slightly rough |
| Looped handles for hassle-free grip | |
| Compatible with all heat sources | |
| Ideal for sourdough loaves | |
| Simple clean-up, effective heating | |
Whether you're looking for a versatile cooking vessel or something that's easy to clean, this Dutch oven has got you covered – try it today!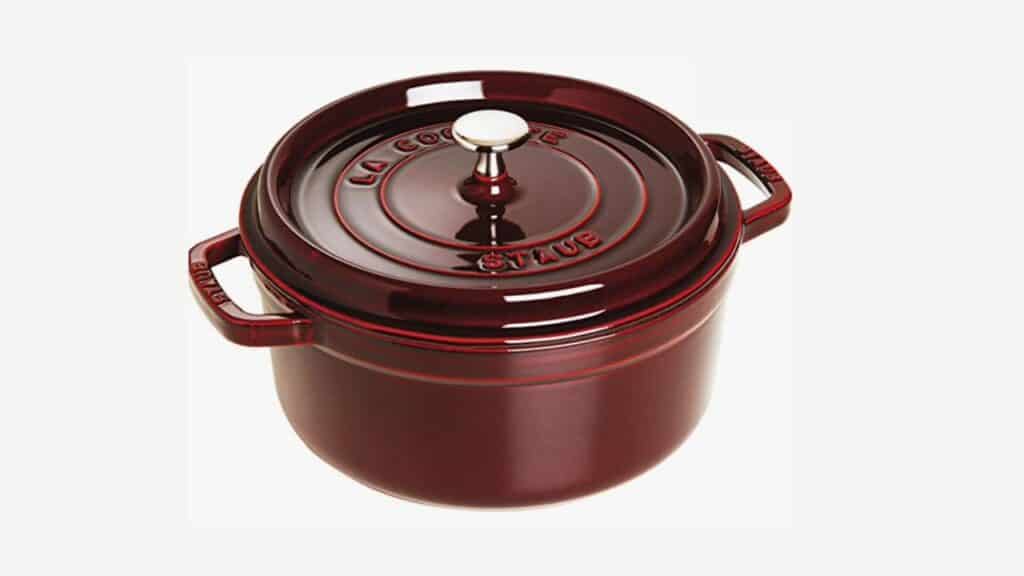 Key Features
Cooking capacity: 5 1/2-Qt
Dimensions: 58.23 x 10.24 x 6.69 inches
Weight: 6.6 kgs
The Staub Round Cocotte Dutch Oven is a versatile kitchen staple that is perfect for home cooks who love to arrange feasts. This beautiful enamelled cast iron pot features a smooth bottom that ensures smart heat diffusion, as well as a dishwasher-safe build. Though it is on the pricier side, the Staub Round Cocotte is definitely worth the investment for the serious home cook.
Smooth Enamelled Cast Iron Construction
The first thing you'll notice about the Staub Round Cocotte is its stunning colours which looks sparkling. Moreover, its enamelled cast iron construction will look great in your kitchen and ensure consistent cooking results. The smooth bottom of the pot eliminates hot spots, so your bread will never stick or burn, and the lid fits snugly to lock in flavour and moisture.
Excellent Heat Retention
One of the best features of the Staub Round Cocotte is its ability to evenly distribute heat and retain heat so well. This makes it ideal for slow-cooking foods like stews, meat chilli, and soups. But don't limit yourself to just these items; the Staub can handle anything from roasting a chicken to baking bread – all while offering superb cooking consistency. It's truly a versatile piece of cookware that every serious home cook should own.
Pretty Expensive But Worth it
The only drawback of the Staub Round Cocotte is its price tag. At nearly $400, it's one expensive Dutch oven on the market. However, its superior construction and performance make it well worth the investment. Plus, its timeless design will make it a fixture in your kitchen – so don't bother the price tag if you're thinking long-term.
Unique Moisture System
The Staub Round Cocotte's ability to retain moisture is also unmatched; something all bakers will admire. This means that your bread will always come out soft and fluffy, no matter how long you bake it. Also, the watering system of this Dutch oven for bread baking allows you to create a 'drip water' effect that evenly distributes moisture over your food, ensuring it's cooked evenly.
| | |
| --- | --- |
| Pros | Cons |
| Smooth enamel bottom for even heating | Pretty expensive |
| Easy cleaning and dishwasher-safe build | |
| Impressive heat diffusion and retention | |
| 10% more moisture withholding | |
| Ideal for all casserole dishes | |
You can't go wrong with the Staub Round Cocotte – it's an instant classic that belongs in every serious home cook's kitchen arsenal. Get one and see for yourself!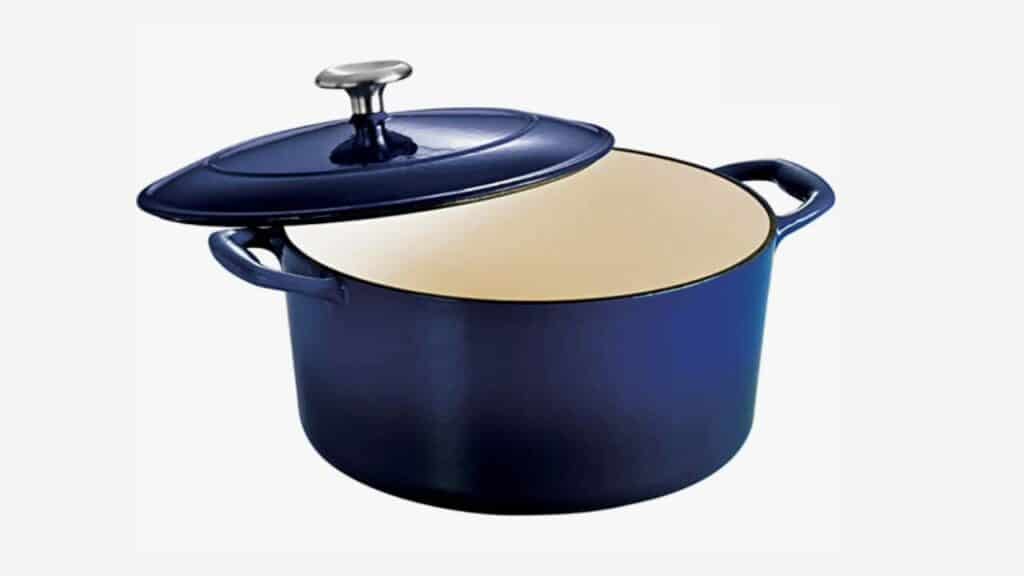 Key Features
Cooking capacity: 5.5-Quart
Dimensions: 13.38 x 10.13 x 7.5 inches
Weight: 11.9lbs
You can use Dutch ovens on the stovetop or in the oven, and they retain heat exceptionally well, making them ideal for slow cooking and baking. Now what if we told you there's a Dutch oven for bread baking that ticks all merit boxes off? Yes, that's right, because the Tramontina oven is a superb choice for bakers who want to enjoy fresh, fragrant bread loaves. This enamelled cast iron Dutch oven is one of the best on the market and is well worth the investment.
5.5 Qt Cooking Capacity
If you want a practical cooking vessel that's equally good for family meals and 2-3 servings, this is the best Dutch oven for bread you'll come across. Being 5.5 Quarts, it is large enough to comfortably accommodate multiple servings of food, which makes it great for family dinners or small gatherings. Additionally, this pot's deep sides make it ideal for braising meats or simmering soups and stews.
PFOA- and PTFE-Free Porcelain Enamel Coating
The Tramontina Dutch oven is coated with porcelain enamel, which is a type of glass that is fused to metal at high temperatures. This coating is non-toxic and free of both PFOA and PTFE, which are chemicals that have been linked to health problems. If you don't want to expose your food to risky chemicals, this Dutch oven is a safe choice because of its non-toxic coating. Additionally, the porcelain enamel coating makes the pot very easy to clean—simply wipe it out with a damp cloth after use.
Self-Basting Condensation Ridges
Another feature that sets the Tramontina Dutch oven apart from other similar products on the market is its self-basting condensation ridges. These ridges are located on the inside of the lid and collect moisture as your food cooks, then redistribute that moisture back onto the food itself. This unique mechanism results in evenly cooked, moist, and delicious bread loaves.
Sturdy Side Handles
The Tramontina Dutch oven is also equipped with two sturdy side handles that let you effortlessly lift and transport it, even when full. The handles are made of cast iron and are securely riveted to the pot for added durability. Additionally, they feature a glossy enamel coating that adds a touch of style to an otherwise utilitarian piece of cookware.
Heavy-Gauge Cast Iron Construction
As its name suggests, the Tramontina Dutch oven is made from heavy-gauge cast iron, which means it's built to last a lifetime—literally. In fact, the pot comes with a lifetime warranty against defects in materials and workmanship. Additionally, cast iron is an excellent conductor of heat, so you can be sure your food will cook evenly every time you use this pot.
| | |
| --- | --- |
| Pros | Cons |
| PFOA- and PTFE-free porcelain enamel coating | Its paint can slightly chip |
| Self-basting condensation ridges for better moisture movement | |
| Life-time warranty | |
| Sturdy side handles | |
| Heavy-gauge cast iron construction | |
If you want a well-built and ergonomic Dutch oven for bread baking, the Tramontina is a safe choice!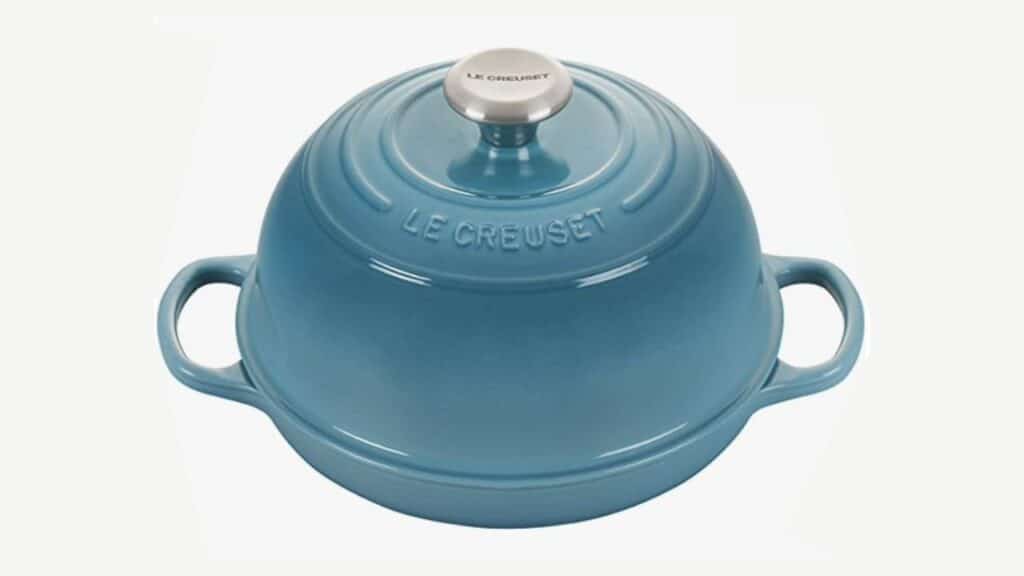 Key Features
Cooking capacity: 1.75 Quarts
Dimensions: 17 x 15 x 14 inches
Weight: 9.72lbs
If you're in the market for a new Bread oven that can deliver great rustic breads, you'll want to check out the Le Creuset enamelled cast iron Bread Oven. This top-of-the-line Dutch oven has all the features you could ask for, plus a few more.
1.75 Quart Cooking Space
Need a handy cooking vessel that doesn't crowd your kitchen? This one might be it.
The Le Creuset Dutch oven can accommodate bread made with 4-5 cups flour.
It can also hold up to 1.75 quarts of food, making it perfect for small families or couples. This compact size means it will take up less space in your kitchen cabinets and help you bake fresh bread without changing pots.
Tight-Fitting Domed Lid
New bakers often struggle with moisture escaping their Dutch ovens and ending up with a hard bread crust. Luckily, that'll not be an issue with the domed lid of your Le Creuset Dutch oven. It fits snugly on the casserole, trapping heat and moisture for perfectly cooked food every time.
Low-Profile Edges for Perfect Finishing
The low-profile base edges of this oven give you a perfect seal when finishing your food, so you don't have to worry about soggy bread. Plus, these edges help prevent bubbling and splattering when you make stew or soup.
Porcelain Interior Coating
The porcelain coating on this Dutch oven is resistant to staining and chipping, so your pot will always look new. If you want the best Dutch oven for bread that can endure daily wear & tear, this one will be your friend, thanks to its sturdy coating and construction.
No Seasoning Required
If seasoning cast iron cookware is something you dread, you now have a solution. The Le Creuset enamelled cast iron Dutch oven comes pre-seasoned, so you can use it right out of the box and never worry about its seasoning layer going off.
| | |
| --- | --- |
| Pros | Cons |
| Tight-fitting domed lid | Heavy for its size |
| Low-profile base edges for perfect finishing | |
| Porcelain coating | |
| No seasoning required | |
| No worries of staining and paint chipping | |
This Dutch oven has everything you need to make aromatic bread at home – improve your kitchen's functionality with it today!
Rounding Up: Best Dutch ovens for bread
Now that you know all about Dutch ovens and how they can help you make the perfect bread, it's time to start shopping for one. But with so many brands and styles on the market, it's indeed tough to know where to begin – that's why we recommend sticking with trusted names like Lodge, Le Creuset, Staub, and others on our list.
These companies have a long history of making high-quality cookware, and their products are sure to last for years. Not only do they have a reputation for making high-quality products, but their Dutch ovens are also some of the most budget-smart on the market. So, if you're serious about making great bread at home, be sure to invest in a Dutch oven from one of these trusted brands. Your taste buds will thank you!