Cream Puffs/choux pastry have a crunchy exterior and a light ,creamy interior.Filled with rich vanilla bean pastry cream and its perfect for any occasion.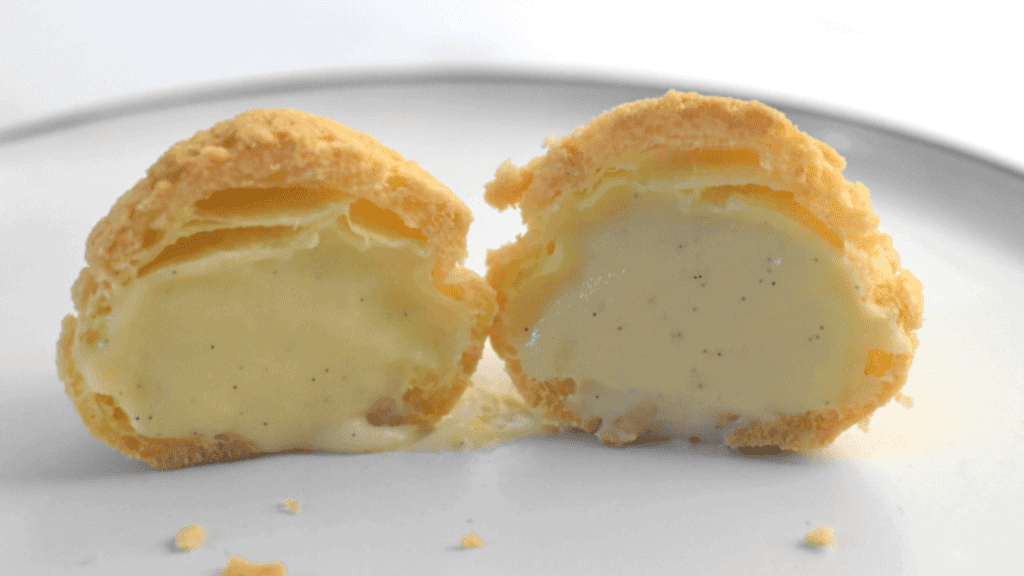 I fell in love with this cream puffs crack buns on my first sight.Awesome baking creation!A pastry with a light and crispy outer shell, and a delicious, soft, creamy, custard-like inside.
It may seem, it need a lot of skills to make those 'baking beauties'.But they are so easy to make and it requires only a few basic ingredients which are almost already in your pantry and we don't need any sophisticated equipments to make this.
Choux pastry is one of my favorites to make for any special occasion . And I find it pretty ingenious that choux pastry doesn't use a chemical raising agent to rise. Instead it uses the nutritional proteins in eggs and layers of air and moisture trapped in the dough to rise.
Watch the video to see how to make Craquelin choux pastry
Three parts of a craquelin choux pastry /cream puffs crack bun
For making this craquelin choux pastry/cream puffs crack buns,we need to prepare for 3 parts
The craquelin-the crackly crust
The choux pastry-the hollow shell
The pastry cream-the cream puff filling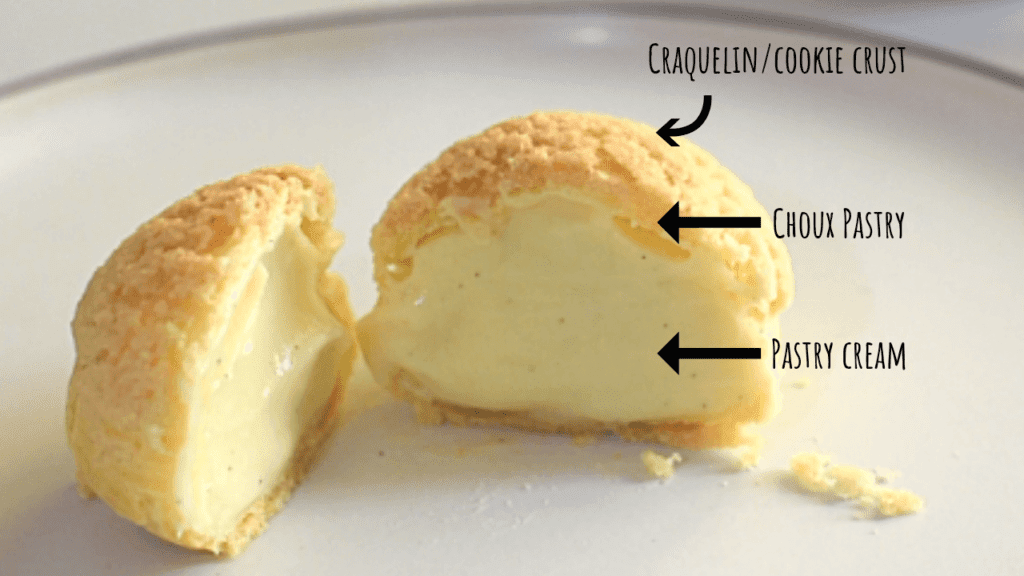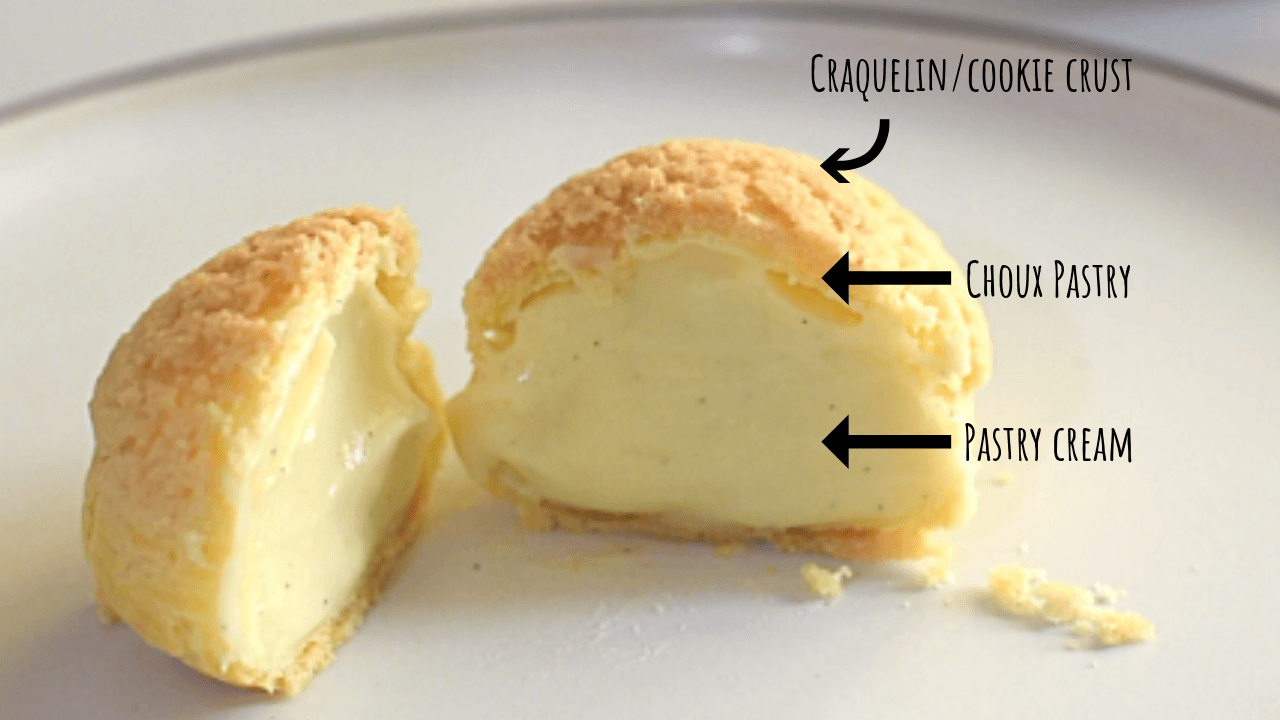 What is craquelin
Craquelin is a sweet crispy topping that makes the exterior of these cream puffs beautifully cracked, crispy and crunchy. This way it creates a wonderful contrast to the cream in the puffs. Craquelin also helps the choux pastry bake evenly and symmetrical, making it beautiful and symmetrical.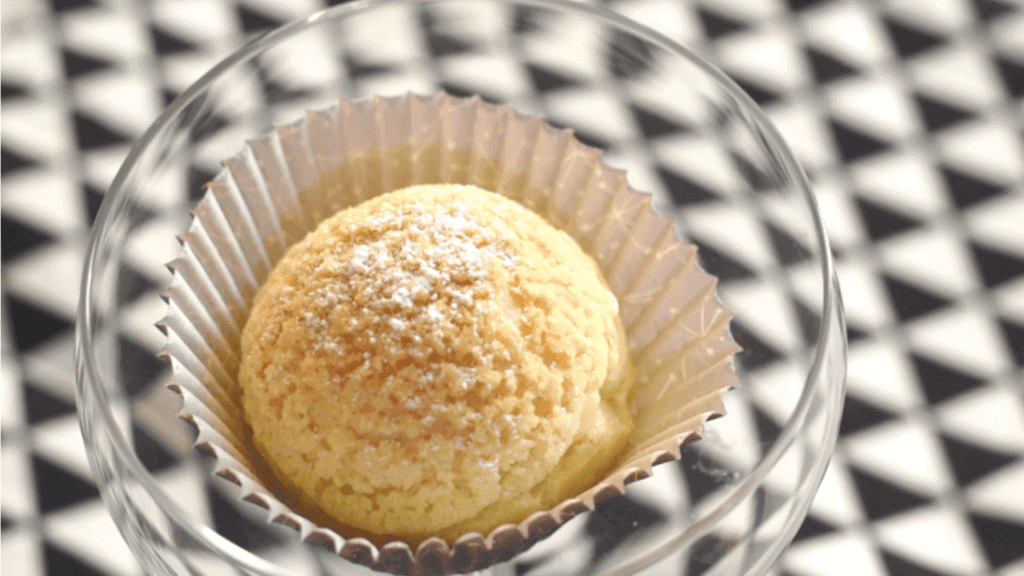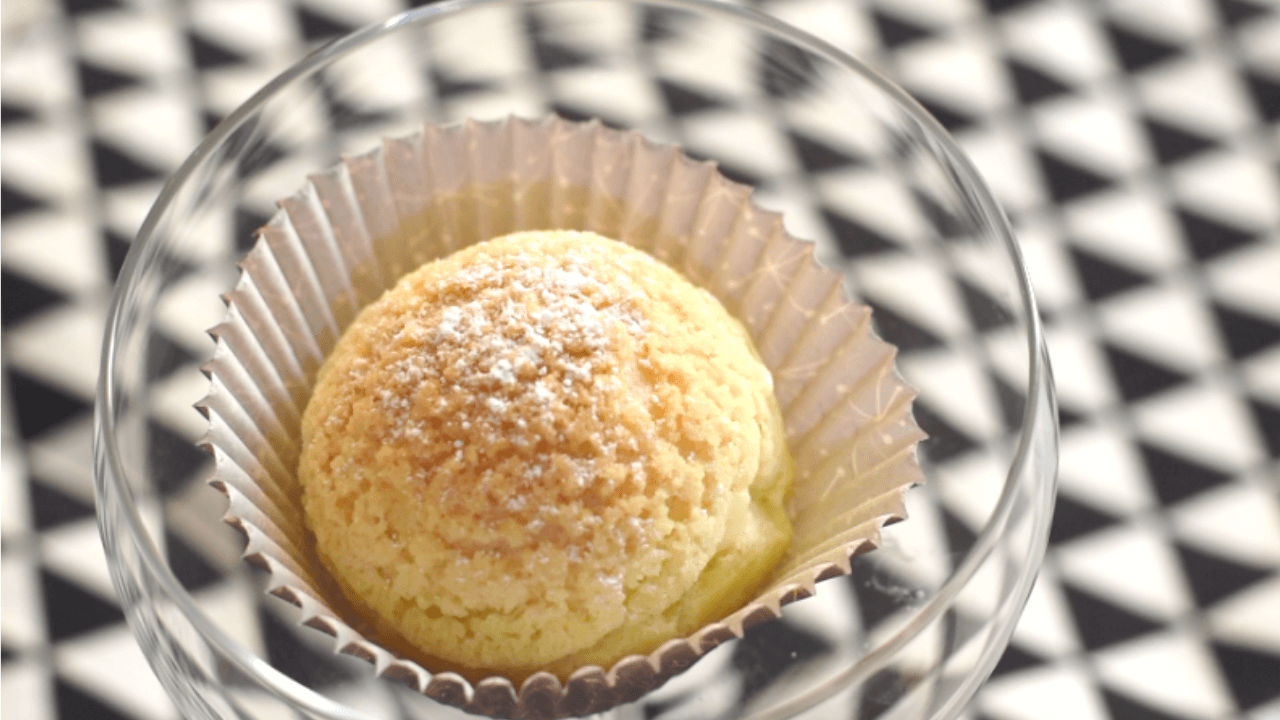 What is choux pastry
A pastry with a light and crisp outer shell, and a delicious, soft, creamy, custard-like inside. And it's airy with large air pockets inside as well. A few cracks will be visible on the outside, but it still retains the shape it was piped in.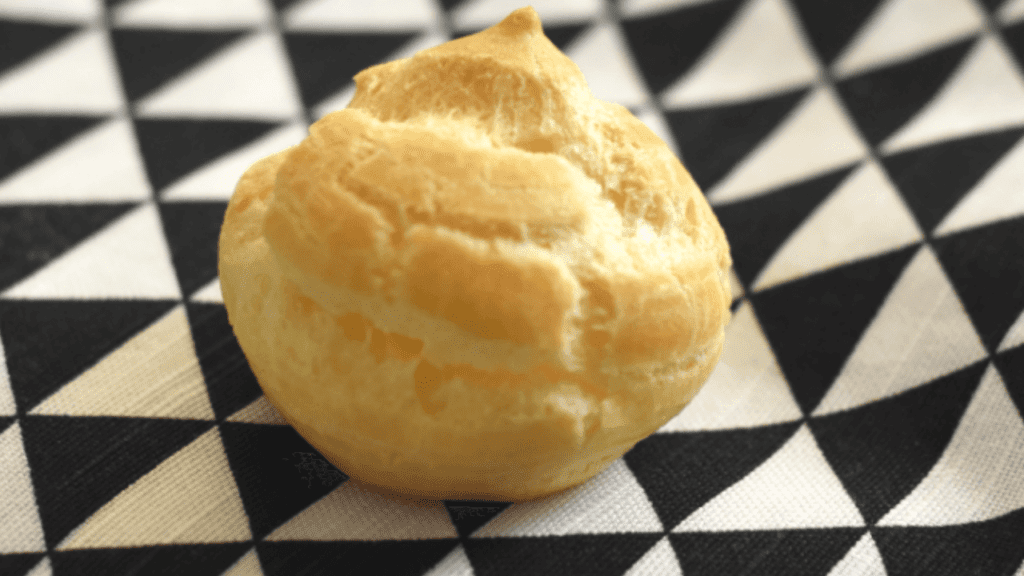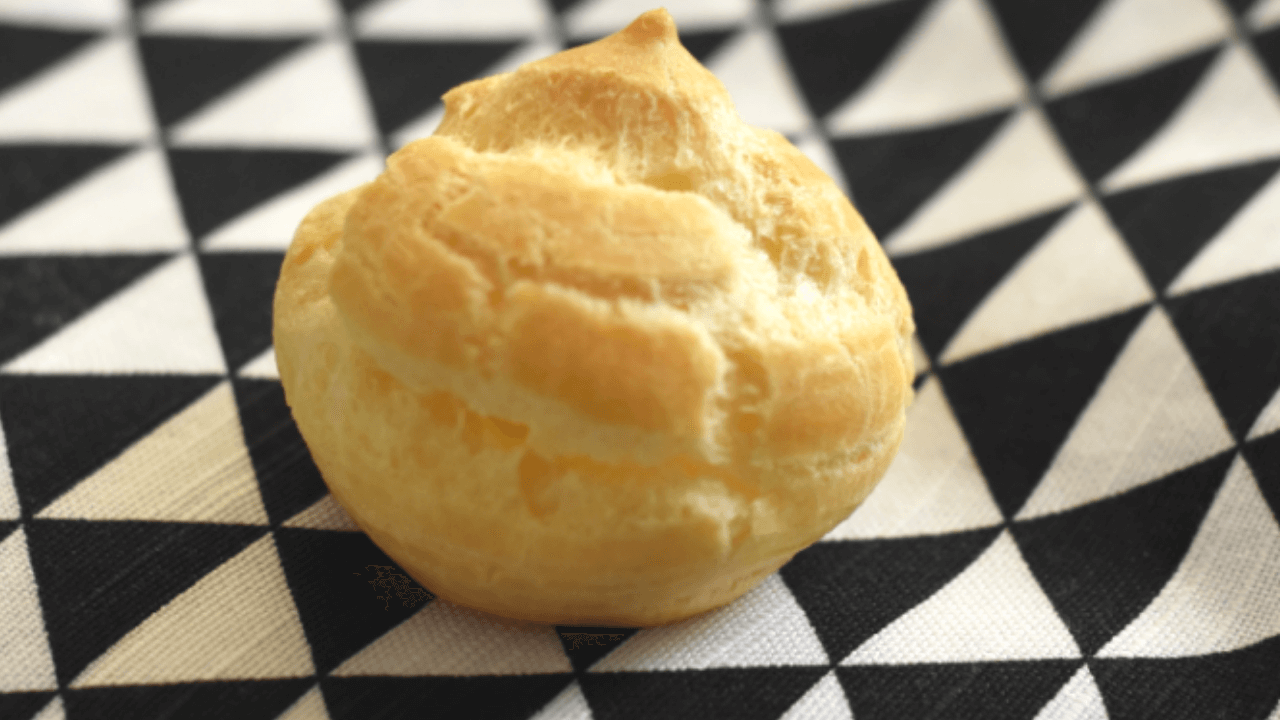 Preparing homemade choux pastry is super easy . There's no sugar added and when baked, they are nice, golden brown and hollow inside – perfect for that rich cream.
Creme Patissiere /Vanilla Pastry Creama is rich, creamy custard used in many types of dessert!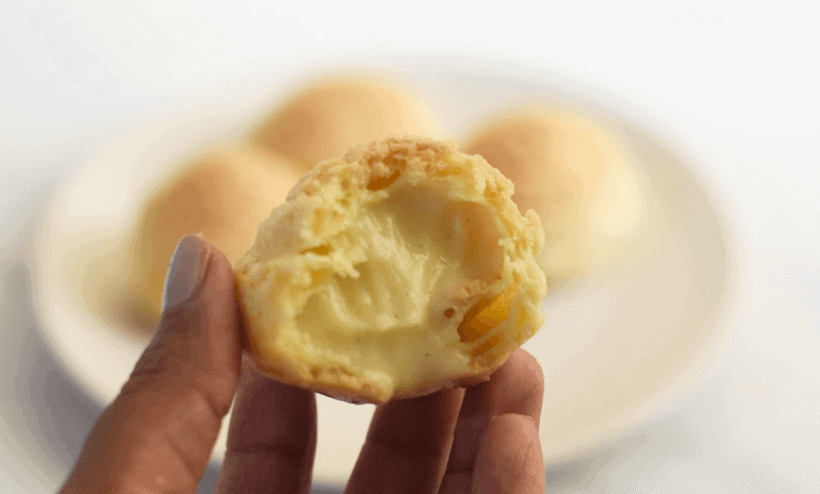 TO FILL THE CHOUX PASTRY SHELLS – There are many fillings that you can use to fill profiteroles or eclairs! The most popular filling is Vanilla pastry cream, which is also known as Creme Patissiere.
How to make craquelin
Craquelin for choux pastry is prepared just with the same ingredients as we use to make shortbreads/buttercookies(for shortbreads we use sugar butter and flour in the ratio 1:2:3 but here it is almost 1:1:1).
Craquelin can be prepared easily by mixing together
Butter 45 g/3 tbsp
Sugar 50 g/1/4 cup
Flour (with a pinch of salt)50 g/1/4 cup +2 tbsp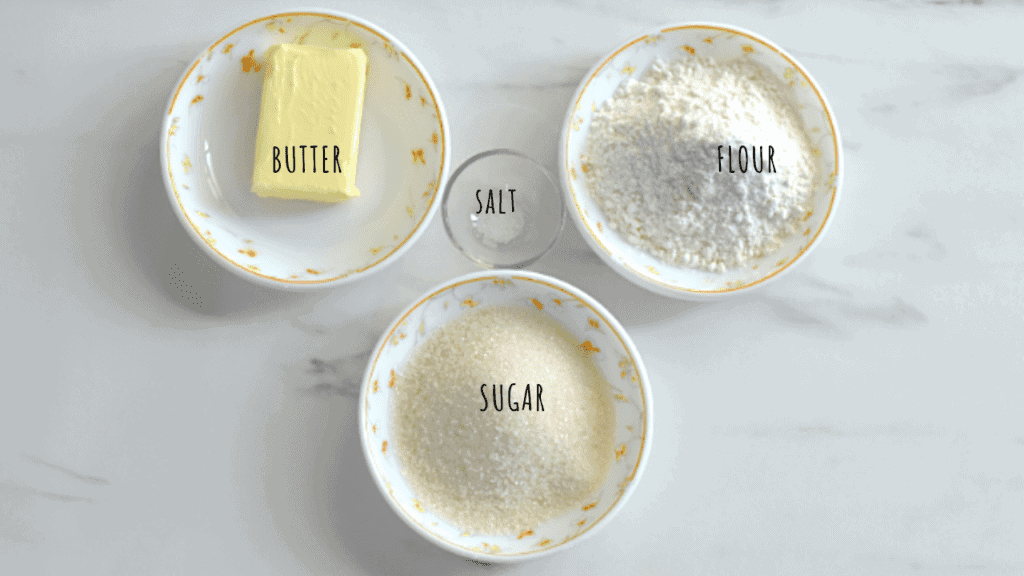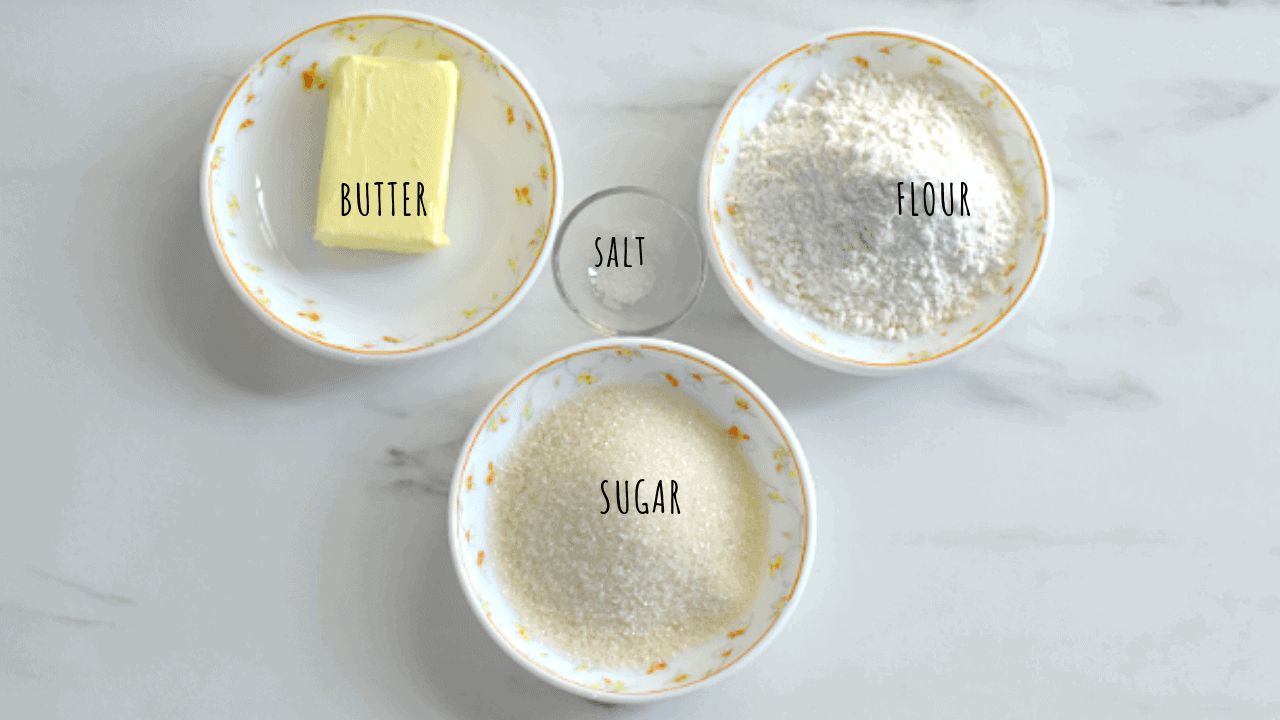 In a bowl, mix together the butter,sugar and flour with a pinch of salt.
Transfer this onto a parchment paper and Roll it into a 1-2 mm thin sheet.Placing another sheet of parchment paper will help to prevent the dough sticking to rolling pin while rolling.
Freeze until needed.
How to make choux pastry/cream puffs
Choux pastry is super easy to make, and incredibly interesting too.
We can prepare the choux pastry in three steps
Prepare the choux pastry dough
Pipe and shape the pastry dough
Bake them
To prepare the choux pastry dough,we need to cook the flour along with butter and water ;and then let it cool down and then add eggs one by one.
It takes only 45 -50 minutes to make from start to finish!
I like this recipe as it gives me consistent results every single time. They puff well and retain their puff and not become soggy.
Ingredients
Flour(loosely packed) : 65 g/ 1/2 cup
Butter : 57g/1/2 stick/1/4 cup
Water : 120 ml/half cup
Eggs(large ) : 2
Salt : a pinch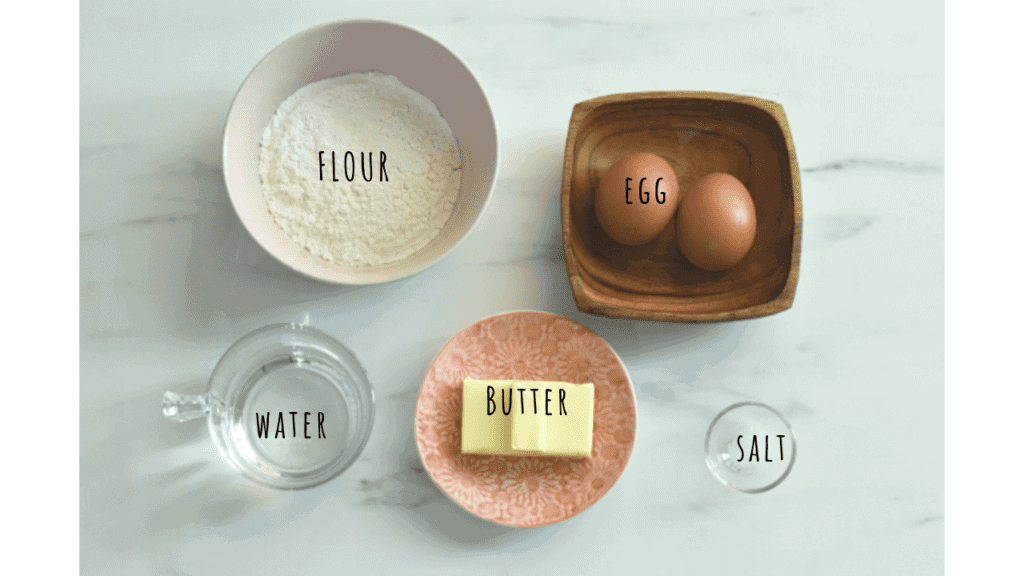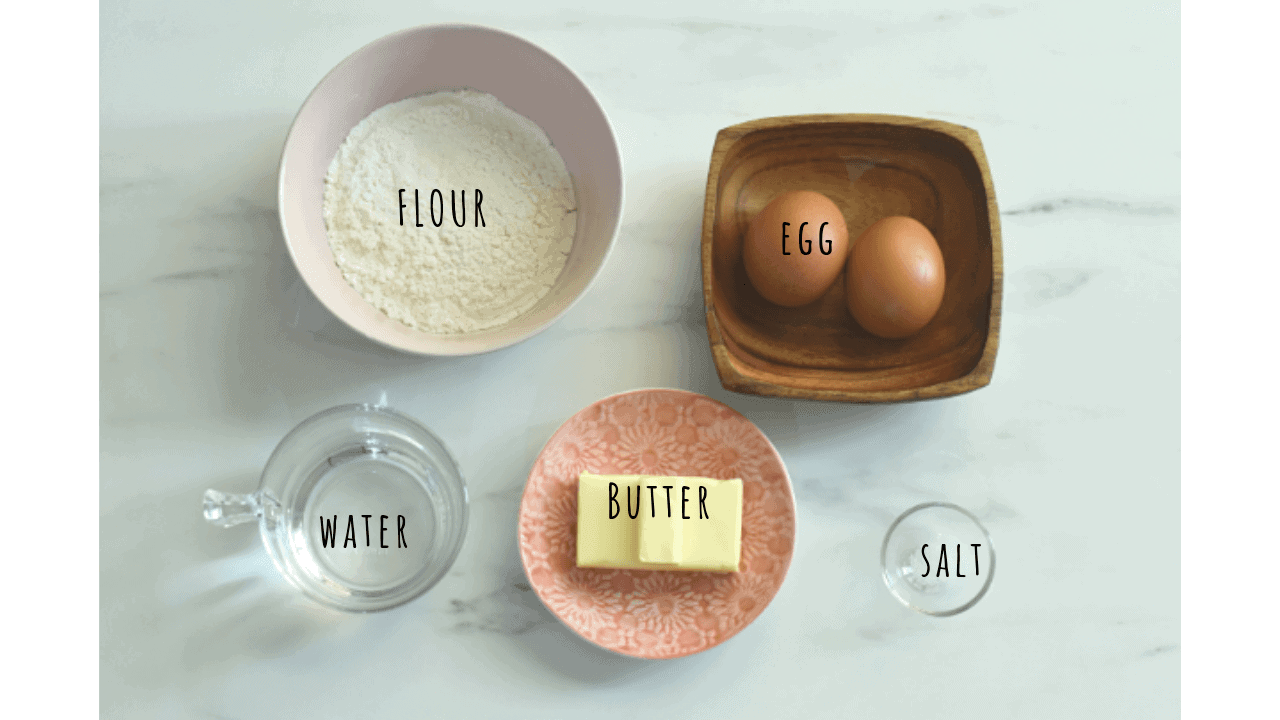 1.Prepare the choux pastry dough.
Pour water into a saucepan. Add a pinch of salt and butter. Place over medium-high heat and bring to a boil, so that the butter melts completely. Reduce the heat to low heat, add all-purpose flour, all at once, while whisking vigorously at all times to get a nice, thick texture.
When the flour is completely incorporated, cook for another 4-5 minutes on low heat until the dough pulls away from the sides of the pan and the bottom of the pan is clean. The dough should be glossy and smooth, but not dry. Remove from the heat and cool for about 2 – 3 minutes.
While the mixture comes close to room temperature,add eggs.Add one egg at a time, add second egg only when the previous has been completely incorporated.
Check for the right consistency of the choux paste:
Test the batter by taking a scoop of it with a wooden spoon .When you lift up your spatula, it should fall after roughly 3 seconds. It should be able to fall from the spatula on its own but not be too wet that it can't hold its shape.
I have used 2 large eggs in this recipe .If you find the dough too thick, whisk one more egg in a bowl, and add little by little until you get the right consistency.
2.Pipe and shape the pastry dough.
Transfer the choux pastry to a piping bag and cut the tip with scissors or on to a piping bag fitted with a 1cm (1/2 inch) round tip.
Tip : At this point you can store the choux pastry in a pastry bag in a fridge for up to 2 days. When you decide to use it, place it at room temperature for at least 10 minutes.
Line baking sheets with parchment paper and pipe 5 cm (2-inch) mounds about 6 cm (3 inches) apart. The dough more then doubles while baking so it must have enough space.
Take out the craquelin sheet from the freezer and cut out circles that are of the same size (around 5 cm diameter) as of the piped pastry dough mounds.And place on top of the shaped choux pastry dough.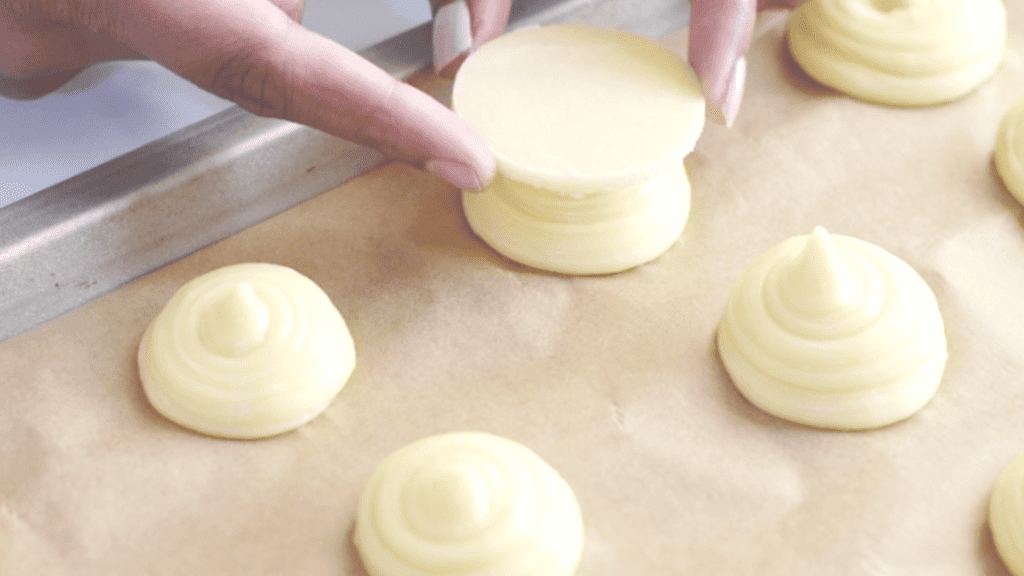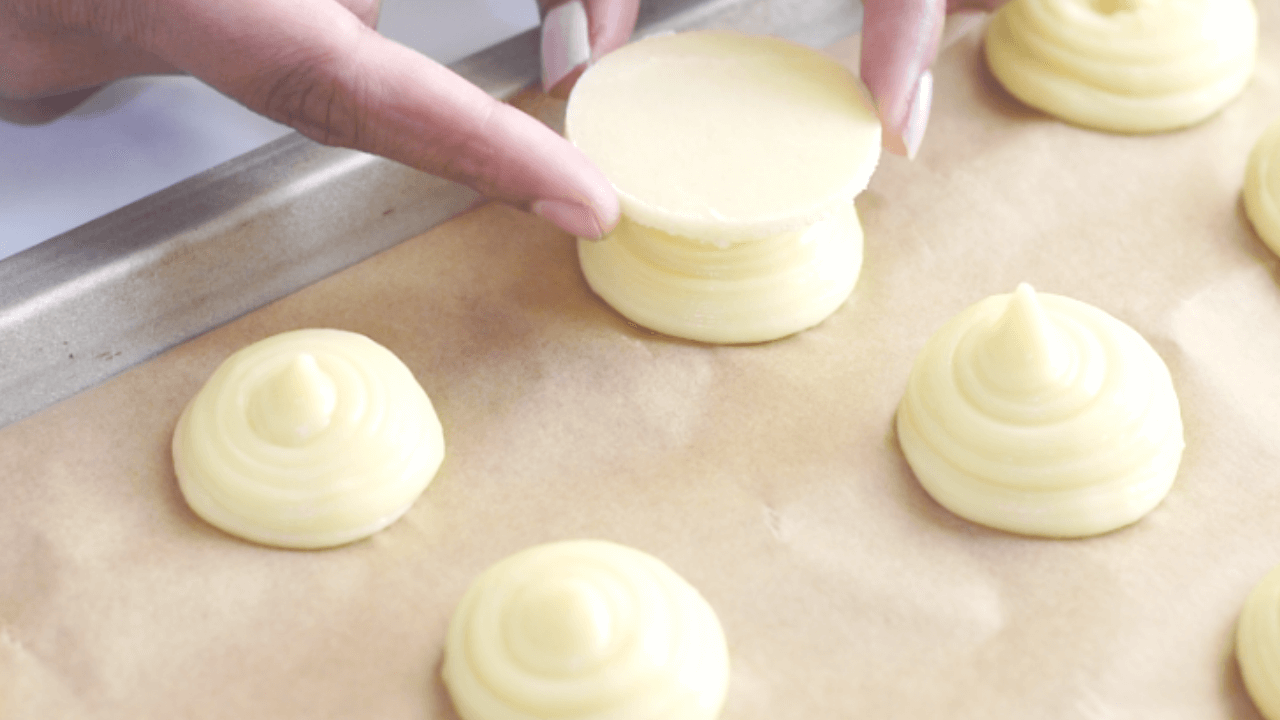 3.Bake the choux pastry.
Place the first baking sheet into the 450 F preheated oven and close the oven door.Immedietely, reduce the temperature to 350 F.Then Bake for 30 -35 minutes.I prefer to place the baking sheet in the second lowest rack in the oven(far from the heating coils,to prevent over browning on top).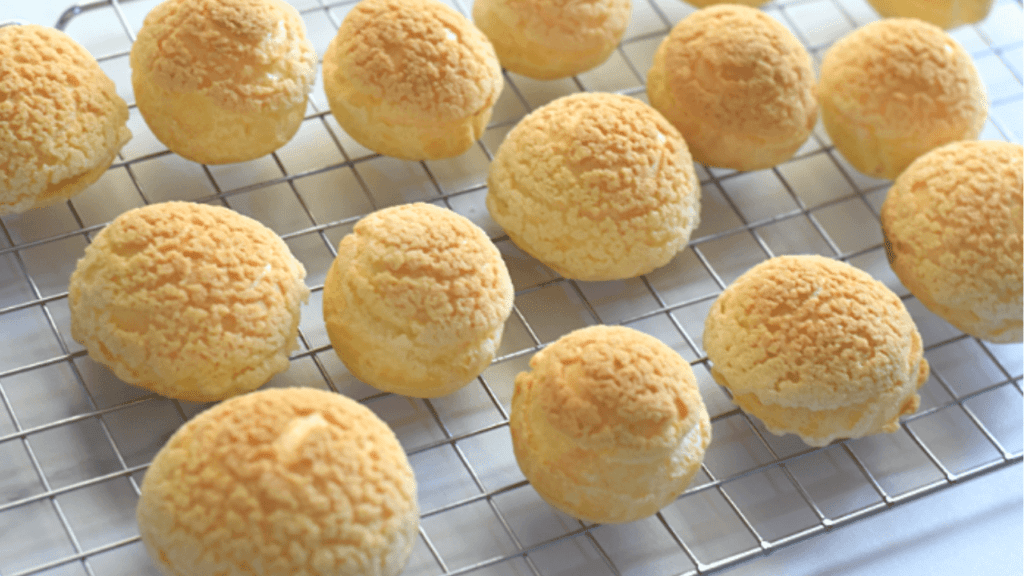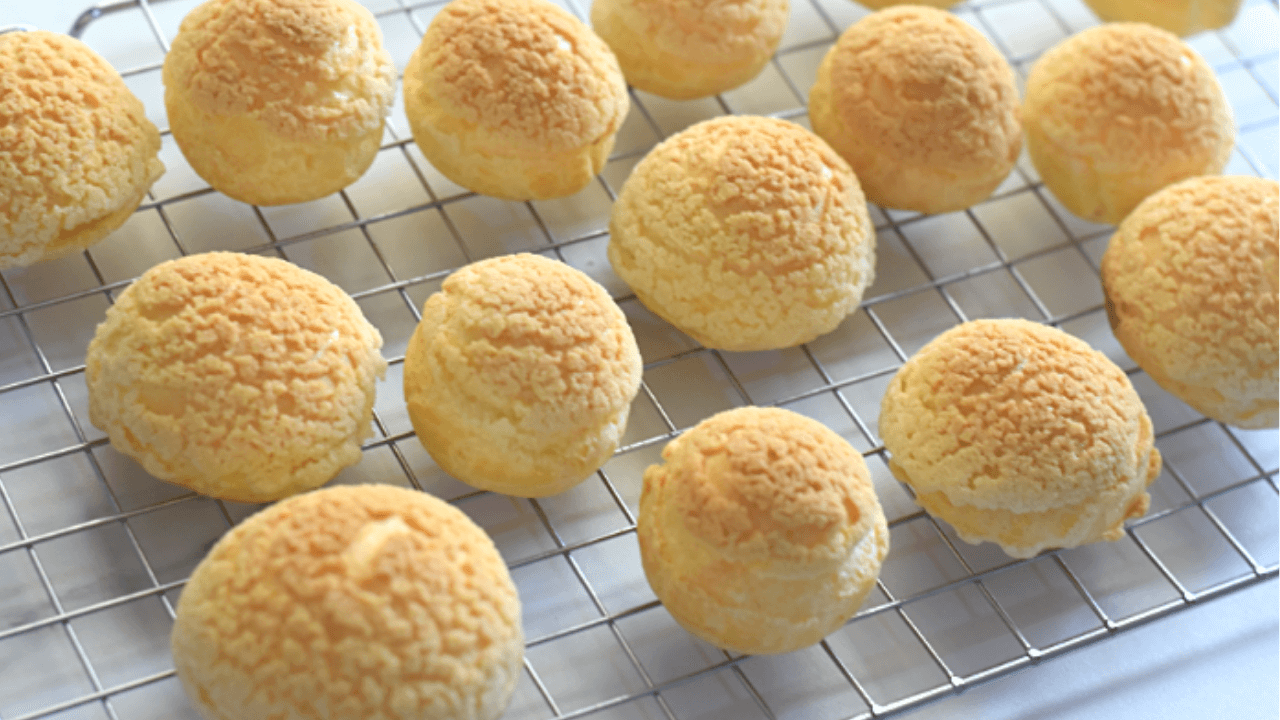 Bake:Don't open the oven door for the first 20 minutes or they will collapse.
After preparing the pastry cream keep it refrigerated and then fill the pastry cream into a piping bag fitted with a 1-cm plain round tip.Cut a small opening at the side/bottom of the choux puff pastry. Pipe the pastry cream into the choux puff pastry until full. Before serving, dust the choux puff pastry with snow powder or icing sugar.

Can You Make Cream Puffs In Advance?
Cream Puffs are best served fresh. However, you can prepare a lot of this in advance. Bake the choux pastry dough with Craquelin day in advance. You can also prepare all the creams one day in advance – keep them chilled in a refrigerator. Assemble right before serving
How Long Will Cream Puffs Keep?
The cream puffs are best served fresh. You can store them in a fridge for one day.
Should Cream Puffs Be Refrigerated or kept frozen?
yes, refrigerate cream puff can store them in a fridge for one day.
No, you can't freeze them, because they would get moist and soggy when you would want to defrost them. Also, the creams would get all lumpy. You could prepare the choux pastry in advance and freeze it.
Why my Choux pastry shell has collapsed and is flat, too soft and soggy
PROBABLE REASON 1
Chances are the dough was too wet and runny. When you pipe out the batter, it probably didn't hold its shape.
That means it has too little flour, or too much liquid in the form of water, eggs and/or butter. So it doesn't rise as much, and the little that they rise will deflate when they come out of the oven.
There is nothing wrong with the taste of those collapsed pastry shell ;but would never ever serve them to others.
There's something delicious about the extra "custardy" insides and soft shells. But those shells will be flat, and you can't really fill it with any filling.
How to fix this issue of runny/wet pastry dough?/What to do if choux pastry is too runny?
In this case the first thing that we may tend to do is to add raw flour into the runny dough.but we should not do that as it will ruin the complete texture of the dough and they will not puff up like a regular pastry.
Either we can discard the dough and start all over again or
Make another half batch of the dough with water, salt, butter and flour (no eggs!). Once you have made that part of the dough, and it has cooled down, add it to the runny dough a bit at a time, mixing it into the dough well, until you get a pipeable consistency.
PROBABLE REASON. 2
Another reason this happens is, when you remove them from the oven too early. The shell will rise to its shape in the first 15-17 minutes of baking; but it needs to get baked for another 15-17 more minutes for the shells to get bake properly and to hold the shape when taken out of the oven.So if we take it out too early from the oven,even if they rise,the shell will not be strong enough to hold the shaped hence they will deflate when it is cool down, due to too much moisture inside the shell.
If that is the case, leave them in the oven longer (until the shell is a deep golden brown in colour).
The best baking temperature for making chop pastry in my opinion is like this.Preheat the oven to 450F.After placing the baking sheet in the oven,reduce the temperature to 350 F.Bake for 30 -35 minutes.I prefer to place the baking sheet in the second lowest rack in the oven(far from the heating coils,to prevent over browning on top).
And ALWAYS remember to prick your baked choux pastry shells (profiteroles or eclairs) with a skewer or a sharp knife ( when they come out of the oven) and let the moisture inside the cases escape while drying out the shell. This helps prevent collapsed choux pastry shells.