A simple yet delicious recipe for cream puff filling / french Vanilla Pastry Cream – a rich, creamy custard used in many types of desserts!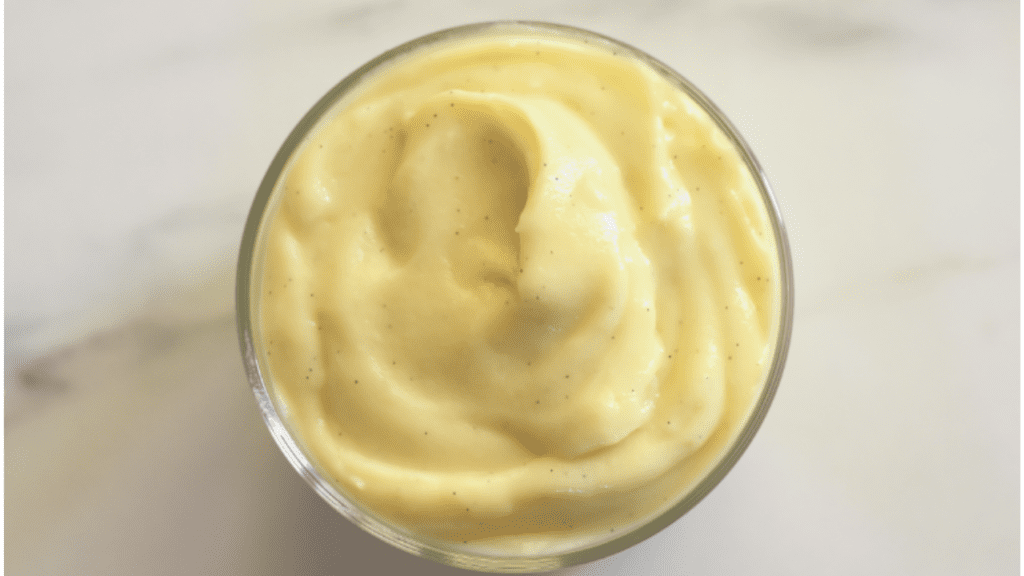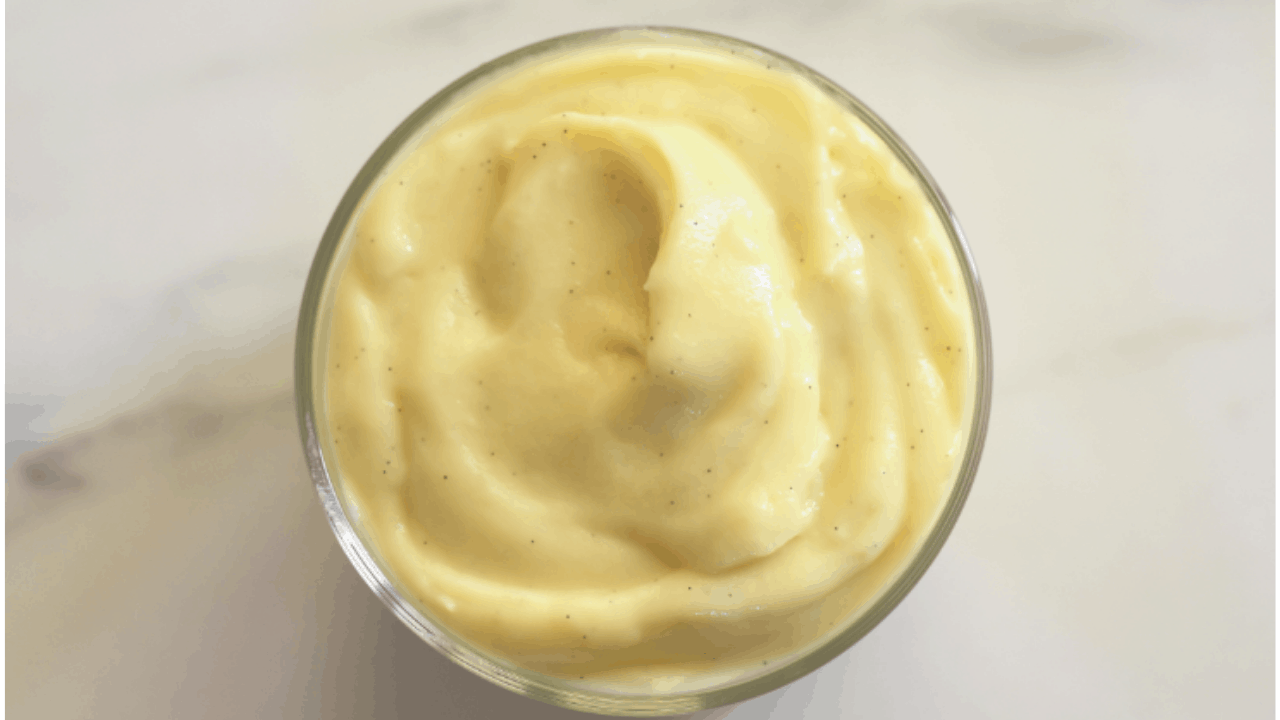 This French vanilla cream for cream puff filling is basically a delicious, rich, creamy custard thickened with starch and eggs and usually flavored with vanilla..
This vanilla pastry cream is such a basic and essential component in the pastry world. Cream puff, éclair, fruit tart, Boston cream pie, Napoleon or Danish pastry, custard or chocolate pudding, profiteroles, mille feuille, creme bavarois fruit tarts, pastries,cakes….All of these are decadent and complete only when its been added with this pure joy called crème patissiere.
French vanilla cream is very important in making pastries and so it's an essential skill to learn if you love baking, pastries, and dessert.
If you've never made pastry cream before, you should definitely try it. It's such an easy and delicious recipe with a lot of great uses.
How to make cream puff filling / french vanilla pastry cream
To make cream puff filling,we will need,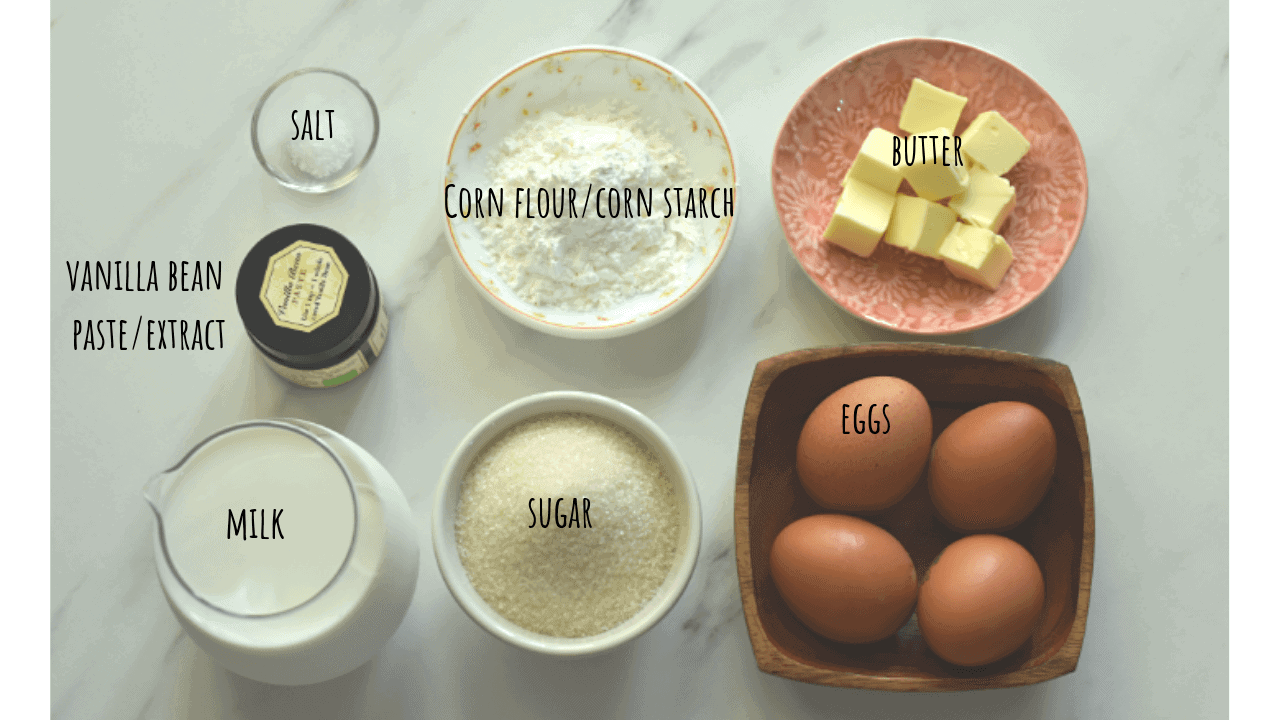 Ingredients
Milk :2 cups
Sugar :1/2 cup
Egg:1 whole egg+3 egg yolks
corn flour/corn starch:2 1/2 tbsp
Salt:1/4 tsp
Vanilla bean paste:1 tsp
Butter:3 tbsp/45 g
Method
1.Warm the milk: Warm the milk in the saucepan until you start to see wisps of steam. It should not actually be boiling.
2.Make the egg-sugar base: In a medium bowl, whisk together the sugar, flour,egg,vanilla bean paste and salt. This will form a thick paste. It's fine if the paste looks crumbly or smooth; the important thing is that the ingredients are thoroughly combined.
3.Add the milk to the egg mixture: Pour a little of the hot milk into the eggs and whisk to combine. Continue pouring the milk slowly into the eggs, whisking continuously. It's OK to switch back and forth between pouring milk and whisking if you can't manage both at the same time.
4.Pour everything back in the pan: When all the milk has been added to the eggs, pour everything back into the saucepan.
5.Heat the cream puff filling: Set the pan back over medium heat. Whisk constantly. At first, the pastry cream will look very thin and frothy, but it will start to thicken after a few minutes. When it has thickened to a pudding-like consistency, pause whisking every few seconds to see if the cream has come to a boil. If you see large bubbles popping on the surface, whisk for a few more seconds and then remove the pan from heat.
6.Add butter to make it more creamy: Add butter into the custard while it's still warm and whisk together until it is been melted and blended.
Let it cool down and meanwhile stir it occasionally to prevent any skin forming on top.
7.Cover and store: When it is cooled,Cover the pastry cream with a piece of plastic wrap pressed right up against the surface of the cream and chill completely.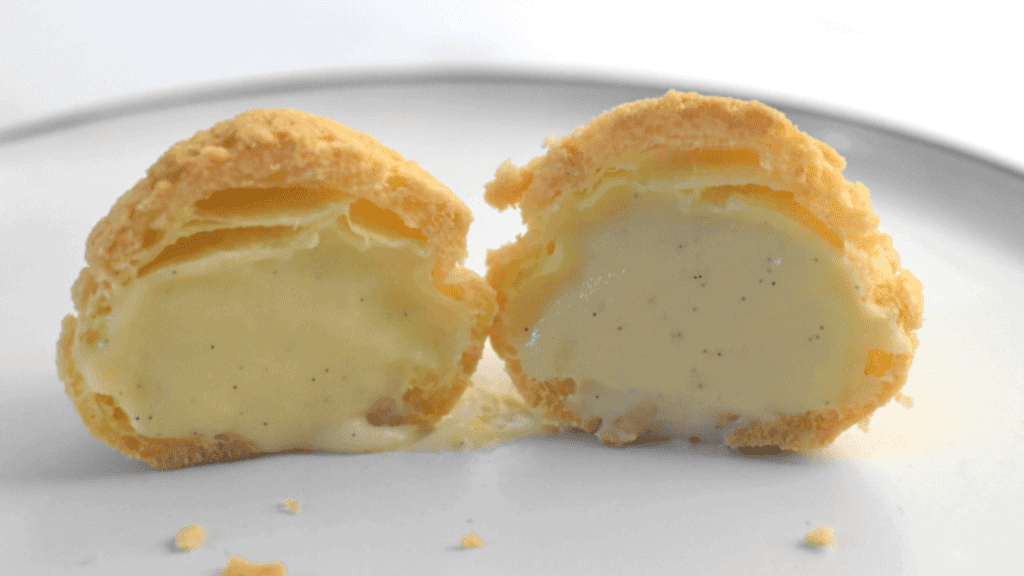 This pastry cream goes pretty well with the cream puffs crack buns/craquelin choux pastry.
Click here if you love to watch the video, to see how easy it is to make this cream puffs crack buns along with step by steps instructions.
RECIPE NOTES
For a richer vanilla creme patissiere, you can substitute the whole egg with 3 egg yolks (6 egg yolks in total). Eggs play two roles in creme patissiere (pastry cream). It adds richness (especially the yolks), and also thickens the custard as well.
Since vanilla is the key flavoring in this pastry cream recipe, PLEASE make sure you use good quality vanilla. Use good vanilla extract (not essence), and if you can use vanilla bean paste or vanilla beans, even better.
For a dairy-free version, substitute the milk with a plant-based milk like almond milk, coconut milk, cashew milk or even soy milk.
This vanilla creme pastry recipe is sufficient to make 650 g of pastry cream.
How to make your french vanilla cream more creamy?
If you want to make your vanilla cream more creamy,you can add a few pieces of room temperature butter while the custard is warm..
How to make your french vanilla cream, light and airy?
If you want to make it lighter and airy ,you can fold in 1/2 cup soft whipped cream (made by whisking heavy cream in your electric mixer with a bit of sugar until soft peaks form.)
Can i add my favorite flavors into the cream?
If you want to add your favorite flavors, you can add Chocolate,coffee,lemon,cream cheese,fruit puree,almond cream etc..1-2 teaspoons instant coffee powder (heat together with the milk), lemon or orange zest, 60g/2 oz. of your favorite chocolate (whisk into the hot cream), or a few tablespoons of fruit puree (add once the custard has cooled).
Below are a few terms,about different custard-based desserts .
What is Creme Anglaise?
Creme Anglaise is a pouring custard. A runny version of Pastry cream. It isn't typically thickened with a starch (although some use a little cornstarch to avoid scrambling), and usually only uses eggs / egg yolks. It's like a thick sauce, that can be poured over desserts.
What is Creme Chantily?
Creme Chantilly is lightly whipped cream sweetened with sugar and (usually) flavored with vanilla.
What is Creme Legere?
Creme Legere is pastry cream (creme patissiere) with sweetened and flavored whipped cream (chantilly) added. Most people call this creme diplomat as well.
What is Creme Patissiere?
Creme Patissiere is a thicker custard. It's thickened using starch and eggs/egg yolks and can be piped. It's mostly used to fill pastries and other desserts.

What is Creme Bavarois?
Creme Bavarois is a dessert on its own. It's like panna cotta, but made with creme patissiere. It's creme patissiere mixed with chantilly, but with extra gelatine (so that it sets like a pudding) and extra flavorings.
What is Creme Diplomat?
Creme Diplomat is creme patissiere mixed with chantilly, gelatine and any extra flavorings (optional). It's basically creme legere made with stabilized whipped cream.