This homemade cinnamon swirl bread recipe is a family favorite and only requires a handful of basic ingredients.The bread is unbelievably soft and moist!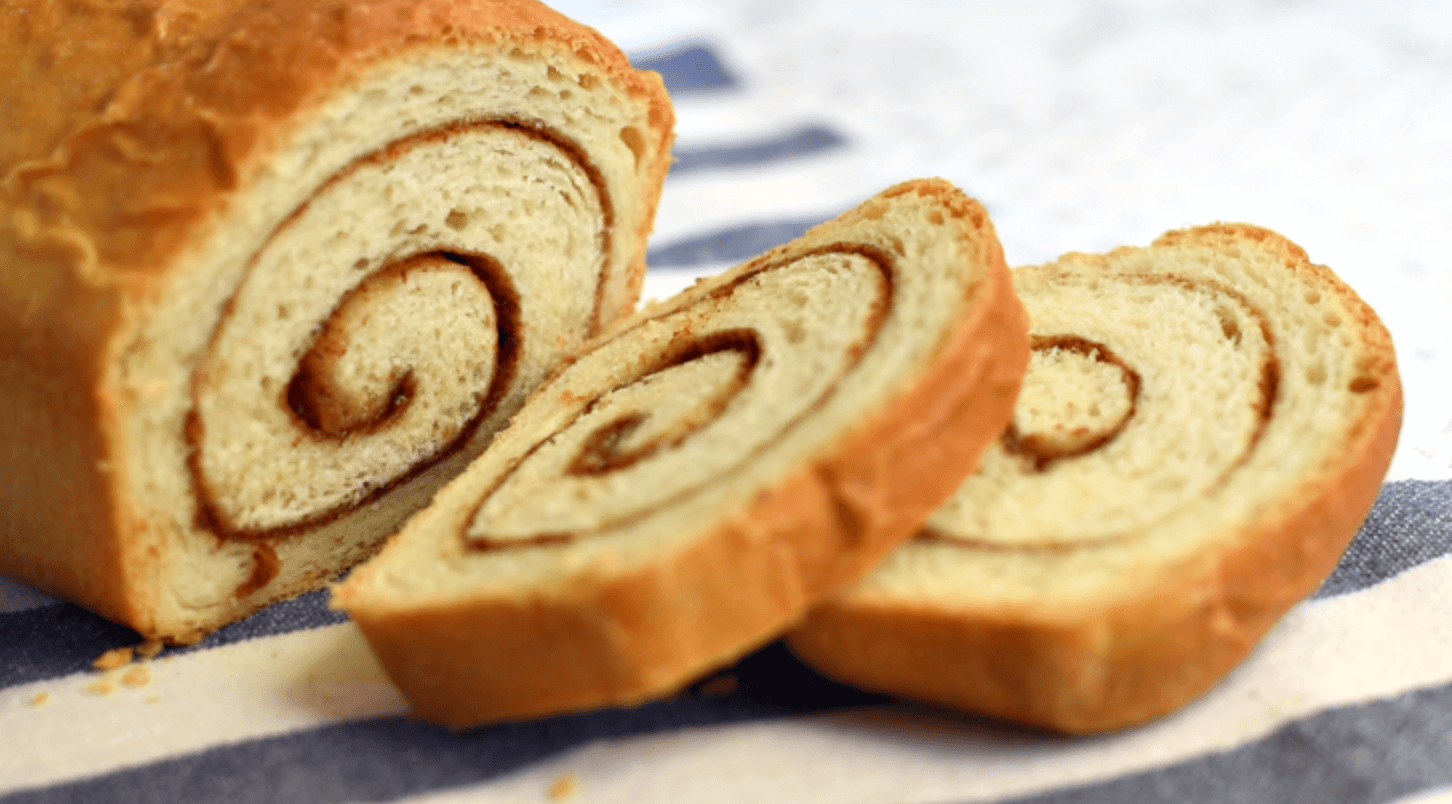 Hot and fresh out of the oven,the heavenly aroma of cinnamon alone will captivate our soul.The bread is buttery soft and those beautiful swirls are deliciously sweet.
How to make Cinnamon Swirl Bread
Today let's see how simple and easy it is to make this Homemade Cinnamon Swirl Bread.Follow my tips and soon you'll be baking Easy homemade croissants, Soft and Fluffy Dimple Dinner Rolls, and even Star Bread! With only a handful of basic ingredients, your kitchen will transform into a bread bakery.
We can make this Cinnamon swirl bread in 4 Simple Steps.
1.Prepare the dough
This cinnamon swirl bread is made with a dough which is enriched with milk and butter unlike a regular white loaf and so it will taste more delicious.
For making Cinnamon Swirl bread we need only a few basic ingredients.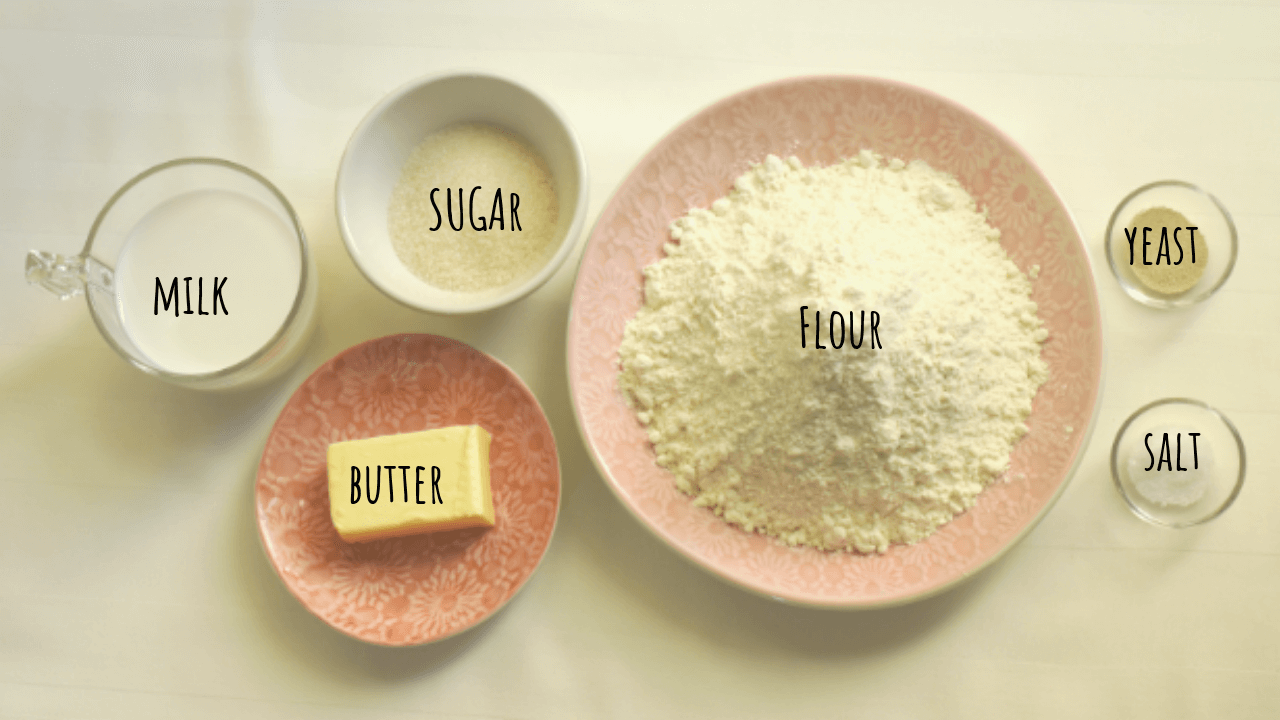 325 g Flour or 2 1/2 Cups loosely packed Flour
3 tbsp Sugar or 45 g sugar
185 ml Warm milk not hot
1 tsp Yeast instant/active dried yeast
3 tbsp Butter or 45 g butter(melted /softened)
1 tsp Salt
For the Filling
1 tbsp Cinnamon powder
50 g Raisins
3-4 tbsp Sugar
Mix together all the dry ingredients,FLOUR,SUGAR,SALT and YEAST in a bowl.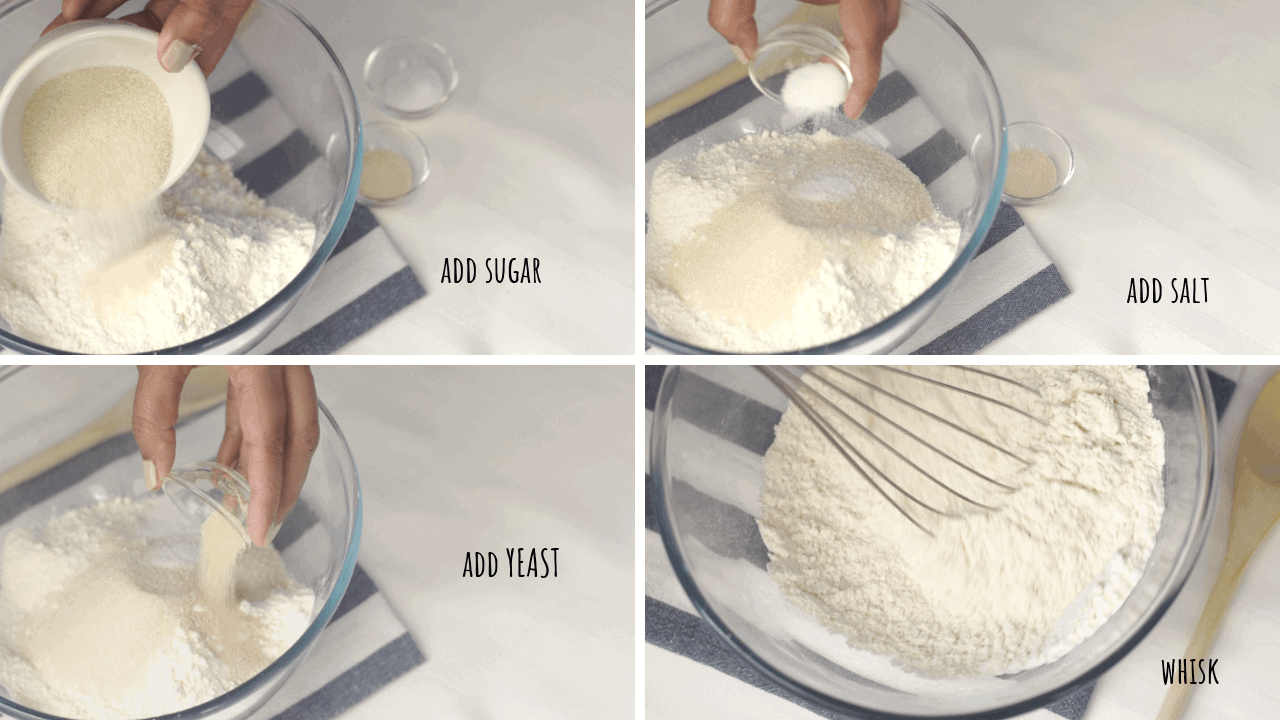 For almost all bread recipes ,i have used half a teaspoon of yeast.But this cinnamon rolls need 1 teaspoon of yeast..so i recommend you to stick on with the recipe and not to use less than a teaspoon of yeast.
Whisk everything together to make sure everything is evenly distributed in the flour.
Add the MILK (Warm the milk so it's not refrigerator cold, for 1-1.5 minutes in the microwave on low power. It shouldn't be hot, just warm) and Melted BUTTER (or softened) into this.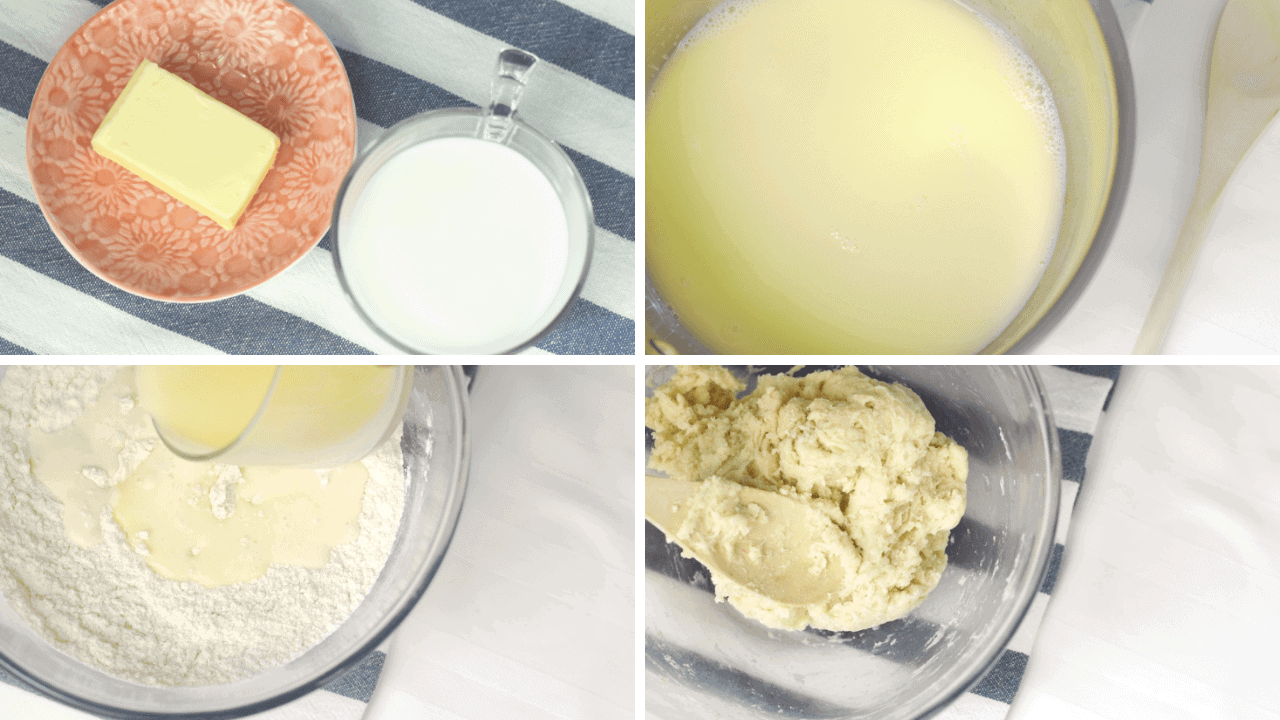 Mix everything together and make sure there are no dry patches left behind.
Keep the dough covered for 8-10 minutes.This will make the dough get hydrated properly and the gluten strands to relax for a while, which will make it easy for us to handle the dough.
Knead the dough for 8-10 minutes or until you get a soft dough.
Note:If you have stand mixer,then "preparing the dough" is so easy.Let the stand mixer do all the mixing and kneading for you.And you don't need to wait for 10 minutes until it is easy for you to handle the dough.
2.Shape the dough/Roll the dough
Place dough on a lightly floured work surface and with a floured rolling pin, shape into an approximately 7.5 x 14-inch rectangle. Sprinkle the cinnamon sugar mixture on top (and optionally raisins).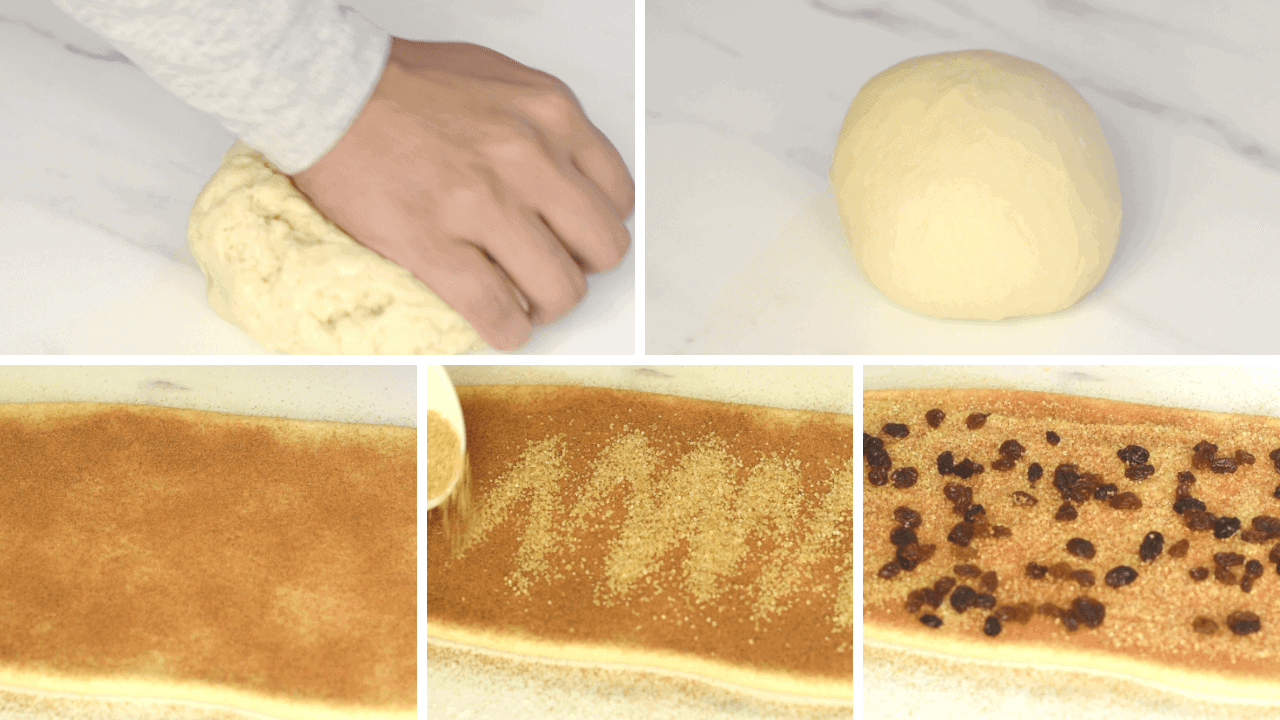 Make sure to roll up your loaf tightly, and be careful to not let the loaf rise too much in the pan while baking (too high temperature may cause the loaf to rise too much)or you will get big gaps between the filling and dough.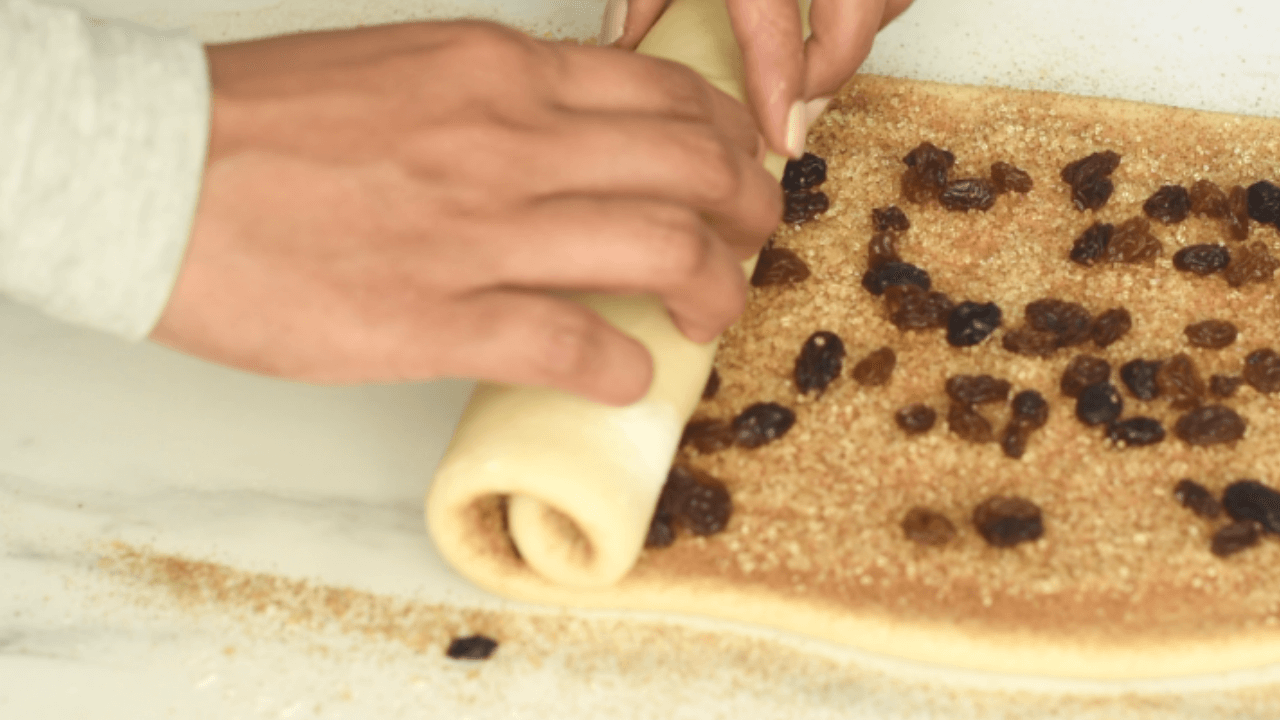 Pinch the ends to seal. Place into prepared loaf pan , seam side down.
3.Proofing the Shaped dough
Cover loosely and allow to rise in a warm environment until the dough rises to the top of the pan, about 2 hours.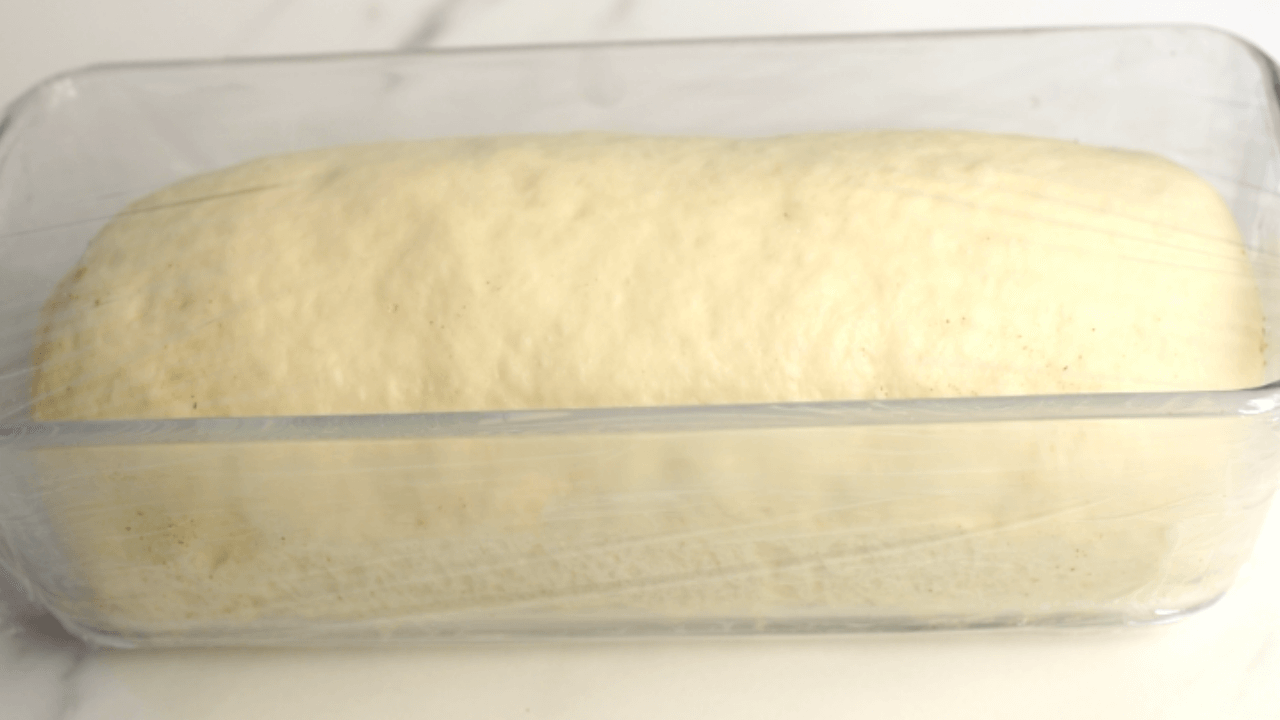 4.Bake the Cinnamon swirl bread
Bake at 350°F (177°C) preheated oven.Bake until golden brown and, when gently tapped, the top of the loaf sounds hollow, about 35-45 minutes.
Do not place it on the high rack as it could brown the top way too fast (as the dough contain sugar and milk in it ) even before it has a chance to finish cooking in the middle of loaf.
If you find the top of the loaf is browning too quickly as it bakes, tent with aluminum foil . I covered the top with an aluminum foil at around 25 minutes of baking.
I kept it in the lowest rack of my oven and in 45 minutes it came out beautifully baked.
Remove from the oven and place on a wire rack. Cool for 10 minutes in the pan, then remove from the pan and cool loaf completely on the wire rack.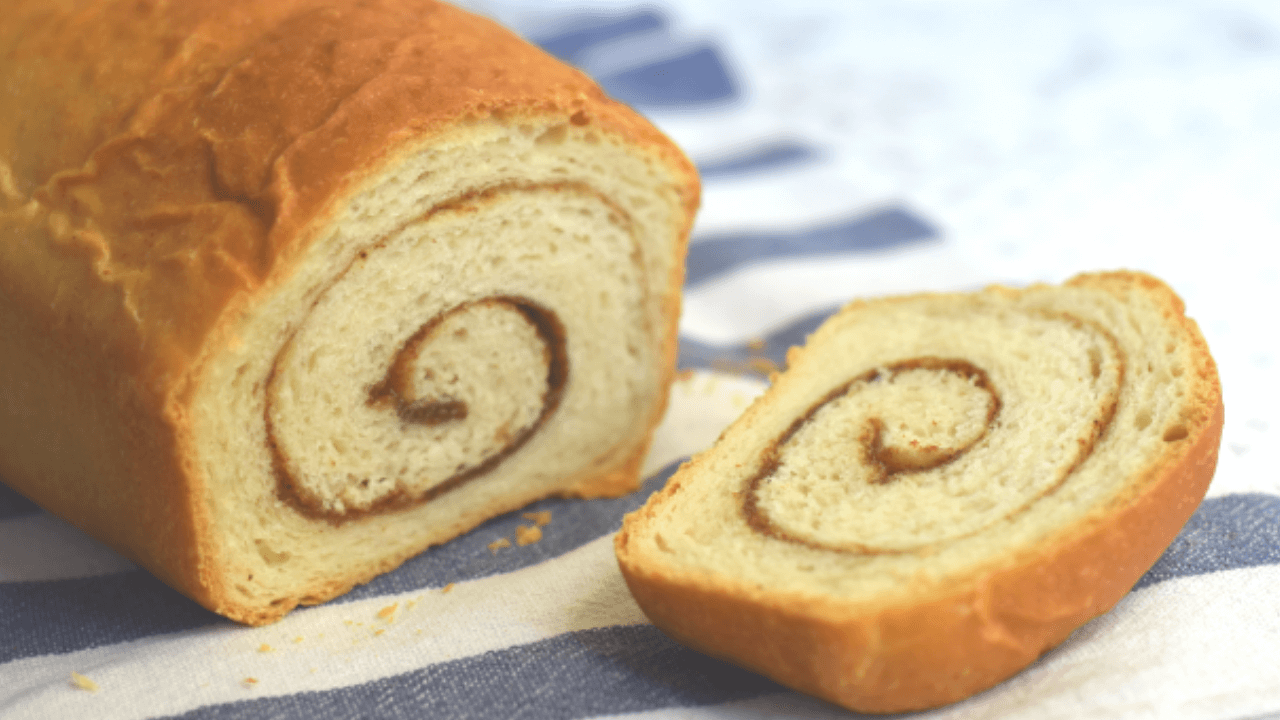 Slice and serve. Cover and store leftovers at room temperature for 5 days or in the refrigerator for up to 1 week. Bread tastes delicious when toasted in the toaster!
A loaf of this cinnamon swirl bread is bound to bring a smile to anyone's face, and an amazing aroma to your kitchen.Enjoy!
Watch the video to see how easy it is to make Cinnamon Swirl Bread
How to store any left over bread
To maximize the shelf life of homemade bread, cool thoroughly before storing and place in plastic storage bag or breadbox, or wrap in foil and store at room temperature. Properly stored,cinnamon swirl bread will last for about 4 to 5 days at normal room temperature.
Like any other homemade bread(as we are not using any preservatives or bread improvers), this cinnamon swirl loaf may also get dry on the next day.But when toasted,or made warm in a microwave,they are super delicious!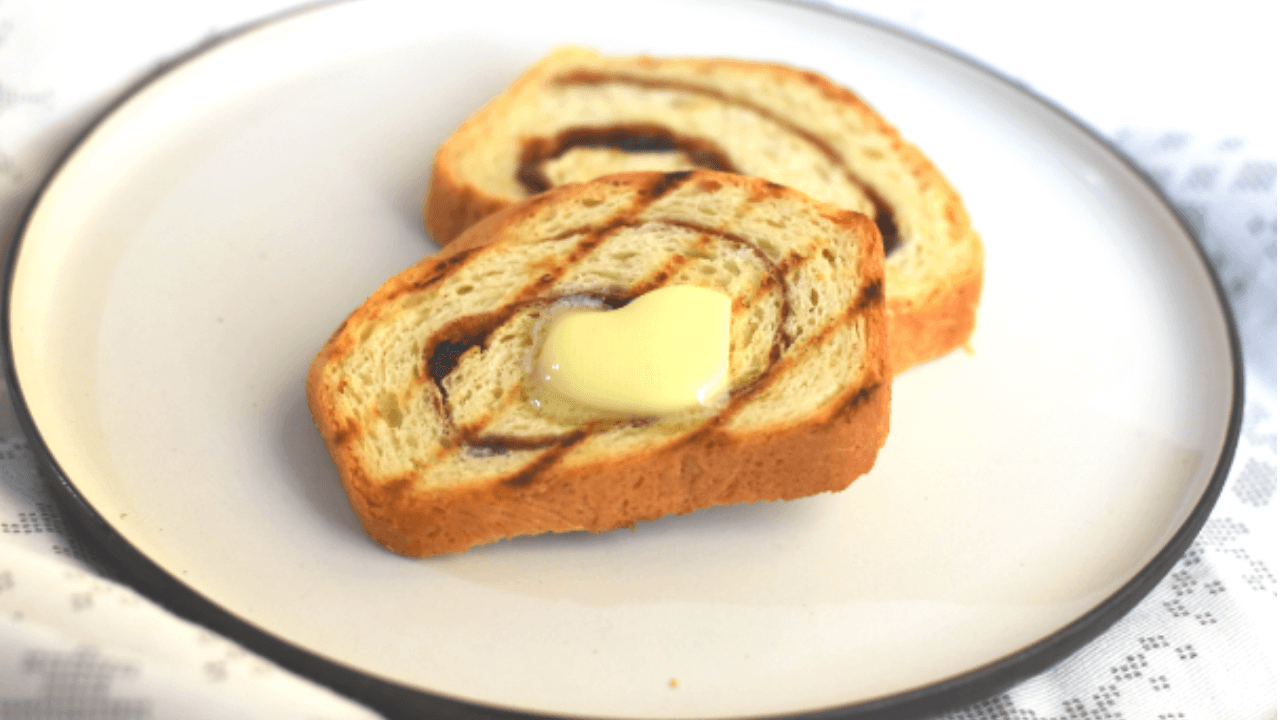 How to freeze cinnamon swirl bread
To freeze the entire loaf, first let it cool to room temperature and then wrap it in 3 to 4 layers of plastic wrap. Then wrap it once more with aluminum foil and store it in the freezer. When you're ready to eat the bread, let it sit on your counter and thaw to room temperature in its wrappings.
You can also pre-slice the bread and freeze the slices in a freezer-safe baggie. The bread might dry out a bit this way, but it's handy to have the slices on hand whenever you're craving cinnamon swirl toast.
Can i freeze the dough
Yes you can freeze or keep the dough in refrigerator after the first step.Then whenever you need to bake them,take it out bring the dough to come to room temperature and then continue with
Step 2: Shape the dough ,
Step 3: Proof them
Step 4: Bake the Cinnamon Swirl Bread
Why my cinnamon swirl bread get seperated
There are two main reasons that swirl in cinnamon swirl bread tends to gap open. The first is that the steam from the dough and filling coupled with the gases emitted by the yeast pushes out and up, smooshing your layers and leaving a noticeable gap often under the top layer of your swirled bread.
The other issue is that there is no sticking power in the swirl. Most folks slather on butter and then their sugar and cinnamon and the fat makes everything slippery so the layers can't bind. Fixing the binding problem also fixes the gas issue and you'll also end up with a lighter bread that has great oven spring and rise.
How to prevent the separation of layers
In this recipe i have not used any binding agents and the bread turned awesome without any obvious separation between the layers.
At the same time,I have read on another site that using an egg in the filling–or brushing egg onto the dough before filling–helps to bind. That makes total sense to me.
As an experiment, i tried egg wash (1 egg beaten) ,brushing the beaten egg on top of the rectangular dough before adding the cinnamon powder and sugar at step 2.Andafter baking, they came out as the layers are bonded together.So i liked the idea of egg washing and it worked for me!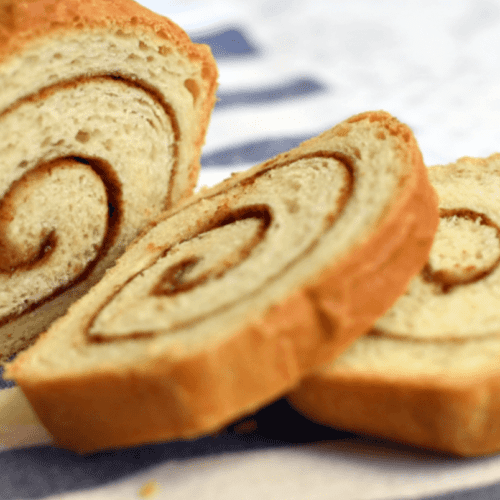 Cinnamon swirl bread
This cinnamon swirl bread will give you soft ,fluffy ,buttery bread and appealing swirls of cinnamon,infused with that divine aroma on to your breakfast table.
Ingredients
325

g

Flour

2 1/2 Cups loosely packed

185

ml

Milk

warm ,not hot

3

tbsp

Sugar

or 45 g

1

tsp

Yeast

Active dried yeast /instant yeast

1

tsp

Salt

3

tbsp

Butter

or 45 g melted/softened
For Filling
50

g

Raisins

1

tbsp

Cinnamon powder

3-4

tbsp

Sugar
Instructions
We can make this bread in four simple steps

Step 1

Prepare the dough.

Mix together all the dry ingredients in a bowl and then add milk and butter and combine everything together.

Knead the dough for 6-8 minutes.

Step 2

Shape the dough.

Roll the dough into a rectangle.

Sprinkle the cinnamon powder,sugar and raisins on top.

Roll the dough to form a log, pinch seam to seal..

Place it onto the loaf pan.Wrap it up with a plastic film.

Step 3

Proof the dough for 2 hours.

Step 4

Bake it at 350 F preheated oven in the lower rack of the oven.The bread may get browned faster,in that case you can tent the top of the bread with an aluminum foil to prevent over browning.

Let the bread sit in the pan for 10 minutes.

Transfer the bread on to a cooling rack and wait for until the bread has cooled down completely.

Enjoy!