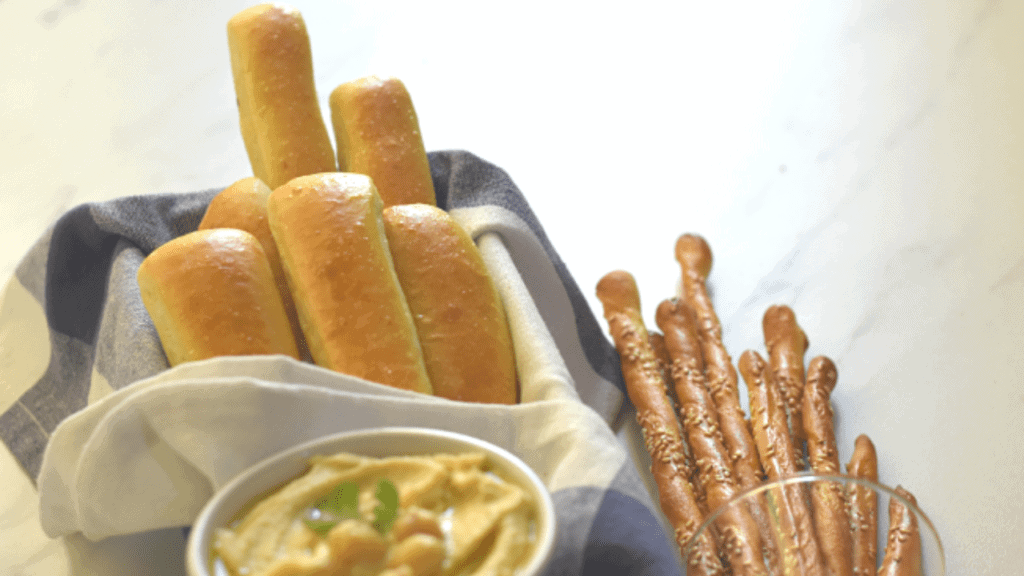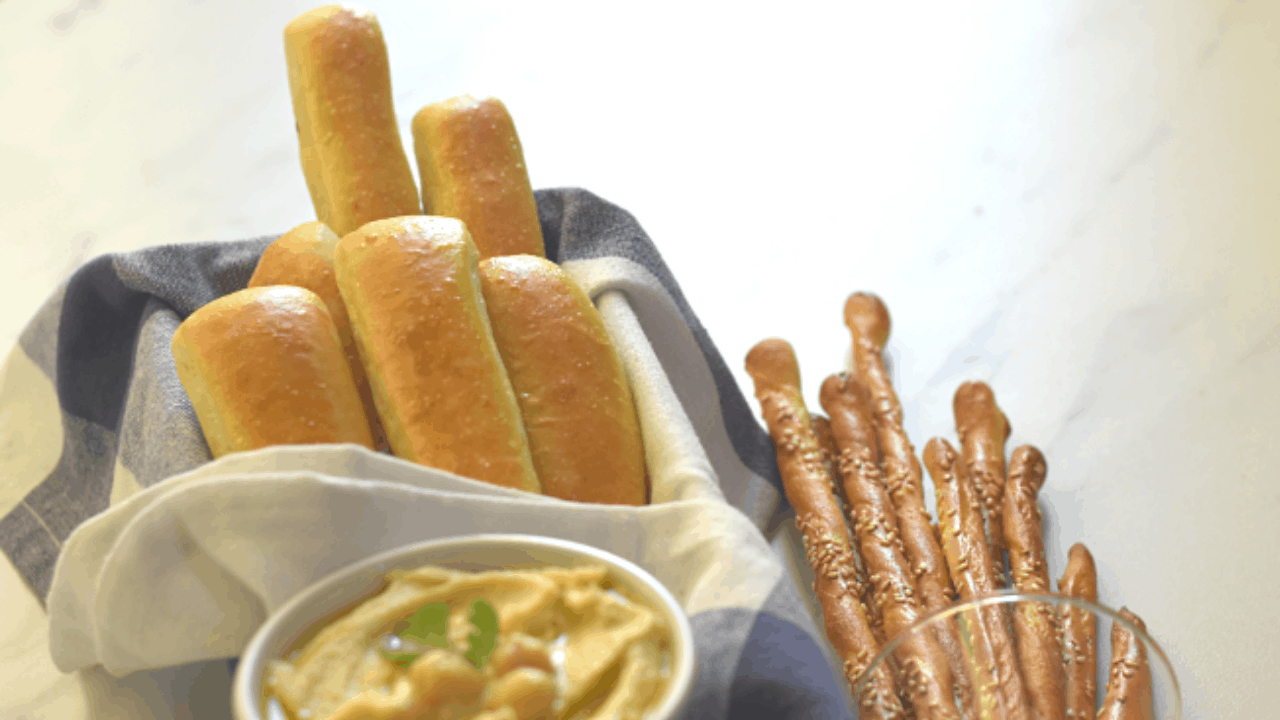 Homemade Breadsticks Recipe
I love Homemade Breadsticks!Especially when I can make them quickly with ingredients I already have in the cupboard.These breadsticks are so versatile and so easy to make!
You can make soft breadsticks like the Olive Garden breadsticks or you can make the crispy Grissini type Italian breadsticks according to your preference with this same bread dough .The only difference is while shaping them and slight variation in the baking temperature(as the grissini breadsticks are thin ,they require less baking temperature than the other one)
The dough for these breadsticks is very simple and basic. It's what you put on top that makes a difference!Play around with the seasonings you want to throw on top!
Unlike the usual breadsticks recipe we don't do "double proofing", in this recipe and hence we can save our time.
We can Bake the breadsticks in 4 SIMPLE STEPS
1. Prepare the bread dough .
2.Divide and shape the dough.
3.Proofing or Rising the breadstick dough.
4.Bake the breadsticks.
The dough recipe only has six ingredients!
Flour, Water ,Yeast As a leavening agent,Sugar and salt to balance the taste and Little butter to make the bread soft.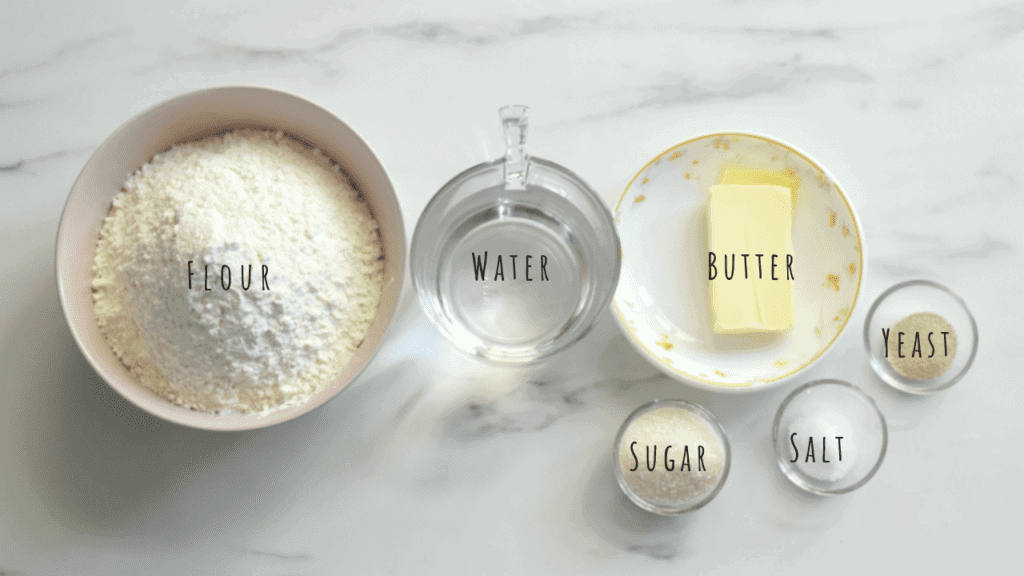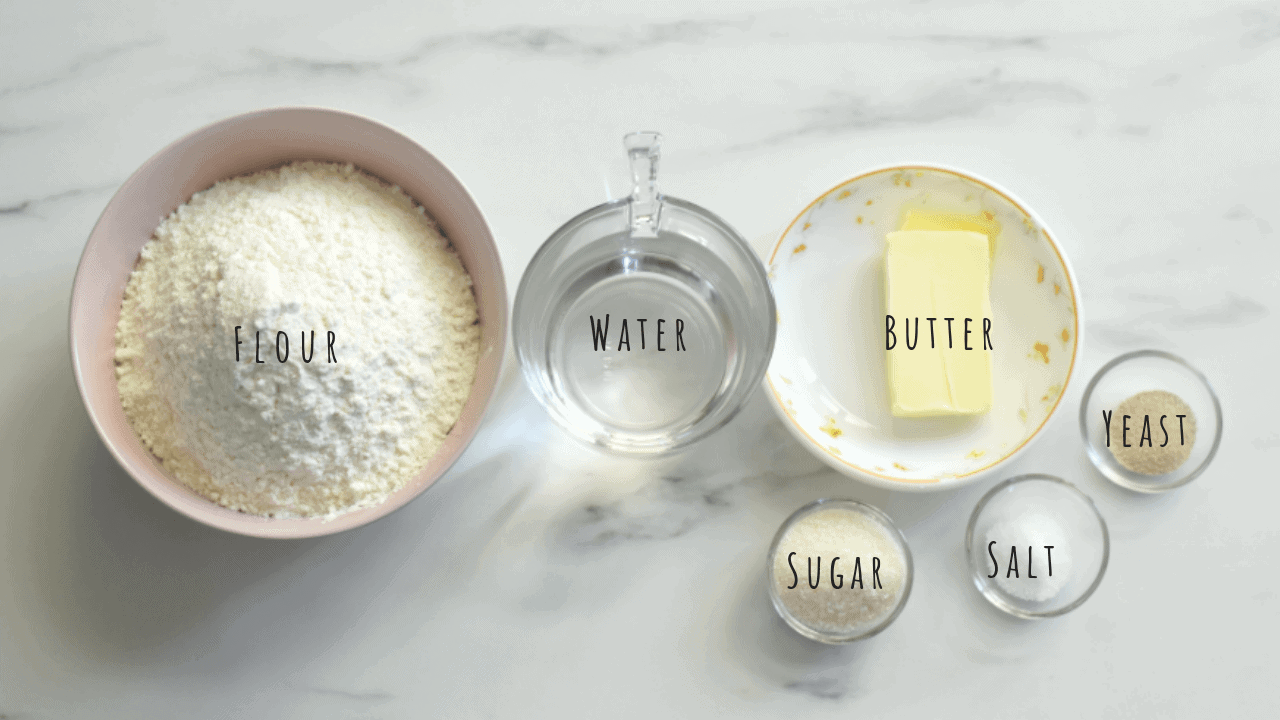 You can make this dough by hand, like i did ; we just need to knead for about 6-8 minutes. or,Get your ingredients and your stand mixer fitted with the dough hook ready to go.
How to make Soft and Fluffy Breadsticks
First let me show you how i make the "soft" breadsticks .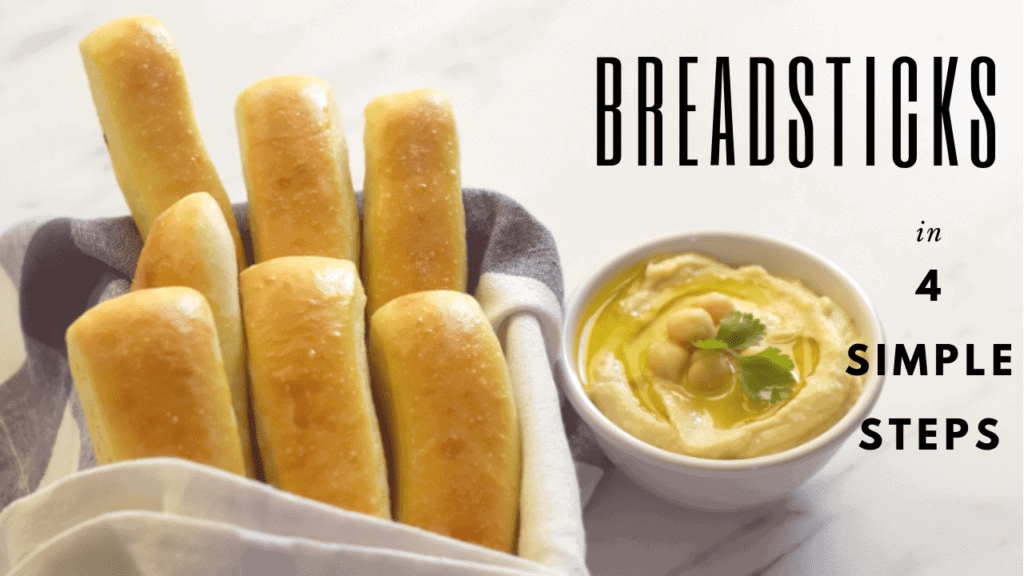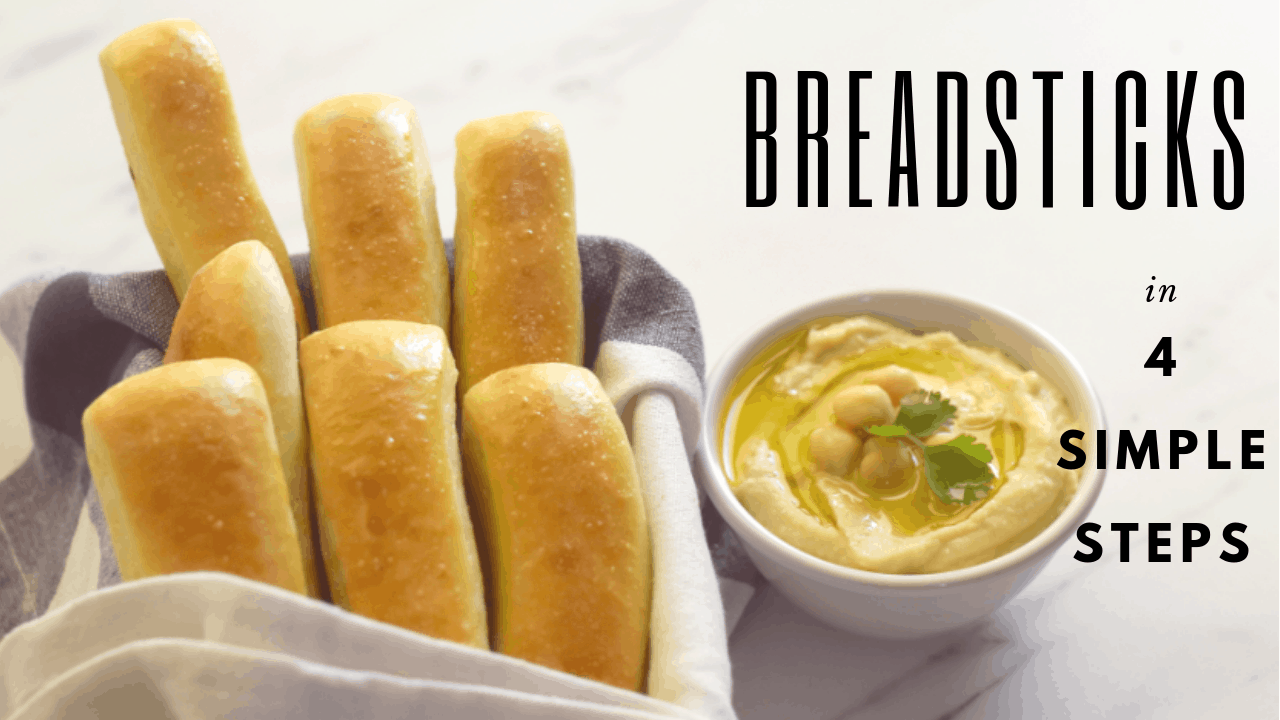 1.Prepare the dough.
Add into a bowl,all the dry ingredients i.e. Flour salt ,sugar ,instant yeast and give it a good whisk to make sure everything is evenly distributed in the flour.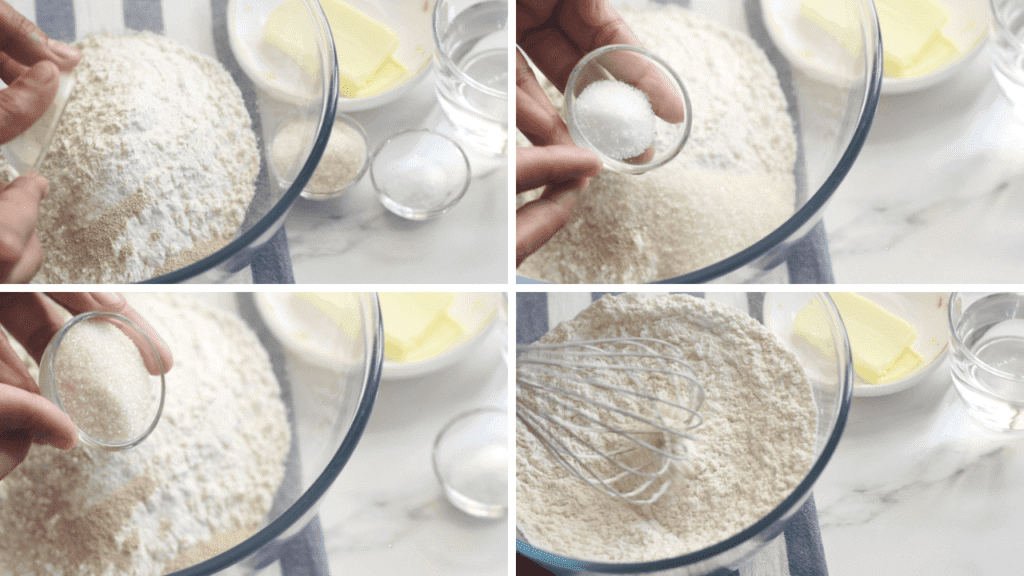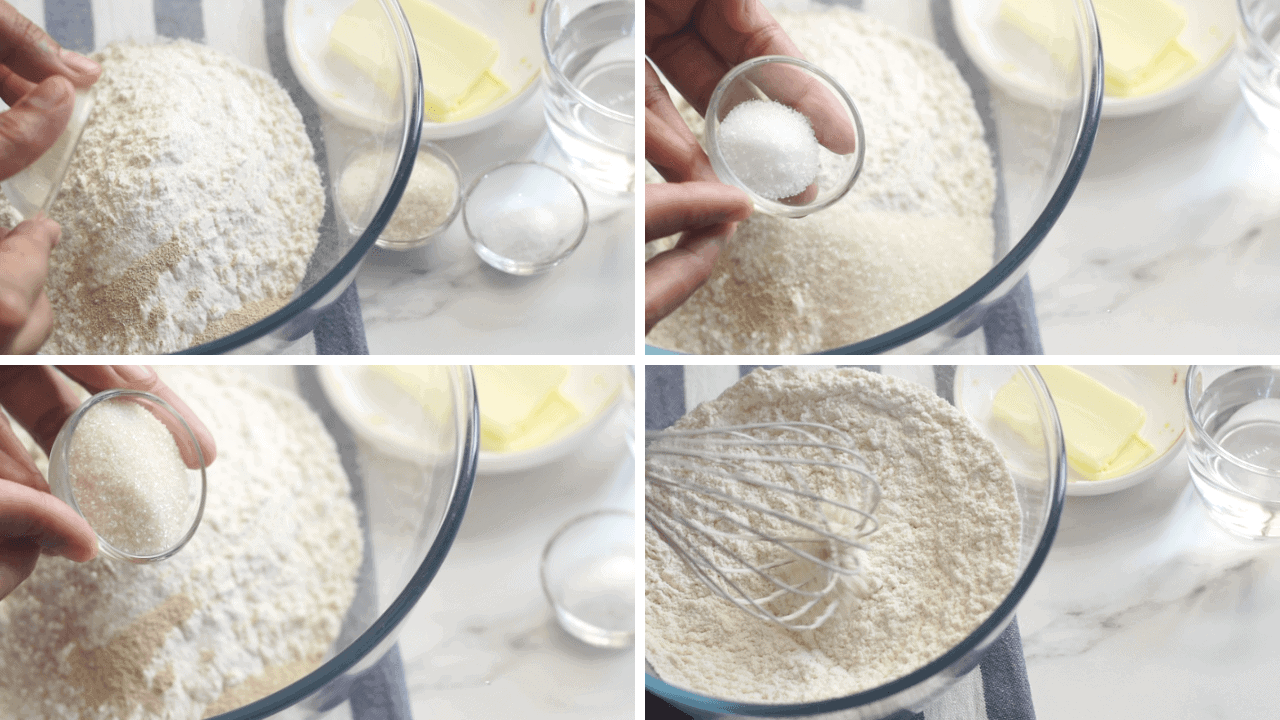 Add in the wet ingredients i.e. butter and water into this.Mix everything together using a spatula or a wooden spoon.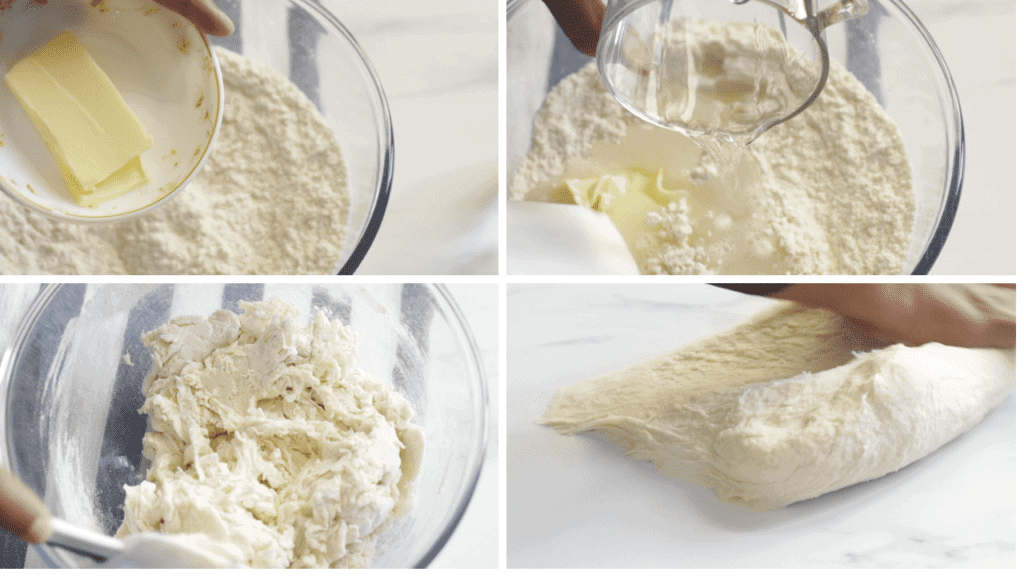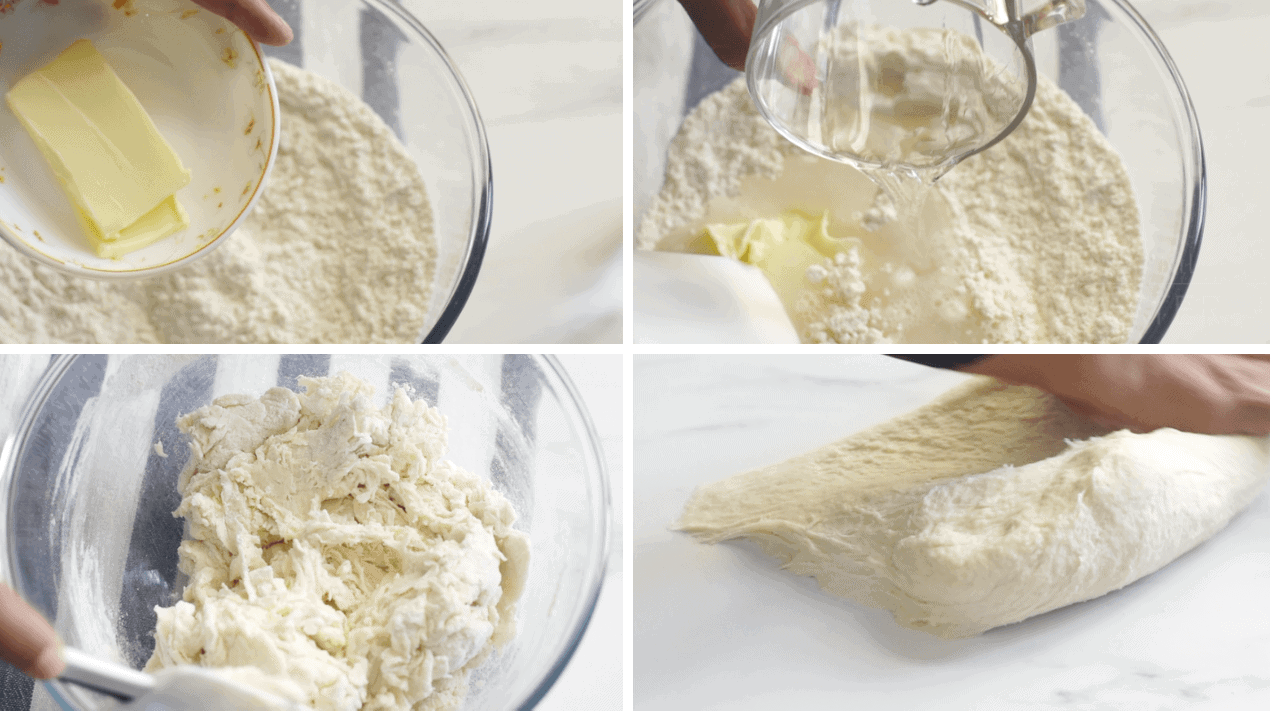 Knead the dough for 6-8 minutes until you get a very soft and elastic dough.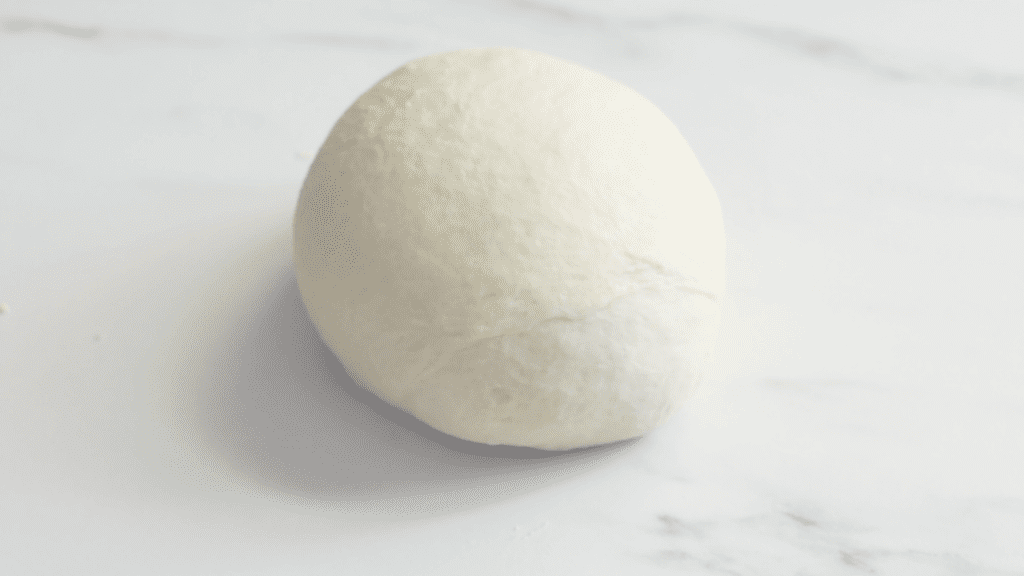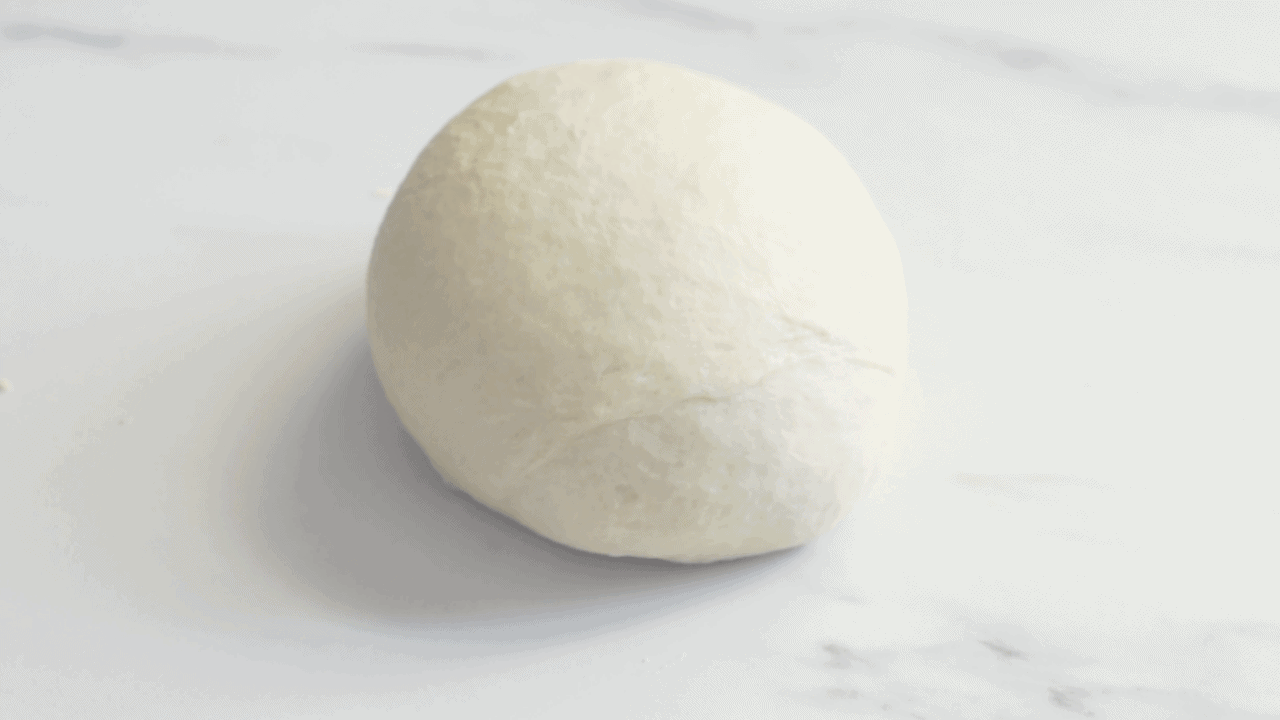 For almost all the bread recipes,we need 5 BASIC STEPS , second step being "the first proofing" i.e. to let the dough sit and rise in a warm environment for about 2 hours which will help the gluten strands to relax and which will make the shaping of the bread easier in the next step.But in this breadsticks recipe,we don't need to do double rising and so we can now jump straight into the next step of shaping the dough.And you can take this as a tip :We can skip this first proofing or double proofing for any sort of bread which is not bulky like "Breadsticks" or "Panini".
2.Divide and Shape the Breadsticks dough.
On a floured surface,roll out the dough into a rectangle of around 7 inches in breadth and cut it into thick strips. (Approximately 7 inch x 1 inch rectangles)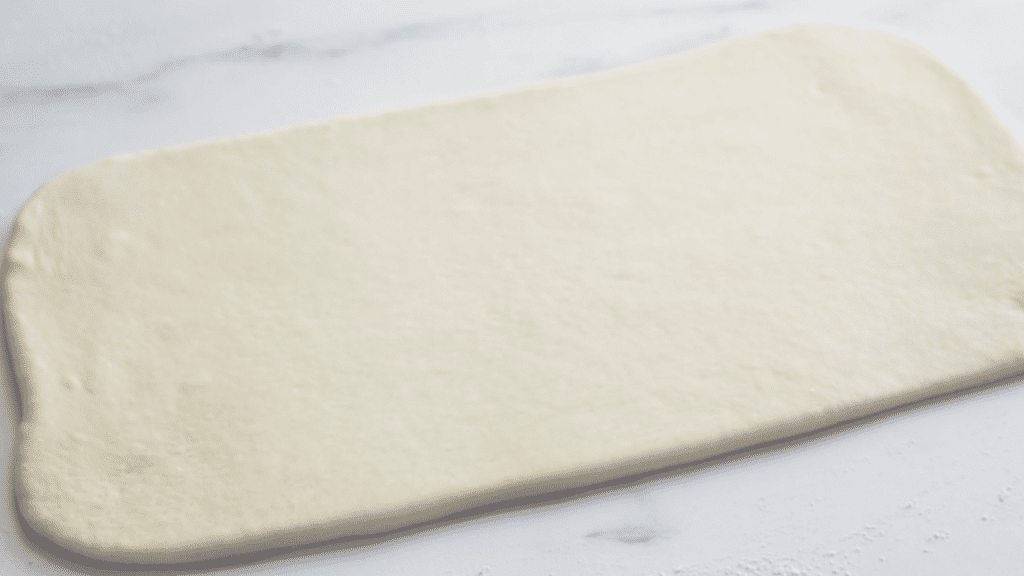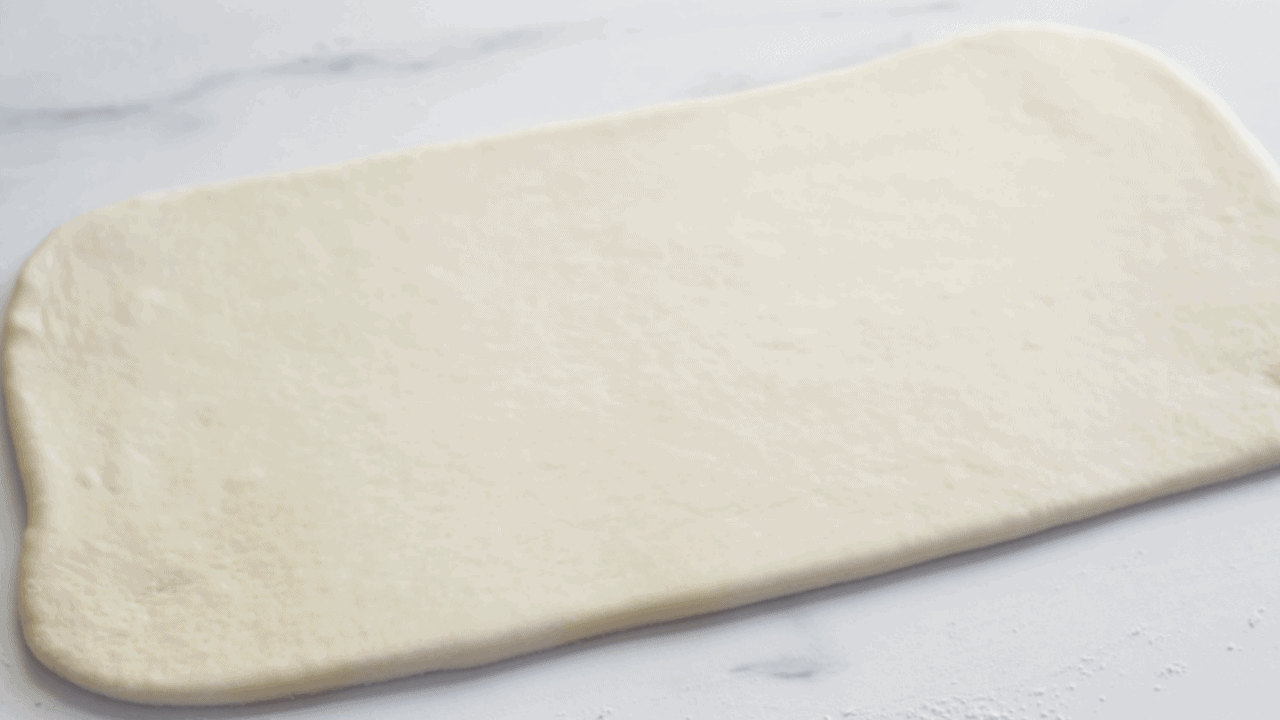 Place them on a greased baking tray.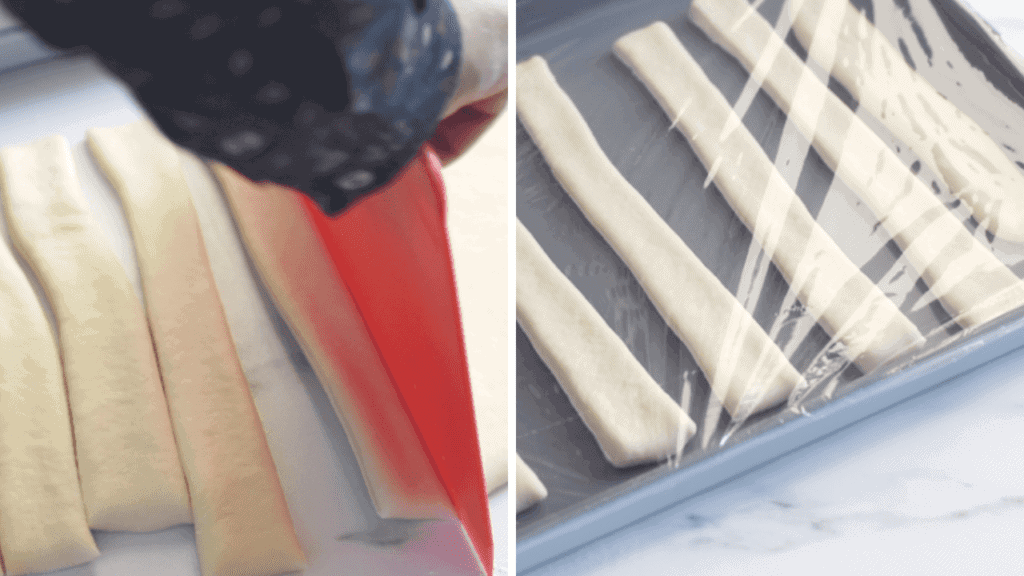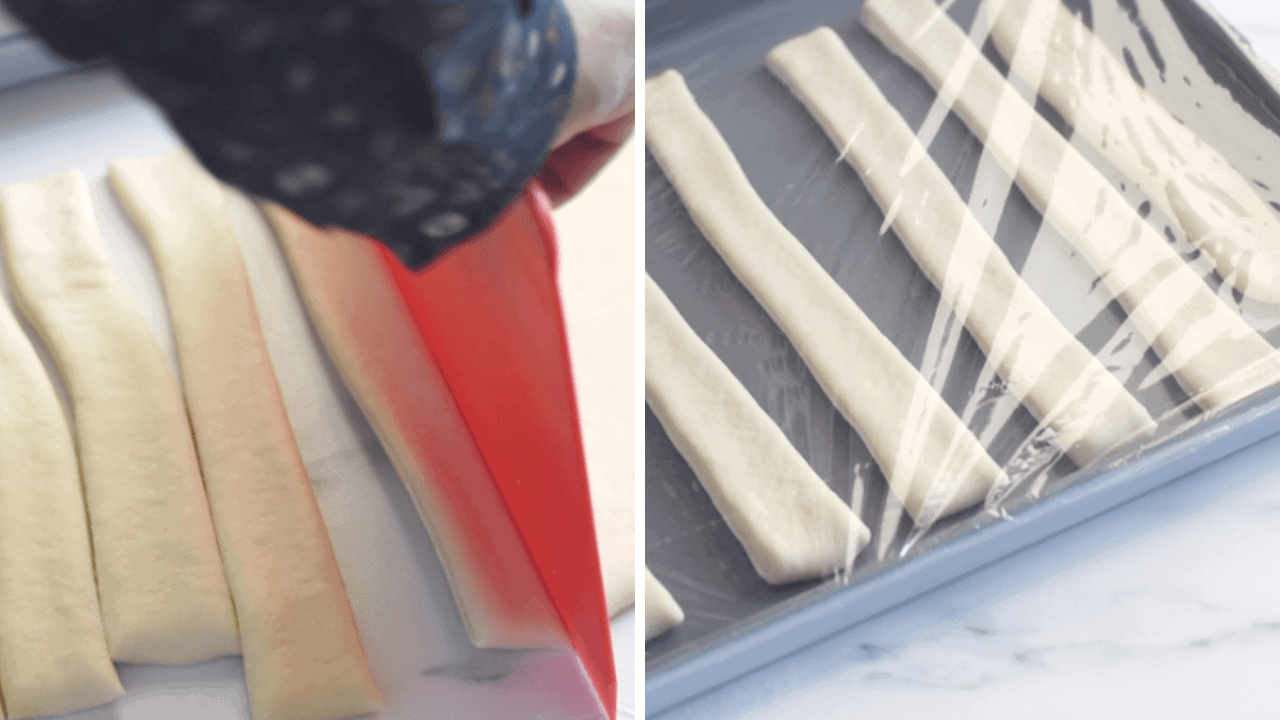 3.Proof the Breadsticks dough.
Cover the strips with plastic film and let the dough strips rise until doubled, about 90 minutes.
4.Bake the Breadsticks.
Bake in a 400°F oven for 15-20 minutes, or until golden brown.
As soon as the breadsticks come out of the oven, brush with melted butter and sprinkle with the salt and garlic powder mixture(You can use a mix of fresh minced garlic and melted butter as well). Serve warm.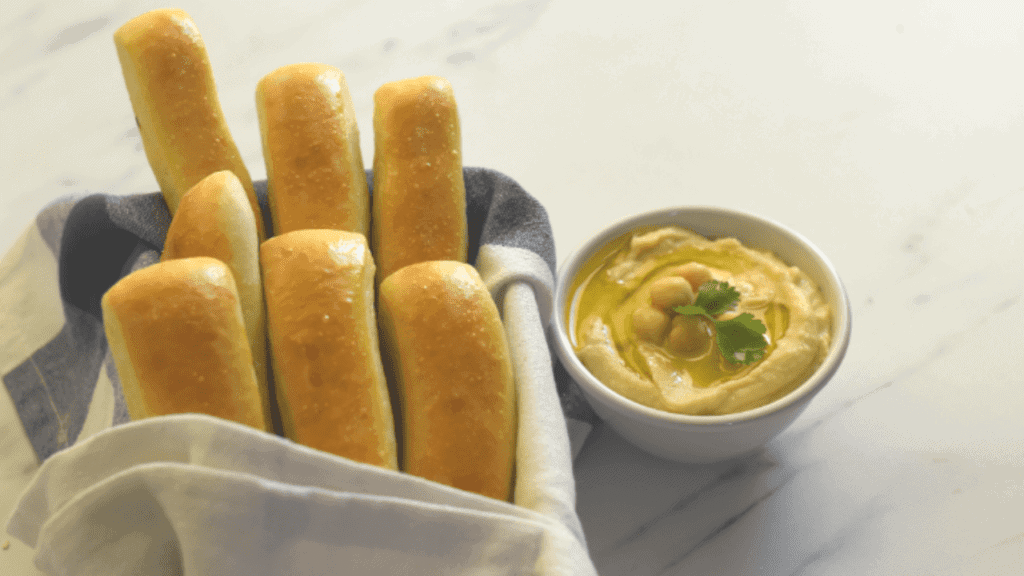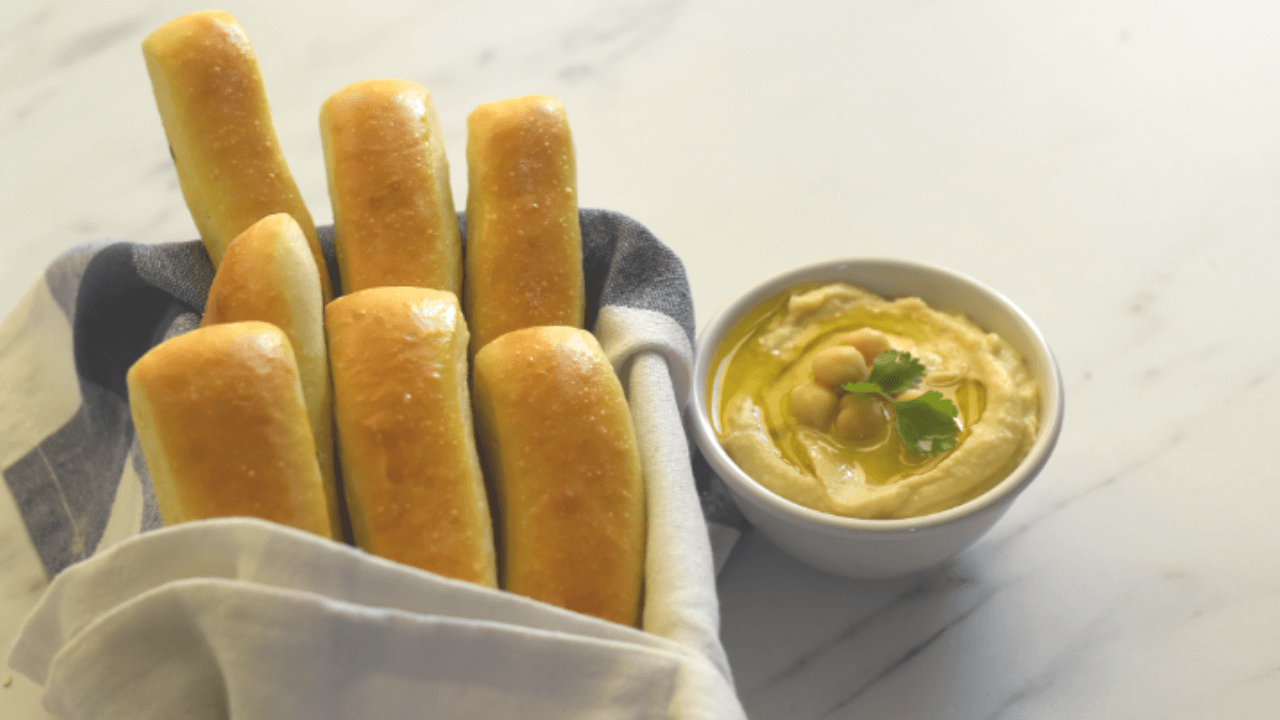 How to make Grissini Breadsticks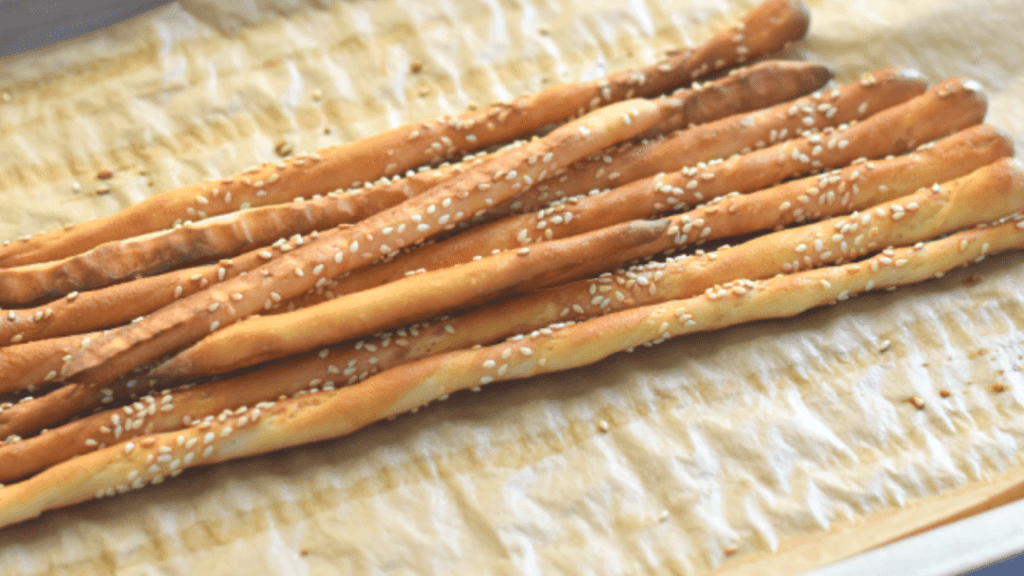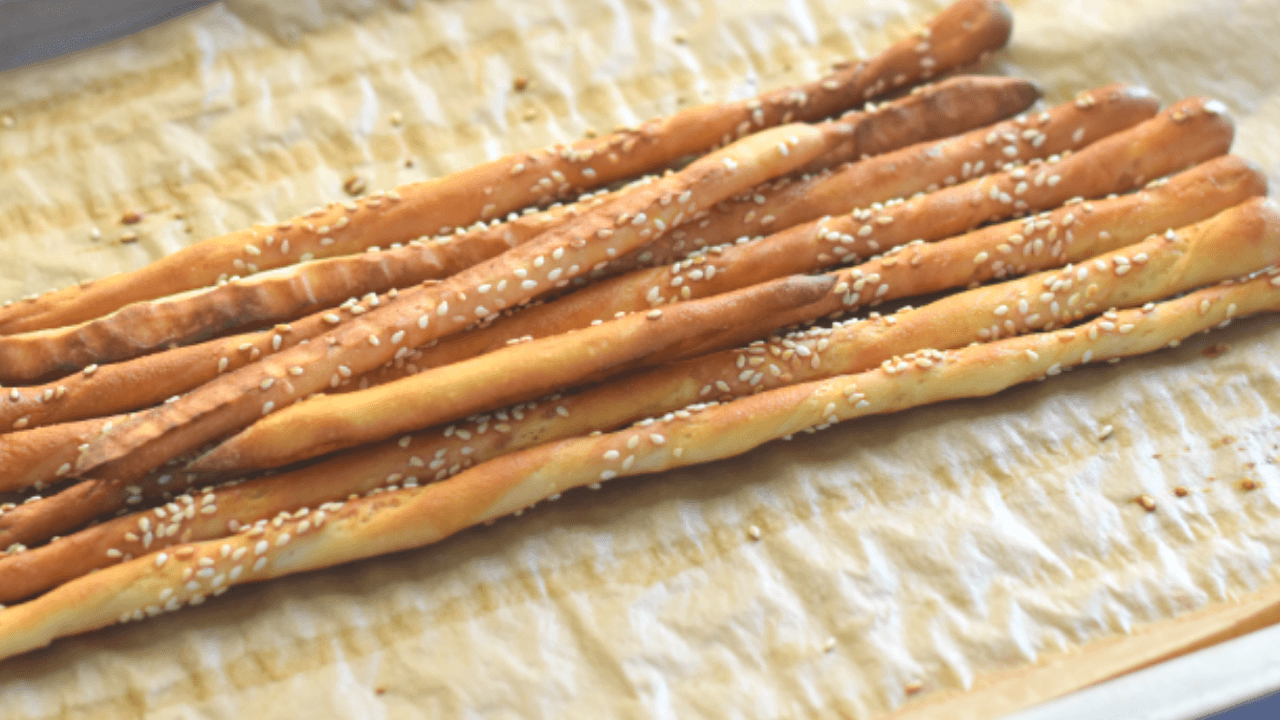 Grissini make a dramatic, graphic centerpiece if served up in a large glass or vase placed in the center of your table.
Let's see how to make grissini breadsticks
Prepare the dough,and then roll them into a rectangle as we did for the soft breadsticks.Here i have used a part of the same breadsticks dough used for the soft breadsticks.
I love the nutty flavor of sesame seeds in my grissini breadsticks,so i have sprinkled some sesame seeds on top.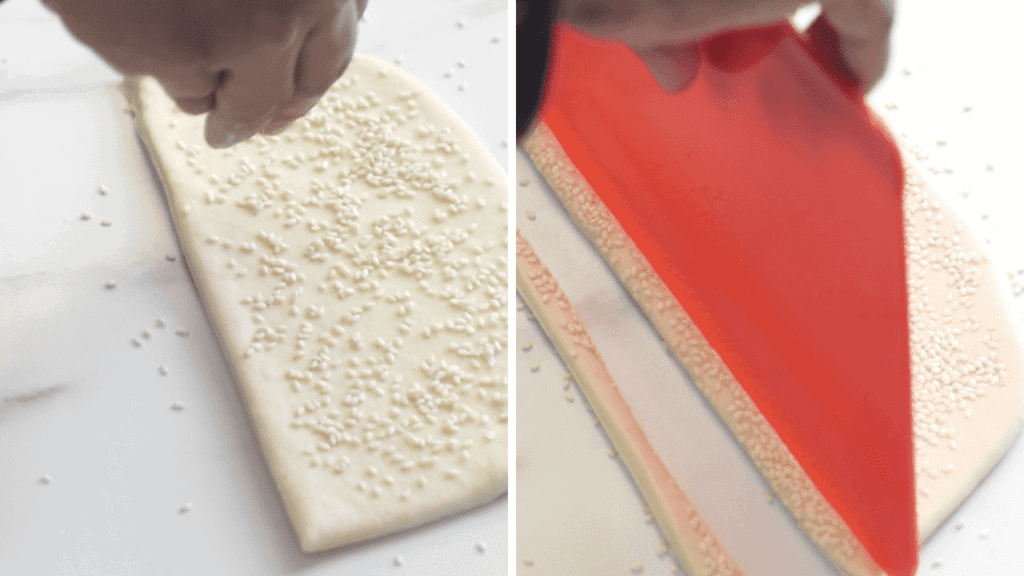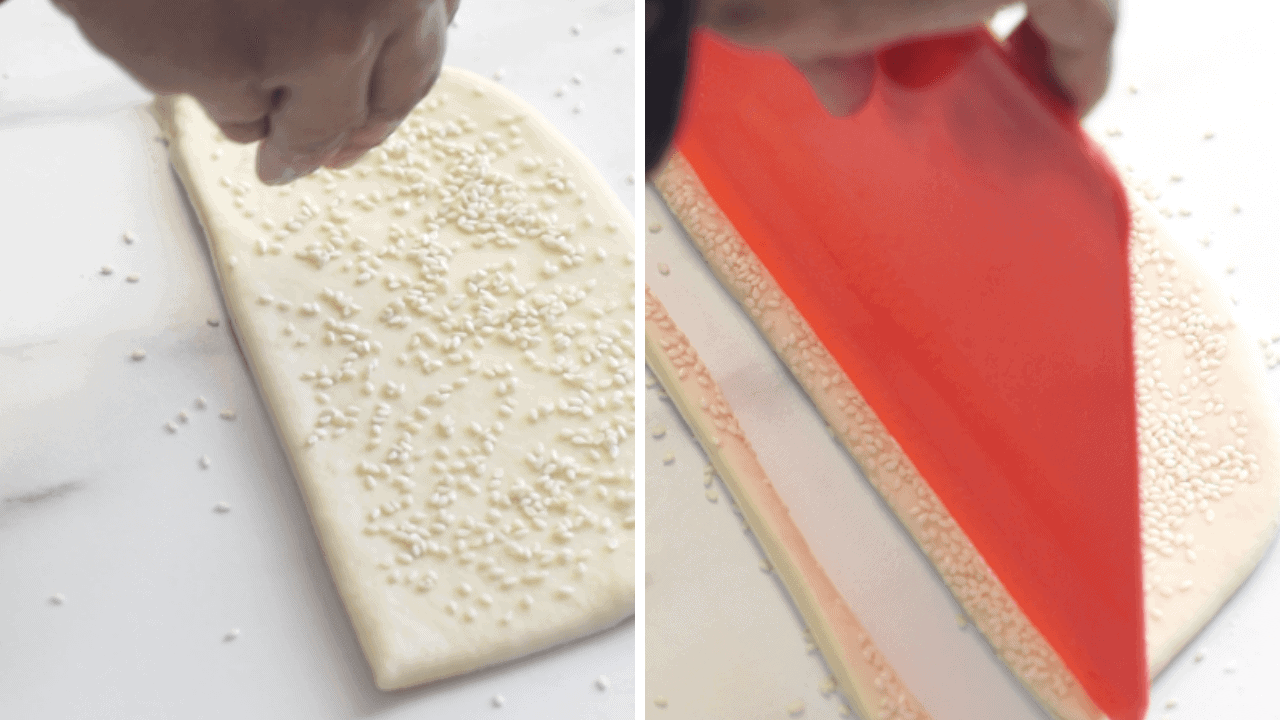 2.Divide and Shape the Breadsticks dough.
For plain grissini, shape the dough into a rough, flat rectangle. Slice a finger-sized piece from the long length of the rectangle with a sharp knife or a bench scrapper.Pull the strips into longer strips or you can twist them and roll them in to longer strips and place on the baking sheet. Continue with the remaining dough, placing the dough strips about 1/2″ apart.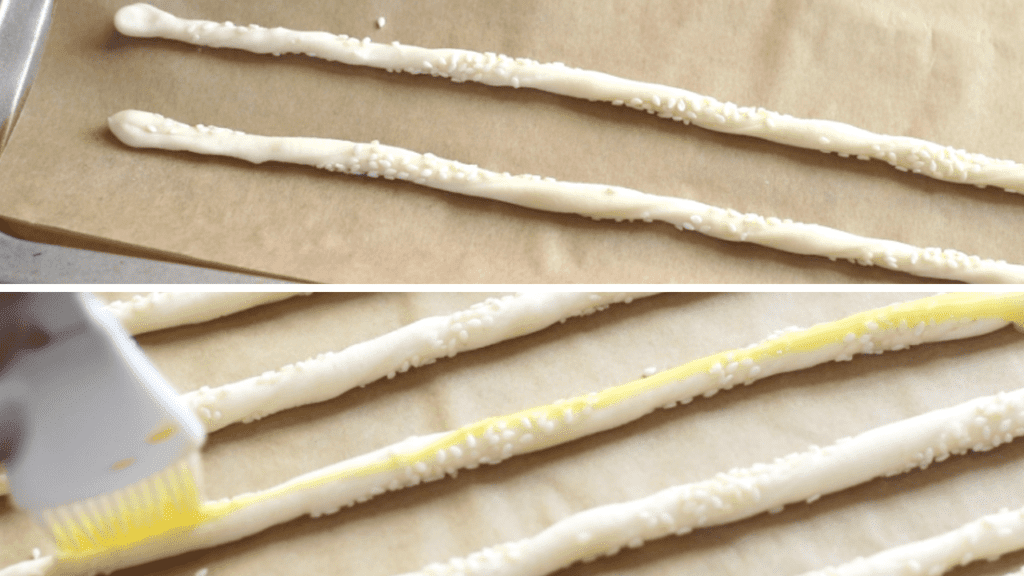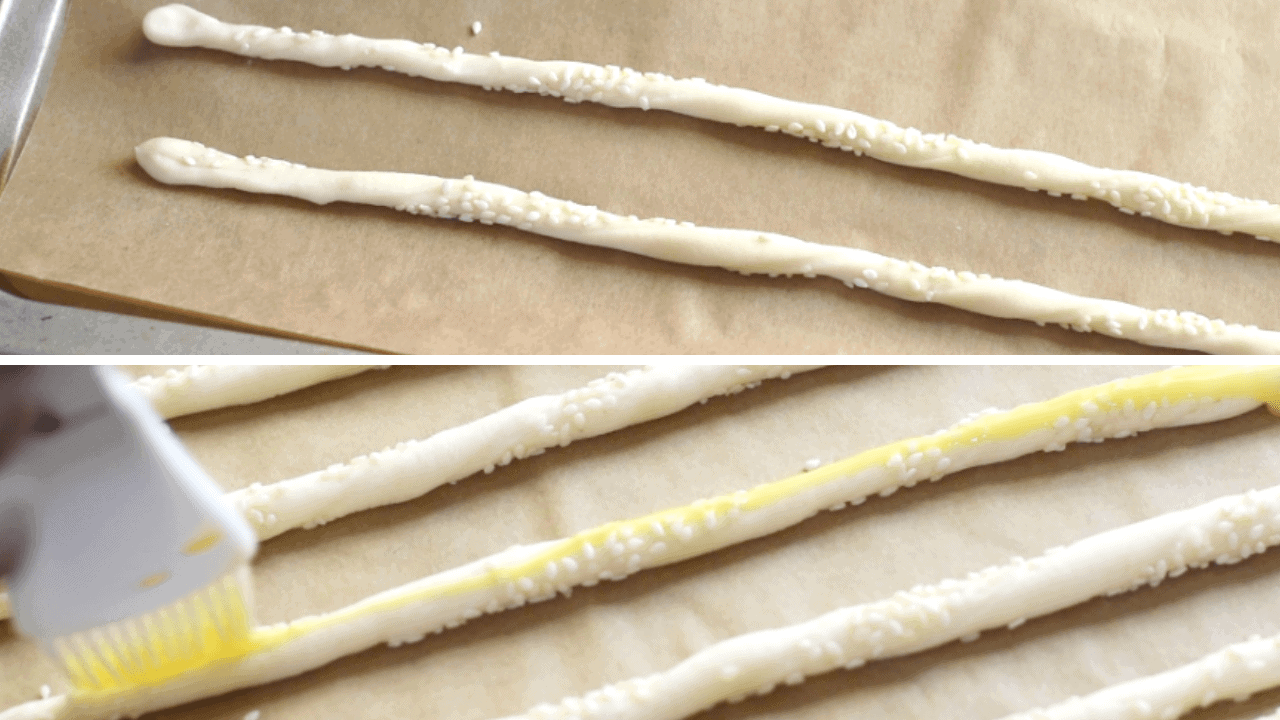 3.Proof the Breadsticks dough.
Cover the tray with strips with plastic film and let them rise until doubled, it may take about 30 minutes. This proofing, until they are really puffy will make them get that likable texture… light,airy and crispy !
4.Bake the Breadsticks.
Bake in a 375°F oven for 12 -16minutes, or until golden brown.The grissini are quite thin, so they will burn easily! Keep an eye on them and take them out when they are golden brown.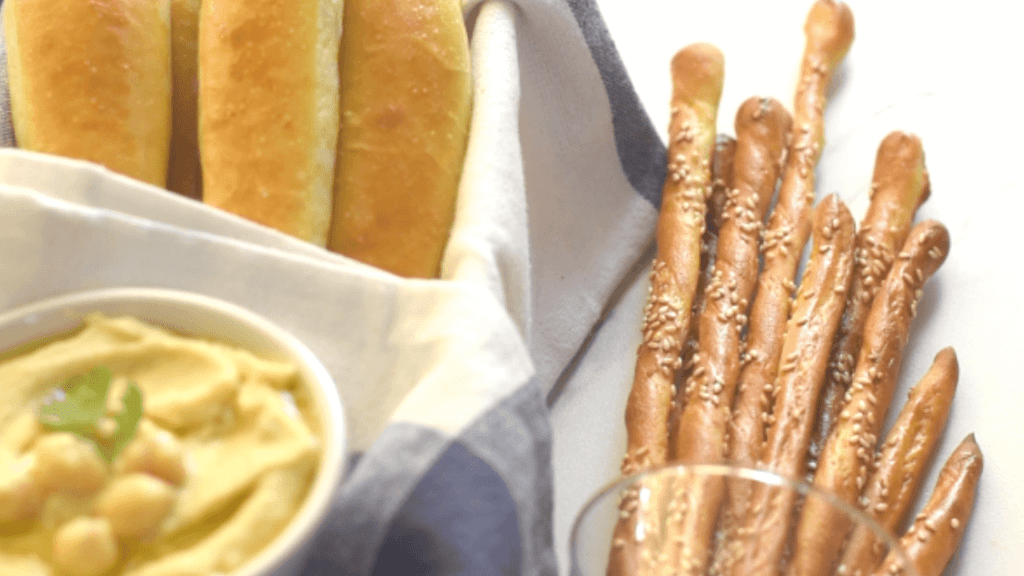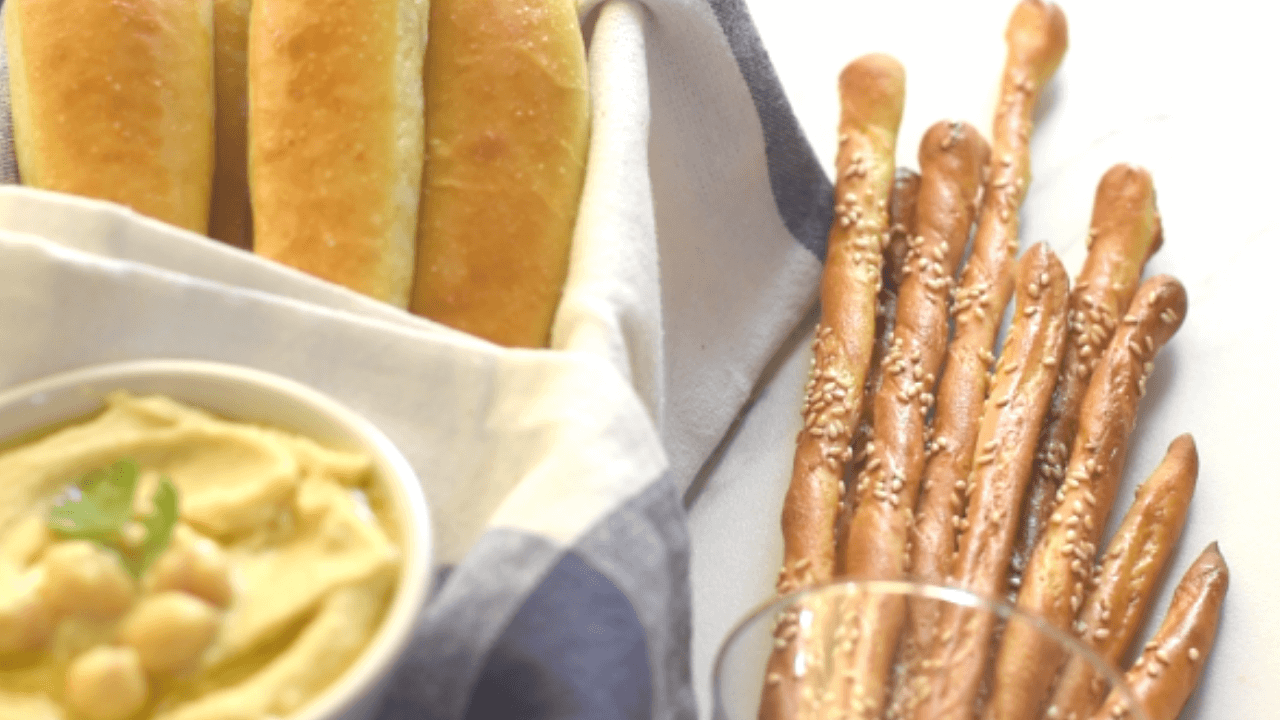 Carefully move the grissini to a cooling rack to cool. Once they are cool, store them in an airtight container (for up to 2 to 3 days) until ready to serve.
Watch the video to see how easy it is to make breadsticks at home.
Add flavor to the grissini (optional.) To add herbs, knead about 1/2 to 1 teaspoon of finely chopped fresh herbs into the dough (while making the dough) and then roll into rectangle and then cut into strips.
To add seeds,roll the dough into a rectangle.Then sprinkle with enough seeds or seasoning of your choice on the surface of rectangle ..and using a rolling pin,press gently to make the seeds adhere.Then cut them into thin strips and either roll them to longer strips or twist and pull to make another pattern.
Homemade Breadsticks Printable Recipe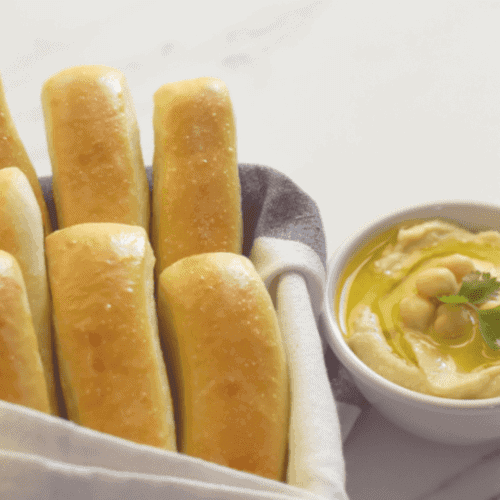 Breadsticks
This simple recipe for Breadsticks makes buttery, garlic-scented, and chewy breadsticks which goes pretty well with any soups or sauces.
Ingredients
260

grams

All purpose Flour/Plain flour/Bread flour

About 2 cups

140

ml

Water

1/2cup+1 1/2 tbsp

1/2

tsp

Instant Yeast

You can use same amount of Dry Yeast as well;make sure you activate the yeast prior to mixing with flour

1

tbsp

Sugar

22

grams

Unsalted Butter/Melted Butter/Olive oil

1 1/2 tbsp

3/4

tsp

Salt
For the Topping
2

tbsp

Unsalted Butter

1/2

tsp

Salt

1/4

tsp

Garlic Powder
Instructions
1.Prepare the dough.

Mix together all the dry ingredients in a bowl.Add the butter and water into this and mix them together.

Knead the dough for 6-8 minutes or if you are using a stand mixer,In the bowl of a standing mixer, combine the water, yeast, sugar, and butter. Add in the salt. Attach the dough hook to the mixer and begin to gradually add the flour on low speed. Increase speed to medium and knead the dough for about 7 minutes, or until it is smooth and elastic.

Roll the dough into a rectangular shape on a floured work surface.

2.Divide and Shape the Breadsticks dough.

Divide the rectangles into small strips (7 inch x 1 inch) and place on a non stick baking sheet or a baking sheet lined with a parchment paper.

For Italian grissini style breadsticks, cut them into a finger sized strips and then pull and stretch to shape them into longer strips.

3.Proofing the the breadsticks dough.

Cover the baking sheet with a plastic film and let them rest for 90 minutes or until they are puffy.

4.Bake the Breadsticks.

Bake at 400 F for 12-15 minutes or until golden brown.

For Italian breadsticks bake at 375 F for 12-16 minutes or until golden brown.

Remove from oven and immediately, brush with melted butter. Combine the salt and garlic powder and sprinkle evenly over breadsticks. Serve warm.

CAN I USE THIS RECIPE FOR PIZZA CRUST?
Absolutely! Just follow the "breadstick dough recipe" below to make the dough. Roll out into a large circle. Place on your pizza ingredients and bake at 450°F for about 10 minutes.
CAN I MAKE CHEESY BREADSTICKS?
You can sprinkle some mozzarella or parmesan on the top right before baking or go crazy and wrap a string cheese stick with the rectangular dough strip and then let them proof and then bake and have a cheese stuffed breadstick. Add some crumbled parmesan to the flour or on the top, or both! You can really use your imagination with cheese. This breadstick recipe only cooks for 15-16 minutes, which means the cheese will be bubbly and perfect!
WHAT DO YOU SERVE WITH THESE BREADSTICKS?
These breadsticks go well with every meal. They make an excellent addition to any kind of saucy meal, from a gravy to a soup, you won't be disappointed. We like to serve it with Easy homemade pizza sauce,Hummus, Beef stew,Potato broccoli Soup,Cheese Soup,Chicken curry.An alternative is to just grab some marinara or some garlic butter and they are a meal all by themselves.
Here are three simple and easy dipping sauces for breadsticks that you can prepare in a few minutes.
Three Simple Dipping Sauces for Breadsticks:
1.Hummus: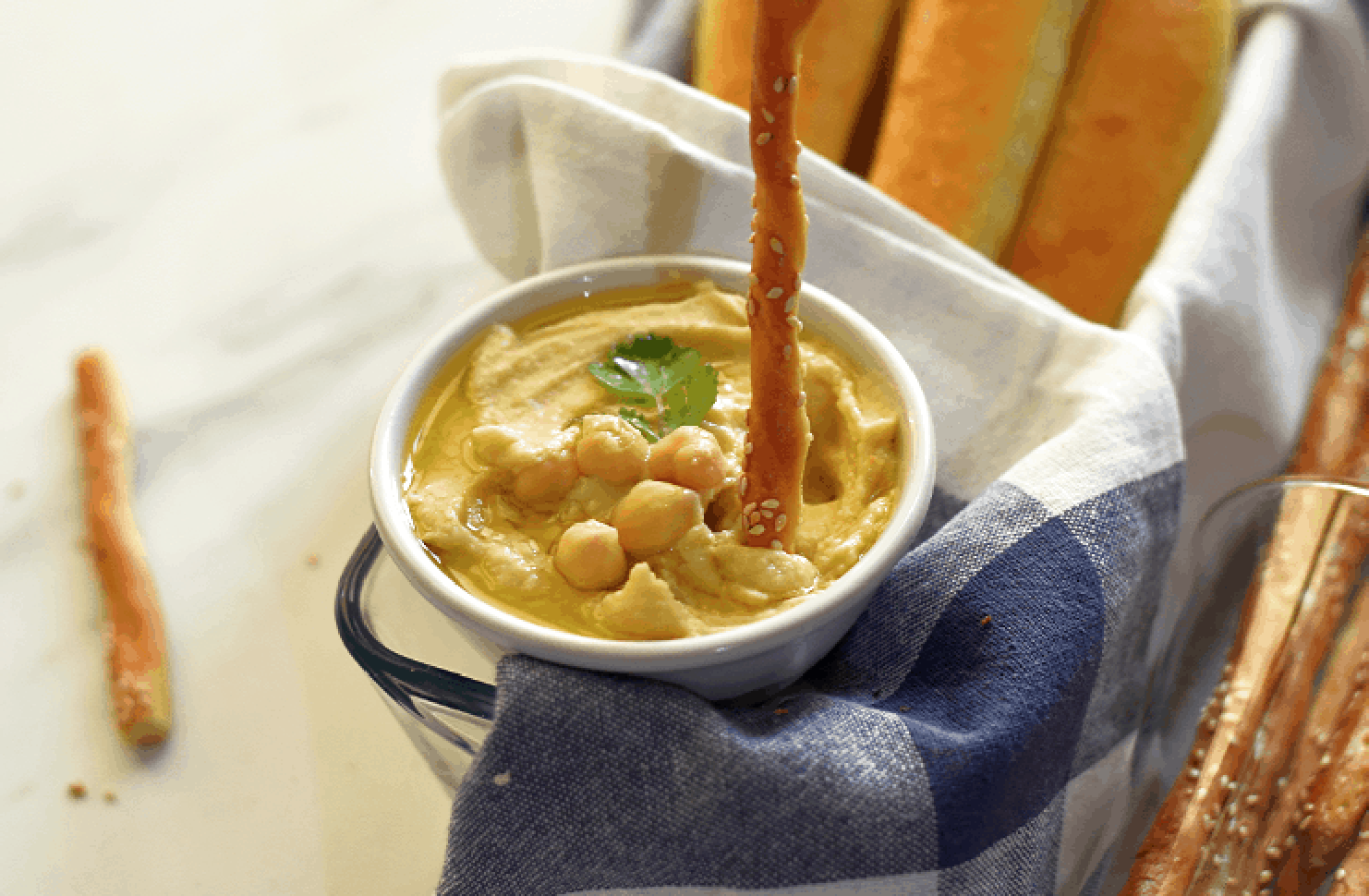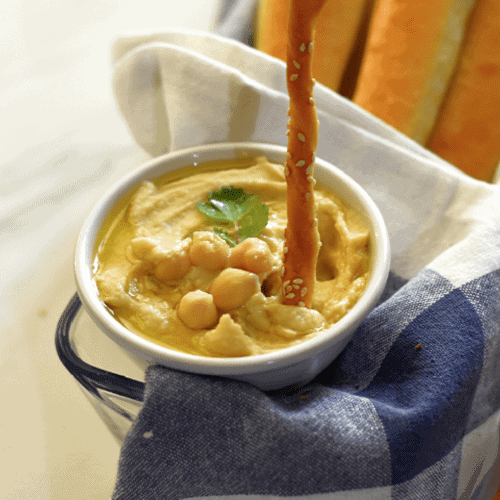 Hummus
Homemade hummus is very easy to make and it tastes much better than anything you can buy at the store.
Ingredients
1

Can

(15-ounce) chickpeas

or 1 1/2 cups (250 grams) cooked chickpeas

2

Tbsp

30 ml fresh lemon juice

1/4

Cup

(60 ml) tahini

1

small garlic clove, minced

2

Tbsp

(30 ml) extra-virgin olive oil

plus more for serving

1/2

Tsp

ground cumin

Salt to taste

2-3

Tbsp

(30 to 45 ml) water
Instructions
Drain and rinse the chickpeas. Drain the chickpeas into a strainer, reserving the liquid from the can. If time and patience allow, pinch the skins from each of the chickpeas; this will make your hummus smoother.

Combine all ingredients in the food processor. Combine the chickpeas, olive oil, tahini, lemon juice, garlic, salt, and pepper in the bowl of the food processor fitted with the blade attachment or blender.

Blend hummus until smooth, at least 5 minutes. Process the hummus continuously until it becomes very smooth, about 5 minutes. Scrape down the sides of the bowl as needed to integrate any large chunks.

Taste and adjust seasonings. Taste and add more of any of the ingredients to taste. If your hummus is stiffer than you'd like, blend 2 to 3 tablespoons of the reserved chickpea liquid to thin it out and make the hummus creamier.

Transfer to a bowl and serve. Scrape the hummus into a bowl and serve with Breadsticks or Pita bread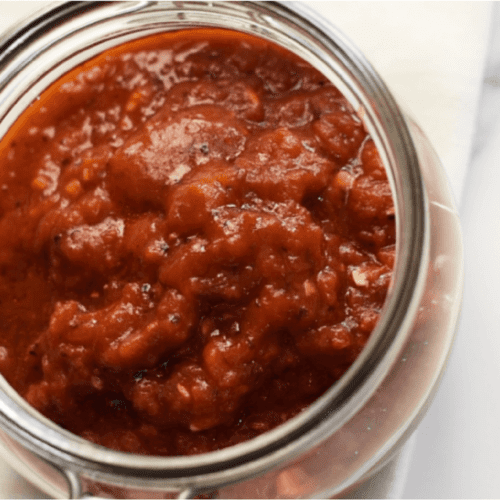 Homemade Pizza Sauce
This Homemade Pizza sauce is so flavorful,they are so tasty and very easy to make.
Ingredients
400

g

tomatoes

1

tbsp

olive oil

2-4

clove garlic

minced

1/2

tsp

sugar

1/2

tsp

Salt

1

tsp

dry oregano

1

tsp

dry basil

red pepper flakes
Instructions
Mix together salt,sugar,dried herbs.

In a medium sauce pan heat oil over medium-low heat. Add garlic and chill flakes until they release the most flavorful aroma out of them.

Add the tomato paste into this and cook in low flame for few minutes (6-8 minutes)until the moisture evaporates and you get the right consistency of pizza sauce.

You can use this once it is cooled down or you can store refrigerated for on week or freeze it until ready to use.
3.Easy Homemade Ranch Recipe:
The Best Homemade Ranch Dip recipe ; tastes better than anything store-bought and only takes a few minutes to make.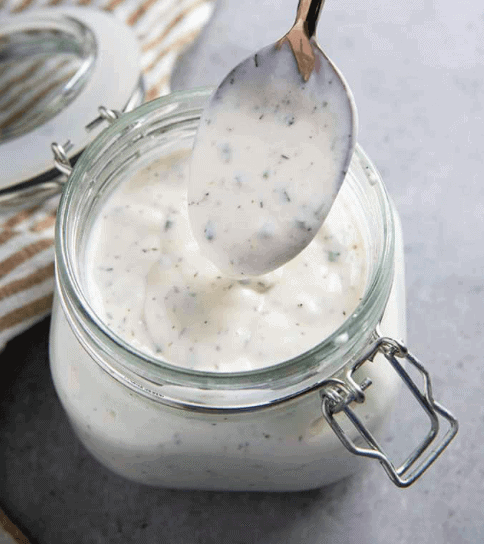 Homemade Ranch Dip
Tangy, fresh, and filled with fresh herbs, this is a flavorful ranch dip that's better than anything you can buy.
Ingredients
3/4

Cup

Mayonnaise

3/4

Cup

Sour cream

1/2

Teaspoon

Dried dill weed

1/2

Teaspoon

Dried parsley

1/2

Teaspoon

Dried chives

1/2

Teaspoon

Minced garlic or garlic powder

1/4

Teaspoon

Granulated onion or onion powder

1/8

Teaspoon

Kosher salt, adjust to taste

1/8

Teaspoon

Freshly cracked black pepper

1-3

Teaspoons

Fresh lemon juice or white vinegar
Instructions
Combine all ingredients in a small bowl. Whisk to combine. Cover and refrigerate until ready to serve.

This dip will keep nicely in the refrigerator for up to a week. Enjoy!