Quick and easy Doughnut recipe will help you make Delicious, soft and fluffy donuts in less than 2 hours.This baked variety is just as satisfying as the fried version, but SO much lighter.
Donuts are the ultimate comfort food. I am a great fan of quick and easy bread recipes…the best and most favorite of our classic home-baked treats are The Quick And Easy Cinnamon Roll Recipe and The Quick And Easy Dinner Rolls Recipe and these Quick and Easy Baked Donuts are a great addition to that list !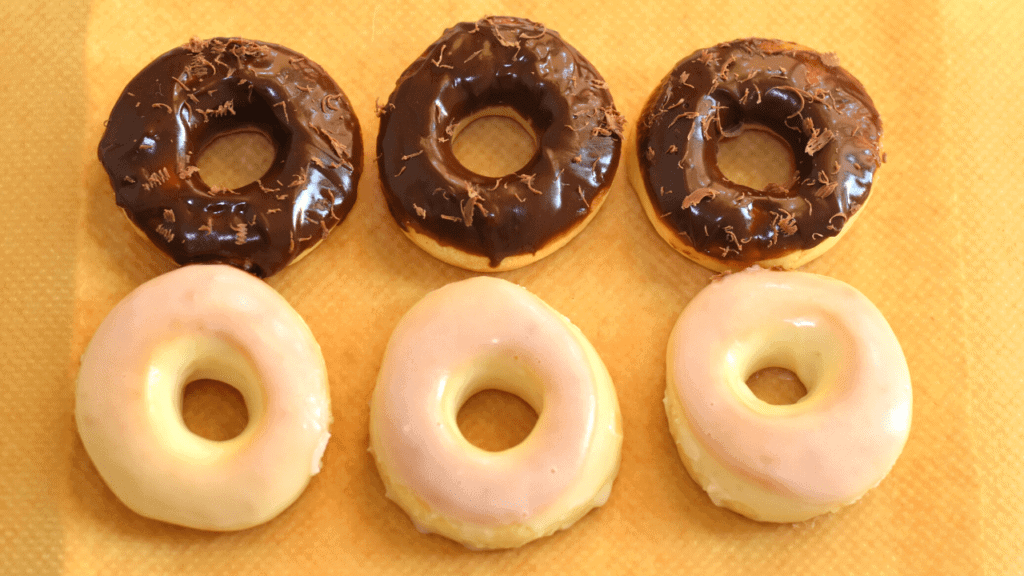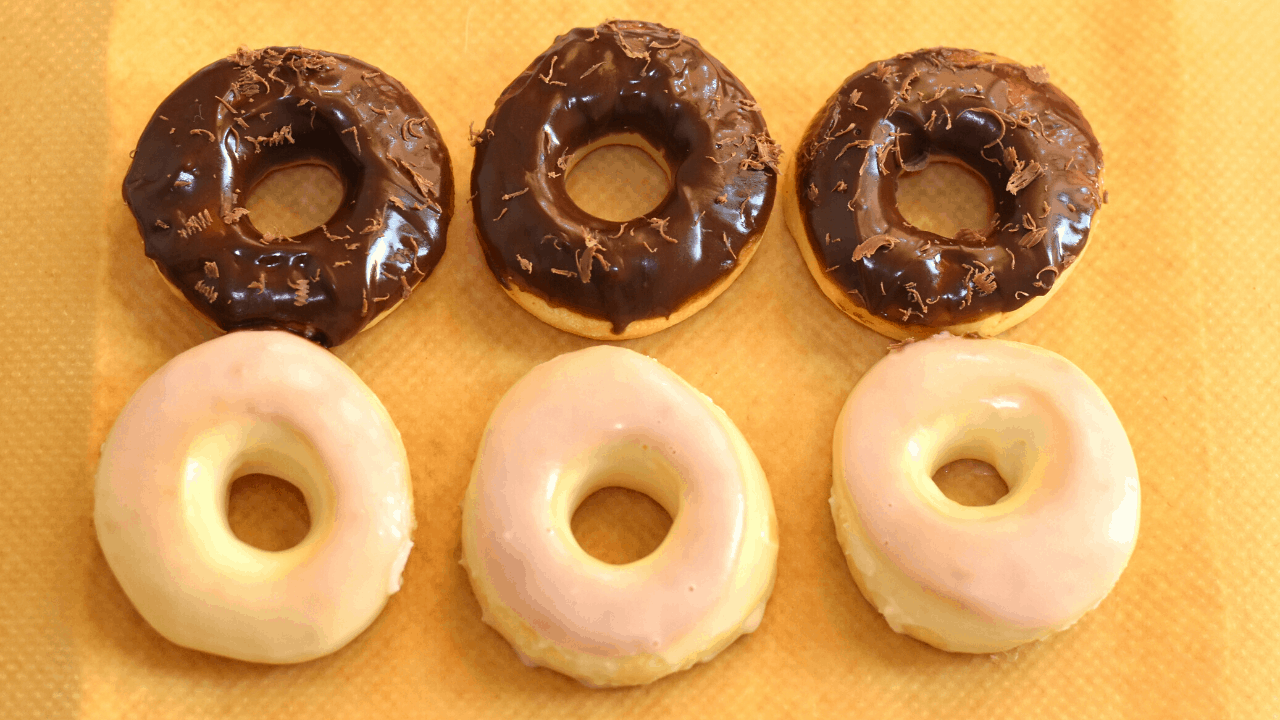 Ingredients
For the Donut Dough
All purpose flour/Bread flour: 3 cups (130g x 3=390g)
Milk 3/4 Cup-1 tbsp (165 g) If you don't want to add milk, you can use plain water instead.
Unsalted Butter (softened) 1/4 Cup /57g
1 Egg(at Room Temperature)
Sugar 1/4 cup /50g
Salt 3/4 tsp
Yeast (instant /active dried yeast) 1tsp or 3g
1/2 tsp Vanilla Extract


For the glaze
1 cup powdered sugar
1 tsp vanilla extract
2 Tbsp milk or water
How to Bake Quick And Easy Doughnuts
We can make soft and fluffy donuts in FOUR SIMPLE STEPS
We don't need any hard to find ingredient, or any special equipment to make these donuts.
1.Prepare the Dough
Into a bowl, add in the milk,egg,sugar,salt,butter,vanilla extract and yeast.Mix everything together until you get a smooth mixture.Add into this the flour and mix everything together using a wooden spoon ,until we get a shaggy mass of dough.
If you are using a stand mixer then it will be so easy for you to knead the dough.Use the dough hook attachment..start with a low speed and then medium speed for 8-10 minutes
Transfer the dough on to a clean work surface and knead the dough for 10 -12 minutes or until they are no longer sticky and is smooth, elastic and soft.
In between if you feel tired, you can cover the dough with a bowl or a tea towel and let the dough sit for five minutes.This will give you some time to relax and also give some time for the dough to develop the gluten strands.
Our dough should be well hydrated, soft and smooth; but at the same time should be able to hold the shape of donuts when shaped.
In this quick and easy donuts recipe, we are not letting the dough to rise or we don't need to wait for the first proofing.And so we can save a lot of our time.
But i would suggest you to flatten the top of the dough and let it rest for FIVE minutes covered.This will make sure the gluten strands get enough time to relax and this will reduce the rebounding tendency of the dough.
2.Shape the Donuts
Place the flat dough onto a lightly floured work surface (without altering its shape)Roll the Dough into a flat sheet of approximately half an inch thickness using a rolling pin.
Cut circles using a 68mm round cookie cutter. Re-roll scraps and then again cut them into the shape of donuts.
Pressing the cookie cutter in flour will help easy cutting.
Place donuts on prepared baking sheet, cover with a plastic film.
Lightly butter or grease the plastic wrap with some vegetable oil so that the doughnuts won't stick to it .
3.Proof the Donuts
Let the donuts sit and rise at room temperature 50-60 min, or until they are puffed up beautifully.This time depend on how warm our room is..the more cold the more time it will take.
4.Bake the Donuts
Bake uncovered in the center rack of a preheated oven at 350˚F for 13-15 minutes or until lightly golden on top.
Take care not to over bake them..as over baking can make them dry.
If you want to fry the donuts you can fry them as well.
How to Fry the Donuts
Take a deep,heavy bottomed saucepan or a Dutch oven and heat at medium high heat .The oil should be about 5 cm or 2 inches in height.You can use canola oil, corn oil or any other flavorless vegetable oil.The temperature of oil should be around 375 F or 190C.
It is important to maintain the oil at this temperature ,if the oil is too hot, the doughnut will get too brown and crispy on the outside, even before the inside get time to cooked through.And on the other handoff the oil is not hot enough, the doughnut will absorb too much of the oil and will be soggy and greasy.
So to know the oil is in right temperature; either use a candy thermometer or you can test the oil by placing a small part of dough into the oil..If it browns in about 40-45 secs your oil is ready for frying.
Carefully place the doughnuts into the hot oil, about 2-3 at a time.Fry each side until golden brown (about 50-60 seconds per side).The doughnut holes will only take about 30 seconds per side.
Remove the doughnuts from the oil and place on a plate lined with clean paper towels.
Quick and Easy Doughnut Recipe:Watch the Video
How to make glaze for Donuts
It is so easy to prepare this glaze for Donuts and they makes our homemade donuts to look as if from the bakery.
Into a small bowl, add the powdered sugar, vanilla extract and milk.Mix them together to form a thick glaze.If you want to make it thin, add half to 1 tbsp of extra milk into this.
How to make Easy Chocolate sauce for Donuts
Chocolate 150g, semisweet or bittersweet or milk chocolate @ room temperature
1/4 cup hot cream 60 mL
1/2 tsp vanilla extract 2.5mL, optional
Method
Chop chocolate roughly. If using chocolate chips you can skip this step or give them a few swipes with the knife. Chopping chocolate into finer pieces adds surface area and lets the hot liquid melt it with less additional heat and chance of burning. Place in medium bowl and set aside.
Heat cream either on the stovetop or in the microwave until just about to boil.
Pour cream over chocolate, cover bowl with a plate and set aside for a minute.
Mix chocolate until dissolved and glossy. If there are a few pieces of chocolate left unmelted microwave at 50% power for about 10 seconds and mix again.
How long does it take for the chocolate to set?
Setting time will depend on the amount of liquid used and ambient temperature but generally it will take at least a few hours to fully set in the bowl.
How do you store this chocolate sauce?
Your newly made ganache should be fine at a cooler room temperature for a day or two. After that you should refrigerate it. Ganache will keep in an airtight container for up to a month in the refrigerator and up to two months in the freezer.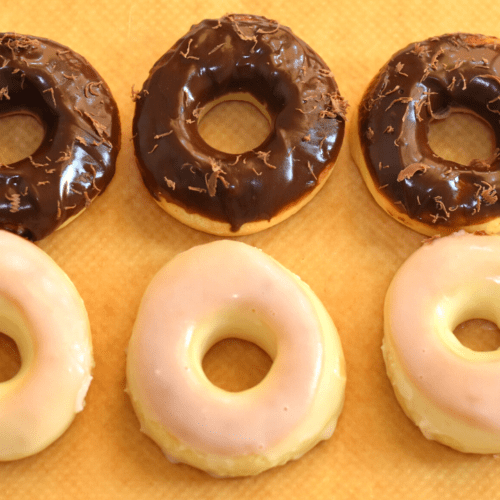 Quick and Easy Doughnut Recipe
This quick and doughnut recipe will help you make soft dounuts in a faster and simple one rise method.
Ingredients
For Doughnut
390

g

Flour

3 cups (loosely packed)

165

g

Milk/Water

3/4 cup-1 tbsp

57

g

Butter

1/4 cup

1

Egg

@room temperature

50

g

Sugar

1/4 cup

3/4

tsp

Salt

1

tsp

Yeast

Instant or Active dried yeast

1

tsp

vanilla extract or nutmeg powder
For the glaze
125

g

Powdered sugar

1 cup

2

tbsp

Milk

30 ml

1

tsp

vanilla extract
For chocolate sauce
150

g

chocolate

60

ml

Hot cream

1/4 cup
Instructions
Prepare the dough
Into a bowl add all the ingredients and mix everything together.

Make sure all ingredients are at room temperature so that it will be easy to blend everything together.

Add the milk,egg,sugar,salt,yeast,vanilla extract and butter into bowl and give it a good stirr.Then add the flour and blend evrything using a wooden spoon until you get a shaggy mass of dough.

Transfer the dough onto a clean work surface.

Knead the dough for 10-12 minutes or until they become soft,elastic and not sticking to the hands.

Flatten the top of dough and let it rest for 5 minutes on the counter.Cover the dough..to make sure it wont get dry.
Shape the donuts
Dust the counter and the surface of dough with some flour and Roll the dough into 1/2 an inch thick sheet.And Cut out the doughnuts using a cookie cutter.

We can use the left over dough to roll it again and cut some more dounuts out of it.

Place the shaped dounuts dough onto a prepared baking tray.
Proof the shaped donuts
Cover the baking tray witha plastic film and let them sit and rise for 50-60 minutes or until they puff up beautifully.
Bake/Fry the donuts
Bake the risen doughnuts at 350F preheated oven for 13-15 minutes or until the top become ligh golden brown in color.

Take care not to overbake them as they may become dry.

If you want to fry them, you can fry them as well.

Hope you liked this quick and easy doughnut recipe.

Happy Baking 🙂

Enjoy!