Quick and Easy Homemade Cinnamon Rolls-Super Soft And Delicious Cinnamon Rolls Slathered With An Amazing Melt-In-Your-Mouth Cream Cheese Frosting. Just As Yummy As The Classic Cinnamon Roll Recipe, But Done In A Quick Way!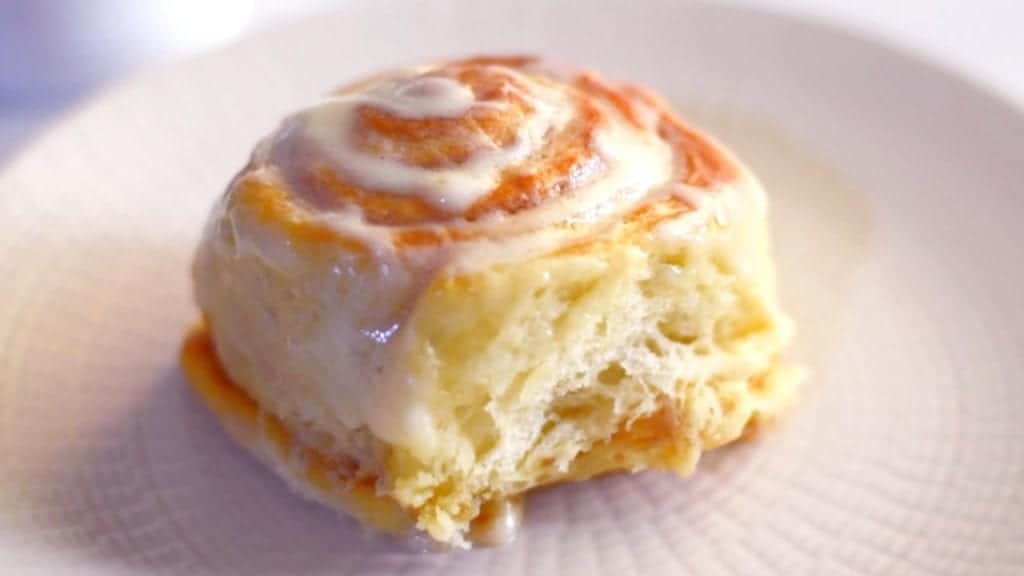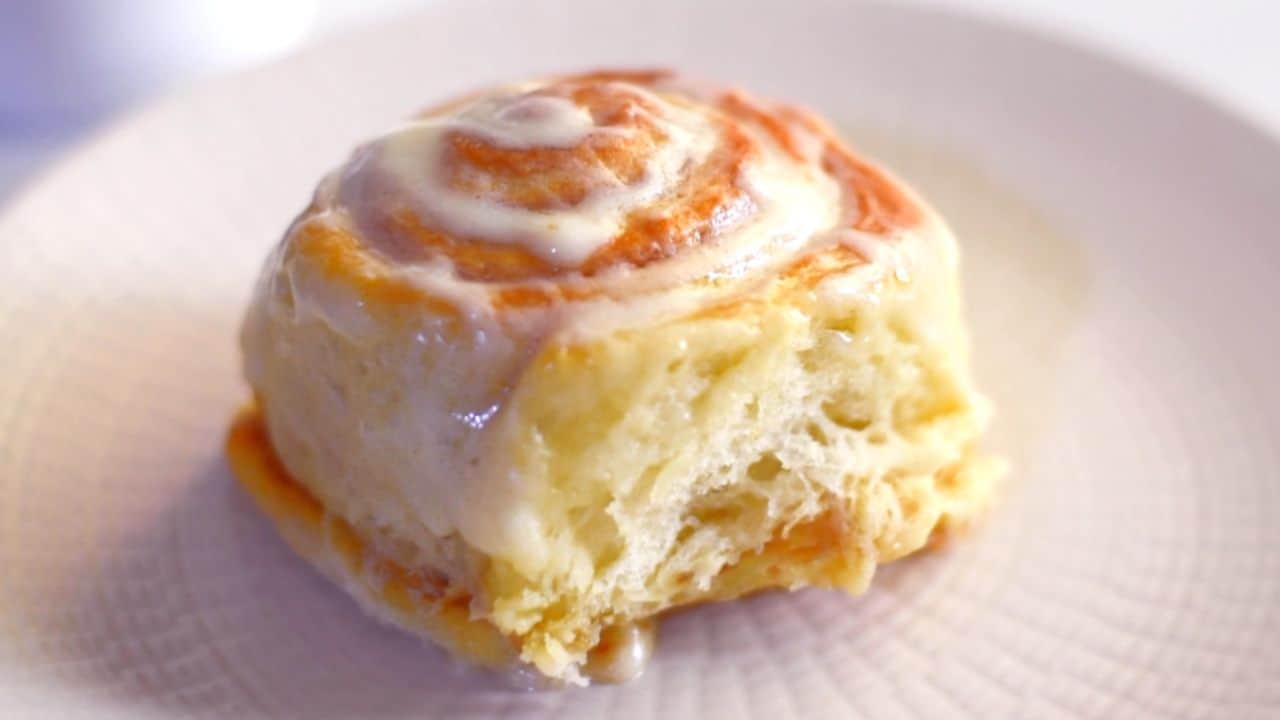 Why I love this Quick Homemade Cinnamon Rolls Recipe
This Cinnamon rolls recipe helps to make the best cinnamon rolls in a faster one rise method.
The cinnamon rolls made with recipe are
Soft,featherlight,airy and fluffy with that gooey filling
Comfortingly flavored with cinnamon
Slathered with a cream cheese frosting which is not overly sweet
Beautiful with those amazing swirls
and the bottom of the rolls are wonderfully caramelized with that golden brown color.
Why is this recipe called a "Quick" Homemade Cinnamon Rolls Recipe
For making cinnamon rolls, it require a long time for the proofing and preparation.
This is a cinnamon rolls recipe, which does not require double proofing as many other recipes.
In this quick cinnamon rolls recipe we skip the first proofing, which is about two hours.And thus we can save a lot of our time.
We don't need to knead the dough for a very long time..we just need to knead the dough(3-4 minutes by hand or 1-2 minutes if you are using a stand mixer) until it form a smooth dough.
This Quick Homemade Cinnamon Rolls Recipe is actually adapted from the Quick Dinner Rolls Recipe.
The technique is the same and the difference is in shaping and frosting. Quick Dinner Rolls Recipe is by far, one of the most popular recipes on the blog and for a good reason. So it might be a good idea to hop over to the post and watch the VIDEO
Ingredients needed to make Quick Homemade Cinnamon Rolls
To make the bread dough
All purpose flour/Bread flour: 3 cups (130g x 3=390g)
Milk 3/4 Cup (180 g)If you don't want to add milk, you can use plain water instead.
Unsalted Butter (softened)1/4 Cup /57g
1 Egg(at Room Temperature)
Sugar 2 and 1/2 tbsp /32g
Salt 1and 1/4 tsp
Yeast (instant /active dried yeast) 1tsp
For the filling
Soft Brown sugar (packed cup)1/2 cup /90g
Unsalted Butter(softened) 1/4 cup /57g
Cinnamon powder 2 tsp
For the Frosting

Cream cheese 3 ounce /80g/ 2/3 cup
Unsalted butter 3 tbsp/ 43 g
Powdered Sugar 1 cup / 125g
Vanilla powder 1/2 tsp or vanilla extract 1 tsp
A pinch of salt to balance the sweetness
If you want more thinner frosting, you can add 1-2 tbsp milk into it
How to Make Quick Homemade Cinnamon Rolls
Making homemade quick cinnamon rolls is so easy.
We can make them in FOUR SIMPLE STEPS
1.Prepare the bread dough
Into a bowl add the milk,softened butter, sugar,salt,yeast and egg and combine everything together.
Make sure all the ingredients are at room temperature and the milk should be preferably warm(not hot).
Then add in the flour into this mixture and combine them together to form a shaggy mass of dough.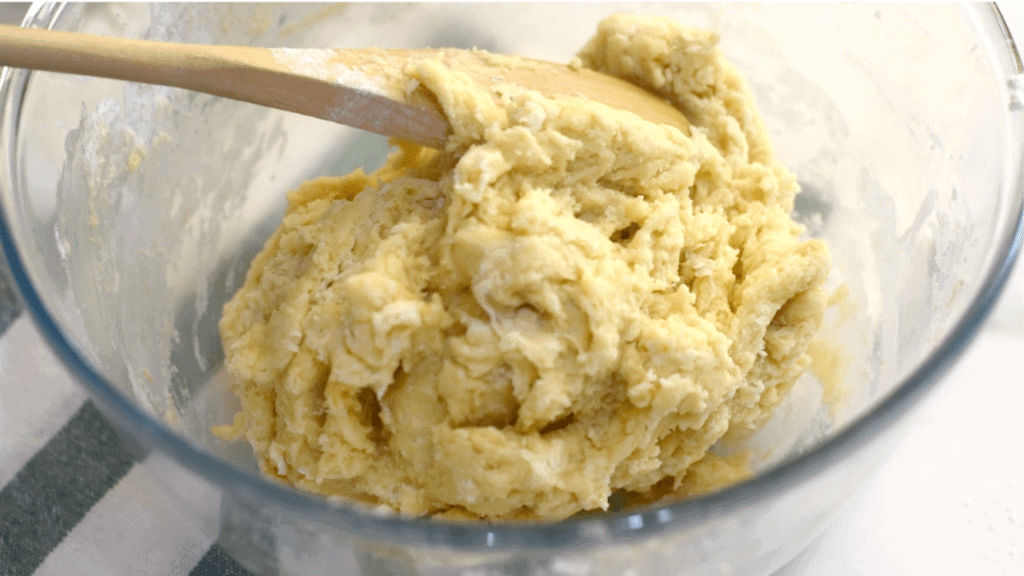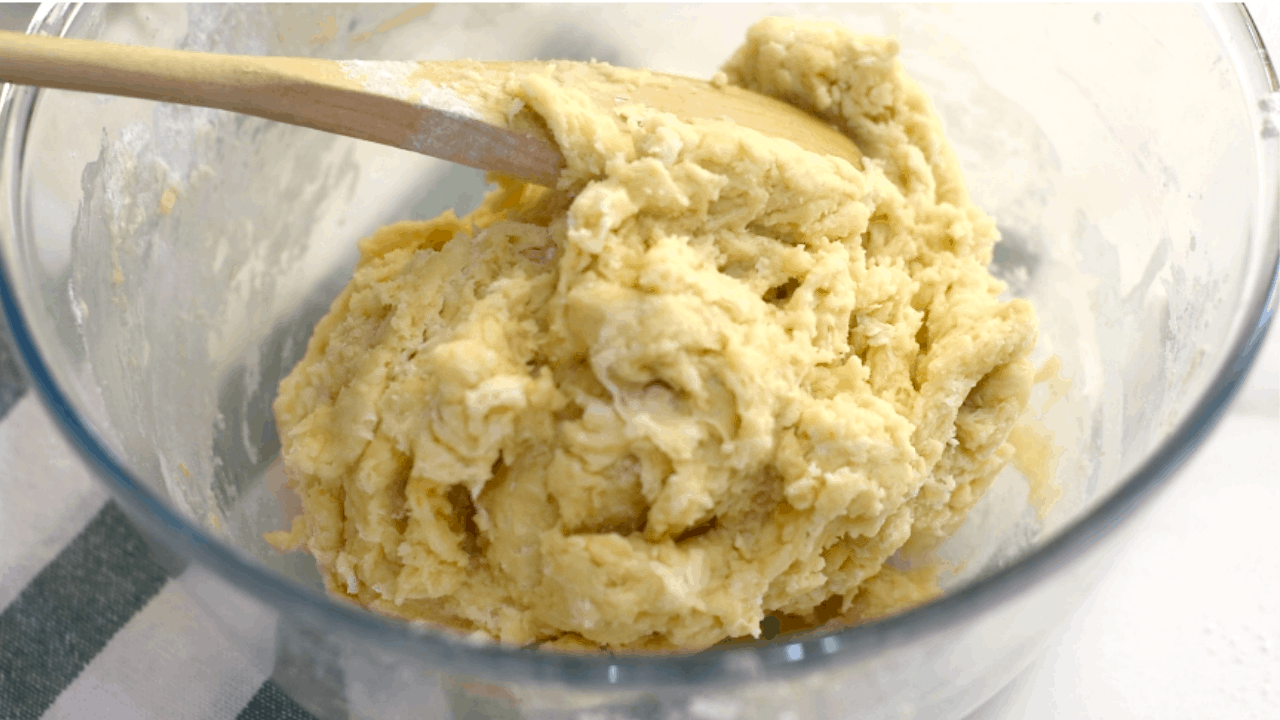 If you are kneading the dough in a stand mixer, use the dough hook attachment to knead the dough.
If you are kneading the dough by hands, transfer the dough on to a clean work surface and knead the dough for a few minutes(3-4 minutes)until it form a smooth dough.

The dough may feel sticky in the beginning, thats ok,(that's the way it should be); you may be tempted to add more flour but don't do that.The dough will come together in about 4 minutes of kneading.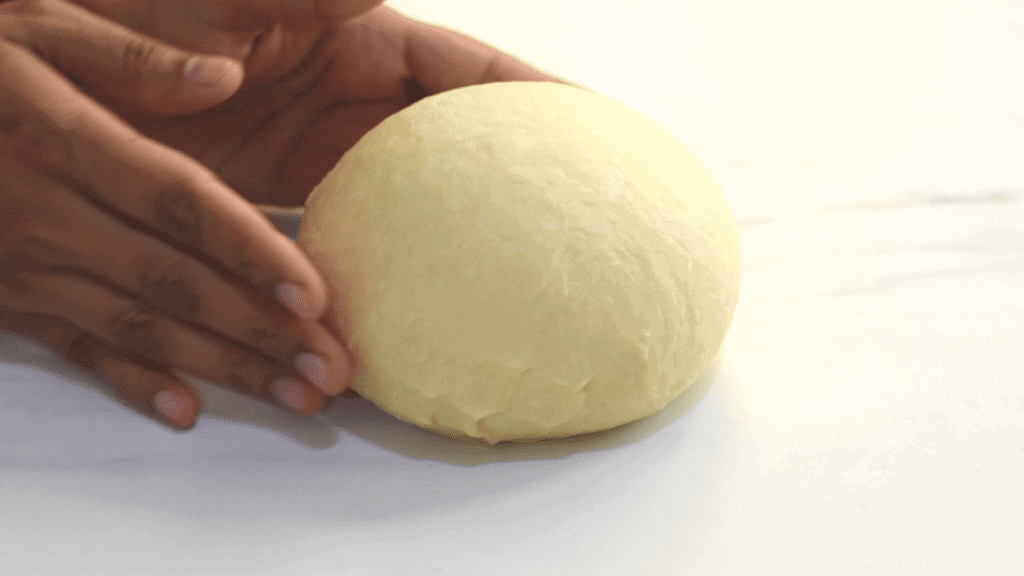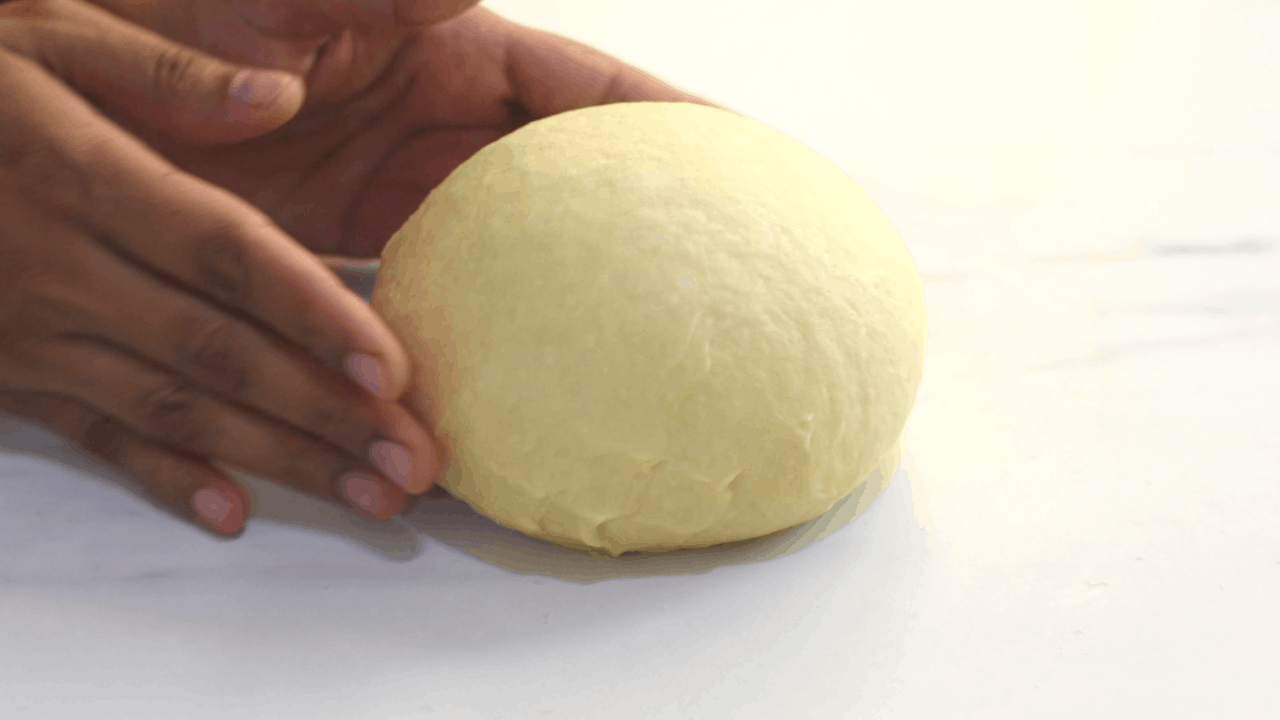 Shape it into a ball ; then flatten it a little and then cover it with a bowl or kitchen towel and let the dough rest on the counter for five minutes.This is not for proofing the dough, but this is to let the dough sit for a few minutes so that the gluten stands will relax.
This resting will prevent our dough from enormous rebounding back of the dough while rolling it into a thin rectangular sheet.

2.Shape the rolls
So for the next step of shaping the rolls, first we need to roll the dough into thin sheet (1/ 4th inch thickness).
Pat, stretch and roll out the dough to form 18X15-inch rectangle with long edge nearest you.
Then spread very soft butter all over the surface.
Then sprinkle on the filling mixture as evenly as possible.
Starting with long edge nearest you, roll the dough into a cylinder.
While rolling, keep in your mind not to roll them tightly as they need some room for them to expand while proofing and while baking.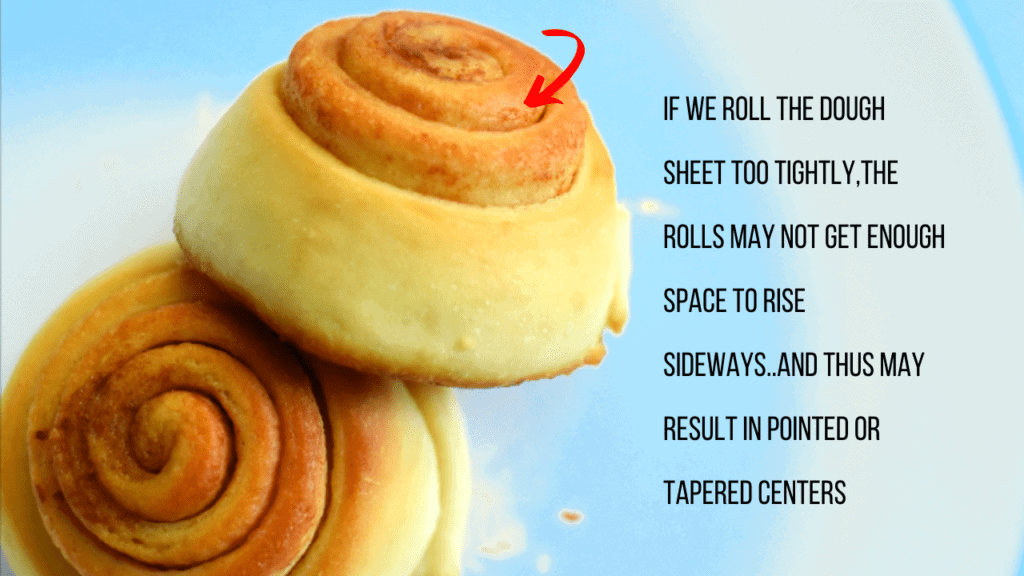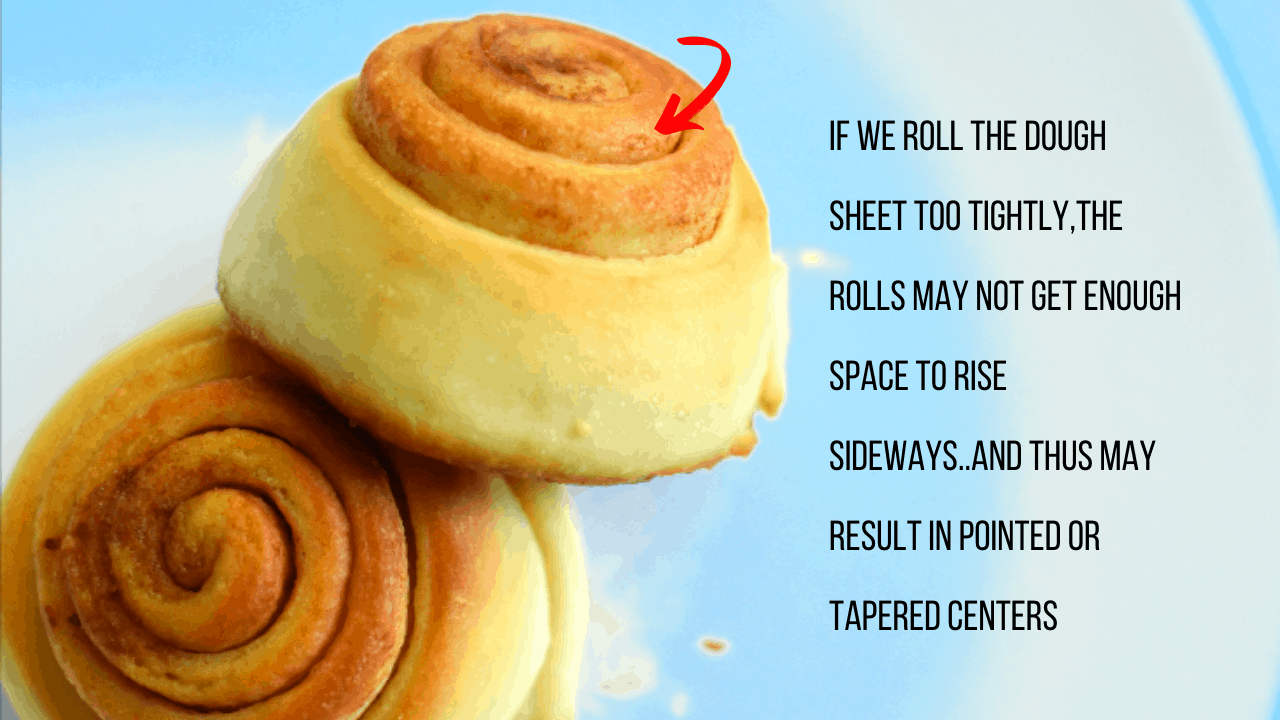 If they are rolled tightly, the rolls will have pointed center as the center will rise up as it doesn't have enough space to expand side ways.
Mark gently with a knife/scraper to create 12 equal portions. For the cleanest cut, slice by holding a thread or strand of dental floss underneath the cylinder, and cross ends of the floss over each other and pull. Slice cylinder into 12 portions (about 4-5 cm each).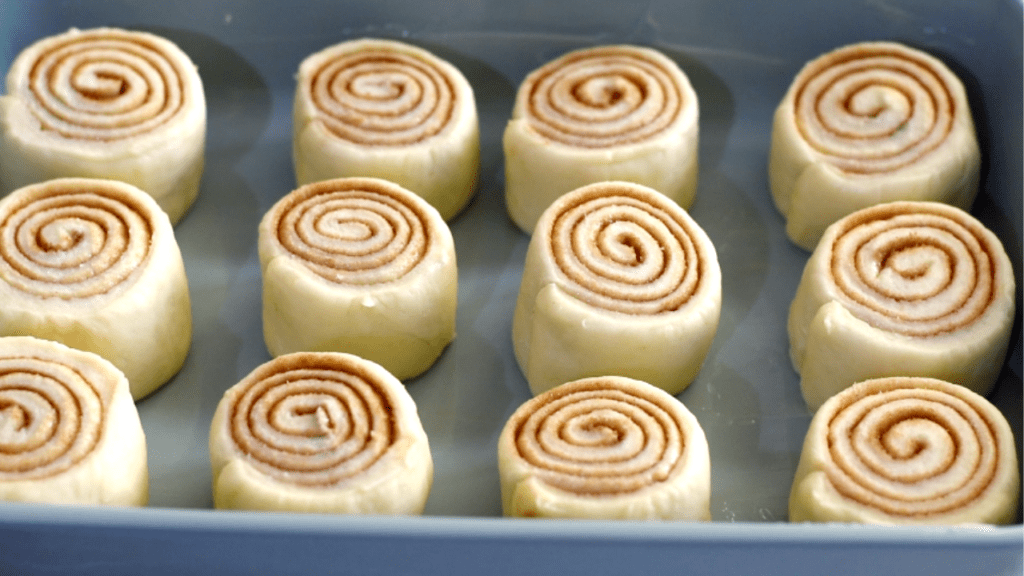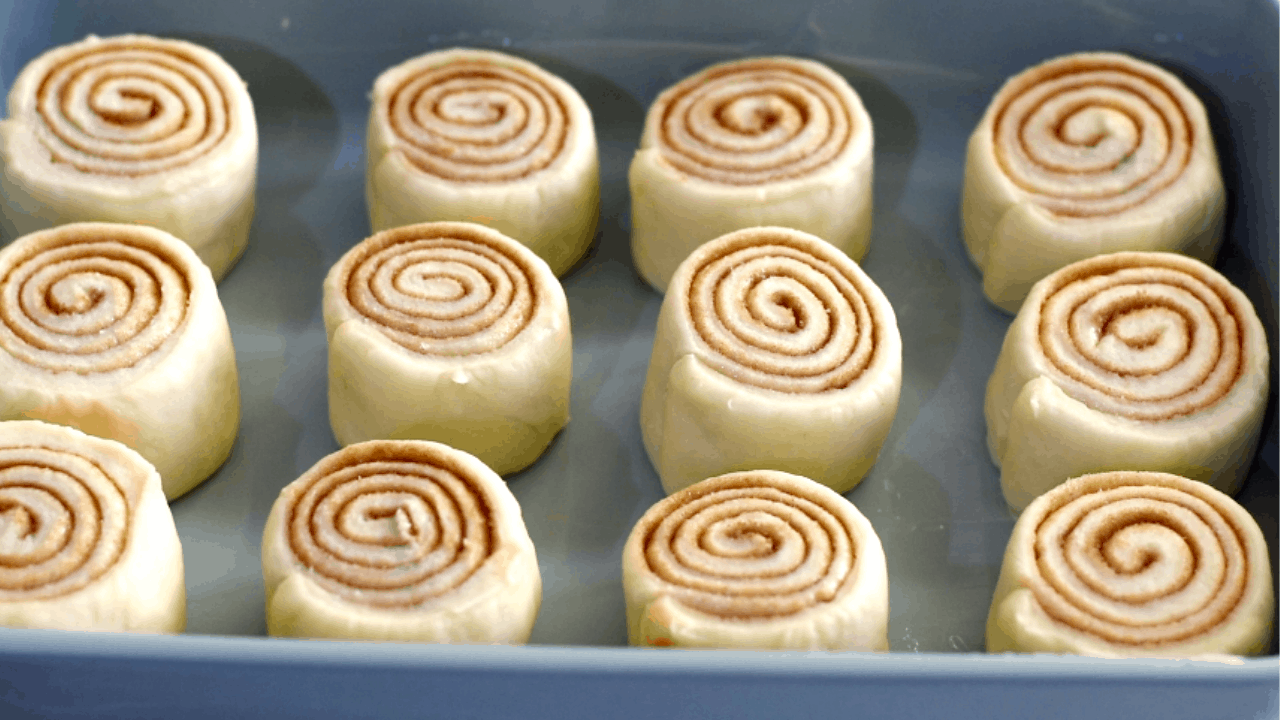 Transfer to a baking pan(I have used 11.5X7.5-inch baking pan), that's been greased with butter or cooking spray.Slight variation in size of baking pan is not an issue.
3.Proof the Cinnamon Rolls
Cover the pan loosely with plastic wrap and allow the rolls to rise until puffy and the rolls are touching one another; 50 to 60 minutes.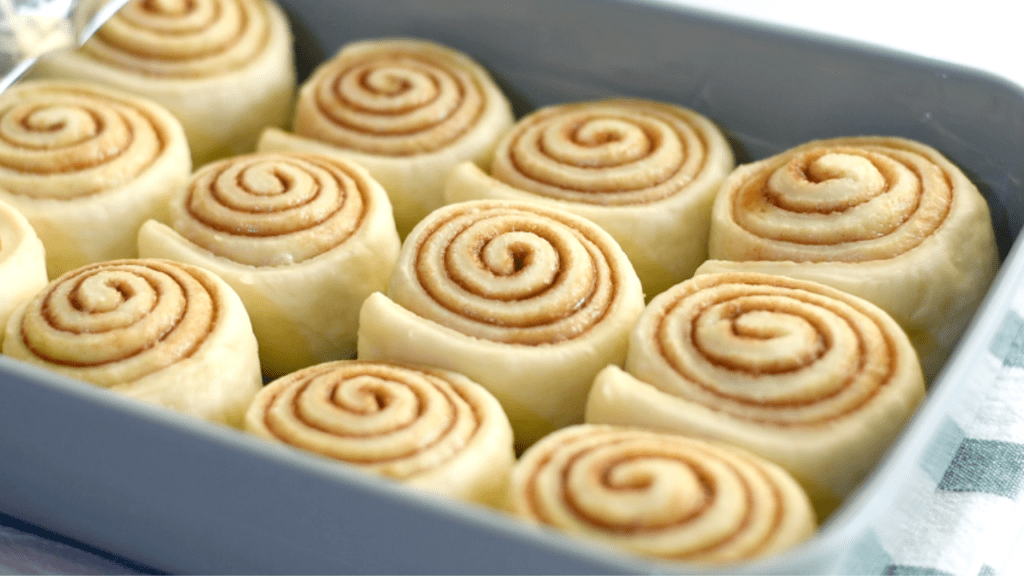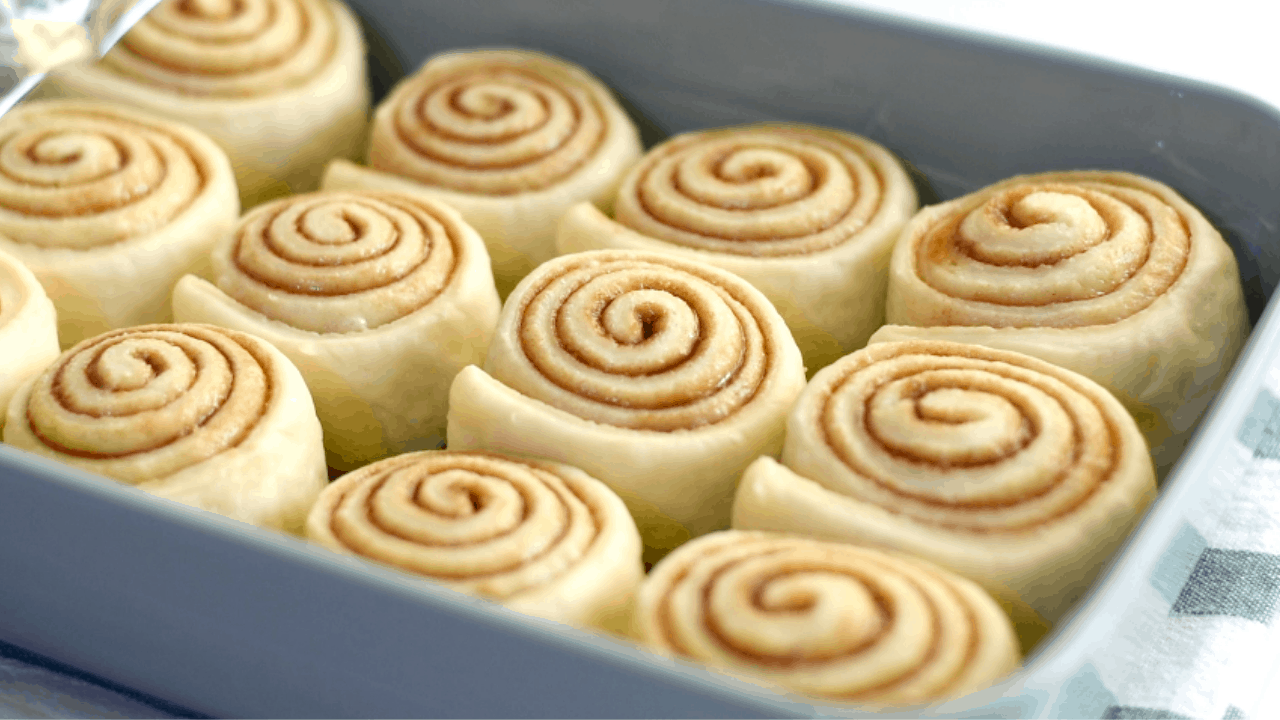 We can also bake them in a larger baking rimmed baking tray (15 x 10 inch).As the tray is big, it will yield wider cinnamon rolls with more browning around edges.The cinnamon rolls will still be soft and fluffy!
As there is a chance that the cinnamon rolls may unwind while rising in the oven during baking; I simply tucked the end of each roll underneath the rolls itself ,when i baked the cinnamon rolls in the large baking tray.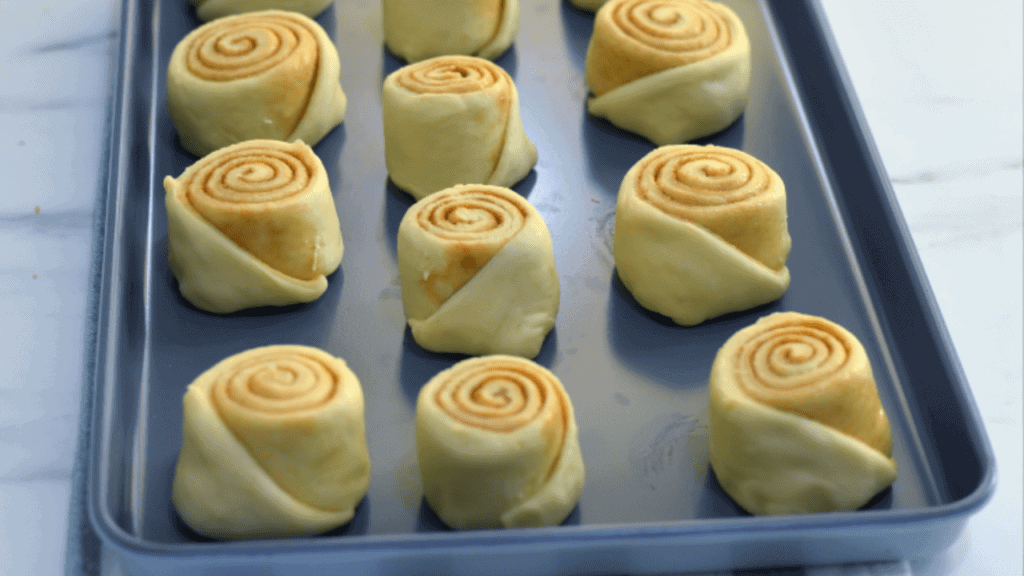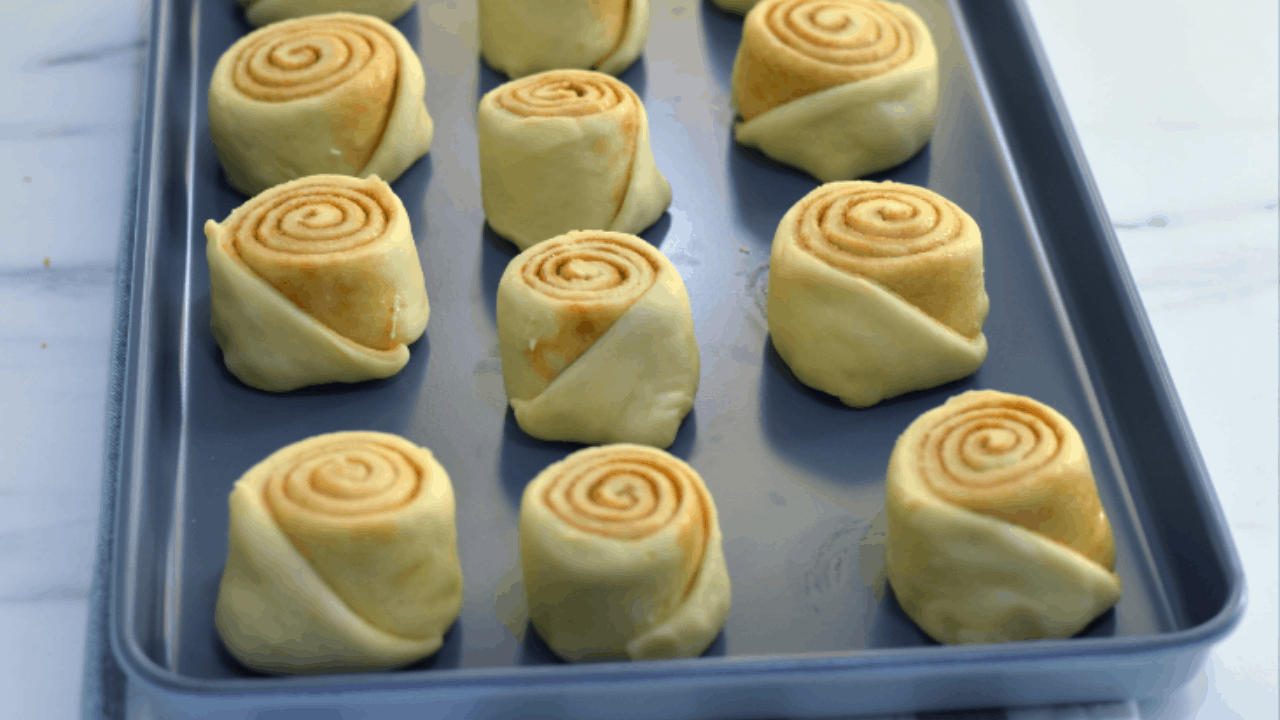 4.Bake the Cinnamon Rolls
Then bake them @ 350 F for 19-20 minutes.
Let the cinnamon rolls cool down for 2-3 minutes.Slather on that cream cheese frosting while the rolls are still warm.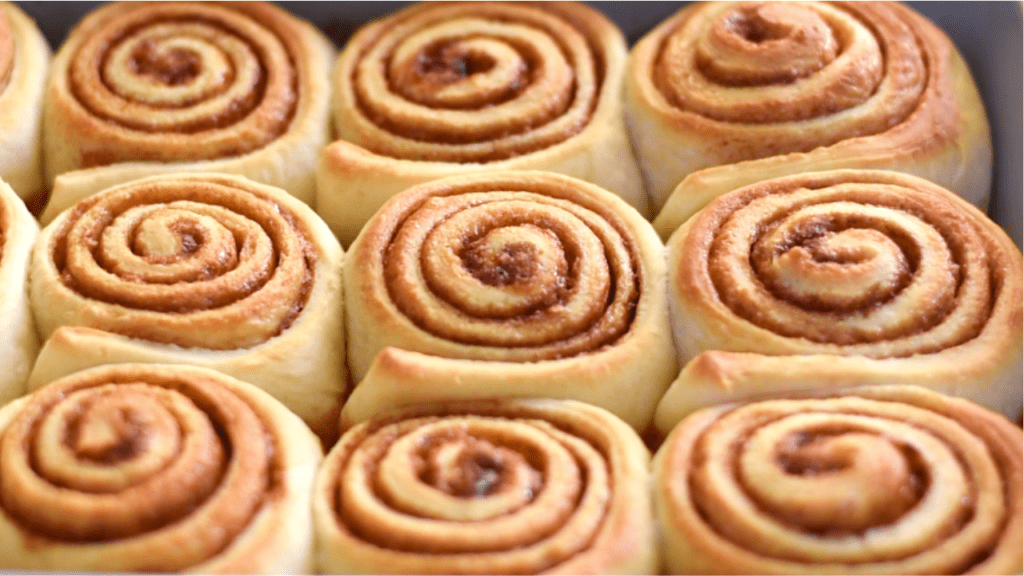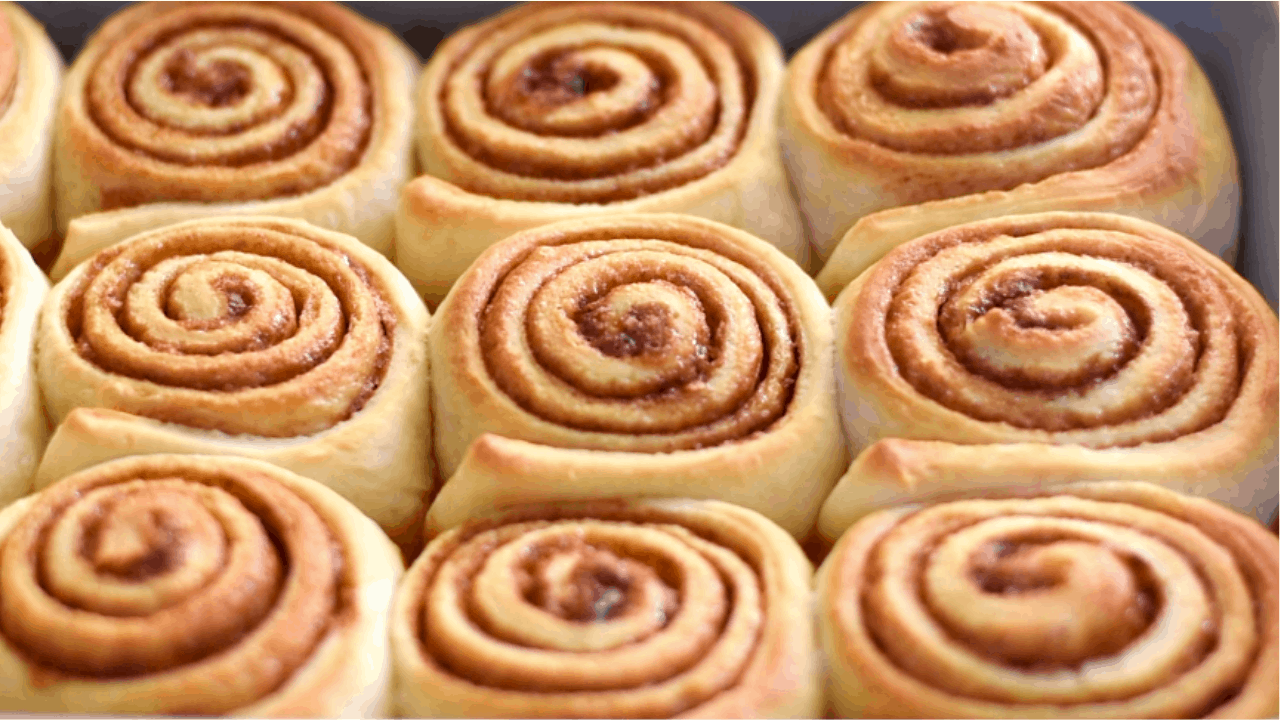 Watch the video to see how quick easy it is to make homemade cinnamon rolls.
How to make the best cream cheese frosting for cinnamon rolls
Cinnamon rolls are not the same without that cream cheese frosting on top.
It is so easy to make this cream cheese icing.
Keep the butter and sugar at room temperature as it will help us to combine them easily.
Into a bowl add the Softened butter, cream cheese, vanilla sugar/vanilla extract and a pinch of salt to balance the sweetness.
Thoroughly beat until they are light in texture and pale yellow in color.
Then add the powdered sugar little by little beat everything together until you get a silky smooth, light cream cheese frosting.
You can add some milk/heavy cream if you want your cream cheese frosting a little more thin.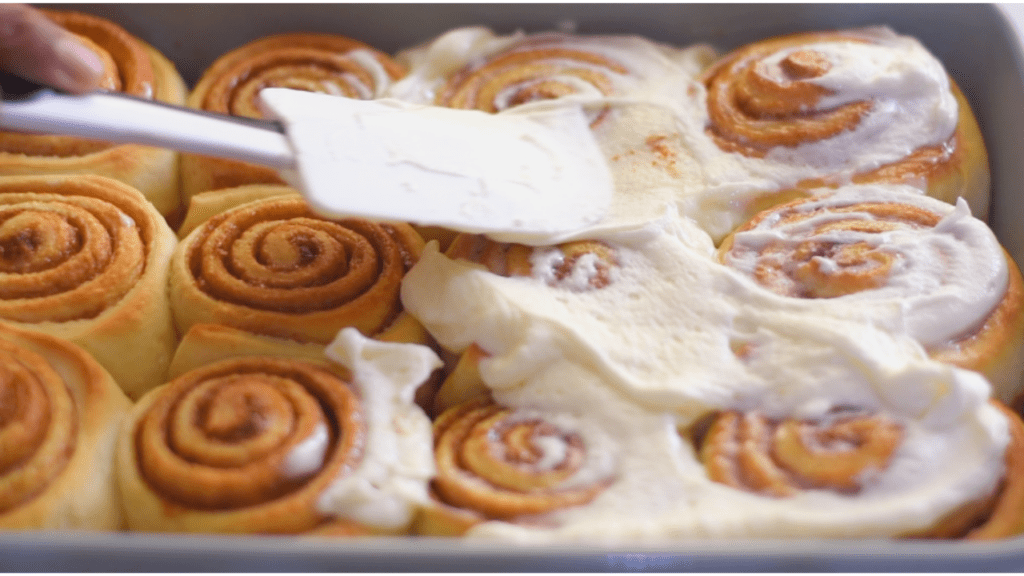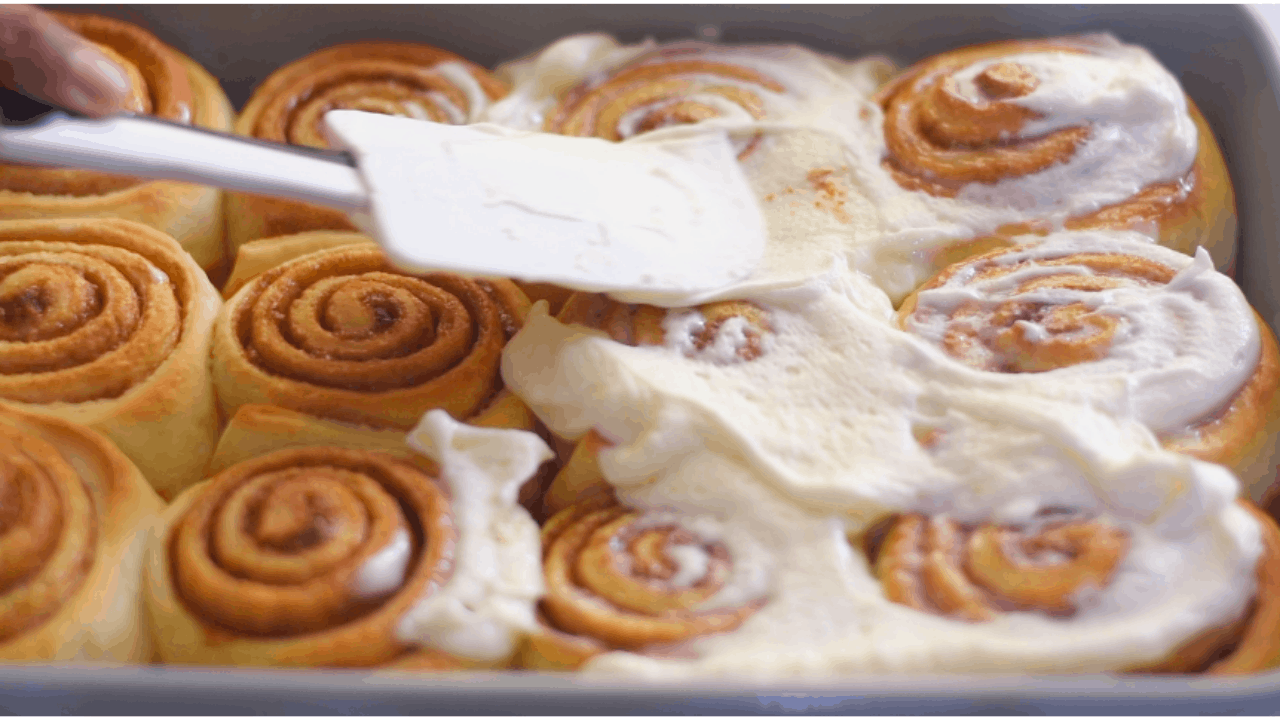 More Easy Bread Recipes
Quick soft and fluffy Dinner Rolls Recipe
How to make Soft and fluffy Star bread
You may also like this version of Boxed cinnamon buns made in a super easy method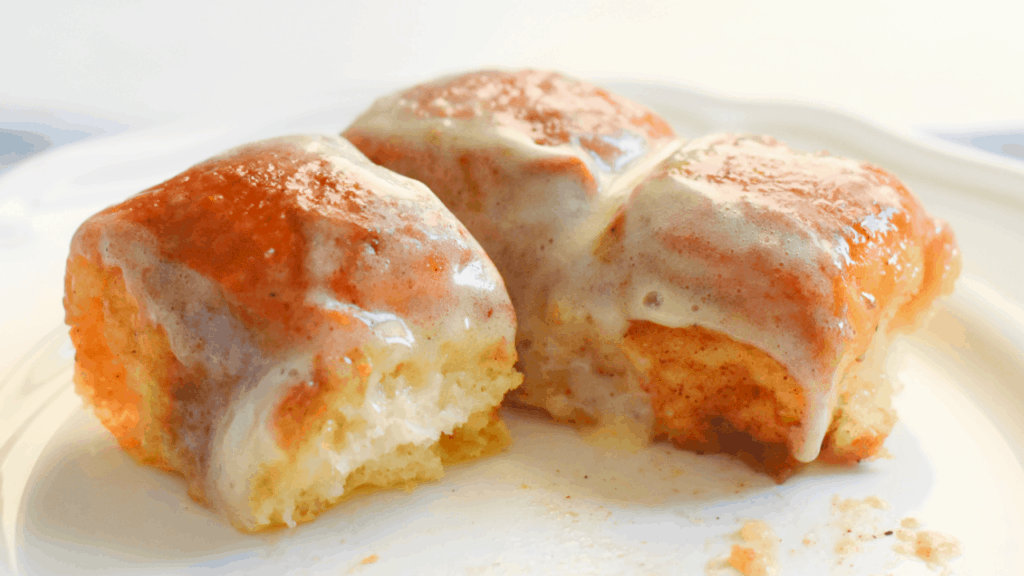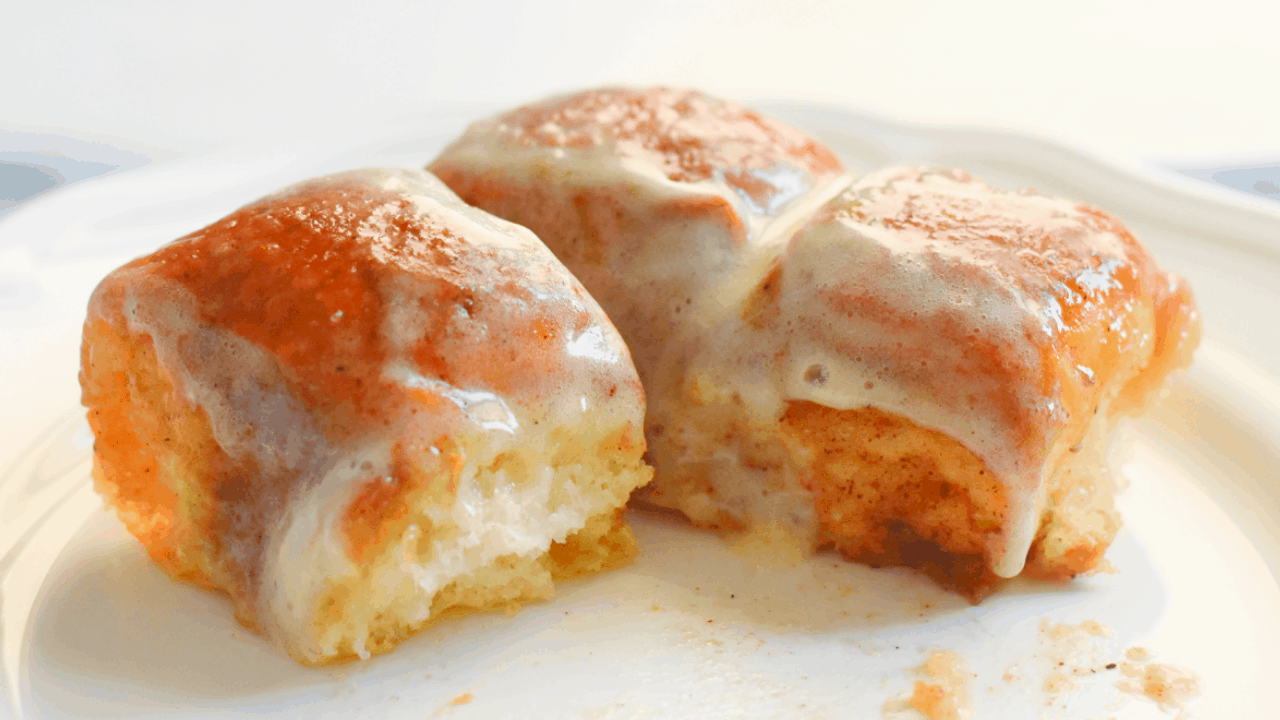 How to store homemade cinnamon rolls
These homemade cinnamon rolls can be kept at room temperature for upto 3 days.Cover the tray with foil or store them in an airtight container.
Will the cinnamon rolls stay soft and fluffy when kept at room temperature
These cinnamon rolls remain soft the next 2-3 days when kept at room temperature in an airtight container.
I recommend you to rewarm the rolls for a few seconds in the microwave or for 7-10 minutes in a 350 F preheated oven(just before serving) to get that "fresh out of the oven" taste and softness to rolls.
Do this quick cinnamon rolls have to be refrigerated?
If you plan to keep the cinnamon rolls for more than three days, then it is better to store them in an airtight container and keep in refrigerator.If stored in the fridge, the rolls will last a few days longer.
Can I make the cinnamon rolls ahead of time and bake on the day morning
Yes you can make them ahead.
How to refrigerate the dough and bake the cinnamon rolls in the morning
Prepare the dough as in step 1; Cover and place in the fridge to rise overnight (slow cold rise). On the next day, take the dough out, bring it to room temperature(let the dough sit for 20-25 minutes at room temperature) and then roll out the dough, fill, shape, rise and bake the rolls.
Can i shape the rolls and then refrigerate them
Yes,You can shape the rolls and then store it in refrigerator and then bake them the next day morning.
How to refrigerate the uncooked cinnamon rolls day before and bake in the morning.
After shaping the cinnamon rolls,place them on the baking tray or baking pan.
In this way,If you are making them ahead of time, don't let them rise at room temperature right now like you normally would for the recipe!
Instead,cover the pan with lightly greased plastic film and immediately pop them in the refrigerator.They can stay in the refrigerator for up to 24 hours. The longer we keep them in fridge,the more are chances that the filling may liquify and seep out of the rolls .Minor leaking happened to me every time i tried this method.But don't get panic,The rolls will be baked properly.
The next day morning or when you want to bake the rolls , remove the tray from fridge ONE HOUR prior to the time you will start baking them. Let them rest in a warm, draft free location for 40 minutes, then start preheating oven to 350 F.. Once oven is heated, bake rolls for approximately 20 minutes (or until lightly browned).
Can I store the baked cinnamon rolls in refrigerator
Yes you can store the baked cinnamon rolls in fridge for upto 5 days.I have done this several times and i love this method.
Take them out of the fridge, and rewarm the rolls for a few seconds in the microwave or for 7-10 minutes in a 350 F preheated oven(just before serving) to get that "fresh out of the oven" taste and softness to rolls, just before serving.
How to freeze baked cinnamon rolls
Wrap the rolls tightly in plastic freezer wrap or aluminum foil and store in the freezer. If you prefer, place the cinnamon buns inside of a heavy-duty freezer bag and squeeze out the excess air before sealing. The freezer will preserve the cinnamon rolls indefinitely if kept at 0 degrees Fahrenheit. For best quality, however, keep the cinnamon rolls in the freezer for no longer than 2 to 3 months.
This is the most convenient and easiest method of freezing cinnamon rolls. Everything is taken care of already and you just rewarm the rolls in the microwave or the oven as you are ready to eat them.
How to reheat cinnamon rolls
We can reheat the cinnamon rolls using oven which takes more time than reheating the cinnamon rolls microwave oven which is faster.
How to reheat cinnamon rolls in a convection oven
Rewarming the cinnamon rolls in an overtakes more time.But this is the ideal way to reheat your cinnamon rolls and have them all ready for consumption in minutes.
Preheat the oven to 350 F degrees
Place cinnamon rolls on a baking sheet.
Place in oven and have them reheat for 7-10 minutes (depending on the size of the rolls and also how cold they are)
If you are taking them out of the freezer, you might have to keep them in the oven a bit longer.
Take out, allow to cool and then enjoy.
How to reheat cinnamon rolls in a microwave oven
The microwave is another good option to reheat the cinnamon rolls. In under a minute, you can enjoy your sweet treat, all nice and warm.
Note: While the microwave is still a recommended option;We need to keep in our mind that reheating the rolls in microwave oven, can make the rolls soggy, so don't over do them.
Place rolls on a microwave safe plate.
Zap the rolls for about 15-20 seconds or until fully warmed up.
Make sure you do not microwave them too long as they can get soggy.
Take out and enjoy.
What type of yeast can be used for making quick cinnamon rolls?
You can use both active dried yeast or instant yeast to make this quick homemade cinnamon rolls.
1 teaspoon instant (bread machine) yeast = 1 1/4 teaspoons active dry yeast.

If you are using active dried yeast, add the active dried yeast into the liquid mixture, just as we added instant yeast in the video.Then wait for the yeast to get dissolved into the liquid mixture and to get activated, before adding the flour.The liquid mixture will become slightly foamy in about 10 minutes of adding yeast; then proceed with the recipe by adding flour.
Can I skip adding egg in this cinnamon rolls recipe
Yes ,you can skip egg in this quick cinnamon roll recipe.
How can I substitute egg in this quick homemade cinnamon roll recipe
I have made cinnamon rolls using this same recipe skipping egg.I added the same volume of liquid (milk/water) for 1 egg.You can add 45-50 ml milk/water instead of 1 egg in this cinnamon roll recipe if you are not using egg.The cinnamon rolls turned out soft and delicious, when i tried this way.
Can I freeze the shaped unbaked cinnamon rolls
Yes,you can .I have not tried this method of freezing until i write this blog post.But i tried this method and here are my insights
.After dividing the rolls into 12 equal pieces and placing them on a baking dish; i covered the pan with a plastic film and then took directly to the freezer (before proofing).
When i wanted to bake the cinnamon rolls,took the pan out of the freezer.I let the rolls come to room temperature and then puff up or rise.It took me around 2 hours 15 minutes for the rolls to rise(but I should say ,I was not satisfied by the amount of rise)
There was a considerable amount of leakage from the rolls too 🙁
Then i baked the cinnamon rolls in a 350F preheated oven for 20 minutes.But the rolls were not done.So i baked for another 4 more minutes and they came out well baked.There was pooling of butter and sugar in side the pan when i took it out of the oven.But then i noticed that the butter got absorbed by the cinnamon rolls when it is cooled.
Anyway,the rolls tasted absolutely delicious; though they were not as light and airy as the freshly baked ones.
Freezing the cinnamon rolls and then baking is also a great option.
"Freezing the unbaked rolls may result in a poor rise, and the filling is likely to leak out and pool in the bottom of the pan as the sugar melts. Instead, freeze the baked cinnamon rolls after they're fully cooled, without any icing. Wrap tightly in plastic wrap and freeze for up to one month." -King Arthur Flour
My cinnamon rolls came out drier and denser than expected…Where have i gone wrong
The 3 main reasons that may cause the rolls to come out dry and/or dense, is
Adding too much flour,
Over-baking or
under-proofing the dough.
So make sure the consistency of the final dough is very soft and smooth, be sure to check the expiry date of your yeast ,bake until the rolls are perfectly baked and make sure the dough got doubled in size during proofing before proceeding.
Quick Homemade Cinnamon Rolls:Printable Recipe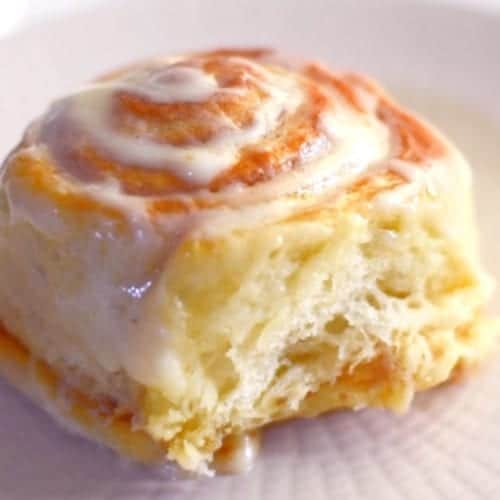 Quick Homemade Cinnamon Rolls Recipe
This quick Homemade cinnamon rolls recipe will help you make soft and fluffy homemade cinnamon rolls in less than two hours.This homemade cinnamon rolls recipe is so easy to make, not overly sweet and they tastes delicious with that luscious cream cheese frosting.
Ingredients
For the BREAD
3

cups

Flour

390 g

3/4

cup

Warm milk

180 g

1/4

cup

Unsalted butter(softened)

57 g

1

Egg

Room temperature

2 1/2

tbsp

Sugar

32 g

1

1/4

Salt

1

tsp

Instant Yeast

or Active dry yeast(1 1/4 tsp)
For the FILLING
1/2

cup

Soft Brown Sugar(tightly packed cup)

90 g

1/4

cup

Unsalted Butter (softened)

57 g

2

tsp

Cinnamon Powder
For CREAM CHEESE FROSTING
2/3

cup

Cream Cheese(room temperature)

3 ounce or 80 g

3

tbsp

Unsalted Butter(softened)

43 g

1

tsp

Vanilla Extact

1/2 tsp vanilla sugar

A pinch of salt

1

cup

Powdered Sugar

125 g
Instructions
PREPARE THE BREAD DOUGH
To make the bread dough,we need to add our ingredients(Add the milk,egg,sugar,salt,butter,yeast and flour ) into a bowl and mix everything together until you get a shaggy mass of dough.

For the proper blending of all the ingredients,we need to keep all our ingredients at room temperature.

Yeast always love a sweet and warm environment to bloom up.So it will be good if we use slightly warm milk.

Knead the dough for 4-5 minutes or until you get a soft and hydrated dough.

If you fllow the measurements in grams then your dough will be of consistency..but if you are using cup measurements the texture of the dough may differ slightly as cup measurements are not accurate.So we should know the consistency of our dough.It should be soft and well hydrated dough.The final dough will not be sticky but still tacky to the touch.

Flatten the surface of dough a bit and Let the dough sit on the counter for 5 minutes.

Dont forget to cover it with a bowl to make sure the dough will not get dry.

This is not for proofing the dough.But this will prevent the tendancy of the dough to rebound back while rolling.
DIVIDE AND SHAPE THE DOUGH
Roll the dough into a rectangle of approximately 17-18 inches in lenth and 14-15 inches in breadth and 1/4 th of an inch thickness.

Smear the butter evenly on the sheet of dough.And then sprinkle the cinnamon sugar and spread it evenly.

Roll the dough into a long cylinder if 17-18 inches in lenth.

Divide the rolls into 12 equal pieces.

Place the rolls on a well greased baking dish or a baking dish lined witha parchment paper.

Cover the tray with a plastic film.
PROOF THE ROLLS
Let the rolls proof for 60 minutes or until they puff up nicely.
BAKE THE ROLLS
Bake the cinnamon rolls at 350F for 18-20 minutes.

If you find the rolls getting browned on top too quickly,cover the top with an aluminum foil to prevent over browning.

After baking you will get Soft and Fluffy Cinnamon Rolls which are golden brown on top with that sticky caramelized sugar on the bottom adorned by that beautiful swirls of cinnamon sugar.The cinnamon rolls are feather light and soft and fluffy and they tastes delicious.
CREAM CHEESE FROSTING
In a bowl add the softened cheese butter,vanila extract and salt.Thoroughly beat until they become light and plale yellow in color.Add the powdered sugar little by little and beat until you get silky smooth cream cheese frosting.

Cinnamon rolls are not the same without that cream cheese frosting.

Apply the cream cheese frosting while the rolls are still warm.This will make the frosting to melt into the cracks of rolls making everybite full of gooey frosted deliciousness.