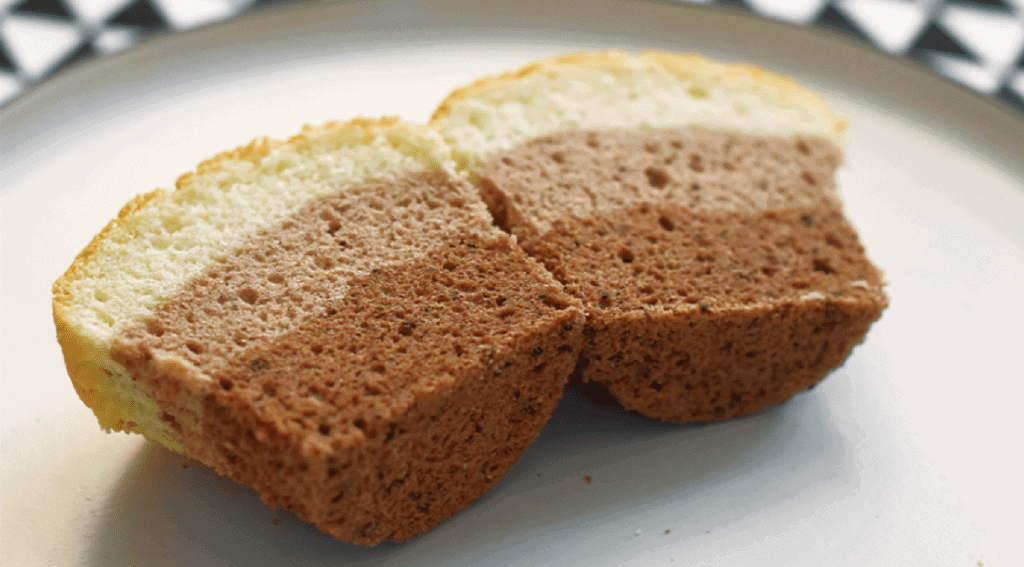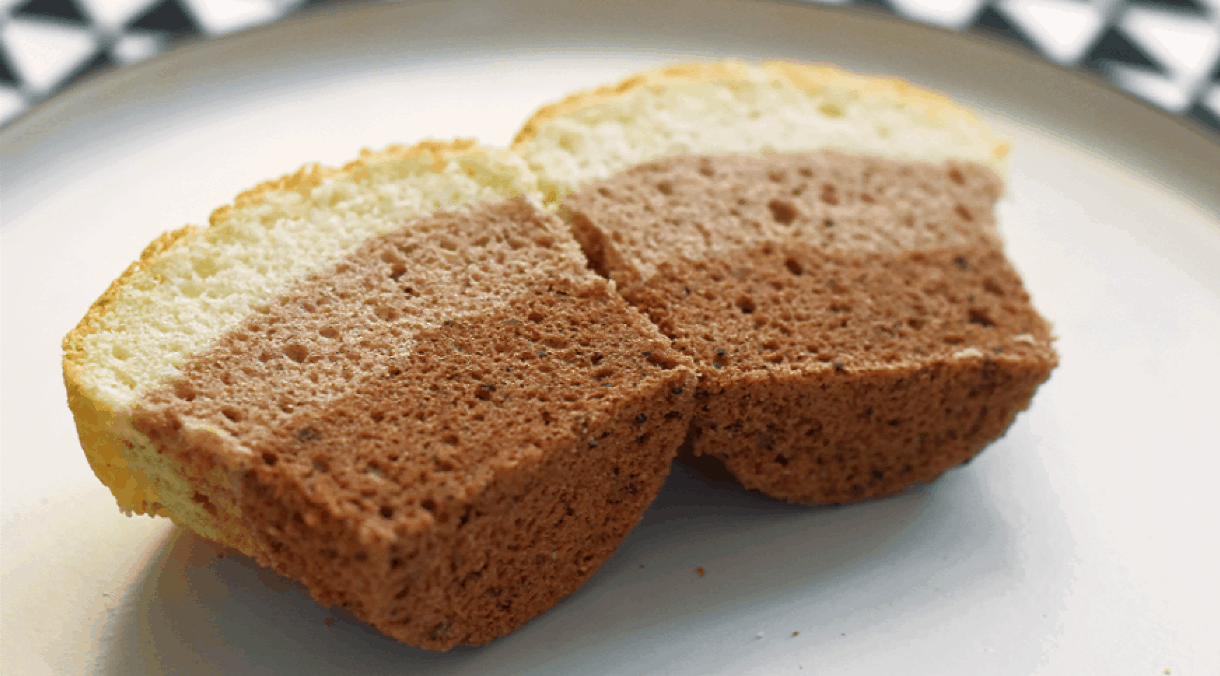 This easy vanilla and chocolate cupcake recipe will help you make soft,light,spongy,moist and beautiful cupcakes with three different layers of vanilla and chocolate flavors .
This layered chocolate and vanilla cupcake recipe is the same recipe as the soft and fluffy zebra sponge cake recipe ;the only twist is that we have three different batters in this recipe.

What i love about this vanilla and chocolate cupcake recipe
This Vanilla and Chocolate Cupcake Recipe is one of my favorite recipes.It is,
Easy to make..
It has a wonderful blend of two favorite flavors in one cupcake..
The aesthetic beauty of the three layered cupcakes..
We don't need to use any artificial leaveners in this recipe…
INGREDIENTS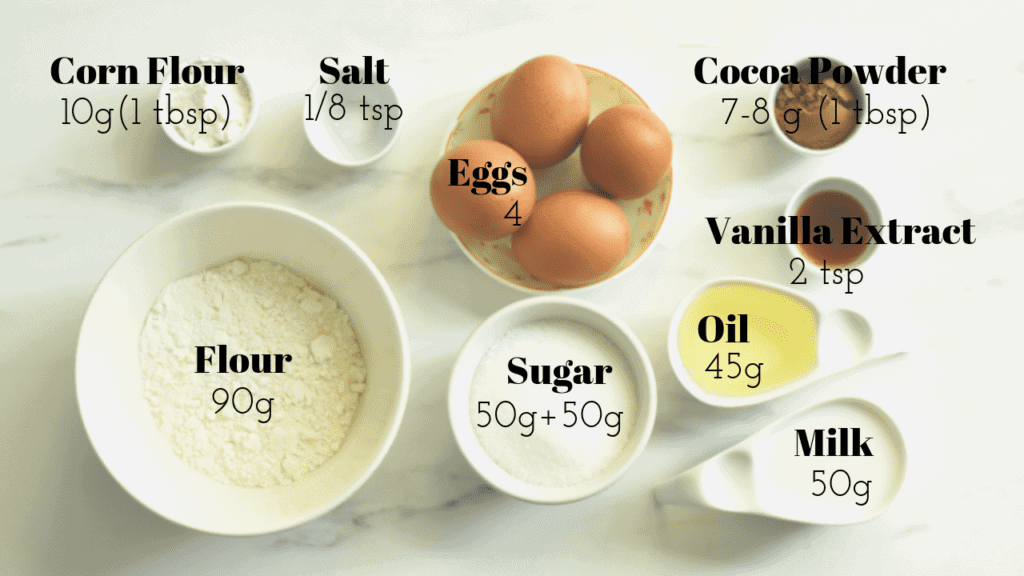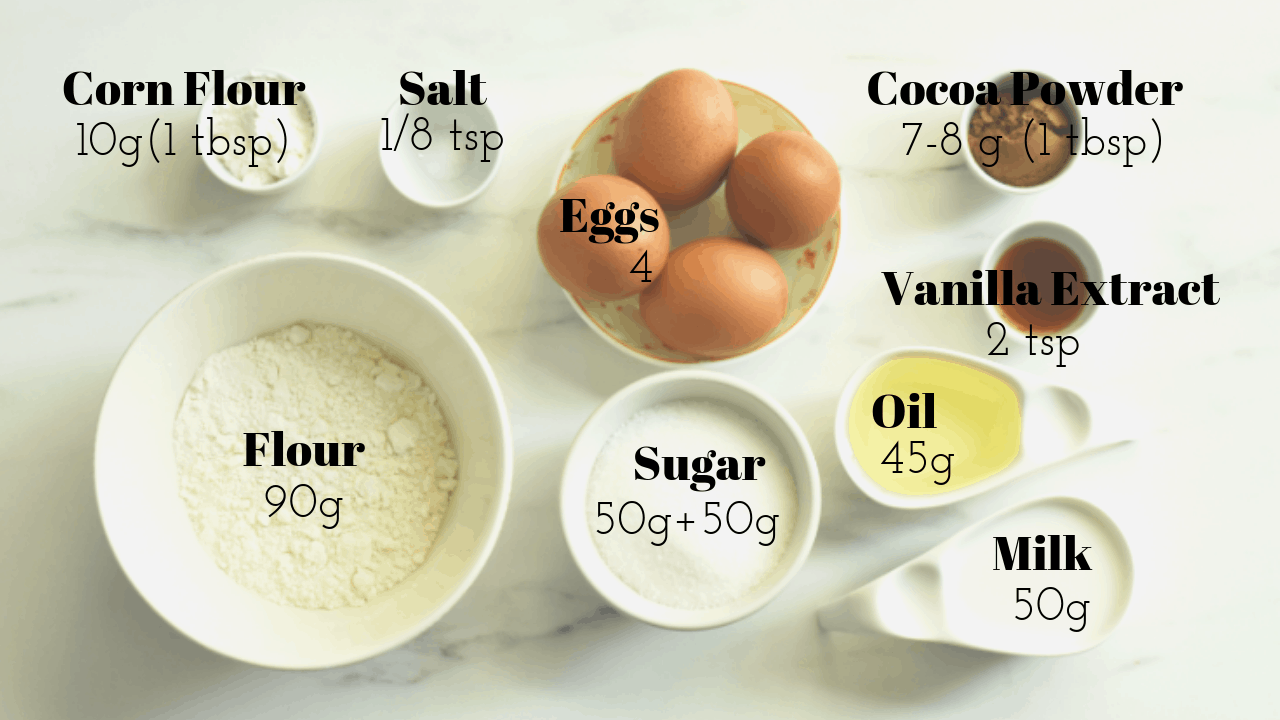 I recommend you to kindly follow the measurements in grams than cups as it is more accurate.
All Purpose Flour : 90g [1/2 cup (65g)+3 tbsp]
Cornflour :1 tbsp (10 g)
Eggs : 4
Sugar :100 g (1/2 cup)
Any flavorless oil: 45 g (3 tbsp+1 tsp)
Milk: 50 g (3 tbsp+1 tsp)
Vanilla extract :2 tsp
A pinch of salt
Cocoa powder :1 tbsp (7-8 g)
HOW TO MAKE VANILLA AND CHOCOLATE CUPCAKE
We can make this easy cupcake in three simple steps
1.Prepare the cake batter
2.Pour into the mould
3.Bake the cupcake
PREPARE THE CAKE BATTER
1.Seperate the egg into egg yolks and egg whites.
Separate the egg whites and yolks into two separate bowls.
Make sure our eggs are fresh and they are at room temperature..i find it very difficult to whip up the cold egg whites.
2.Whip up the egg whites with sugar.
Using a hand mixer,whip up the egg whites until frothy.Add sugar little by little so that they dissolve completely and make the egg white foam glossy.
Beat them on medium to high speed until they form soft stiff peaks..the peaks are almost straight up when the beaters are lifted.Do not overmix the egg white foam..it may start to get brittle and this will make the cake batter inefficient to rise properly in the oven.
3.Whip up the egg yolks with all the rest of the ingredients
Whip the egg yolks with sugar until they are foamy and pale yellow in color.
Add in all the liquid ingredients into this and mix them with a spatula.
Add the flour mix (flour+cornflour+salt) .If you have cake flour you can use cake flour +a pinch of salt.
Adding corn flour will make the cake lighter and tender.
4.Combine the white and the yellow mixture
Now our basic cake batter is ready.
You can bake super soft vanilla cupcakes with this cake batter.Or if you want to have some chocolate flavor into your cupcakes,then you can make half of the cake batter to be chocolate flavored.
So pour half of the cake batter into another bowl and then sift in the cocoa powder into it.
So we got two batters one chocolate and one vanilla.
I made a lighter chocolate batter,by mixing together one part of chocolate batter and 2 parts of vanilla batter in another small bowl.
Wow! now we have three different batters and we can make three layered cupcakes which are beautiful and delicious.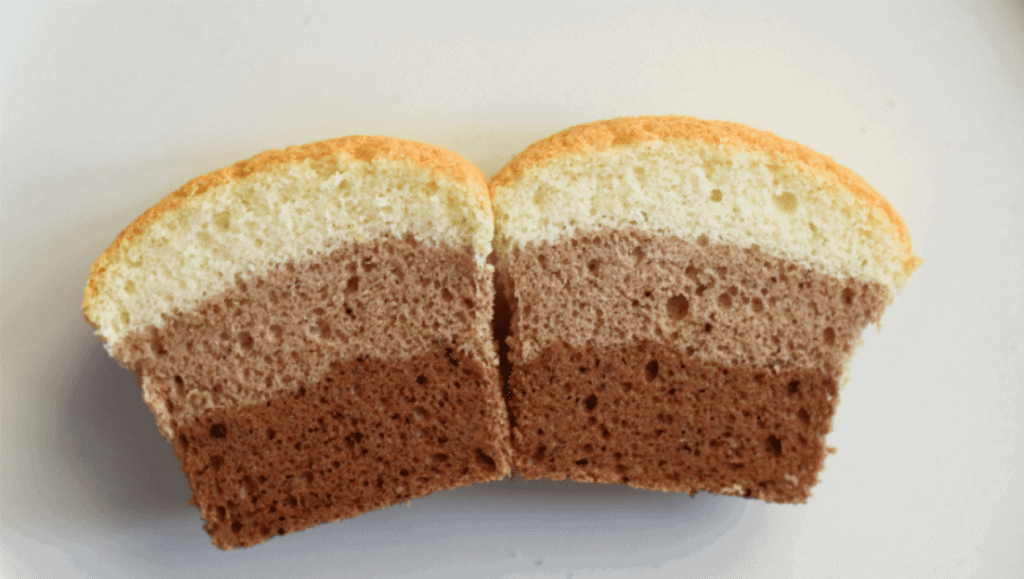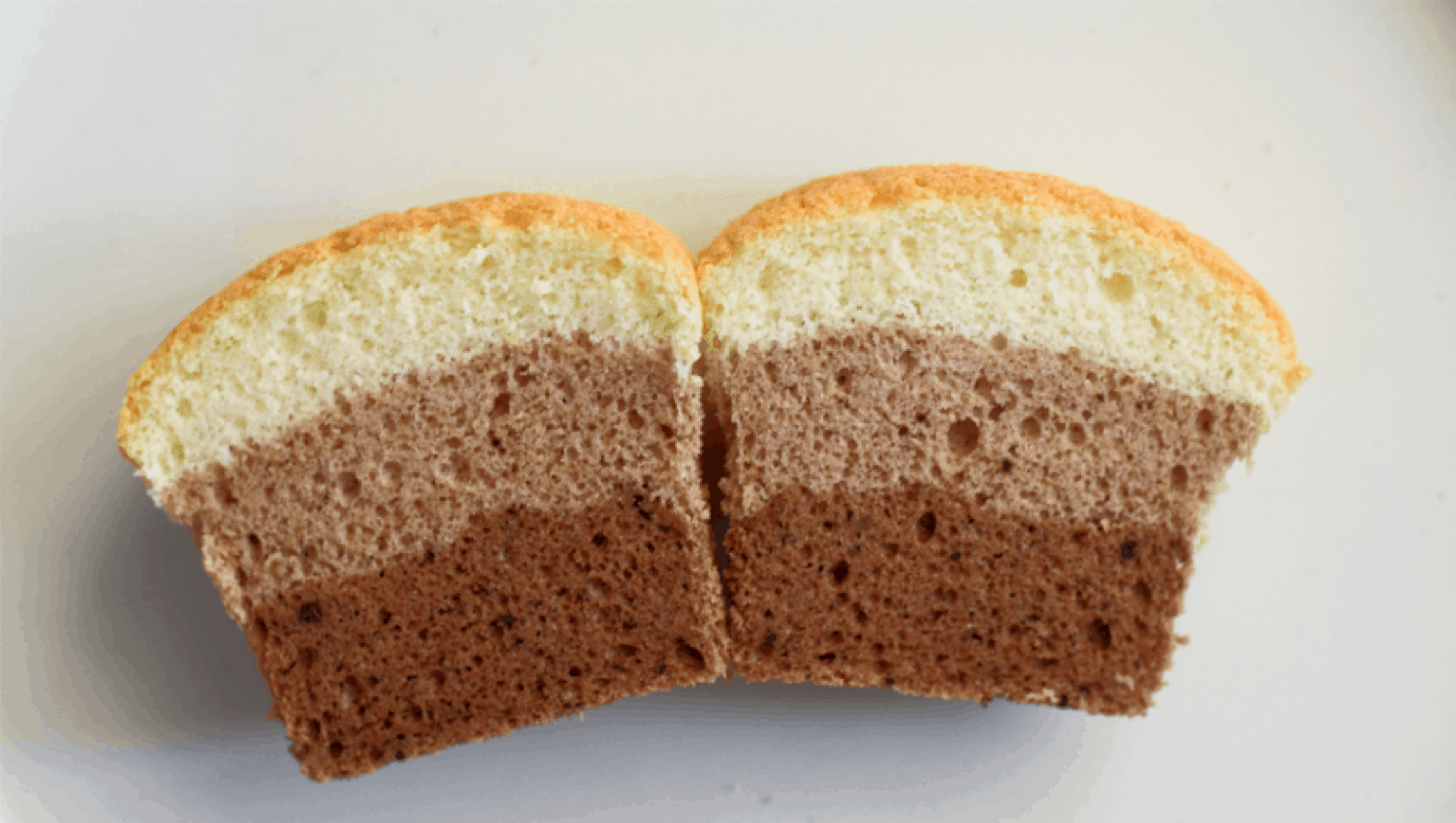 POUR THE CAKE BATTER into the cups
I dropped the chocolate batter and then the lighter chocolate batter and then the vanilla batter into the cupcake liner.It is about 2 tsp each batter.You can pour according to your preference…you can make them swirl cupcakes or marble cupcakes.
Fill in the cupcake liners upto just above has way full ,so that there is enough space in the cup for the cake to expand and rise.
This recipe is sufficient to make 15-16 medium sized cupcakes.
Tap the tray on the counter a few times to release any large air bubbles.This will prevent any large air pockets in the baked cupcake from forming.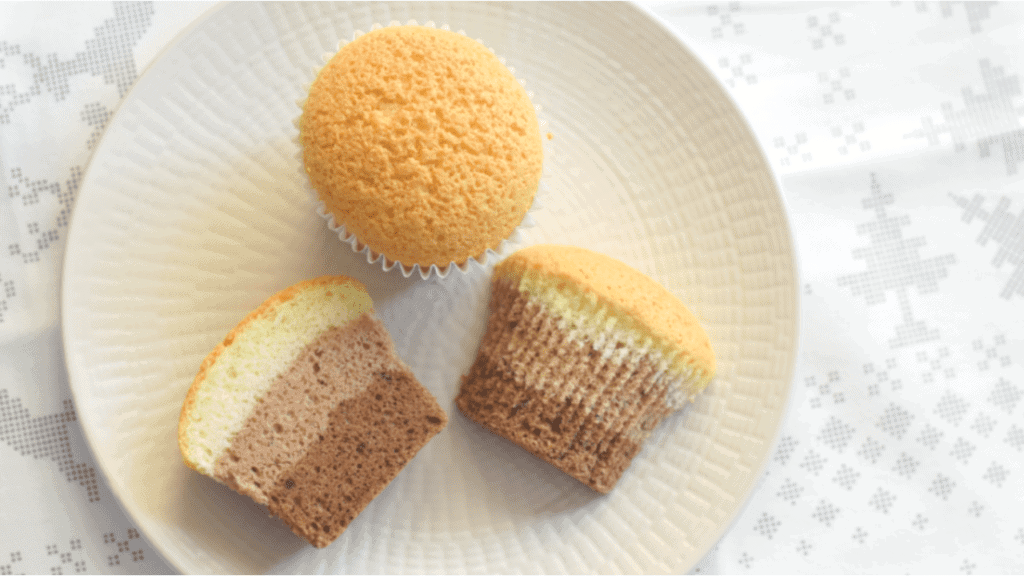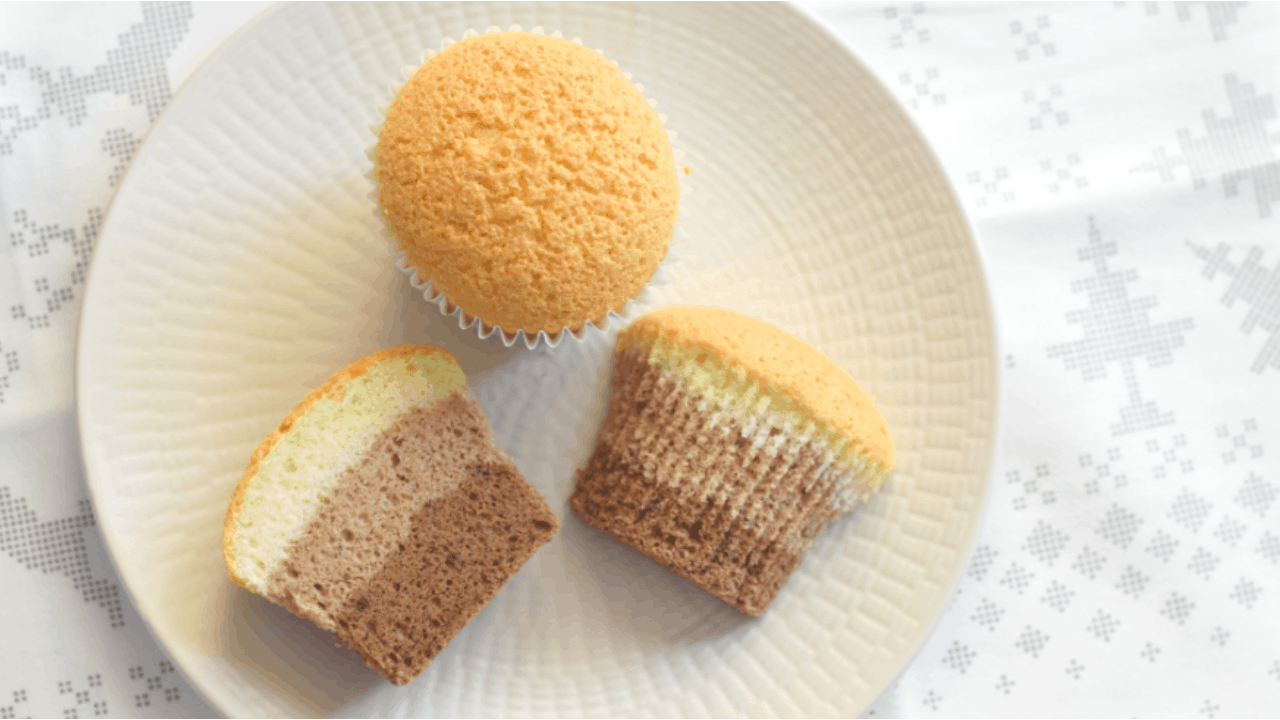 BAKE THE VANILLA AND CHOCOLATE CUPCAKES
These cupcakes need a low baking temperature to bake.
A waterbath can create steam inside the oven which will help these cupcakes to rise evenly and smoothly.
Baking at lower temperature along with the waterbath help these cupcakes to rise beautifully without any cracking on top.
BAKE @ 300 F/150 C for 25-30 minutes,or until the top of the cake turn golden brown in color.
In about 20 minutes of baking,they form their shape.Bake them for few more minutes (8-12 minutes)so that the inside get baked thoroughly.
The baking duration may vary according to the size of the baking vessel.Small cupcakes get baked fast; it may take only 20-23 minutes to get completely cooked.Larger cupcakes may take 30-35 minutes to get properly baked.This 5 cm bottom diameter cupcakes took 30 minutes to bake.
WHY DO CUPCAKE CRACK ON TOP ?
As this cake batter is is based on feeble air pockets based on eggs,they are very sensitive to heat.Cakes crack when the oven temperature is too high or, when the pan is placed on an incorrect rack.
In an oven that's too hot, the outside of the cake cooks at a much faster rate than the inside. A crust forms early on, but as the inside of the cake continues to cook and rise, this crack crusts. This may also happen,if you've used a pan that's too small.
HOW TO PREVENT THIS ISSUE
Make sure your oven is at the right temperature. Get a thermometer; make sure it's accurate.
Use the appropriate-sized pan.
To encourage even cooking use water bath method of baking. The water will steam and cause the cake to cook more evenly.
Avoid opening and closing the oven during baking, as this can cause the temperature to fluctuate.
WHY TO USE A WATER BATH IN OVEN while baking.
A water bath is simply a pan of hot water placed in the oven, and using this method has two benefits when baking.
First, a water bath adds moisture to the oven and it is beneficial in baking these kind of cakes which tend to crack on top.
Second, using the water bath method also provides a more even, slower heat source than the direct heat of an oven.
WATCH THE VIDEO TO SEE HOW EASY IT IS MAKE VANILLA AND CHOCOLATE CUPCAKE
WATCH THE VIDEO TO SEE HOW EASY IT IS TO MAKE SUPER SOFT ZEBRA SPONGE CAKE USING THIS SAME RECIPE.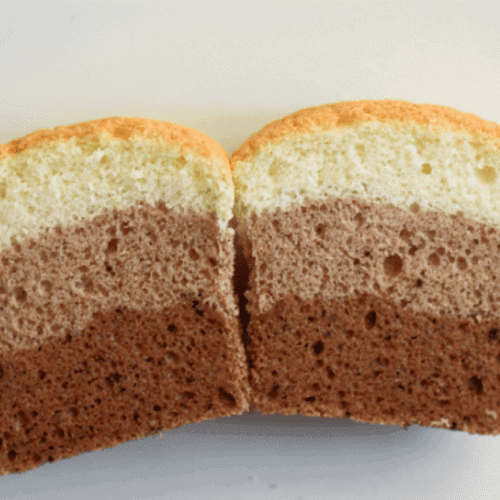 VANILLA AND CHOCOLATE CUPCAKE RECIPE
This Easy Vanilla and Chocolate cupcake recipe will help you make beautiful chocolate and vanilla layered cupcakes which are soft and fluffy.
Ingredients
90

g

flour

1/2 cup+3 tbsp

100

g

sugar

1/2 cup

50

g

milk

3 tbsp+1 tsp

45

g

oil any flavorless oil

3 tbsp+1 tsp

10

g

corn flour

1 tbsp

7-8

g

cocoa powder

1 tbsp

2

tsp

vanilla extract

4

eggs

1/8

tsp

salt
Instructions
Prepare the cake batter

Separate the egg yolks and egg whites in to two separate bowls.

Whisk the egg white, until slightly foamy then add half of the sugar( 50 g ,little by little) and whisk until medium stiff peaks form using an electric mixer.You can see in the video that the peaks are stable .

Into the bowl of egg yolks,add sugar and salt and whisk them until pale yellow in color and then add all the liquid ingredients into it i.e. milk,oil and vanilla extract.Sift in the flour into this and mix just until they form a smooth batter.

Very gently fold the egg white into the egg yolk batter. Add in three small batches so that we can do it gently and thus prevent the egg foam to from deflating much.

Mix gently just until you get a smooth batter.

Pour half of the batter into another bowl and then sift and add 1 tbsp of cocoa powder into one bowl.

Gently mix the cocoa powder into the batter and we got the chocolate batter.

Now mix together about 7 tablespoons of vanilla batter and 3 tablespoon of chocolate batter to get a lighter chocolate batter in a small bowl .

So we have got three different cake batters.

Pour in the batter into the cupcake baking tray.

Spoon about 2 teaspoons of the chocolate batter into the cup. Then add 2 teaspoons of lighter chocolate batter and then with vanilla cake batter in all the cups

Tap the tray on a surface a few times to get rid of big air bubbles,Otherwise large air bubbles may break open on top of the cake surface when baked and it can affect the beauty of the cake.

For some room temperature water in to baking tray and place it on the lowest rack of the oven.The steam from the evaporation of water will help the cupcakes to bake evenly without any cracks on top.

Bake the cake at 300F/150C in the lower rack of oven for 25-30 minutes or until the top surface turns golden brown.