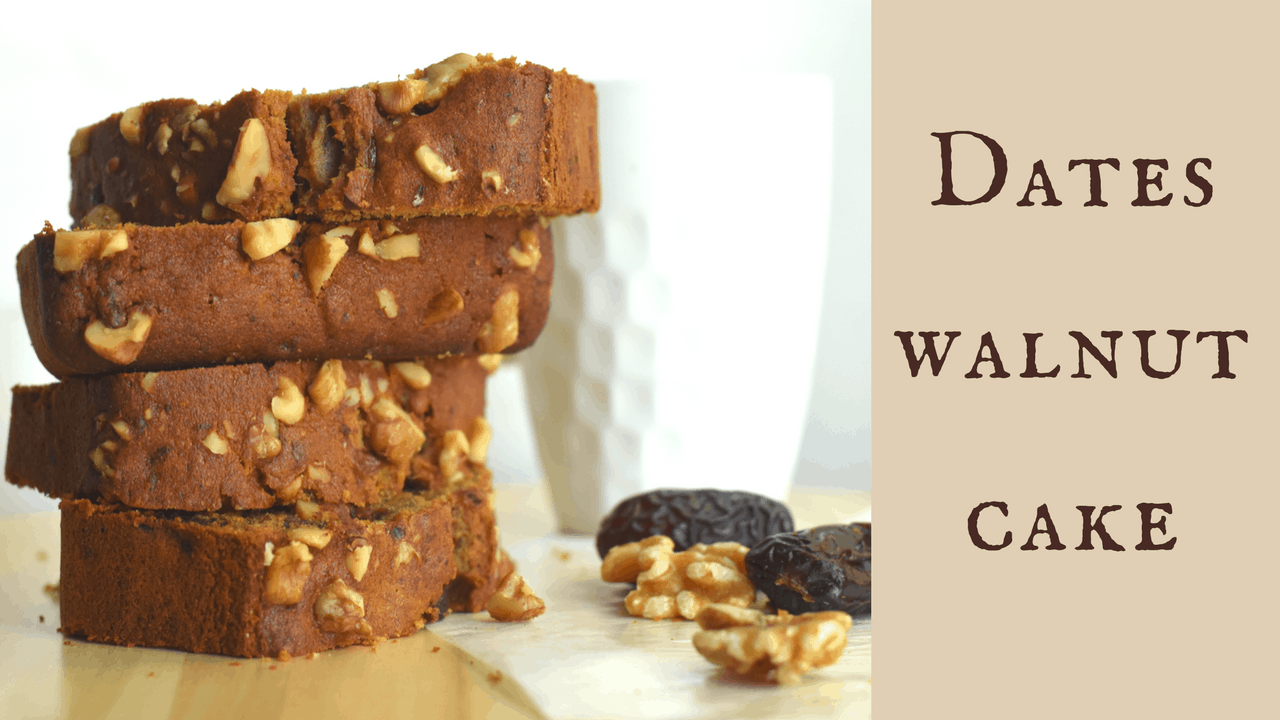 Date and walnut cake is one of my favorite loaf cakes to have along with a cup of coffee or tea.A beautifully moist sponge base, packed with juicy dates and creamy walnuts; enjoy a thick slice with a spreading of butter.
There are so many recipes for Date cake/ date walnut cake.This is an easy to make Date cake .
This cake is rich in natural fibers and natural sugar as dates are the superheroes in this cake:)
Ingredients
350 gms dates(weighed along with seeds)
50 gms sugar
2 large eggs
225g all purpose flour
1 tsp baking powder
1/4 tsp salt
1 tsp Vanilla extract
1 tsp coffee powder(optional)
75-85 gms chopped walnuts
Butter – 100 gms
Hot milk-150 ml
Method
Star preheating the oven to 180C/160C fan/gas 4.
Soak the dates in hot milk.
Cream the butter and sugar until light and fluffy, then slowly add the eggs ,coffee powder,and vanilla extract.
Sift in the flour, baking powder,into the batter.
Combine them all together.
Add the dates and walnuts and mix them together until it forms a homogenous mixture .
Pour into the tin and bake for about 60 mins until a skewer comes out clean. Cool in the tin for 5 mins, then remove to a wire rack.
Now our Date cake / Date walnut cake is ready.
Enjoy the delicious Dates walnut cake 🙂
Watch the video to see how easy it is to make date and walnut cake
How long does date loaf last?
Properly stored, freshly baked date bread will last for about 1 to 2 days at normal room temperature.
How long does this date and walnut cake last in the fridge?
Freshly baked date bread will keep well for about 1 week in the fridge when properly stored.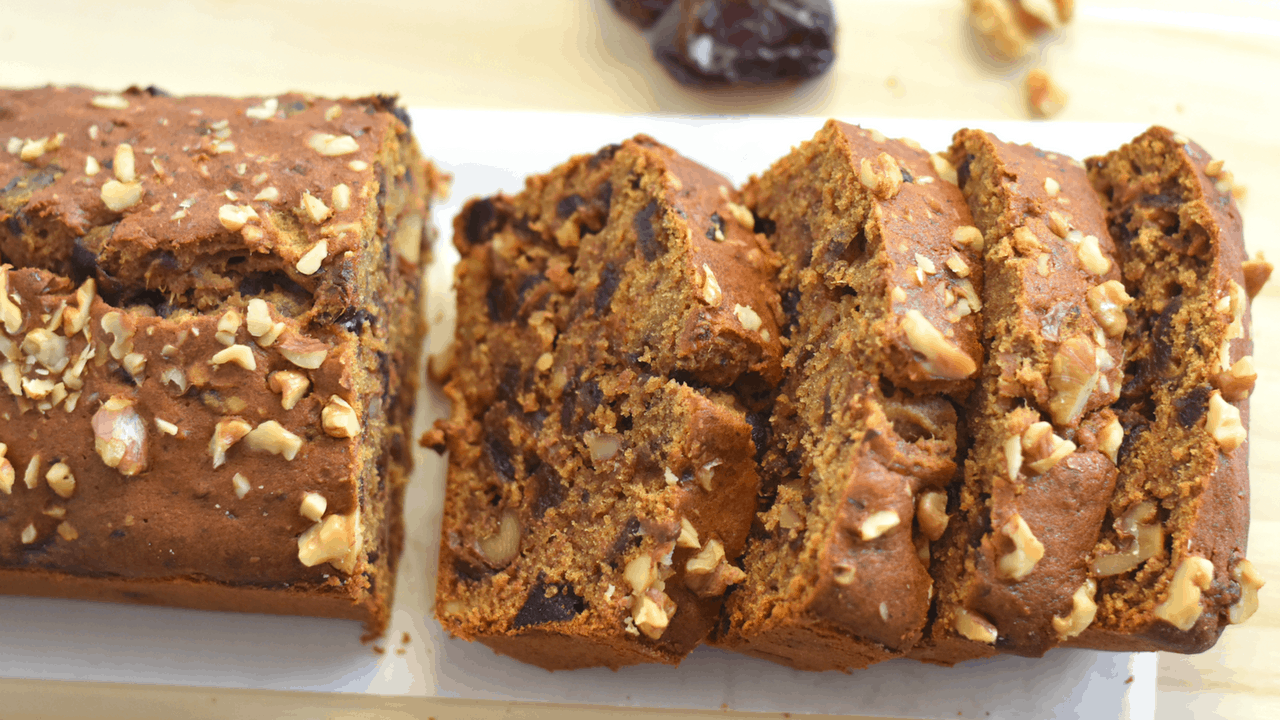 Date and Walnut Cake
Date and walnut cake recipe will help you make soft and fluffy date cake rich in natural sugar and lot of fibers.
Ingredients
350

g

Dates

(weighed along with seeds)

50

g

Sugar

2

Large eggs

225

g

All purpose flour

1

tsp

Baking powder

1/4

tsp

Salt

1

tsp

Vanilla extract

1

tsp

Coffee powder

(optional)

75-80

g

Chopped walnuts

100

g

Butter

150

ml

Hot milk
Instructions
Heat oven to 180C/160C fan/gas 4.

Soak the deseeded chopped dates in hot milk.

Cream the butter and sugar until light and fluffy, then slowly add the eggs ,coffee powder,and vanilla extract.

Sift in the flour, baking powder,into the batter.

Add the dates and walnuts;mix them together until it forms a homogenous mixture

Pour the cake batter into the tin and bake for about 60 mins until a skewer comes out clean.

Cool in the tin for 5 mins, then remove to a wire rack.

Now our Date cake / Date walnut cake is ready.Enjoy the delicious Dates walnut cake 🙂